Why Chicago Chose To Drop Mayor Lori Lightfoot And Gear Up For A Political Battlestorm
Analysis: Exhausted by crime, the Windy City decided its mayor couldn't solve its problems. But the two men who made the runoff election have very different approaches.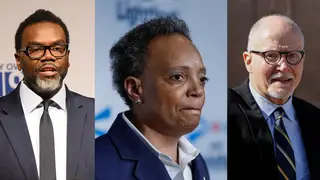 The consistent issue of crime and a general feeling that it was out of control was enough to make Chicago voters decide Tuesday (Feb. 28) that one term was enough for Mayor Lori Lightfoot. Instead, they favored two of her challengers.

Late election results released by the Chicago Board of Elections show that out of 1.5 million registered voters, about 511,000 cast ballots and out of nine mayoral candidates, the top two were former Chicago Public Schools CEO Paul Vallas and Cook County Commissioner Brandon Johnson. Since neither of them got more than 50 percent of the votes, they will face each other in an April 4 runoff.

But the defeat handed to Lightfoot, who had only 17 percent of the vote, was a response to the plague of rampant violent crime while at the same time the result of her having to shoulder the burden of being mayor during the last three years of the COVID-19 pandemic, which changed how most cities operated across the country.

The second woman to run the city and the first openly gay person in the role, Lightfoot now joins Michael A. Bilandic and Jane Byrne as the third Chicago mayor since 1933 to serve only one term. She came into office in 2019 well-liked in the city and with the support of much of the political establishment, which later went on to challenge her. She had ambitious goals that she successfully implemented, like her signature INVEST South/West program, which targeted 10 communities on the South and West sides of the city that have been long affected by divestment, crime, and poverty with more than $2 billion in public and private funds.
Among other accomplishments, Lightfoot also delivered on opening the door for casino gaming in the city, which is expected to bring in $200 million in revenue, and improved the city's educational outlook by achieving a record 82.9 percent four-year graduation rate. Also, Chicago's minimum wage was hiked to $15.40 an hour thanks to legislation coming from Lightfoot's office.
BET.com spoke with Lightfoot in September 2022 in an exclusive interview, and she was confident at the time in her chances for reelection because of everything her administration had achieved.

"I think I've proven myself to be more than able to lead the city through one of the biggest challenges maybe than any mayor has ever historically faced," she said. "What I need to focus on is making the case to everyday residents that their lives are fundamentally different and better because of the things that we've done."
While it is true that the pandemic was a unique, perhaps once-in-a-lifetime event, Lightfoot was responsible for shouldering what happened in Chicago, whether the pandemic caused it or not.
The biggest problem with voters was the issue of crime. According to Chicago police figures, the city recorded 500 murders in 2019 when Lightfoot took office. In 2022, there were 695, a 20 percent jump, and major crime complaints increased 19 percent over the past four years.

Jaime Dominguez, a political science professor at Northwestern University who watches Chicago politics, said that Lightfoot, while effective, needed to maintain the connections within the political establishment that would have given her the support for a second term.

"Her Achilles heel was not being able to work across the aisle with people of different interests. If you can't work with the other side and there's dissent from the other side and you make it seem like they're the problem, not you, that rubs people the wrong way," Dominguez told BET.com. "She was also dealt the hand of being mayor during the pandemic and that came with the meteoric rise of crime in the city. Even on crime she was stubborn on receiving input from the public on how to address it."
Lightfoot was known for being outspoken and likely had to be in a space where the voice of a gay Black woman was not heard as often as others. Plus, her willingness to tangle with her opponents in City Council wasn't exactly unique or unprecedented.

"When I think about who my predecessors were — I worked for Rich Daley and I was around Rahm [Emmanuel] a lot, it's not like they won contests for Mr. Congeniality," she told The New York Times last January.

But she was also seen as unwilling to collaborate with the City Council when it was important., For example, when an alderperson wanted to increase police patrols in her ward, Lightfoot reportedly did not work with her on it, instead passing her off to the local police command unit.In another instance, a City Council meeting became tense when Lightfoot sparred with Ald. Sophia King was seeking a position as Education Committee chair, but the mayor sought to install Ald. James Cappleman. The vote Lightfoot called for failed, and King became one of the field of candidates for mayor but wound up receiving only 1.25 percent of the vote on Tuesday.

Possibly most infamous was dissatisfaction with the city's response to the wrongful 2020 arrest of Anjanette Young, a social worker on the South side. Young was handcuffed naked in her home, which Chicago cops mistakenly raided. Young said she felt "betrayed" by Lightfoot after the city moved to dismiss her case. She settled in 2021 for $2.9 million.
These and other examples led to many who had supported Lightfoot earlier abandoning her. But Chicago politics have historically been a take-no-prisoners battlefield going back to the days of Harold Washington, Richard J. Daley, and many others before them. So what was the tipping point this time?

"Here in Chicago, it didn't matter what time of day it was, there seemed to be crime going on everywhere," said Dominguez. "Crime has always been an issue, but the difference between this and the previous two administrations is that it seems to be everywhere, not just the South or West sides, but also on the Magnificent Mile and the North Shore. People felt it got completely out of control. Lightfoot did address some issues on crime like homicides, but there were also things like the smash and grabs on Rush street that were too much for some people to take."

Looking Down A Rough Road To April

With Lightfoot out in the first round of the election, Vallas and Johnson, two very different candidates from different backgrounds, will compete for votes, likely on racial lines in one of America's most segregated cities.

Vallas grew up on Chicago's South side, the grandson of Greek immigrants, and has led school systems in Philadelphia, New Orleans, and Chicago. His platform centers around crime reduction and will likely attract White voters who want to end the rampant and random criminality that seems to be sweeping the city. Endorsed by the Fraternal Order of Police, he also supports bringing the Chicago Police Department's numbers up to 13,500, including retired officers, and removing a residency requirement.
Johnson, born in Elgin, Ill., the son of a pastor and one of ten siblings, is heavily backed by the Chicago Teachers Union, having been a teacher himself early in his career, along with several other unions with large memberships. He has said he would address crime by creating an Office of Community Safety, removing the city's gang database, and aiming more funds at violence prevention and community safety programming that addresses the cause of violent crimes.
Backed by $4.7 million in campaign funds, according to the Center for Illinois Politics, Johnson will likely try to draw the labor vote and the city's Black voter populace for backing. Vallas, however, has the bigger war chest at $6.1 million, CIP figures show, and will most probably draw the support of many Northside White voters and people interested in drastically reducing crime downtown and in the business districts.
Dominguez says the central issue going into April will be law enforcement, police reform, and accountability. "In every poll I've seen that was a big issue with minority voters," he said. "There is going to be a lot concerning Black and White voters in these next few weeks. Johnson is the candidate of the underprivileged, and Vallas is the take the city back candidate. It could be ugly because there are some ideological differences in governing."