REVIEW: 'Good Boys' Is An R-Rated Toy Story For Your Twisted Inner Child
Young and restless tweens wreak havoc in this raunchy comedy.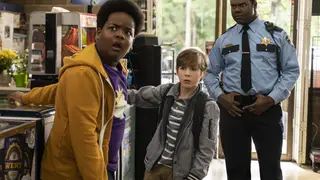 Imagine if The Little Rascals had access to the internet. It's a humorous but nightmarish scenario that every modern parent has had to contemplate and, in many cases, live with. But the THC-influenced minds behind Superbad and Sausage Party have taken this scenario and hitched it to their tried-and-true formula of awkward and libidinous young boys (or food) searching for satisfaction in their latest film, Good Boys.
The first thing that strikes you about Good Boys is that the actors are actually playing their age. Sixth graders Max, Lucas and Thor are, for all intents and purposes, some well-behaved kids who look and sound every bit of their 12 years. Jacob Tremblay, Keith L. Williams and Brady Noon are pinch-their-cheeks cute and could take a whole basement of geriatric Bingo players for every piece of candy in their purses with the bat of one eyelash.
But like all seemingly good kids, they have weaknesses, and for this bunch it's the desire to be popular, or at least liked. Despite the unshakable bond of the "Bean Bag Brothers" trio, they each ache to shed their fifth-grade personas to be macho, mature middle school "men." Like so many of their film predecessors, happiness in Good Boys hinges on attending a party being thrown by the coolest kid in school. Max has a crush on his classmate Brixlee (Millie Davis) and hopes to see her there but is told that it will be a "kissing party," and he is ill prepared to participate. 
With terabytes of information at their fingertips, the boys Google porn videos to learn how to kiss, only to find out that not much kissing happens. Their naive yet well-meaning efforts to educate themselves consistently run up against an X-rated and drug fueled world that they are ill-prepared to engage with, and this is where the bulk of the laughs in Good Boys are born.  Their scheme to "observe" couples kissing with a drone goes horribly wrong, and every attempt to repair the damage they've done leads them down a rabbit hole of debauchery. The pubescent tweens have no idea what they're doing, but march into every scenario with the confidence of volunteer firemen at a BBQ in Bedrock.
As formulaic as Good Boys is in parts, the performances from the boys, who are too young to see their own movie, are comedic gold. When an older woman calls Max a misogynist, he counters in earnest, "I've never massaged anyone." Lucas, who could pass for a Build-A-Bear version of Questlove, is a perfect straight man with choir boy ethics. When Thor suggests throwing some drugs into the woods, Lucas reasons with a face full of worry, "It's a sex drug. What if a fox eats it and tries to f*ck a squirrel? It'll kill him!" And Thor, with his angelic singing voice, is audacious enough to try to smuggle a beer bottle in his pants. The juxtaposition of innocence and insolence works to great effect, and director Gene Stupnitsky knows just when to reel it in before it gets corny.
The journey of these cherubic musketeers through an adult hell wrought with angry frat boys, recreational drugs and anatomically correct "CPR dummies" is a fun, irreverent and, at times, gross reminder that the real world is still scarier than the internet.