Video Of California Mom Going In On A Classroom After Her Daughter Was Bullied Goes Viral
"If y'all bully my daughter, if y'all look at her the wrong way, if you breathe the wrong way, send your moms to me."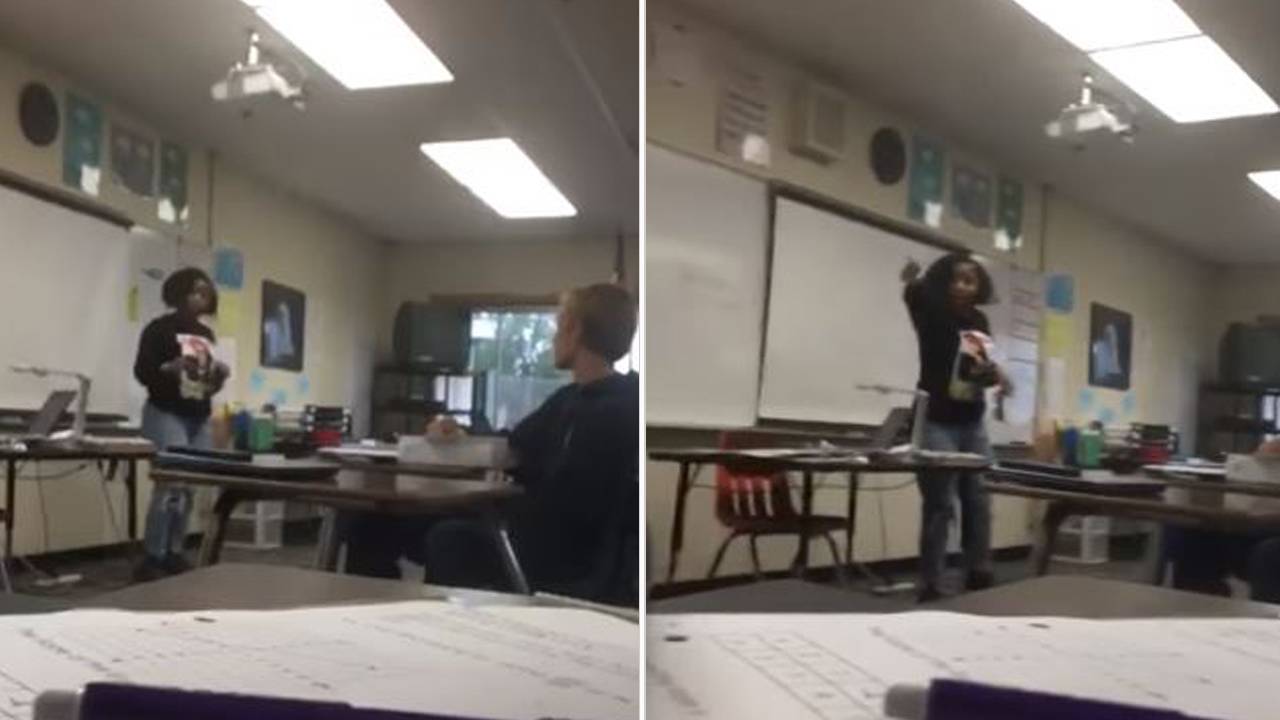 Video recorded inside a California middle school shows a mother confronting a classroom full of students after her daughter was reportedly bullied by a group of boys.   
According to CBS2, the incident took place at Niguel Hills Middle School in Laguna Niguel. The video was first posted to Twitter by @Ciella_star on May 14.
In an email sent to parents by Principal Tim Reece, the mother, who was identified as Christian Tinsley, came to the school during her daughter's second period. In the video, the mother stands at the front of the room with the teacher sitting at a desk next to her.
"If you all bully my daughter, if you look at her the wrong way, if you breathe the wrong way, send your mom to me," the mother said. "Sisters, aunts, anybody over 18, I'll f—k them all up. Do you understand me?"
"Leave my daughter alone. I'm not gonna say it again… Any mom, any sister can catch these hands, OK?" she added. "Ass whoopings. Ass whoopings! For free. For free! You don't even have to pay for it!"

Eventually, the teacher gets up from her seat and contacts the front office.

The assistant principal eventually escorted the woman out, Principal Reece said in the email.

On May 16, the Capistrano Unified School District confirmed to CBS2 that the mother had been banned from campus.

Principal Reece said the Orange County Sheriff's Department has been asked to investigate the incident.

"When a parent or student shares concerns about bullying or harassment with administration, teachers, or staff, they are immediately investigated at our school site and both students and their parents are contacted," Reece wrote in the email.

Although the irate mother was banned from campus, people on Twitter overwhelmingly supported her

Tinsley says while she probably could have reacted differently, she had a visceral reaction when her daughter complained about racist and sexist bullying.

"I think that sometimes when you've done everything you can do the way you're supposed to do it, and it hasn't been resolved, then sometimes as a parent…you have to decide if you're going to go a step further and deal with any consequences," Christian Tinsley told CBS2.

According to Tinsley, her child had been bullied by the group of boys for several months even though they reportedly faced disciplinary action.

Tinsley said the final straw occurred when she dropped her daughter off on May 14 and she started crying and begged to stay in the car.

"She made a comment to me that if she wasn't as strong as she was, she would have killed herself," Tinsley says, "That's when Mama Bear mode went into effect."