Exclusive: Issa Rae Will Tackle LGBT Issues On 'Insecure' And Knows When The Show Will End
The actress and writer also joined Marriott's #LoveTravels campaign.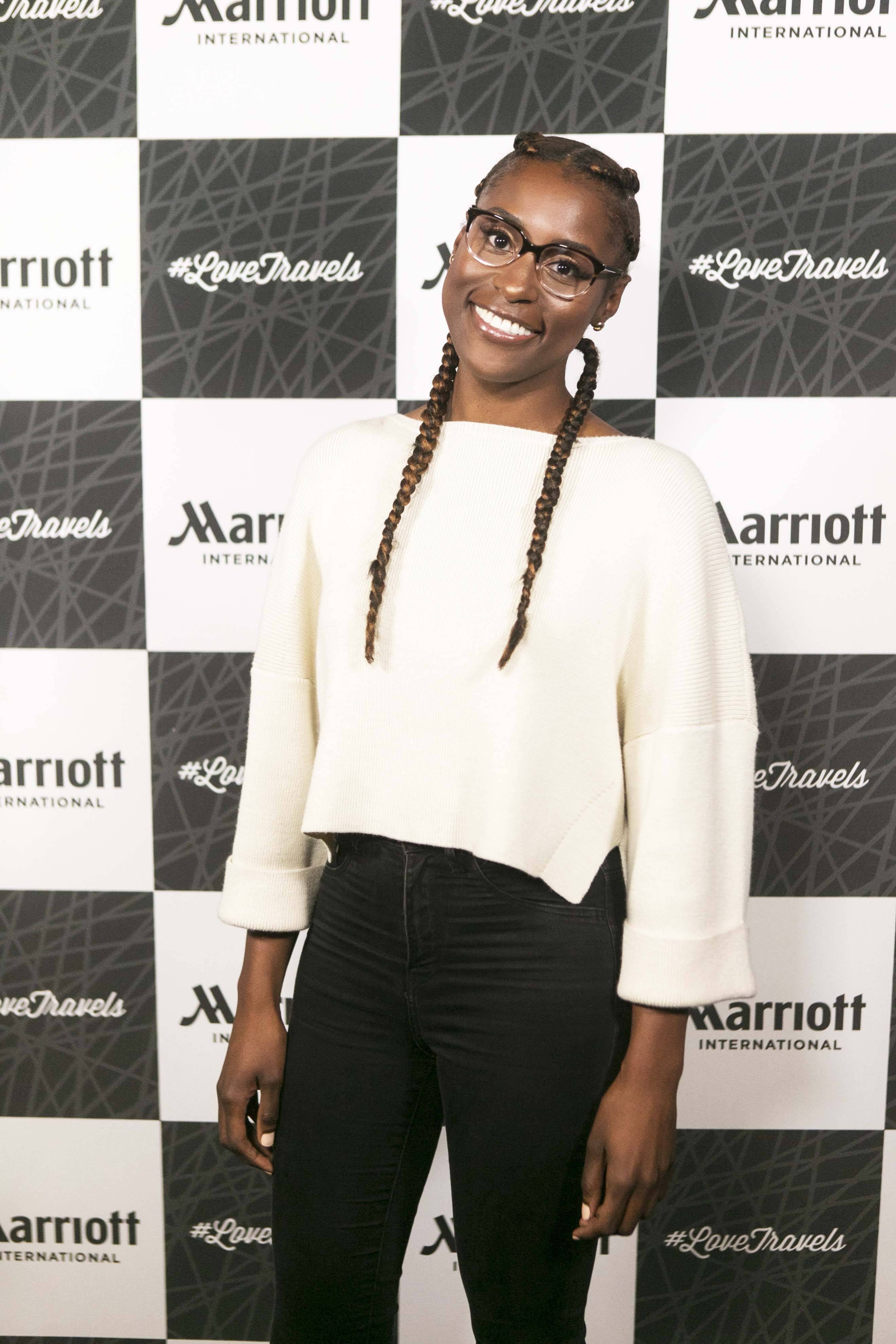 Issa Rae is taking her star power beyond television and going right back to the community.
The actress and writer teamed with Marriott International's EmpowerME and the National Black MBA Association and Prospanica Conference to discuss education and empowerment, which is an initiative from Marriott's ongoing #LoveTravels campaign. On September 28 in Philadelphia, Marriott announced the EmpowerME: Debt Free to Travel Contest. This innovative campaign offers young professionals the chance to receive $50,000 towards tuition or student debt and 500,000 Marriott Rewards Points, which can be used for travel (entries can be submitted through the #LoveTravels website).
Issa Rae and America Ferrera talked with T.J. Holmes about the campaign at the National Black MBA Association, and we managed get some one-on-one time with Ms. Rae. She goes deep about fighting against our current administration, all things Insecure and much more. 
What made you want to get involved with the Marriott's #LoveTravels campaign?
For me, it's all about inclusivity. I love to celebrate any organization, any initiatives that are supporting that. I think we are at a time where so many people want to come together for a common cause. It just feels so timely. It's aligned without my own messaging, what I'm doing in entertainment and media. For me, it just seemed like a natural fit.
Part of making higher education available to everyone starts with high school. So many Black public schools are being shut down. How do you think the Trump administration is going to affect Black neighborhoods and Black schools?
It's very clear that we are not a priority. I don't think any people of color are a priority for this administration. I think that's why things have to start on a ground level. We have to go back to organizing in a very grassroots way. My mom is a teacher. I feel like had an amazing education just because she was so active, making sure that she was having conversations with my teachers, being involved with PTA and having conversations with the principal. Maxine Waters was very active in the Los Angeles school system. Having role models, parents and people on the ground level actively proposing changes and actively what their issues are is the only way because this administration is not prioritizing us by any means.
Back in the 1990s, there wasn't a show like this for young Black people. What's the impact you are seeing on a teenager or a young person watching Insecure?
I hope teenagers aren't watching this show! [Laughs] It's too mature for them. Not to name drop, but last week I got to meet Michelle Obama and I asked her how Sasha and Malia [are] doing. And she was like, "Sasha and Malia are doing great, they are the ones who put me on to Insecure." I was like, "Sasha though? Sasha's too young!" [Laughs] She was like, "Forget all that, she's out there." I couldn't watch Sex and the City until college. But for people who are of this generation and tell me how much it means to them or how it mirrors their experiences, it's not necessarily something I thought about. I definitely saw a void and wanted to tell a specific story. But absolutely, it's a blessing that people are taking these characters to heart and feeling related and connected to them.
One of the most talked-about episodes from the series was the one in which Molly dated a guy who had a same-sex experience. The Black community has a complex history with LGBT issues, were you deliberately trying to spark a debate with that plot line?
Yeah, we wanted to start a conversation. This is something i discuss with my friends. Ten years ago,  I remember  telling my friends, "I'm desynthesized to the construct of Black masculinity  and I'm desynthesized to bisexuality." We have so many friends who are bisexual or gay and I was like, "I don't think I would trip if a guy i was dating said he had messed with another guy if, in my mind, he still identified as an alpha male." And they were like, "Well, he still f**ked another dude, so he's gay." I just thought that was an interesting conversation. Then the writers brought it up and noted that while some people agreed and some people did not, any conversation like that that sparked a debate we had to put it in on the show.
You've touched on a lot of issues in the show: homophobia, cheating, racism at the workplace. Do you see the show tackling transgender issues?
Yes, it's just figuring out the right way to do that. I think so many other shows are doing a great job without feeling like it's shoehorned and it fits in naturally. For us, it's just about finding the most natural way. There's so many topics we wanted to explore but, at the end of the day, we are just trying to tell a good story without anything feeling forced. It's something I'd love to tackle. We almost did it this season but it didn't fit within the story we were trying to tell. Hopefully, we'll see what season three will hold.
Shonda Rhimes said she knew when she started Scandal how long the show would air. Do you know how long Insecure will air?
Yeah, I have  an idea of when I want to end it but I don't know how it's going to end. I definitely know when I want it to end. [Laughs] But I can't say or HBO will kill me!
Can you give us some details on the Rihanna and Lupita Nyong'o script you are writing?
I wish I could. If you ever talk to Ava DuVernay, ask her.
How can people get involved with Marriott's #LoveTravels?
They are doing a contest, which will give up to $50,000 for tuition debt forgiveness and even give you Marriott points. If you are considering pursuing an MBA or traveling in any capacity, just know that Marriott is welcoming all people with open arms.
For more on Issa Rae, watch the BET Breaks video above.