Viola, Angela And Halle! 10 Absolutely Epic Monologues From Black Women In Film
In honor of Viola Davis' birthday, here are monologues we can't forget.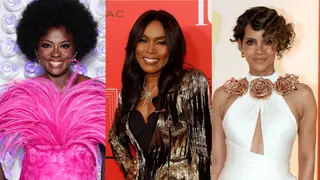 In honor of Viola Davis' 48th birthday (August 11), we are looking back on powerful monologues delivered by Black women in movies -- and we all know Viola Davis can deliver a monologue like Viola Davis. From Viola Davis to Angela Bassett to Halle Berry, check out ten monologues we can't forget. 
Regina King, 'If Beale Street Could Talk' (2018)

"That child that's coming, that's your grandchild. I don't understand you. It's your grandchild. What difference does it make how it gets here. The child ain't got nothin' to do with that. Ain't none of us got nothing to do with that!"

Aunjanue Ellis, 'King Richard' (2021)

"Unlike you, I don't need the world to tell me I'm great."

Viola Davis, 'Fences' (2016)

"Don't you think I had dreams and hopes? What about my life? What about me? Don't you think it ever crossed my mind to want to know other men? That I wanted to lay up somewhere and forget about my responsibilities? That I wanted someone to make me laugh so I could feel good? You not the only one who's got wants and needs. But I held on to you, Troy. I took all my feelings, my wants and needs, my dreams and I buried them inside you."

Angela Bassett, 'Waiting to Exhale' (1995)

"A white woman is probably the onIy one who'll tolerate your smug ass! Yeah, I was your white woman for 11 years! Couldn't have started that damn company without me! Hell, I worked my ass off. I mean, I got a master's degree in business... and there I was his secretary, his office manager and his computer!"

Oprah Winfrey, 'The Color Purple' (1985)

"All my life I had to fight. I had to fight my daddy. I had to fight my uncles. I had to fight my brothers. A girl child ain't safe in a family of men, but I ain't never thought I'd have to fight in my own house!"

Alfre Woodard, 'For Colored Girls' (1982)

"Somebody almost walked off with all of my stuff and didn't care enough to send a note home saying "I was late for my solo conversation" or 'two sizes too small for my own tacky skirts.' What can anybody do with something of no value on an open market? Did you get a dime for my things? Hey, man! Where are you going with all of my stuff? This is a woman's trip and I need my stuff to 'Ooh' and 'Ah' about. Honest to God, somebody almost ran off with all of my stuff and I didn't bring anything but the kick and sway of it."

Rosie Perez, 'Fearless' (1993)

"I lied in the confession, I lied to the whole church, to everybody. Oh my God, my God."

Vanessa Williams, 'Soul Food' (1997)

"Oh, f*ck the family! I let the family into my house, and you know what happened? The family f*cked my husband."

Halle Berry, 'Losing Isaiah' (1995)

"I threw him away. My baby. I threw him in the garbage can. I killed him, killed him. You got a book about that?"

Mo'Nique, 'Precious' (2009)

"Who else was going to love me? Hm? Since you got your degree and you know every f*ckin' thing, who was gonna love me? Who was gonna make me feel good? Who was gonna touch me and make me feel good?"