Adrienne Bailon Breaks Her Silence on Tamar Braxton Feud
Here's how she really feels about her co-host getting fired.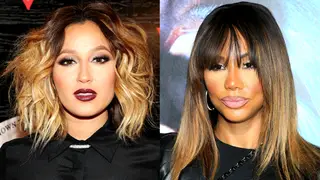 Adrienne Bailon and Tamar Braxton were self-proclaimed besties during their time together on The Real, but what's the status of their relationship now that Tamar has been kicked off the talk show?
Strained.
The soon-to-be-married co-host opened up in a radio interview with Hot 97 about the current state of affairs between herself and Braxton, and it sounds like the person she once called "my best friend, my vault, my comedian and my therapist" is now no longer part of her life.
Insisting that Tamar's departure "had absolutely nothing to do with us," Bailon goes on to say, "That's above my pay grade, so to speak. I can't make those kind of decisions."
Bailon was then asked if she still speaks to Tamar, to which she confessed, "I love Tamar. I will always love Tamar," and said nothing more.
Sadly, it sounds like this friendship was a casualty of Tamar's dramatic exit from the talk show. Maybe they'll mend fences again once Tamar's solo show hits the air?
Tamar's friendship with Toya Wright, on the other hand, seems like it could be over for good. Watch Wendy Williams above to get the latest on that feud.