LOL: Social Media Says No Thanks To Hazel-E's Struggle Twerk
Too much.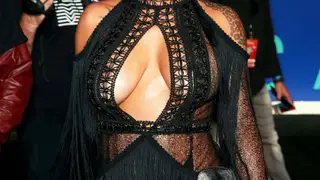 Last month, Hazel-E endured a well-deserved dragging of a lifetime for comments about the LGBT community and dark-skinned Black women. However, this dragging is going to continue into the holiday season, especially after the video she just posted.
Watch the reality star get slammed for her nasty comments with BET Breaks, above.
Hazel E decided to do a twerk video for her man, but for some reason she decided to share this on social media. Boo, if this was for your man, you should've kept it for his eyes only.
See the video below:
Social media was not here for this, especially on The Shade Room. Some of the brutal comments read, "Why the only thing moving was her legs and wig," "A rigor mortis mess. You know she look like the walking dead," "Throw the whole body away and start over," and "She looks like she rehearsing but hasn't quite got the routine together yet!"
Dis tew much.