Fantasia Says She Believes Women Are Single Because They Can't Submit To Men, Do You?
Real women weigh in on the submission in relationships.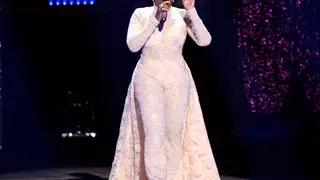 Fantasia Barrino thinks the reason "why you can't find a man" is because more women need to submit to their man. The topic of submission is always a slippery slope, but Fantasia had no problem discussing her thoughts around the subject on The Breakfast Club recently.
The 35-year-old believes that there are too many women who are trying to take on a man's role which she considers the lead role when they should, as she says, submit to their partners.
"Most women are trying to be the leader. That's why you can't find a man," she said. "You can't be the king in the house. Fall back and be the queen and let your man lead the way."
She continued, "You have to find how to submit. You can still be a queen. The queen plays a part. The king needs his queen. There's certain things that he can't see that we see."
Watch the full interview below:
Many folks, especially women, found fault with the singer's stance that independent women can sometimes come across as too masculine. This has started a debate around the concept of submission that has the Internet divided. We decided to join the conversation in order to gain more clarity around the views of submission from real women by asking the ladies at BET this:
Do you think women need to be more submissive in relationships and let the man take the lead? Do you practice submission in your relationship(s)?
Everyone Should Practice Submission

"I do feel like if anyone has an issue with relinquishing some level of control in their relationship, or is unable to open up and speak on their emotions accordingly, that they need to practice submitting to their partner, period.

In my experience with dating, I've learned a lot of guys have a ton of unaddressed issues, and those issues turn into insecurity, and that insecurity translates into the relationship. Don't get me wrong, these problems didn't start with the "millennial man" but I do think a lot more millennial women are doing the work to heal in the places where life hurt them (be it through self-care, therapy, communication amongst friends, etc), so our baggage is a little less these days.

A lot of women today have issues submitting to their man because many of them don't even know what to do with their own problems, let alone ours. Trust me, based off my own personal experience and conversations with friends, we've placed our problems in the hands of the wrong men, and it didn't end well. So do I think we need to submit more? Yes. But I also think we deserve reciprocity in the act of submission, trust and opening up." —Soraya, Editor

Why Is Submission Reserved For Women?

"What I find interesting is this concept that submission is reserved for the woman. I think healthy relationships see exchanges of submission. And those exchanges aren't necessarily as equal as they are complimentary. For me, personally, I've come to learn that I find a sense of freedom and empowerment in submitting – sexually and emotionally – to my romantic partner.

As a Black-Brown woman playing a functioning piece of the White corporate puzzle, I have to constantly compete, over compensate and/or perform mental gymnastics to be seen or taken seriously. Submitting in these professional rooms often means playing by the rules, taking all things for face value, and at the expense of my intelligence and/or creative + personal integrity.

If no other room in the world, I'd like to know I have the permission to just show up and give myself and be responded to with care and respect for doing such in my romantic relationship(s). Submission is not devoid of power, I'd argue the opposite. And submission isn't just relegated to the bedroom. What does emotional submission look like? Which is to say, how is your partner committing to submission in ways that you might not be /don't necessarily have to? Balance doesn't have to mean equality." —Marjua, Features Editor

A Relationship Is About Give And Take

"I think the word submissive comes with a negative connotation but I do believe women should be willing to make sacrifices, as should their man. A relationship is about give and take. I believe the age we live in women have been so independent that there may be this stigma that women aren't willing to submit but I don't think that is the case in the same respect that I don't think all men are trash.

Personally, I do submit in my relationship not in the sense that my partner has all say but rather that I will make sacrifices and I will respect and take into consideration what they say and how they feel." —Zemirah, Intern

I Don't Believe The Solution Is To Be Submissive

"I don't believe the solution to a successful relationship is being submissive. The key component is communication, women should be themselves with their counterpart and learn to navigate when to be the leader and when to allow him to take the lead. It's a partnership not a dictatorship." —Franlys, Programming

Submission Should Be A Two-Way Street

"I believe submission in romantic partnerships should be a two-way street. Often, we as a society heavily place this expectation only on women in terms of acts of service (housekeeping, cooking, raising children, sexual favors, etc.). But there are also other forms of submission that we don't address as much, like emotional and financial submission, that are equally important to a union and that men typically lack in.

Unfortunately, I feel submission has been stigmatized as a weakness for both men and women, which is another reason both should be more open to discussing it and exercising it to whatever extent works best for their relationship. 

As a romantic partner, I absolutely enjoy submitting to my person! I've always wanted to be the type of wife that cooked, cleaned, raised my children, and had a hot meal and massage waiting at home for him. I have no issue allowing him to lead. But as the saying goes, I will not submit to or be led by a person who is leading me into destruction, confusion or mayhem nor refusing to compromise and balance out the submission either." —Diamond, Music Editor

Everything Should Be Equal

"I don't agree with just women being submissive but I do believe that there are times when we should as well as believing the male should be submissive sometimes too. Relationships are give and take and everything should be equal." —India, Freelance Writer

Each Individual Should Know When To Lead And When To Follow

"I don't think it's about whether or not a woman should be submissive in a relationship. I think it's about being in a relationship where each individual knows when to lead and when to follow." —Ashlee, Senior Producer