Yvette Nicole Brown: 'I See Politics in Everything Right Now'
The "SuperMansion" star talks about how she stays sane in Hollywood.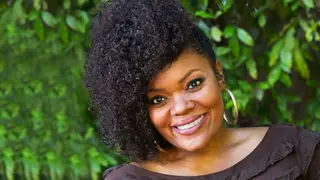 Yvette Nicole Brown has become one of the funniest voices on television. After co-starring with Donald Glover on Community, Brown starred in the Odd Couple and will now test her hand at voice acting in the upcoming animated show SuperMansion. 
We sat down with Brown to talk politics, Hollywood and more as she prepares for the premiere of her new show.
Your acting career ranges from comic books to superheroes. Have you always had a nerdy side?
I am probably the biggest nerd of the planet! I've never been embarrassed by it. I've always seen it as my super strength. My superpower. I think nerds get a bad rap. I feel all we are is people that really, really, really love stuff. That's all a nerd is. And we love different things. You can be nerdy about a thousand different things, but it's just people who love stuff and they're not embarrassed to publicly declare, 'I really love this.' So, I've proudly been a nerd and I pick projects based on what I'm excited about and most animation, and I don't know how old you are, but I grew up with Rudolph the Red-Nosed Reindeer, shows like that, so I've always been in love with stop motion and animation and I love that SuperMansion is so irreverent and naughty and funny and interesting, so I was super excited to be a part.
Tell us about your characters in SuperMansion.
I play two characters, actually. I play Portia, who was a part of The League of Freedom back in the day, like way back in the day, and she's had a falling out with Titanium Rex, played by Bryan Cranston. She's gone on to become a talk show host, someone who leads people through their lives, but there's a hidden part of her and that is Zenith, which is an other worldly character who she becomes, who basically fights evil. So, when Titanium Rex is in trouble, he needs Porsha to come back and release Venus to help The League of Freedom. So that's my character. She's sassy and smart on one side and vindictive and powerful and sarcastic on the other side.
While watching the first couple episodes, I saw a political angle. Do you see a political side to SuperMansion?
I've seen politics in everything right now. I can watch a commercial and see politics. I feel like the climate that we're in right now, it's all hands on deck. So, I'm not surprised that you see that. I do see that is a part of the show this year and a part of my character 100 percent.
You've been working for years in Hollywood. What made you not give up?
It hasn't been easy. First of all, I'm not the traditional looking actress. I'm short, I'm chubbier, I've got a big ol' apple face. A Cleveland staple is a big ol' apple head, so I've got a big ol' apple head. My hair is natural, so there's a thousand reasons why I should not be on anybody's television or film screen. But I really love people and I see entertainment as an offering. I see it as giving something instead of taking, and I know that you can go through your life taking from people or you can go through your life giving and so I kind of felt there's a gift in me that lightens people's loads or makes them stop or makes them think, then it's my job to offer that especially in times like these. So for me, it's like any day now this could end, but until it ends, I'm going to keep going. And growing up poor in East Cleveland, I know how to manage and I live below my means. So once I became an actor, I've only been an actor because I've never been extravagant. So I'm not buying designer purses and whatever. A little treat every now and again. I don't live an extravagant life. If there's a season where I'm not working, I can lean into it and see where God has me going next and not panic and take a crazy job or quit the business altogether. I can make more educated decisions because I'm responsible with my finances and my life.
I think the other thing that did it for me was the first project I did, like real project, was The Big House with Kevin Hart and Faizon Love back in like 2003 and that show got canceled after six episodes. So, my first introduction to the industry taught me that it doesn't last. You know what I mean? That was probably the greatest gift I was given. Now, I understand that just because you get on a show doesn't mean the show's going to last, so it makes you not go through life saying, "It's a gravy train." No, it's not. You might be able to get a little spot of gravy, but it's not the whole gravy boat. So enjoy your little dollop of gravy and save your money. It teaches you to be responsible when the first thing you get doesn't last, so I think that was the greatest gift I got in this industry, actually.
It really annoys me that people are still mistaking you for Sherri Shepherd and Octavia Spencer. Is that still happening?
[Laughs] As my public [recognition] has grown, it has lessened, but I promise you, I was at the Women's March a couple of weeks ago and a girl came up to me and said, "Oh my God, are you Sherri Shepherd?" I was like, "No, I'm not." So it's happening and it's really ridiculous. Octavia's an Oscar winner and probably going to be Oscar-nominated and winning for years and years to come. People should know what Octavia looks like. It's crazy, and we don't look alike aside from being round-faced and Black. We don't look alike, none of us. Not even remotely. So it happens, but it's happening less.
You were in the New Edition biopic, which was a huge hit. What was your favorite memory working on the film?
There's so many wonderful memories, but the best one for me as a New Edition fan from childhood was they were shooting the video for 'Not My Kind of Girl,' and there was a point where there was a small crowd that they had to move around to make it look like the arena was full, and so at one point, they put the crowds behind the guys and the camera was behind me so I was sitting in this almost empty arena and watched the five members of New Edition, the older kids, perform one of my favorite New Edition songs. It was my own private concert, and they had New Edition down to such an extent, I was 15 again enjoying my favorite group, so it was my favorite personal memory of New Edition, but the idea of the guys, the real New Edition were on set every day. The young New Edition, the big New Edition took their jobs so seriously and basically created a biopic that will be our generation's Jacksons or our generation's Temptations. This will be a film that, whenever it comes on, you see it, you're going to stop and watch it and I get to be a part of that. And with my history with Michael Bivins with being in the East Coast family and all of that, it's such a full circle moment to play his mom and everything about it is blessed. Everything about it.
What will viewers get from you in your SuperMansion role that they haven't gotten in your previous ones?
They're going to get to see a more adult version of me. There's a lot of roles I don't take on camera because I did Drake and Josh at the start of my career and I try to be respectful of the children that may have discovered me on Drake and Josh and followed my other work, so my public on-camera career is very PG and I, as a person, am very PG. But Porsha and Venus are not PG. They're not R, but they're at least PG-22, PG-17. You know? So, it's another side of me. A more adult, fun, naughtier side of me in voice that you'll get from Porsha and Venus and I think it kind of rounds out what I can do as an actor and it's funny. It's a funny, funny show. Really funny.
Look back at one of Brown's previous interviews with BET when she joined Don't Sleep, above.