Melanin NOT Poppin'? Keep Your Skin From Looking Ashy AF, Battle Eczema Flare-ups And More
Dove dermatologist Dr. Rosemarie Ingleton's pro tips for winter skin woes.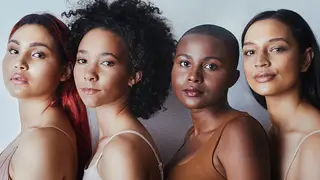 By now, your summer glow has completely faded, and the winter has your melanin NOT so poppin'. Unfortunately, Black women, especially, suffer the most during the colder months because skin conditions like dryness, eczema, acne and dandruff plague melanin-rich skin the hardest.
However, having your best skin doesn't have to wait another five to six months, because Dove dermatologist Dr. Rosemarie Ingleton is sharing her pro tips on how to combat these pesky problems with a few simple changes to your skin-care routine. After all, it is a new year, so shake up your usual beauty routine with her expert advice!
Help! I'm Ashy AF

"As we go into the cooler months, our skin responds to the lower humidity in the environment by becoming less oily (drier), less sweaty, more dull appearing. It is helpful to switch up skin-care products as the seasons change, especially for women of color, where dry skin is more visible.

"Select products that specifically target dry skin. Read the product packaging and look for key words like 'moisturizing,' 'hydrating,' 'replenishing' and 'nourishing.'  Your body-wash choice in the shower is the first step to set the foundation for your skin's health and combat dryness. I opt for a more rich, hydrating body cleanser, like the Dove Deep Moisture Body wash. It's sulfate-free formula and 100% gentle cleansers nourish skin, leaving it softer and smoother."

"Avoid those tempting long hot showers, as they strip away your skin's natural moisture barriers. Instead, opt for shorter warm showers.

"Next, exfoliating in the shower at least once a week can help keep skin feeling smooth and radiant. Be careful to choose an exfoliating product that is not too harsh and has moisturizing ingredients as well.

"Finally, moisturizers should also be richer and more hydrating to counteract the dry, cold environment."

Help! My Scalp Is Snowing

"Many of my patients who come in with dandruff issues also suffer from hair loss. In order to truly diagnose the issue and determine a treatment, I conduct a detailed interview in which I discuss their current hair-care routine, from the hair products they're using, natural styling, if they've relaxed their hair, used any hair dyes, etc."

"Once I identify the cause of their hair loss or scalp flaking, then I educate them about the cause of their condition and recommend prescription if necessary or the appropriate hair-care products and hair-care techniques that are going to offer the best results. I also urge my patients to use products that are gentle on the hair and scalp, that cleanse but also replenish any moisture lost in the cleansing process."

Help! My Acne and/or Eczema is flaring up

"There are various environmental factors that can cause acne breakouts during the winter for women of color. The winter subjects our skin to harsh elements and low temperatures. The combined effect of these environmental factors causes an imbalance that can lead to acne or eczema breakouts. Depending on your skin type, you might have to cut down on the amount of outdoor activities during the colder months."

"As we use clothing accessories like hats and scarves that shield or forehead and the lower part of your face, these accessories can trap oil and impurities and transfer them on to our skin. To combat, be sure to wash your hats and scarfs regularly.

"If you do break out, leave your blemishes alone. Many people like to pick at their acne, which makes it even more difficult to heal as picking causes more intense hyper pigmentation, and this hyper pigmentation is more obvious in darker skin types. If your acne does not clear up or worsens, be sure to visit your dermatologist for a check-up."