5 'Trap Queens' We'd Love to See on 'American Gangster' Season 3
With 'American Gangster: Trap Queens' approaching its next season, we take a look at some other notorious Black women criminals in American history.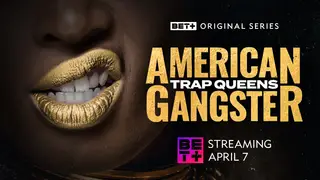 America is considered the land of the free but has always operated as a home of the criminally minded. The country's true history is full of stories about men who have taken the justice system for a ride on the wild side. More often than not, women get left out of the narrative aside from being the Bonnie to these notorious gangsters' Clyde. However, there have been outliers, women who have become infamous themselves for not only ending up on the wrong side of the law but making history for the type of capers they pulled off.
That's where BET+ and its American Gangster: Trap Queens come in. The series, which returns for its third season takes a look at the rise and fall of ill-famed delinquents and villains in the United States. 
On Apr. 7, the first five episodes will air, with the remaining streaming at a later date. With that said, here's a list of 5 certified trap queens we wouldn't mind seeing on the show.
Doris Payne

Doris Payne is one of the most prolific scammers and jewel thieves of all time. She was born in 1930 in West Virginia and started her career as a thief when she was in her 20s. She is noted for stealing internationally and one of her biggest heists was a 10-carat diamond ring, valued at $500,000, from Mote Carlo. She was held for nine months before being released. 

She has been arrested several other times for a variety of offenses and charged with felony, and larceny and has spent her life in and out of prison. She has used several aliases, several social security numbers and several dates of birth to assist in her fraudulent activities. Payne is said to have made millions in her lengthy career. 

Her last arrest occurred in 2017. At that time she was caught allegedly shoplifting in an Atlanta-area Walmart while wearing an ankle monitor from a previous case. She avoided jail time and seems to have been lowkey since. 

At 91, she may live to see her biopic, which is said to be in the works, come to fruition.

Stephanie St. Clair

Gakirah "KI" Barnes

Gangsta life rarely has a happy ending, but this story is especially sad. Gakirah "KI" Barnes was in her early teens when she got involved in street life as a shooter. She grew up on the Southside of Chicago where she started off as a good student and had aspirations of becoming a social worker. 

She saw the violence and destruction caused by years of poverty and policy neglect and thought being a social worker would be a way to help kids in her community. Her father was shot to death on Easter before she had even turned one, and a series of losses around her, including her 13-year-old friend whom she witnessed being hit by a stray bullet at a house party, had a profound effect on her. 

She switched her dream of becoming a social worker with a desire for revenge. She became a feared assassin, which was rare for a girl, and is rumored to have killed several people before meeting her own demise by the gun in April 2014, at only 17.

Odessa Madre

Odessa Madre, also known as "Lady Al Capone," had the streets of DC on lock in the '20s and '30s. She was born in 1907 and went to a prestigious public school where she was taunted for being dark-skinned. Despite getting good grades people would tease and force negative stereotypes on her because of her complexion. Eventually, she got tired of the way she was treated and began to embrace a different crowd. 

After high school, she got involved in bootlegging, and running numbers, and built her criminal empire which included the foretold in addition to brothels and juke joints, which attracted the likes of Billie Holiday, Count Basie, Duke Ellington, and more. She was tight with a lot of Irish police and was able to buy protection. She was also known for her flashiness and for being openly lesbian. At her peak, her net worth was said to be more than $100,000 which would be over a million today. She was arrested in 1961 with a one-ounce bag of coke and sentenced to seven years in prison. 

Sylvia "Rambo" Nunn

Sylvia Nunn, known on the streets as "Rambo," is the little sister of Marcus "China Dog" Nunn, founder of Lueders Park Piru, a Blood-affiliated gang based in Compton, California. Her father was sent to prison when she was a teenager, but not before he taught her how to box and shoot a gun. She had a reputation for her brutal shooting sprees mostly under the influence of crack, where she would feel no remorse for her actions. 

In the late '70s, when she was 16, her brother was gunned down but survived the attack. Years later, in the early '90s, she was picked up by police who said she could either cooperate and give up the daily drug operations of the Lueder Park Piru or go to jail. In a stunning twist of events, she decided to cooperate. Shortly after that she fled to Las Vegas, got married, and gave her life to Jesus. She remained active in her church until she passed away in 2010.