NAACP Image Awards: 3 Reasons Why 'Soul' Won Outstanding Animated Motion Picture
'Soul' set the bar when it came to representation, diversity and inclusion.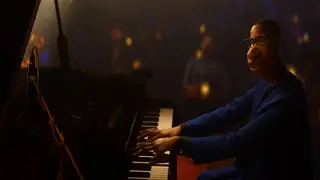 The Disney Pixar film Soul took everyone's breath away following its December 2020 release.
Starring Jamie Foxx who voices the character Joe Gardner, a middle school music teacher whose soul is separated from his body after an accident. The animated film takes viewers on a journey where Joe travels to another realm to help a cynical soul named 22 played by Tina Fey find their passion. And this helps Joe ultimately discover for himself what it truly means to have a soul too.
As the NAACP Image Award winner for Outstanding Animated Motion Picture, Soul set the bar when it comes to representation, diversity, inclusion, and thought-provoking themes.
Here are three reasons why Soul won Outstanding Animated Motion Picture for 2021 NAACP Image Awards.
Making History When It Comes To Diversity

Soul is the first Pixar film to feature an African-American protagonist played by the multi-talented and multi-hyphenate entertainer, Jamie Foxx. Directed by Peter Docter and co-directed by Kemp Powers, with Dana Murray as producer, the film ties in jazz music, the soul of the song and the soul of a person to create a breathtaking film. 

"We were lucky enough to have our head of inclusion and diversity Britta Wilson [who] helped us build our internal trust [at Pixar] with the Black employees," Murray told BET.com in an interview.

An Amazing Cast

Soul was also credited as the first Pixar film to have a majority Black principal cast.

In addition to Jamie Foxx, the film is filled with a star-studded cast with the likes of Phylicia Rashad (voice of Libba), Questlove (voice of Curley) and Angela Bassett (voice of Dorothea). 

"Being the first Black lead in Pixar, it's to be celebrated," Foxx told BET.com in an interview. "We need this wonderful movie, Black lead and at the same time we are universal with it."

The Viral Barbershop Scene

"It was all about the cut," Foxx tells BET speaking about the iconic barbershop scene that went viral on social media.

The barbershop and the Black community go hand in hand when it comes to Black men. After Joe (Foxx) in the film has a mishap with his at-home haircut, he makes a trip to the neighborhood shop to get it corrected. His go-to barber Dez (voiced by Donnell Rawlings) is not only Joe's confidant and master groomer but also pushes Joe to believe and see the impossible when it comes to his dreams.

"Joe had to get his hair fixed and enter a truly Black space," co-director Kemp Powers says in an interview with Disney. "There's really no more authentic Black space in the community than the barbershop.