Boxer and Father of 10 Says He Ended Up in Gay Porn Because He Was 'Drugged'
"The only time I touch a man is when I'm in the ring," Yusaf Mack said.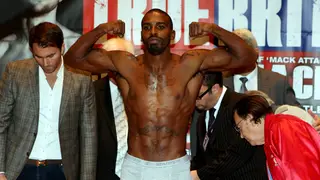 Professional Philadelphia boxer Yusaf Mack was in some hot water earlier this year when he did something pretty shocking to get some extra cash. In an interview with the Philadelphia Daily News, the father of 10 said he agreed to star in a gay adult film after someone reached out to him via Facebook. Now, with time passed since the filming, the pro athlete is switching his tune, saying that he was "drugged" into his X-rated debut.
"My whole life, I've been what they call a whoremonger," he told Jenice Armstrong of the Philadelphia Daily News. "I love females. The only time I touch a man is when I'm in the ring fighting."
The X-rated video shows Mack in a threesome with two other men. Despite the video proof, Mack, 35, insists that he is 100 percent straight, and doesn't even remember shooting the tape.
Mack says while making his way through Philly following the shoot, he noticed several people acting differently around him. After his friends told him the video was making its rounds, he eventually admitted to engaging in sexual acts with the two men in the video. However, he said it wasn't all his doing — it was all thanks to "a pill and a shot of vodka."
"I think, 'It's about to go down.' I needed a drink or something," he said. "They gave me a pill and a shot of vodka. I took the pill down with the vodka."
He said after that, he didn't remember a thing except for waking up on the train heading back to Philly $4,500 richer. According to ProjectGHB.org, Mack's story may have some truth to it as there is a party drug called gamma-Hydroxybutyrate, which lowers inhibitions and can cause memory loss.
"It's entirely possible because [GHB is] a sexual stimulant and some people take it voluntarily to enhance the sexual experience... It's entirely possible to perform and yet not recall," Trinka Porrata of ProjectGHB.org told the Daily News. 
Now that the story's out, Mack is trying to move past the scandal. "I'm just hurt right now," he said, before explaining that his kids are already asking him about the sex tape.
Get educated on another new popular party drug, that could cost you your life, in the clip below.
BET.com is your No. 1 source for Black celebrity news, photos, exclusive videos and all the latest in the world of hip hop and R&B music.
 (Photo: Scott Heavey/Getty Images)