Season 2 of 'The Ms. Pat Show' Gets Serious With Themes About Sexuality, Queer Culture, and Abortion
Creators Ms. Pat and Jordan E. Cooper chatted with BET.com to let us know what's in store this season.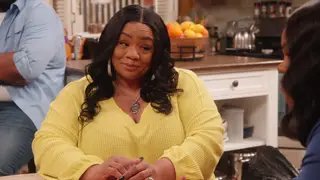 The Ms. Pat Show is back on BET+ and the second season is more raw and entertaining than ever!
With a slew of special guest stars and episodes that will have you on the edge of your seats with a range of emotions, you may binge the whole season in one sitting.
BET.com was able to chat with co-creators Jordan E. Cooper and Ms. Pat about how each of their characters grew from the first to the second season, embracing queer culture on a higher level this season, and a special abortion episode that will shake things up.
BET.com: There's a really good episode that embraces Queer culture, is there anything new you both learned about the community while filming?
Jordan E. Cooper: Not me as I'm a part of the community. I think one thing that excited me was being able to give a platform to Miss Sophia, who is a brilliant and hilarious drag queen. She's been working for so many years and she hasn't had the platform to really show herself or show her talents. I was just really excited about being able to lift up an older generation of queer culture who deserve their flowers.
Ms. Pat: Well, I'm not a part of the community but I definitely walk their dogs on Tuesdays [laughs]. My daughter is gay and I will always put it out there because you can't judge somebody for their sexuality. We're going to keep throwing it in your face.
Cooper: My favorite line from the episode with Miss Sophia is when she said we can't keep putting straight people on television because they'll brainwash our kids [laughs].
BET.com: This season turns it up a notch and it's rawer than ever! What's one of your favorite parts about season two?
Pat: The episode revolving around Black hair and the molestation of my mom's boyfriend with me is where the rawness comes into play this season. As far as my favorite episode, I would say the robbery episode because it was so silly and it allowed Jordan to really bring me out of my element. I was acting a fool that day and was so glad I had on a mask so I didn't have to feel embarrassed [laughs].
BET.com: There's a really important episode surrounding abortion which holds the conversation of whose right is it, as you know, this has become a major issue within our country. Why was this episode important for you to input for this season and what do you have to say to the world and its new laws around abortion?
Pat: It was important for me because I've had an abortion and I remember when I was talking on the phone with Jordan, even when we came up with this episode, he called me that morning — he was screaming that the Roe vs. Wade thing was overturned and I've always talked about how it's my right and it is my vagina. If I want to stick firecrackers in and blow it up, I should have a right and you shouldn't do anything or tell me what to do. I just thought it was very important for the women out there to know that it's your body. If your state doesn't allow abortion, there are states like Kansas City that will. If Georgia won't let you have an abortion, drive on over to Kansas City — it's your body and your choice. Old men whose things don't even work are making laws about my thing that do work.
You don't want to miss season two of The Ms. Pat Show which is available for streaming on BET+ now.