Latto Talks About Sprite's Hip-Hop 50 Campaign With GloRilla, Nas, and Rakim, Names Her Favorite Rapper
The Atlanta rapper also recalls her bond with Gangsta Boo, women dominating the culture and more.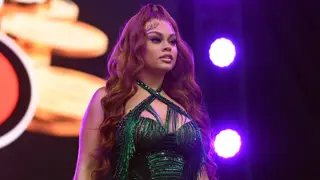 Latto is one of those artists who will take over a season if you let her.
The Atlanta-based rapper already has two of the incoming summer's biggest heaters with "Put It On Da Floor" and "Lottery," she's not stopping anytime soon. Currently, on tour with Lizzo, Latto is seeking her road bag and continuing her brand partnership situations, particularly with Sprite.
As a part of the soft drink company's new campaign that celebrates Hip-Hop 50, it was announced Thursday (June 1) that Latto is joining forces with GloRilla, Nas and Rakim for their latest brand launch that will include a new flavor (Lymonade Legacy), spots set to the tune of a remixed "Rapper's Delight" by The Sugarhill Gang, and new merchandise and content.
In honor of the new campaign launch, BET spoke with Latto about Hip-Hop 50, including her favorite emcees of all-time, her latest singles, working with the late Gangsta Boo, friendship with TiaCorine, and if she's working on a new project. Read below.
BET: You're a part of Sprite's Hip-Hop 50 campaign along with Nas, Rakim and GloRilla, kind of a nod to the different eras of the culture's history. What made you want to become part of it?
Latto: I've been working with Sprite since 2021. My first experience with them was Live From The Label. It was super fun and exciting, so when they reached out for this, I was hella excited to continue that relationship, especially centered around Hip-Hop 50. Big celebration, so honored to be a part of it for sure.
BET: Speaking of Hip-Hop 50 in general, how important to you is it to celebrate the long-standing culture, especially as an artist who has broken through within the last 5-7 years I know you have a special appreciation for the greats as well as some of the newer artists?
Latto: For sure, hip-hop is constantly evolving, so to be a part of this new wave and new style of hip-hop is super honorable, especially when you talk about female rap and its heavy presence in hip-hop. So I'm excited today to be included with artists like me and GloRilla, alongside the greats.
BET: You've been on tour, just hit Chicago, and will perform in Omaha tomorrow. How has that been going and what have been the most memorable moments or takeaways from it?
Latto: So fun. I love Lizzo so much. Still in awe that she even included me the first time, let alone the second go-round of this tour. She's such a genuine, sweet soul on and off the camera. Love her to death.
BET: "Put It On Da Floor" is one of the hardest songs of the year and I know that one must be fun to perform too. How did that one come together for you?
Latto: I was just in the studio; I've been working on my next project. It wasn't even really expected to come next. It wasn't expected to be like a single or anything. I was just having fun in the studio. I freestyled that song, and it was no pressure. Those are the best sessions, though, honestly. So after the song was done, I was like, "Nah, I think this is one of them ones and I had rushed the label to come up with the rollout. We had to rush everything because I wanted to perform at Coachella. And then from there, it was like, Oh okay, we got to drop it now.
BET: "Lottery" is also going to be one of those songs of the summer. I can already feel it. How did that one come together?
Latto: "Lottery" was super fun, too. I was working on my album again in March in Miami. I heard the song, [LU KALA] had already had the hook on it and I just loved it. I was like, They gotta let me get on this. This "Lottery," I'm Latto, like they got to let me get on this. So I reached out like, I want to get on and whatever and she was down and then we shot the video. I just loved her whole message and everything she got going on. So it was super fun to like meet her in person, shoot the video, and keep continuing that pop Latto era.
BET: Are you someone who does a lot of recording on tour, or is it more of a special circumstances-type deal?
Latto: I like to lock in, so when I'm recording – you have deadlines and stuff – so if I have to spend a day or two on my off days going in the studio to finish this or do this feature because it has a deadline or whatever. I do like homework on tour, but I like [being] in Atlanta, in my comfort zone with my own comfort space and my studio that I'm used to, my engineer I'm used to, so I haven't been working on an album but I'm always writing in the back of the bus. I'm writing when I'm getting glam, jumping out of the shower to jot something down. I'm always writing, but I like to record at home.
BET: Speaking of Hip-Hop 50 again, what does it mean to you that women are the best rappers right now in hip-hop by talent and sheer volume?
Latto: First of all, I agree. They don't give the women in rap right now enough credit. We killing the stage performances, we doing overtime in rehearsals, we're going up there in damn near three to six inch heels killing s**t. [We're] giving choreo, makeup – we sit in glam for hours, so we turning this s**t up another notch and it feels good to be getting recognition and representation for women right now.
BET: I love your friendship with TiaCorine, and I think you and her have so much star power. Talk about that relationship beyond just the "Freaky T" remix…
Latto: Oh my god, I love Tia so much. She's so fun. We met actually before we even were talking about doing the "Freaky T" remix. We had met at the Spotify event around Grammys it was like Spotify best new artists event and I was just like, B***h. I love your song, I love everything you got going on, putting on for the b*****s, especially the b*****s from the south. I just love her. And then we ended up talking about the remix. She had pulled up on me at the studio and we did that, then we linked again for the video. I just love everything she got going on. I think she stands out amongst the pack.
BET: We've been asking all types of artists for Hip-Hop 50 about the greats of the culture. To you, who are the best rappers you ever seen rap as an emcee yourself – maybe not even your top 5, but just who can spit, in your opinion?
Latto: Oh, okay. You know I'm from the south, so my favorite rapper is Gucci [Mane]. I feel like Gucci just cultivated a whole new wave. His presence is still very much seen today. So I love Gucci. But when we talk about lyrics and s**t, I love [Lil] Wayne; I'm super blessed to have been able even to do a song with Wayne ["Sunshine"]. Yeah, I love Weezy.
BET: Kind of a sadder topic, but I remember reading an interview with Gangsta Boo about how you had supported her for a long time and called her one of your inspirations, which is excellent how you were able to come together with her and GloRilla for "FTCU." She also mentioned that you told her that your dad was a big fan of hers as well and I loved seeing her get her flowers right before she passed away. Can you talk about that bond and the sort of interactions you had with her?
Latto: Yeah, I'm super super blessed that I got to work with her before her passing. Boo was like one of the first – or really Boo was the only female who would hit me up on some like, "How are you?" Like outside of music – just call me or text me randomly like, "Sis what you want? You want to come to the birthday party? You good, you safe? She was the only OG to take me in and check on me. So that was a huge loss.
BET: You know, I've gotta ask, is a new project coming soon – EP or album?
Latto: You know what, I don't know right now. I can't put a label on it, but I'm really just having fun. I'm exploring new sounds, trying new beats, new BPMs, working with new producers, going back to the beginning, working with producers from the beginning of my career, and it's just man, it's just been really fun. To see "Put It On Da Floor" wasn't even like, we weren't betting the bank on it and the reaction to that is, " Okay, they don't know what's coming now. Like, I'm hella excited now.
BET: Also, this is kind of something I've always wanted to know about you. What is your relationship to Columbus, Ohio? It lists on different sites that you're from there and I am a native of there as well, so I've always pondered…
Latto: Yeah, both my parents are from Columbus. I got a lot of family in Ohio in general. But both my parents from Columbus, I was born in Columbus – my mama had me at 15. So when she graduated high school, we moved to Atlanta, and we moved to Clayton County so I've been Clayton County since a jit, for real. That was like two-three years old. I don't really know much about Ohio, but like all my family there.