Spor: Solar Battery Charger Puts the Power in Your Hands
David Hunt, 23, co-founded his own business and encourages young African-Americans to do the same.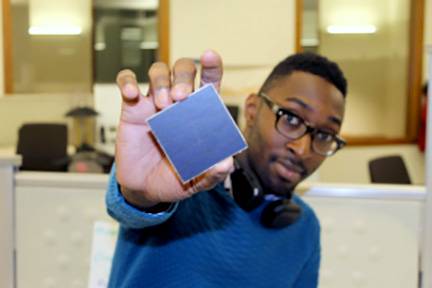 During a time when graduating college more readily guarantees thousands of dollars in student loans as opposed to an actual job, many college-age individuals are setting their sights on a different venture: entrepreneurship.
David Hunt, a recent Drexel University graduate who majored in finance, entrepreneurship, and marketing, is doing just that as a co-founder of Spor: Solar Battery Chargers. Spor is a mobile-device-charger brand that garners power from the sun and fits in the palm of your hand. 
"As an entrepreneur, one of the barriers you won't face a lot is the racial barrier," Hunt said. "That challenge is a lot more prevalent when you try to climb the corporate ladder. As an entrepreneur everyone's out here trying to hustle and trying to make it."
Though race hasn't been an issue for Hunt, he has faced obstacles due to his age. Investments, access to pitch meetings and advice from entrepreneurial veterans are other areas where he's needed help.
"People look at me and they're like 'you're 23?' If I give you $100,000, how do I know you're not gonna go spend it on champagne?" said Hunt in regards to his difficulty with investors.
Clearly, the investment issue didn't last forever for Hunt and his business partner, Jason Browne. The two created a Kickstarter campaignfor their product, and it exceeded its goal by more than $10,000 with nearly 1,500 backers.
With the help of their investors, the pair hopes to "make clean energy affordable and accessible to the world," according to Hunt.
Now that Hunt and Browne have more than $100,000 to start their company, "the next step is going to China and sourcing components and getting into production," said the young entrepreneur. 
While Hunt works on branding and numbers, Browne is the "genius behind the production."
Browne came up with the idea for Spor while trying to find a way to open his blinds in the morning without having to get up.
"It wasn't that hard of a design [to create something to automatically open window blinds]. What I realized was that it needed a power supply. Then I realized there's definitely a market for a small-scale solar power supply," Browne said.
Though Spor is marketed as a solar-powered charger, it does not rely solely on the sun. It can be charged passively through solar energy or be plugged into a wall or USB port. 
With dozens of options for solar-powered chargers, Hunt and Browne had to find a way to make their product different by creating a brand that goes beyond just one gadget.
"We also have an ecosystem of products. Instead of buying just a charger we have USB cables, adapters, attachments, solar panels. It's different from our competitors that don't really have a product line," Browne said.
While working with Browne to create his most recent venture, Hunt has several other companies under his belt.
"This is technically the sixth company. About 80 percent of the others have failed," said Hunt who started his first company when he was just 13 years old.
Bouncing back from so many failures may seem like a struggle to some, but Hunt sees things differently.
"There's no such thing as [failure] if you learn from it," Hunt said. "When a person feels like they've failed, they feel like they themselves failed, but that's not always the case. You have to bounce back. Failure puts people in a stagnant place mentally. Move past 'woe is me' and focus on 'this business needs to succeed.'"
Hunt believes there is a strong need for more African-Americans to start businesses.
"[Black progress] is a fundamental reason why African-Americans should be creating business for themselves. The best way to predict the future is to create it," Hunt said.
Hunt is willing and open to giving advice to young entrepreneurs. He can be reached at David@sporchargers.com.
BET National News - Keep up to date with breaking news stories from around the nation, including headlines from the hip hop and entertainment world. Click here to subscribe to our newsletter.  
(Photo: Courtesy David Hunt)