Stevie J And Faith Evans Are Divorcing After Three Years Of Marriage
The couple tied the knot in Las Vegas in 2018.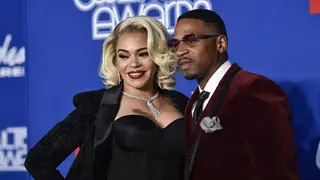 It was the relationship that started out as a friendship, transformed into love and now has seemingly fizzled out. After over three years of marriage, Stevie J, 50, and Faith Evans, 48 are calling it quits.
According to TMZ, the Grammy winning record producer filed for divorce at Los Angeles County Superior Court on Monday, November 8. The reason for their divorce is not public at this time. BET.com has contacted the judicial administrative records office maintained by the appellate courts of California in hopes of verifying the end of their marriage.
In July of 2018, the pair surprisingly tied the knot in their Las Vegas hotel room, which was a surprise to their friends, family and fans. The following year, there were already rumors of trouble in R&B paradise.
In June of 2019, whispers of a break-up were growing louder after the couple was no longer following one another on social media. In December of 2019, a series of cryptic messages were posted to Stevie J's Twitter account, leading many to believe he was talking about the R&B songstress.
One tweet read, "Found out that NO woman is faithful. Knew that & it's a blessing to know. 12 days of Xmas I sent her 5k a day."
The former couple have no children together and it's unknown if they have a prenuptial agreement. Evans was previously married twice, once to The Notorious B.I.G. and secondly to record executive Todd Russaw. While this is Stevie J's first marriage, the former Love & Hip Hop Atlanta star has had numerous previous relationships that resulted in six children.
Neither Faith Evans or Stevie J have released a public statement. However, Evans' Instagram profile pic is still that of an image of the couple in a loving embrace together. Just seven days ago, Evans wished Stevie J a happy birthday on Instagram, writing, "Happy & blessed birthday Mr J! Hurry up, so we can turn up!"

See the post below: