Top Five Alien Movies That Transcend Space and Time
Celebrating the soon-to-be-released "Landscape with Invisible Hand" featuring Asante Blackk and Tiffany Haddish, explore five essential alien movies that journey beyond the cosmos.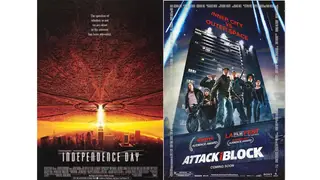 The fascination with extraterrestrial beings has resulted in numerous movies exploring the cosmos' mysteries. From heart-pounding thrillers to comedic adventures, alien movies have captured the imagination of audiences worldwide. In honor of the upcoming alien flick, "Landscape with Invisible Hand," which stars Asante Blackk and Tiffany Haddish, here are five must-see alien films that transcend space and time.
Independence Day (1996)

Directed by Roland Emmerich, "Independence Day" is a classic alien invasion film that set a new standard for the genre. Released in 1996, this blockbuster stars Will Smith, Vivica A. Fox, Jeff Goldblum, and Bill Pullman. The world unites to fend off the impending threat when colossal spaceships arrive on Earth. Packed with visual effects and iconic one-liners, the film remains a classic.

Attack the Block (2011)

"Attack the Block," directed by Joe Cornish, takes a unique spin on the alien invasion narrative. Set in a South London housing estate, the movie follows a group of streetwise teenagers defending their home from extraterrestrial creatures. The film introduces a fresh perspective on urban life and otherworldly encounters with a blend of humor, suspense, and social commentary. This 2011 gem stars John Boyega, Jodie Whittaker, and Nick Frost.

The Faculty (1998)

Directed by Robert Rodriguez, "The Faculty" melds the sci-fi and teen horror genres into an exciting and suspenseful ride. Released in 1998, the film portrays a high school where parasitic aliens gradually replace the teaching staff. A group of students becomes unlikely heroes as they discover the invasion and strive to save their school and humanity. "The Faculty" combines extraterrestrial intrigue with youthful tenacity -- and it was also Usher's first movie!

Men in Black Franchise

The "Men in Black" franchise, initiated by Barry Sonnenfeld's 1997 film, offers a lighthearted and comedic take on the presence of aliens on Earth. Starring Will Smith, the series follows the secretive government agency tasked with monitoring and regulating extraterrestrial activity. Through a mix of humor, adventure, and intergalactic espionage, the franchise continues to amuse and entertain audiences with its unique blend of alien encounters and earthly absurdities.

Predator Franchise (1987-present):

Beginning with John McTiernan's 1987 film, the "Predator" franchise has evolved into an enduring and iconic sci-fi series. The franchise introduces the lethal and technologically advanced Predator species as it engages in intense battles with human adversaries. Characterized by its suspenseful atmospheres, brutal confrontations, and intricate mythology, the franchise has spawned sequels, crossovers, and spin-offs that keep audiences engaged in the ongoing struggle between humans and extraterrestrial hunters. The "Predator" movies have included Arnold Schwarzenegger, Carl Weathers, Laurence Fisburne, Trevante Rhodes, Sanaa Lathan and many more. 

"Landscape with Invisible Hand" is in theaters tomorrow (August 18).