Couple Creates Directory For Black-Owned Airbnb Hosts
Jessica E. Boyd and Steven M. Hughes travel the country.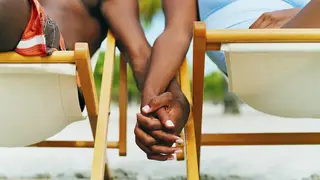 Jessica E. Boyd and Steven M. Hughes are a couple who travel the country and they have used their expertise to create one of the largest directories of Black-owned Airbnb hosts.
Hughes told Travel Noire, "As full-time nomads and people who are always looking for where to stay in the next city, it's a very tedious and manual process trying to find a Black host. We know that this is also the experience for other people who may not be nomads but want to be in a space that's hosted by a Black person."
Boyd said, "Airbnb has had a notorious past for struggling with racial bias. People have had their host cancel because the host sees their name or their face and doesn't feel like hosting Black people. We know that when you stay with other Black people, the likelihood of comfortability is greater and the racial bias is less likely to be there. We're not saying it doesn't happen, but for the most part, you're going to be good."
The couple are originally from Columbia, South Carolina and began traveling the country in search of their "forever city" in October of 2021.
You can see all of their travels on their Instagram, which is @blackairbnbs. Additionally, they are accepting new submissions at www.blackairbnbs.co.