5 Black Thrillers To Watch on the Heels of 'Swarm'
'Get Out,' 'The Strays,' 'Black Box' and more.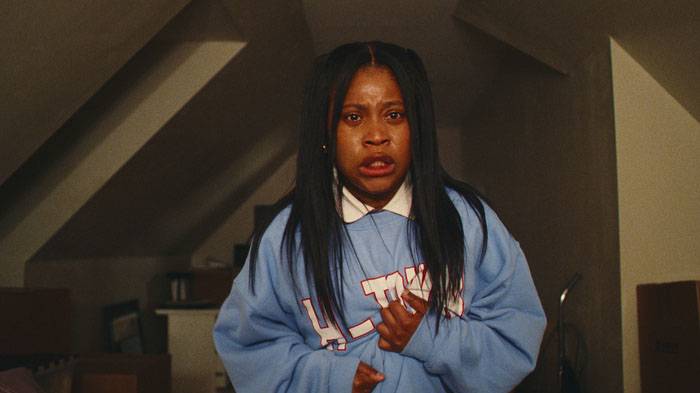 On March 17, the seven-episode series Swarm dropped on Amazon Prime and has already taken over social media. Created by co-executive producers Janine Nabers and Donald Glover, the series follows the story of Dre, played by the dynamic Dominique Fishback, an obsessed fan of the world's biggest pop star who embarks on a bizarre cross-country journey. The series also includes Chlöe Bailey and Damson Idris, with notable guest stars like social media superstar Rickey Thompson and Paris Jackson, Michael Jackson's daughter.
If you loved Swarm or want to go deeper into Black thrillers, here are five other must-sees.
The Reading (2023)

The Reading, currently streaming on BET+,  was written and directed by Courtney Glaude with Lee Daniels. Mo'Nique and her husband Sidney Hicks served as producers. The story follows Sky (Chasity Sereal) as she travels to a staged reading at author Emma Leeden's (Mo'Nique) home, years after Emma's family was killed in a home invasion. Sky, who often worries about past experiences with spirits, unwittingly summons evil forces into the home, threatening her, Emma and the rest of the group. It's a must-watch and the reunion of Lee Daniels and Mo'Nique collaborating since 2009's Precious.

The Strays (2023)

This psychological thriller is full of twists and turns about a Black woman who lied about her identity, and she is eventually exposed. The film, directed by British filmmaker Nathaniel Martello-White, tackles race, class, and family. Currently streaming on Netflix and starring Ashley Madekwe, the movie sparked some serious debate on social media. 

Black Box (2020)

Blumhouse distributed Emmanuel Osei-Kuffour Jr.'s Black Box in 2020, and he snagged Phylicia Rashad to play his leading evil lady. Black Box is about a single father who loses his wife and memory in a car accident. He undergoes experimental treatments to get back to normal. Still, those experiments, performed by a seemingly intelligent and stable scientist (Rashad) have a more sinister purpose that unfolds as the movie plays out.

Get Out (2017)

Jordan Peele's Get Out changed the game for horror. Not only did the film make history for a debut director and screenwriter, but the movie also turned the tables on the trite, culturally vapid stories in horror movies. Peele used social issues and some gore to deliver a crowd-pleaser that educated and entertained audiences.

Tales From The Hood (1995)

We had to mention a classic! Produced by Spike Lee, Tales From the Hood was a take on Tales From the Crypt. The movie told five stories that revolved around child abuse, racism and crime. Socially poignant, but with a good scare. Written and directed by Rusty Cundieff, the film is unforgettable and grossed nearly $12 million.