Lorraine Toussaint On 'The Equalizer,' Halle Berry And The Erasure Of Black History
A powerful episode of 'The Equalizer' airs this Sunday on CBS.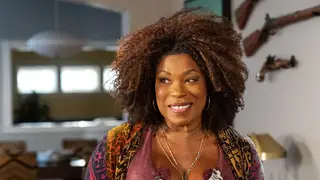 Lorraine Toussaint has a resume that goes back over 30 years. The Juilliard-trained actress has worked with everyone from Oprah Winfrey to Ava DuVernay, and she currently plays Aunt Vi in the CBS series The Equalizer, which stars Queen Latifah. This Sunday's episode tackles domestic violence and Toussaint's character is at the center of helping a woman in need. Not only is this week's episode important and timely, but it also highlights the power of sisterhood.
In a one-on-one with the six-time NAACP Image Award nominee, the Trinidadian-American actress discusses The Equalizer, reflects on her storied career, reminisces on Halle Berry in one of her first major roles, and gets deep about the fight for our history.
BET: A powerful episode of The Equalizer is airing this Sunday. Tell us about your character and why this episode is so important.
Lorraine Toussaint: I play the matriarch of the household brought to help the McCall character, played by Queen Latifah, while she's off "equalizing" all over the world. While she's been equalizing, I am holding down the home front with her teenage daughter. In our third season, the writers have expanded the concept of equalizing. For my character, it's advocating in smaller and more intimate ways. In the upcoming episode, we see a woman in an abusive relationship, and my character can identify with that because she has some history of being in an abusive relationship. My character befriends this woman, and to a great extent, becomes an advocate for her.
BET: Of course, every community has domestic violence, but why do you think it's important for the BET audience to watch this episode, especially with this story being portrayed by Black women actresses?
Lorraine Toussaint: Within our community, it's been my personal experience, and I don't know about statistics, but I'm just going to speak from my personal experience, there has been and continues to be a great deal of domestic violence that almost in times feels cultural. And that code of silence and shame, in many ways, has become normalized. I also think there's a lot of education that has to happen within our community. That speaks to all the levels of domestic violence and what is even defined and considered to be domestic violence — emotional violence, and verbal abuse. So, I think it was very important that we tackle this subject on our show. And to also put forth if you see something, say something, don't turn away, don't turn your back. Domestic violence lies in silence, shame, and isolation. I think we address all of those traps in this episode.
BET: You have such an epic resume, do you specifically look for characters, like your character in The Equalizer, who is empowering and it is a character that you can be proud of for the rest of your career?
Lorraine Toussaint: Thank you. I've never quite thought of it that way. But as you just said, I think there is something in me that resonates with doing characters that I can be proud of – but "proud of" isn't even about an external pride. I played a lot of non-upstanding folks, too. [Laughs] But when I think of being proud of the body of work, I'm proud of my commitment to the roles and the characters that I've taken on and my commitment to telling the maximum amount of truth about them. I always go in search of characters that carry the level of human complexity that is part of this human experience. Even when those qualities don't exist in a character, I infuse them with that level of humanity.
BET: This year marks 30 years since your performance in the miniseries Queen aired, which was about Alex Haley's grandmother who was an enslaved woman. As Black History is under siege all over the country, Queen is so relevant today, what are your memories of working on that project? 
Lorraine Toussaint: I remember being in the Carolinas in the heat, shooting Queen and all these layers of clothes and bugs. It was kind of gorilla TV and working with a very young extraordinarily but talented Halle Berry, who is my heart. That was a very young Lorraine, very young in my art. And to find that some 30 years later, where they're looking to erase Black history from the textbooks and from our schooling. It's shocking to me, this kind of backward movement, wanting to suppress truths and suppress books, and then ban books. I think we're moving into a very scary time where it's going to demand all of us to step up and, certainly, as an artist, you speak to the choices in the work that we do and the platforms that we present our work. Everyone's gonna have to step up to fight this fight, to not just entertain, but educate, because it may fall on our shoulders more than we care to have it fall there.
BET: While it does appear, things are regressing culturally, it does appear that things are moving forward, in a good way, for Black actors and content creators in Hollywood. You've been doing this for a long time, would you agree?
Lorraine Toussaint: I'm thrilled at how things are finally moving and the speed at which things are moving, in front of and, most especially, behind the camera. Lena Waithe, Gina Prince-Bythewood, Jordan Peele, we have a whole new generation of writers, directors, producers, and folks at the studio who are green-lighting films and green-lighting television shows. It does demand of us that we are very responsible with these positions of power. We couldn't have imagined Shonda Rhimes 30 years ago, 40 years ago. So yes, there is great progress. Is there more to be had? Absolutely. We're doing The Equalizer with a Black woman in the lead as The Equalizer. Progress is slow, but we're moving along.
Watch The Equalizer this Sunday, April 23, 8/7C.