Black Women Making Bold Business Moves
These eight beauty entrepreneurs are changing the game with their unique ventures.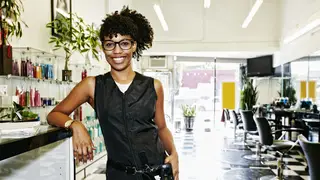 Black women have owned their own businesses before we even had the right to vote in this country. Whether it was making a few cents, washing clothes, or making pies, Black women always found a way to make their own money or contribute to the financial stability of the household. Black women entrepreneurs have come a long way. In fact, according to JP Morgan Chase, Black women are the fastest-growing entrepreneurs in the United States, accounting for 42% of all women who opened a new business from 2014 to 2019. This marked a 50% spike overall during those five years, and there's no slowdown in sight.
In 2021, Harvard Business Review reported that 17% of Black women were starting or running a new business, compared to 10% and 15% of White women and White men, respectively.
The impact of Black women business owners can be seen across all industries, but the beauty industry has seen a particular boom. Black women are creating more inclusive products better suited for extensive hues and types of hair, generating billions in annual sales.
Here are eight notable Black women who were motivated to forge their own paths in the ever evolving beauty industry.
Mahisha Dellinger, founder of CURLS

Mahisha Dellinger left her job as a marketing manager at Intel Corporation to start CURLS because she felt there was a lack of organic and "yet effective products for my newly natural, curly hair," she told BET.com. When she launched the brand in 2002, getting funding was the most challenging part of her journey. "Despite having a rock-solid business plan and exceptional personal credit, I couldn't get a small business loan or an SBA loan; as a result, I had to use my personal savings to launch on a much smaller scale," Dellinger told BET.com. Now 21 years later, you can find her natural and curly hair products at Ulta and Target or purchase them directly from the CURLS's site.

Janell Stephens, founder of Camille Rose

As a mother of five, the work-life balance of being an entrepreneur can't be easy. But that hasn't stopped Janell Stephens from managing meetings and events for her line of natural hair, skin, and home goods. In a 2021 interview with BET.com, Stephens spoke about the obstacles to creating clean and naturally-sourced ingredients.

"I would say one of the challenges small business owners face when it comes to being more sustainable is the lack of support and limited options of vendors," she said.

Maya Smith, CEO, co-founder of The Doux

Ten years ago, when Maya Smith, a licensed cosmetologist, started her texture-focused hair care line, her main clients were active-duty military who wanted to experiment with their natural curls and needed an easier routine. "I wanted to create products that would save time and simplify the 5-step regimens that they were accustomed to," Smith told BET.com. "I tested every formula on my clients until they were perfect because my livelihood in the salon depended on how well my products performed."

Although balancing being a stylist, a wife, and a mom of five was challenging, Smith persevered. Today the entrepreneur says she wouldn't change anything about her journey, which landed her products in retail chains such as Sally Beauty, Walmart, and CVS. "Starting with limited knowledge of the business side of the beauty industry and even more limited financial resources forced us to be more intentional and authentic with what we created," she said.

Sabrina Rowe Holdsworth, celebrity hairstylist and founder of NTRL by Sabs

This native New Yorker and third-generation hairstylist can often be seen rocking red lipstick, which is typically as bright as her personality on social media. However, Sabrina Rowe Holdsworth recently posted about the rigors of having a virtual presence. "I miss real interactions, conversations, wearing lipstick, sleeping in, and giving long hugs," she wrote on Instagram.

Still, even with a client list that includes Phoebe Robinson and Uzo Aduba and projects with magazines like Elle and Harper's Bazaar, she is dedicated to her beauty brand NTRL by Sabs, inclusively created for all hair types from natural to straight. "In long, I am overworked but inspired! I am supremely grateful because I am truly loved by my incredible partner Joe and I plan on taking some serious time off thanking him elaborately this summer," she continued.

Dawn Myers, founder and CEO of Richualist

If you have ever had to blow dry your hair from curly to straight, you know the wrist pain and fatigue it can cause. Dawn Myers, a lawyer who never saw herself as a startup founder, now loves "creating solutions for people who look like me." The Mint is a combo straightener and blow dryer that detangles as it styles.

However, landing in this joyful place wasn't easy. "I had to get creative to raise funds to surmount the heightened barriers to entry for minorities in this space and funded early development by selling my house and liquidating my 401K," Myers told BET.com.

And financing her business hasn't been her only hurdle. "I went through cancer treatment last year while bringing The Mint to market. It was a terrifying time, but it's worth it to realize a product that helps women feel beautiful no matter what they are going through," she said.

Dr. Isfahan Chambers-Harris, founder of Alodia

This mom has four kids, all under the age of 10 years old, with one being just nine months old and still nursing. Any mom can understand that Isfahan Chambers-Harris sometimes feels a little guilty for not being able to attend every school trip or play date, but she's learning to give herself grace. "I wake up trying to do my best for my children. They are happy, healthy, and grounded, and I am grateful for this," she told BET.com.

Chambers-Harris was prompted to start the natural and organic hair care brand Alodia while earning her Ph.D. fellowship at Vanderbilt University School of Medicine.

While at the school, she worked on a clinical study focused on sarcoidosis, an auto-immune disease affecting Black women more than twice as much as White women. She saw herself reflected in those with the disease. "For years, I battled hair breakage and scalp damage from chemical straighteners," she said. "The frustrating thing about sarcoidosis is that no one knows what causes it, and I realized that the toxic products that we, as Black women, put on our bodies may contribute to these types of diseases."

Olamide Olowe, founder of Topicals

Olamide Olowe started Topicals because of the skin issues she had growing up. In an interview with Today, she stated, "I grew up with a ton of skin conditions, things like ingrown hairs and boils. Things that people really didn't talk about." Olowe pushed through and landed at UCLA as a pre-med student. While there, she worked on a skincare line and learned about product development.

Fast forward to 2022, she's on Forbes' 30 Under 30 list, where she is labeled the youngest Black woman ever to receive over $10 million in funding. Her investors include Kelly Rowland, Gabrielle Union, and Hannah Bronfman. Topicals carries products for people with chronic skin conditions and can be ordered directly from the brand's site.

Shontay Lundy, founder of Black Girl Sunscreen

A big complaint from melanated women when using sunscreen is the chalky residue it can leave behind. In 2016, Shontay Lundy answered the call to create a product that looks clear on brown and Black people and offers protection from harmful sun rays. Black Girl Sunscreen offers products with sun protection starting at 30 SPF, and the brand promises to dry without leaving a white cast.