Black Women's Equal Pay Day: Expert Tips On How To Negotiate Your Salary
Whether you are trying to get a promotion or starting a new job you need to be paid what you are worth.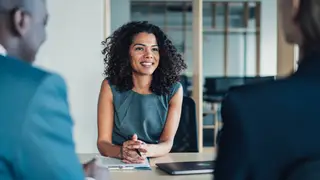 Navigating pay negotiations can be difficult for many of us. Whether you are applying for a job or preparing for your annual review, it is essential to understand the current employment market and the value of your expertise. Not doing so can negatively impact your overall earning capacity.
While the lack of salary negotiations exists across all groups, there is a significant difference between genders. Women often undervalue themselves. "The biggest mistake women make is that they don't negotiate their salaries," says interview trainer Ericka Spradley, author and founder of Confident Career Woman. "And those who do negotiate make the mistake of asking for too little," she says.
In fact, a 2020 report from staffing firm Randstad US found that 60% of women say they've never negotiated with an employer over pay compared to 48% of men. Additionally, a Glassdoor survey found that only 48% of employed women plan to ask for a pay raise, bonus, and/or cost-of-living increase in the next 12 months compared to 59% of employed men.
This lack of negotiations can really impact Black women who are paid only 63 cents for every dollar paid to white men and non-Hispanic men. "We can't afford to say yes to an offer without understanding the value of our seat in the marketplace and the value we bring to an organization," says Spradley.
Here are some recommendations for Black Women's Equal Pay Day and beyond that will help you negotiate your next salary.
Do your research: Find out the current market value for the position you're applying for by plugging its title into sites like LinkedIn, Indeed, and Glassdoor. This can provide a good baseline and be used as justification for your requested salary. "Be prepared to communicate their salary range or specific number when asked about compensation," says Spradley.
Career level: Typically, you can ask for more money as you advance in your career. "More years of proven experience means you should command a higher salary," says Spradley.
Education level, licenses, and certifications: The job posting may list that you should have certain degrees or certificates. Make sure to point out that you do meet or exceed those requirements to help justify why you should receive your requested salary.
Leadership experience: If you have managed a team or have had direct reports, you mention those skills to help provide proof of why you deserve higher compensation.
Practice with a friend: Since it can be a nerve-wracking experience, do a few practice runs with a friend. "If the company can't reward you monetarily, you can ask for development dollars, additional PTO, and other perks," says Spradley.
Spradley notes that people typically ask for 10% to 20% higher than their current salary. But keep factors such as these in mind: industry pay, your performance results, and credentials you've earned that give you a competitive advantage. "If you're at the top of your game, you should ask for the top of the range," she says.
Also, consider how much responsibility you have compared to your peers and whether you perform duties beyond the scope of your work and/or what you were hired to do. "Remember, your raise is earned before you ever ask for it," says Spradley.
It is also crucial to remember that there are times when you will need to move on from your current position to make more. "In the workplace, women who stay in one role or with a company for an extended period lose money—especially if you are currently underpaid and/or dissatisfied with your salary," she says.
"A salary increase when changing jobs is between 10-20%—last month, the national average was about 14.8%, '' says Spradley. "My advice to Black women when it comes to salary is to go where you're compensated and where you're celebrated," she says.