Karen Has Real Villain Energy
Let's count the ways Karen's journey on 'Tyler Perry's Sistas,' has turned her into a true villain.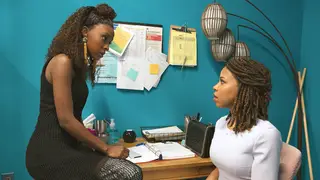 The women of "Tyler Perry's Sistas" find themselves in all kinds of situations influenced by their ever changing moods and phases. For a long time, everyone was worried about Andi because of her toxic shenanigans with Gary. But the whole time, more focus should have been on Karen (Ebony Obsidian). She has been a villain on the show for a while. However, it was still a surprise to watch her devolution to where she is now. Let's take a look at Karen's trajectory as a villain.
It's Possibly Zac's Fault
We know that Zac wasn't good to her when they first got together, fictionally speaking, years before the stories we've been watching unfolded on Sistas. He was probably worse with Karen than what we've been seeing with Fatima. However, when Zac came back into Karen's life, acting like everything was cool, instead of just telling him where to go, Karen basically strung him along for revenge, showing that she could be petty. But then when he actually move on she had a problem. So, this begs the question: Did Zac turn Karen into a villain?
There are some things about Aaron that might seem suspicious but he seems like he has been truthful with her and that he genuinely loves her. He's even willing to raise her baby if it's not his. The bottom line is, if Karen doesn't trust him, she should just cut him off. Instead, she treated him like the help by stringing him along, and giving him hope that they could possibly be together and that he might be the child's father (even after she allegedly had the results), and using him for affection after being rejected by Zac, before finally telling him to get out of her life. That's probably going to come back to bite her eventually.
Andi is friends with Fatima, who is in a relationship with Zac, and Karen can't stand it. Karen had the nerve to try to force Andi to stop being friends with Fatima even though she was in the wrong by trying to pick a fight with the latter while pregnant -- way to think of your unborn baby. And when trying to force Andi's hand didn't work, Karen threatened to cut Andi off, which wasn't fair.
Karen didn't really want Zac until she found out he was with Fatima. They might be stuck with each other if that baby is really his. However, it was dead wrong for Karen to try to seduce him, knowing that he was trying to be a better man for another woman. Sure, Karen might be sad that he's ready to move on but he tried with her and she went off on him multiple times, but this is a hell of her own making and instead of just moving on, she's terrorizing everyone around her.
We left off before the mid-season break with Karen shooting Fatima. There are obviously a couple of scenarios that this could have been. She either actually shot Fatima and is headed to jail, or that was a fantasy. Honestly, Karen going to jail wouldn't be so terrible because the character has been on one and her behavior is too much. Viewers might be ready for a break. It would be tragic if Zac and Fatima had to raise Karen's baby, though.
Karen might be annoying, but the ultimate travesty in all this is that she still hasn't chosen herself and her unborn child. If she made things worse for herself by going to jail then watching her get her karma is either going to be satisfying or depressing.