The James Earl Jones Theatre Is Here!
A ceremony was held for the newly renovated theatre, formerly known as Cort Theatre.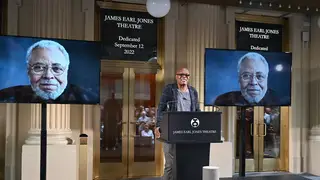 James Earl Jones is getting honored significantly as Broadway has unveiled The James Earl Jones Theatre Deadline reports.
A ceremony was held for the renaming of the 110-year-old building, formerly known as Cort Theatre, with Samuel L. Jackson, LaTanya Richardson Jackson, Brian Stokes Mitchell, Norm Lewis, and New York City Mayor Eric Adams all in attendance to celebrate. While Jones was unable to attend the ceremony, the 91-year-old received a private tour of the facility last Thursday (Sept 8).
During the ceremony, Broadway's Norm Lewis performed the song "Go the Distance" from Disney's Hercules, with Brian Stokes Mitchell performing "Make Them Hear You" from Ragtime.
"It means everything. You can't think of an artist that has served America more." Broadway director Kenny Leon expressed to Associated Press.
"It seems like a small act, but it's a huge action. It's something we can look up and see that's tangible."
The newly renovated theatre underwent a $47 million renovation project, including the restoration and expansion of the building on West 48th Street.