Marsai Martin Is Just One Of 15 Young Black Entrepreneurs Making Bank
In honor of Black Business Month, see how these kid bosses are achieving their dreams.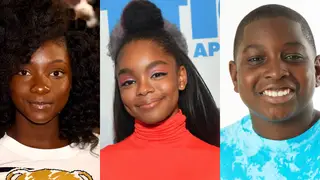 Being an entrepreneur isn't easy. It's a process that involves planning, networking, time-management and, most importantly, drive. Entrepreneurship isn't for everyone-- but who knew children could build the mindset of a business go-getter at such a young age!
In celebration of Black Business Month, we put together a list of 15 kid bosses who are 15 years old and younger. Proving that age shouldn't dictate whether we should wait to achieve our dreams, these kids inspire us to just go for it!
Marsai Martin: Youngest Female Executive Producer

Marsai Martin is a 15-year-old actress, businesswoman and the youngest female executive producer in Hollywood. In 2019, her debut film, Little, which she not only produced, but also starred in, hit theaters. Since 2014, Marsai has starred in the popular sitcom Black-ish -- marking almost a decade of acting. At the 2019 BET Awards, Marsai accepted the Young Stars Award in regards to her acting career.

Neijae Graham-Henries: World's Youngest Female Barber

Making history in the world of haircutting, 8-year-old Neijae Graham-Henries is the world's youngest female barber. The third-grader told her mom she wanted to start cutting hair after learning that her older brother took on a barber class in North Philadelphia. Though she is still in training, the young barber will make sure your line-up game is strong!

Michael Wren: Mikey's Munchies Vending

Michael "Mikey" Wren is an 11-year-old kid entrepreneur and author. At the age of 8, Mikey started a local vending machine company in St. Louis called Mikey's Munchies Vending. He is also the author of Amazon's best-selling children's book Mikey Learns About Business as well as Biz Is a Wiz, a book written for children pre-K to 3rd grade. Last year, Mikey was honored with the Made Moguls 2018 Black Tie Community Award for youth entrepreneur of the year.

"An entrepreneur to me is a problem solver. Entrepreneurs see a problem and create a positive solution to make change in their community. One of the problems in my community was a lack of financial education.  My solution was to teach basic financial literacy by using entrepreneurship as a tool," Mikey tells BET.

Aside from being a kid boss, Mikey acts as a leader in his community, teaching financial education, leadership and entrepreneurship skills to his peers. He's currently a kid board of directors member on KIDBOX, a children's fashion subscription service where he will help expand on the company's core mission of clothing over one million children in need.

Jakhil Jackson: Project I Am

11-year-old Jakhil Jackson is the creator of Project I Am, an organization geared to build awareness of homelessness and inspire youth to get involved within their communities. Having already impacted over 20,000 homeless individuals throughout the world with blessing bags Jakhil created and distributed himself, he has also partnered with various organizations such as Heartland Alliance, Khloe Kares, WE, Nike, Dreams 4 Kids and Chicago Hope to bring awareness to those in need.

"I hope to show the world a positive side of Black people. Oftentimes we are shown in a negative light, and I am here to show the opposite of this. I hope to inspire other youth not to be afraid to try something new. I hope to inspire youth to be active in their community, to be leaders and to bring their ideas to life.  Don't wait to be great. This is what I say to youth when I do speaking engagements," Jakhil tells BET.

Jakhil is also a KIDBOX Kids Board member and will work directly with the children's fashion subscription service on executing meaningful projects in his local community. Now that's what we call making business moves to benefit the masses!  

Mikaila Ulmer: Me & the Bees Lemonade

This CEO pitched her business on Shark Tank at 9 years old! Fast forward, 13-year-old Mikaila Ulmer is the successful owner of BeeSweet Lemonade. She created the idea from looking at a recipe book dated back to the 1940s, which included her grandmother's flaxseed lemonade recipe. 

"Buy a Bottle…Save a Bee."

Due to her sweet success within the market, Mikaila makes sure she gives back to the community. A percentage of the profits from her business goes to organizations whose objective is to save bees.

Want to get in on the sweetness? BeeSweet Lemonade is sold in Whole Foods markets in the South and soon nationwide.

Asia Newson: 'Super Business Girl'

Marley Dias: #1000BlackGirlBooks

An activist and author... and did we tell you she's only 13 years old? #1000BlackGirlBooks creator Marley Dias is making a mark on the world of children's literature. 

Her campaign was created back in 2015 with one simple goal: find a thousand books that have a Black girl as its leading character.

Years later, 1,000 increased to 9,000 books that consist of powerful Black girl leads. The #1000BlackGirlBooks initially was created due to the lack of Black representation. However, with the help of Marley, Black is making a huge comeback!

In the words of the young activist: "Frustration is fuel that can lead to the development of an innovative and useful idea."

Bishop Curry: 'Oasis'

We would like to give a round of applause to an innovative entrepreneur, 13-year-old Bishop Curry. With his efforts to put a stop to future hot vehicle deaths, Bishop created a GoFundMe page to put a patent to his 3D model invention. He has raised over $45,000 to develop the device, and in 2018, "Oasis" received a patent.

If you'd like to donate to the cause, click here!

Ethan & Collier Popcorn Company

Nowadays everything on the shelves is gluten, including popcorn! Brothers Ethan and Collier Evans created a gluten-free gourmet snack. The Atlanta-based online popcorn company strives to produce a healthier snack option that doesn't include oils. In fact, each order is made with love and care as they are made by hand. The sweet and salty snack is also made with no preservatives or high fructose corn syrup.

Cory Nieves: Mr. Cory's Cookies

It started with a dream -- that's all it takes. Young entrepreneur Cory Nieves was tired of riding the bus to school every day. He wanted to save up enough money to buy himself a car. So, at 6 years old he created a business selling hot cocoa. While business was booming, his mother encouraged him to continue. Cory then decided to expand his business selling lemonade and cookies. 

Fast-forward to today, Mr. Cory's Cookies is a success story. According to the company's website, Cory has worked with various companies to promote his business. These companies include Aetna, Barney's, Bloomingdales, Citibank, J. Crew, Macy's, Mercedes-Benz, Pottery Barn, Ralph Lauren, TOMS, Viacom, Whole Foods, Williams-Sonoma and now Mr. Marcus Lemonis! 

Bailee Knighten: Bailee's Nail Box

Remember selling lemonade in front of your house as a child? Well, at 6 years old, Bailee Knighten had a plan to give $5 manicures instead. Soon, an idea turned into a business! With the help of her mother, Bailee's Nail Box was created. The box consists of various nail designs, including the latest emoji faces!

Kheris Rogers: co-CEO of Flexin' In My Complexion

Embracing who she is through a business-- 11-year-old Kheris Rogers is the co-CEO of Flexin' In My Complexion. In elementary school Kheris was bullied by her peers. To combat, her family posted a photo of her with the hashtag, "#FlexinInHerComplexion", an expression they used to encourage confidence. And yes-- it went viral.

Thus, Flexin' In My Complexion became a business in April 2017. The retail business consists of t-shirts ($15 to $20) with the slogan. Other items include $54.99 bomber jackets, $20 tank tops, and even $10 bibs!

Gabrielle Goodwin: GaBBY Bows

12-year-old Gabrielle Goodwin decided to enhance the classic barrette with her business GaBBY Bows. What's new? This barrette stays on your head! The online retailer has expanded its business and is now sold in Walgreens locations in South Carolina and Georgia. The young entrepreneur does it all: managing inventory, being a saleswoman at trade shows, and assists with sales taxes. On her down time, Gabrielle teaches entrepreneurship to children at shelters and schools.

Marley Guerrero: Fashion Designer

10-year-old Marley Guerrero is changing the face of fashion! For the past four years the fashionista has been creating and designing clothing for young kids to stunt in. Today, she has her own fashion brand called Golden Kidd, which consists of the $30-$50 tops to $80-$85 dresses!

"During her preschool years Marley developed a passion for Fashion and art. Her obsession with fashion was so fierce that she not only wore skirts and dresses from preschool to grade one, she even wore them during New York's frigid winters," according to Golden Kidd's website.

Madison Harrison: Photos With Madison

12-year-old Madison Harrison is the girl behind the lens of Photos With Madison. She decided to create her own photography business 6 years ago, photographing weddings, fashion runway events, portrait shoots, and even President Barack Obama! 

Through the lens, Madison tells a story. She believes her story will inspire other kids to follow their dreams as well. "Don't stop believing in yourself," Madison mentions on her website.