We Asked 18 Real Men: Would They Let Their Girl Toss Their Salad Like Faith Did For Biggie?
"ALEXA, call the cops."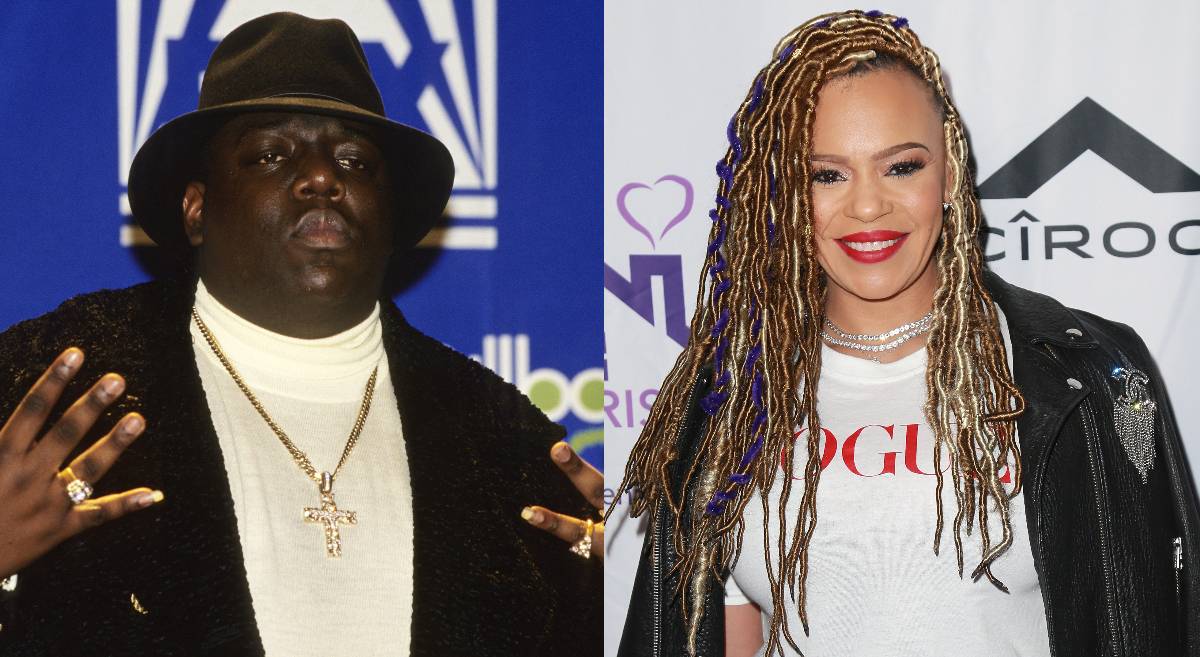 "He ate mine a few times. I might have ate his back."
We must admit, guys licking that second hole on a woman today is not as taboo as it was in the 90s or early 2000s. But women coming forward saying they return the favor or men enjoying getting their anuses caressed by women has the internet weak! I mean, 50 Cent has admitted getting his butt licked. Tank even explained how he likes his ate "like groceries."
We asked 18 guys whether they eat ass AND if they would let their lady eat theirs? Spoiler alert: no hole is off limit to most!
"Issa No"

"I'm good luv, take care! Issa no." -Rob, 26

"Exit only"

"I will eat the cakes, but I won't let her do it to me! Exit only." -Ralph, 30

"Face deep"

"I'm all for eating ass. The hole is right there. If she's into it, of course. Now for me, don't even go near there. It's off limits forever. Now for the woman, I'm going to eat that from the back. Face deep!" -Ray, 30

"I'm not a fan"

"I don't care for it. In my last relationship, we did try it. I'm not a fan." -Al, 34

"I love eating ass"

"Yes, I love eating ass. But I don't know how I feel about my legs being lifted up or bend over my girl to eat ass." -Ryan, 30

"What straight guy fantasizes about getting their booty licked?"

"Nah, I don't eat ass. Honestly, I don't know a lot of straight dudes who actually like their ass ate.  What straight guy fantasizes about getting their booty licked? But I guess you never damn." -Freddy, 23

"GTFOH"

"Hell nah!! To both questions! GTFOH!" -Drew, 31

"It's unnatural"

"I eat ass. But don't touch my booty! It's unnatural!" -Anthony, 28

"Faith did WHAT to Biggie?"

"Wait, Faith did WHAT to Biggie? How is that even possible? That man was huge! I have licked a girl booty once or twice.  It was cool, I wasn't like ' can I lick your booty hole?' One girl tried to lick mine, I almost broke her neck. Not that I didn't like, it just tickled." -Randy, 28

"ALEXIA, call the cops"

"I've done it, but I don't want my girl doing it. If she does I would be like 'ALEXIA, call the cops!' -Scott, 25

"I don't talk salads."

"I'm hella weak. Faith ate that big n***a ass? She is disgusting. Nope, I don't toss salads or want my butt licked by my girl!" -Mike, 22

"S**t feels good to me"

"I love eating ass. Eating the box. My girl is fine af! She does it to me. S**t feels good to me." -Jerome, 35

"I love it more than eating her p***y"

"So me and wife into a lot of freaky stuff. I enjoy eating her ass. Honestly, I love it more than eating her p***y. But here is the thing, I don't like her doing that s**t to me! Every time she would try, I would be like ' baby, I just had coffee and protein shake. It ain't safe.' She reads these articles, damn!" -Quincy, 27

"The ass must be perfect"

"It depends on the girl. I won't eat no hairy ass. Real talk, any ass with hair, would remind me of a dude's ass. Turn off. And the ass must be perfect, plumb, soft, smell good. Just delicious looking. Then I oil It up and go to work. Chicks be loving it more than getting the cat licked. As for me, I prefer the traditional head. I don't even like my balls touched, they sensitive. So I don't see me enjoying that." -Sean, 21

"It changed my girls' lives"

"At first I use to be ashamed of eating ass. Growing up watching Comic View, they use to clown guys for doing that. Then I tried it, it changed my girls' life. So now I enjoy doing. My current girlfriend not into it. We have been together fours, so I think I am out of luck.  I don't have an ass! So that second question wasn't for me. Not happening." -Christian, 29

"It's weird as f**k

"I like getting it and doing it. Guys are lying about not liking or doing. It makes them feel gay or something. It is pretty weird when I meet a woman who tells me she enjoys eating ass. It's weird as f**k!" -Dre, 25

"I dig it"

"See Faith is a pioneer way before her time. She has been holding this valuable information for years. Now every girl is about to be eating ass because of Faith. I dig it. " -Cedrick, 29

"This is how we spice things up"

"Yeah! It's 2018; eating ass is regularly apart of sex. My girl actually goes through a whole ritual when she about to eat mine. She will oil me and shave mine and then go from there. We married and been together 10 years, so this is how we spice things up. We don't judge the folks who have the threesomes. So let us eat other's ass!" -Jeff, 37