Bresha Webb Is Living Each And Every One Of Her Dreams
The 'Run The World' star spoke to BET about the show's new season and her new lease on life.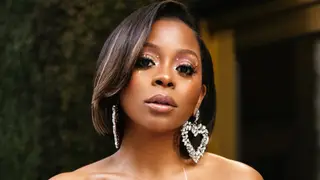 Put a ribbon on Bresha Webb; she's been acting brand new! 
At 39, Webb vividly embodies the dreams she's always held dear. She is relishing in the joy of an enchanting love story that culminated in a marriage she has always yearned for. Gifted with a plethora of talents, Webb's expansive creative range is a constant spectacle across multiple platforms—from television shows to feature films, and from animated series to dramatic roles. Her impeccable record reveals her dreams materializing right before her very eyes.
As a star on Run The World, Webb has embarked on a transformative phase of her life, a period marked by a profound desire to immerse herself in love. This signifies a form of healing and growth for Webb, who tragically lost her father in 2022. In her journey through grief, Webb has consciously allowed herself the room to mourn, but importantly, also the space to heal. In honoring and perpetuating her father's legacy, Webb continues to illuminate her path as if it were her divine prerogative.
In a recent conversation with BET.com, Webb opened up about the blissful early stages of her marriage, her approach to navigating the labyrinth of grief, and shared anecdotes from the first and second seasons of Run The World. With a career that consistently showcases her versatility and an admirable ability to transcend personal trials, Webb continues to inspire and entertain in equal measure.
BET.com: Congratulations on season 2 of Run The World!
Bresha Webb: Oh, just wait. It's such a great season. It's so much fun. It's so funny. We have so many surprises. What I love is that we have time to talk about everyone's plight and like what they have going on because we all have so many things going on in our lives that it's like, someone is shaking all of our tables. And then we have to come together and be like, 'Girl! Oh my god, what should I do?' That's how I confide in my girlfriends and sometimes you need to pick up the phone or run and get a cocktail and be like, 'Girl, I had to come here today with you, because how am I supposed to get through this pickle? Can I have your support?' Life be lifing.
BET.com: Speaking of life, you've shared that you froze your eggs. Now that you're married, what do you think about that?
Bresha Webb: I'm married and the age is coming up and all of that, and all the plans that I make God laughs at that. I'm grateful because I don't feel pressured. I froze my eggs, I still don't feel a lot of pressure because I have those options. I lost my father and I'm going through so many transitions, I just want to heal. I want to be cozy and heal and be married and happy and float. I want to float into it naturally. I don't want any pressure. I want to be happy and floating and healing and have that opportunity to just be in the space that I'm at you know? Of course, you don't want to have a baby by 50, Janet did! My eggs are happily on ice. I did it at an age where it was good and I froze a lot.
BET.com: How are you…for real? Mentally? Spiritually? Emotionally?
Bresha Webb: I'm in the Trap House with God. [laughs] My girlfriend says that. I'm really good. I'm just in a place of just making sure me and my family are good. I'm in a very selfish era right now. I want to make sure my husband is good. I'm just preparing to give love and be love and just take care of my home. That's where Bresha is, just floating in the love, God's love. It's a selfish season, a family season.
BET.com: You've spoken about losing your dad and the spaces you could stay in within that grief…working and not just dwelling on being sad about him. Do you believe that to be healthy for yourself? And how do you feel now on this side of it, knowing you know that you're continuing to push through even his legacy?
Bresha Webb: That was the main thing, his legacy. I didn't want to give up. I didn't want to fold on myself or what my family has built me up to be. Me being on a show, like 'Run The World;' I totally wanted to be on a show like this. I wanted to be beautiful, sexy, strong and be on a show that I would love to watch with my girlfriends. The show and what we're talking about, I can totally identify with it. It was kind of like art imitating life.
We did a funeral scene and I gave the eulogy speech and it was kind of weird because right after we filmed that scene, I was getting on the train to go back to Baltimore to go from our father's funeral. Patricia Field, after dressing me for the scene, and Tracy L. Cox, our costume designer, asked, 'Do you have anything to wear to your father's funeral?' And she styled me. I came back to my room after the scene, and it was a dress in there, a black dress with a red flower, because I said, 'We have to have something in red. I have to get something,' and she had these beautiful Jimmy Choo shoes and a Chanel chain bracelet belt. She was like, 'I wanted you to go in fashion.'
I worked through it because I knew what the goal was. I don't have the luxury of just saying, 'I'm gonna fall to the side.' I care too much. I care about everybody's job. I care about showing up. I care about my team. We've been waiting two years to put this show out. I care about the show. I care about everybody. So I was going to show up, and I was gonna keep myself healthy. And I did that. I'm proud of myself. It made me realize how strong I am and I was able to hold his name up high and, and do the best that I could. And I'm really proud of the season.
BET.com: Your character Renee on 'Run The World' is hilarious and dynamic. We love seeing a Black woman who wants to give herself the best. I'm curious if Renee has taught you anything about yourself in these last couple of years.
Bresha Webb: She advocates for herself because she had to! And she had to learn how to do that. She'll stop at nothing to continue to fight for what's best for her even if it doesn't make sense to anyone else. You see that this season. She has a love interest that comes in her life and she's like, 'This is what I'm supposed to be doing. This should make me happy.' And then she's going through the emotions of am I happy? Is this what I want? This is the soft life that I've been preaching to myself about.' She's like, 'Wait a minute, bitch. When things go down and life happens, who do you need? And who shows up for you in the way that you need?' And that's it. That's what I'm talking about how art was imitating life. Renee's doing the best she can. I can identify with that wholeheartedly, being a breadwinner in my family life and trying to fall apart, but not fall apart. So I put that in Renee and seeing it's so beautifully written and with comedy flair was beautiful, because how many women understand this?
BET.com: Now that you're living so many of the dreams you've had for yourself like finding love, getting married and building a family, are you mourning the old life that you left behind?
Bresha Webb: I just feel blessed that I get to leave something behind. Okay! I'm grateful that I was able to live in a love story, to walk it out, to be loved, to find someone that wants to fight to be loved. I feel so blessed that I get to experience love on this level, that I get to have my career and work and be with someone that understands that, who is also happy in their profession, and that we have decided to come together and go with God together. And dream together! I've always dreamt by myself and now I get to dream with someone else! When you've been doing it so long by yourself, it's hard to relinquish. Just getting to start a new chapter with someone that I feel God has placed in my life for a reason…yeah!
BET.com: Congratulations, you really are living your dream!
Bresha Webb: Thank you. It's possible for you and everyone else. And I just want that because I was after a while thinking, 'You know, I'm grateful for what I have. I'm working. I'm living my dream. I came from Baltimore City, laying in my parents bed dreaming about being on TV.' And now I'm doing it and I was happy there. But God said, 'There's more. Dream bigger, dream more.' And I kept dreaming, I kept believing and it happened. And I mean, hey, it can happen for everybody. Whatever the cycle is, marriage is not everything, if it's children, if it's the other promotion, the other building the other, whatever it is, just keep dreaming, and believe that it can actually happen because God will surprise you.
Run The World is currently streaming on Starz.