OPINION: Michael Rapaport's Comment About Janet Jackson Proves He Doesn't Know Sh*t About Black People
Is it time that his Black card is revoked?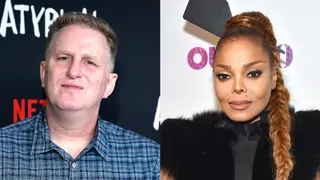 Last night, actor Michael Rapaport couldn't understand why people seemed to be complaining about Janet Jackson's absence from the Super Bowl. His Tweet: Can anybody crying for Janet Jackson right now tell me the last Janet Jackson song that was popping? Motherfuckers wanna make nothing something 24/7/365 &Super Bowl Sunday.
In reality, it wasn't that people were necessarily tweeting about her absence. More were tweeting about Justin Timberlake's presence. And how, as a white man, he got to leapfrog over the event that nearly ended Janet's career. And then he joked about it in his performance.
Justin has been granted some kind of credibility in the Black community. He worked with Timbaland and Pharrell and Janet and Jay-Z. He knew the shorthand. He was invited to the proverbial cookout — though he knows better than to say the N-word. We spent money on his music and his shows. We respected his artistry, though we know it's heavily borrowed. But when pressed, he lied and moved on. Janet who?
Michael Rapaport is similar. But first, we have to keep it real. Rapaport has definitive credibility in the hip-hop community. As an actor, he's often chosen roles that feature white men interacting with Black characters with authenticity, (even when he's the villain, as in John Singleton's Higher Learning). In his first film, Zebrahead, he's the prototypical white guy who falls in love with a black girl and in his personal life he's known to date women of color. He's directed documentaries highlighting people of color like rap legends A Tribe Called Quest and the Black men who led the 1970s Knicks to a championship. And for heaven's sake, he killed it in the The New Edition Story.
But over the past few years, (read: since Twitter), he's become known for making incendiary, unnecessary comments that make it clear that he doesn't care about what folks in his semi-adopted community say about him. 
In September 2016, at the height of the Take A Knee movement, Rapaport tweeted: "Anybody that kneels on 9/11…possibly dropped from my Fantasy Football Team. Think it thru for real."
Because of course, what all professional football players needed to consider before protesting was Rapaport's fantasy football team. Right.
This began a transition from just a smarmy smart mouth to someone whose social media outbursts hinge on divisive and petty. (To one person who unfollowed after that 9/11 tweet he responded, "bye hoe bye.")
There's something unhinged about Rapaport. He butts heads with his critics for hours. He refuses to engage in any kind of meaningful dialogue. (Which is tough for social media in general.)  And he seldom comes with an original thought when it comes to his incendiary comments; he usually cherry picks and reacts to whatever controversy is already trending and dives in with his trolling thoughts.
Rapaport has since changed his tune about athletes taking a knee and has been outspoken about Donald Trump and the current political climate.
But that doesn't mean he can jump on Twitter and disrespect artists like Janet Jackson. He would likely say that he wasn't being disrespectful. Janet hasn't had a hit in a while, why should she be performing? That sentiment is so exhausting that it almost doesn't deserve to be addressed. (Prince hadn't had a hit in ages when he performed. Janet has a catalog for two Halftime shows. Oh, and Justin hasn't had a hit in a minute either.)
But all of that is beside the point. Why jump on Twitter pointing out why Janet shouldn't be there? Every single thing you feel does not have to be Tweeted. When folks called him out, he personally disparaged some of them, (asking one Black woman why her "janky wig" wasn't falling off her head.)
This is not OK. Calling out a Black woman for her "janky wig" is not OK for any man. But if Michael Rapaport doesn't understand the implications of a white man like him saying it, he has a serious problem. He's really out here threatening to "hit someone with a straightening comb." And if his thoughts about Janet are simply about her career — why is he insisting on posting unflattering pictures and calling her legacy into question?
Rapaport is exhausting. Maybe we shouldn't even pay him any mind. Or maybe we should have paid more attention when he decided to call himself the Gringo Mandingo on Instagram.