Stop the Presses: When Music Stars Clash With the Media
Azealia Banks comes for Black media.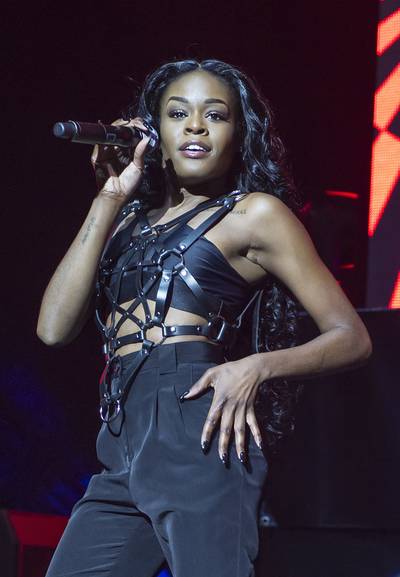 1 / 28
Azealia Banks vs. Urban Media - Azealia Banks is fed up with Black media. She voiced her opinion this weekend, taking aim at Hot 97, Ebony, BET and more. The Harlem rapper even said she doesn't want urban media to cover her at all."The only time I made it 2 ebony magazine was in discussion of another white woman. Black media is counter-productive...I beg black media publications to stop covering Azealia Banks. You have done the MOST to damage my brand..."Check out more incidents when artists clashed with the media.(Photo: Carsten Windhorst/WENN.com)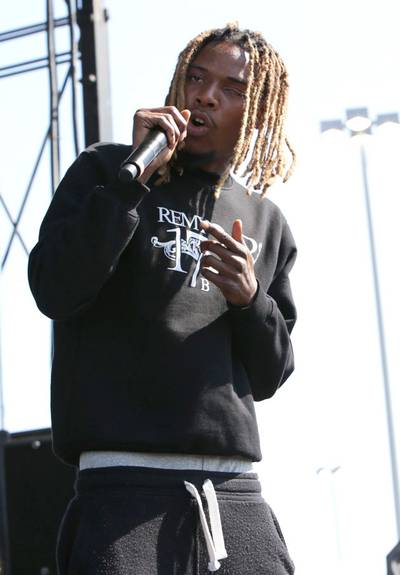 2 / 28
Fetty Wap vs. Media Takeout - Fetty Wap shot down rumors that he was robbed in D.C. after MediaTakeout and other outlets posted videos of an altercation in a night club over the weekend. The "Trap Queen" creator took to IG and briefly spoke on the incident, telling MTO to "suck my d**k." He then added, "I just heard somebody pulled my hair out and I got robbed. B***h where, let me know."(Photo: WENN.com)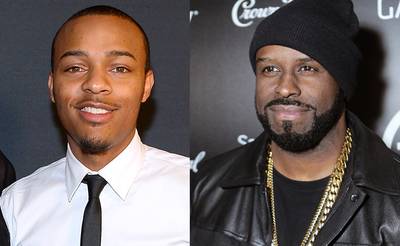 3 / 28
Bow Wow vs. Funkmaster Flex, Bossip and More - Bow Wow had some choice words for Funkmaster Flex after the DJ's blog In Flex We Trust was one of many to call out the MC for leasing a home after he claimed he was buying. After Flex commented on the stunting himself, Bow hit up IG with a few slams at Hot 97's bomb dropper that included, "Flex you too old for the Internet grandpa you square...He's a non factor..."A few days before that, the So So Def MC also let urban blogs as a whole have it after he felt they only covered him in a negative light. He then served them with, "I wish EVERY URBAN BLOG STOPS BLOGGING ABOUT ME. Your credibility sucks, your news is worthless and yall are the broke a***s who sit behind wishing yall had the lives of celebs... It aint everybody, but these urban blogs bossip all yall.... Like if yall don't rock w/ me dont post me. Or if you...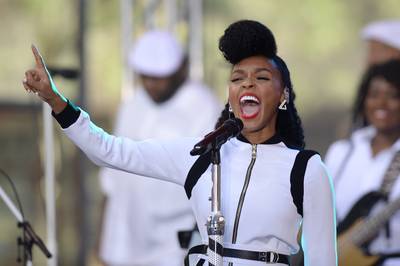 4 / 28
Janelle Monáe vs. The Today Show - When a Q.U.E.E.N. is talking, there's no rushing to a commercial break. Janelle Monáe called out the Today Show for cutting short her recent performance, which she was closing with a reminder that #BlackLivesMatter. The network hasn't responded, but Ms. Monáe is pressing forward. She took to Twitter first and then Washington, where she's marched at the Department of Justice.(Photo: Andrew Toth/FilmMagic)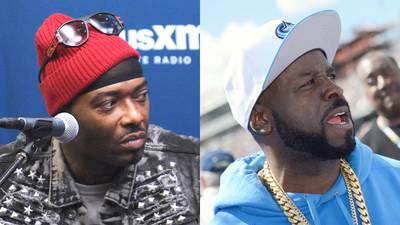 5 / 28
Treach vs. Funkmaster Flex - Funkmaster Flex took a few Ls after being stood up by Meek Mill and eulogized on air by Charlamagne Tha God. Now Naughty by Nature's frontman is calling him out.Treach hit up IG yesterday and told Hot 97's bomb dropper, "NO FUNK FLEX ZONE YOU WILL NEVER GET A DOLLAR IN JERSEY AGAIN YOU B***H A** N***A!!" No word on what set the O.G. off, but Trigga Treach has been known to get physical in the past. (Photos from left: Andrew Toth/Getty Images for SiriusXM, Robert Reiners/Getty Images)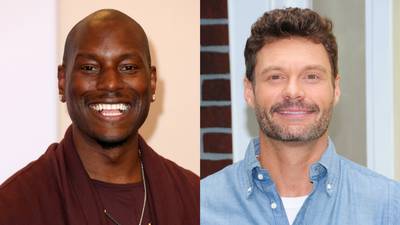 6 / 28
Tyrese Against the World - Black Ty had a few questions for Top 40 DJs like Ryan Seacrest and Elvis Duran, as well as SPIN Magazine.In an open letter, he stated, "How is it possible that urban radio plays Robin Thicke, Justin Timberlake and Sam Smith When they release R&B Soul records and when we're singing in the EXACT same genre, WE don't get ANY love on the other side...?? ...As artists.... Other than Robin Thicke.. Are you guys interested in doing any radio promo? Call ins?... Do you have any idea how HARD it is to get your songs ON Urban radio??...We have to work our A***S OFF for every spin! ‪#‎SHAME ft Jennifer Hudson needs to be HEARD by people ALL AROUND the WORLD!!!! And I won't stop or rest until we get there....‪#‎King"(Photos from Left: FayesVision/WENN.com, Dan Jackman/WENN.com)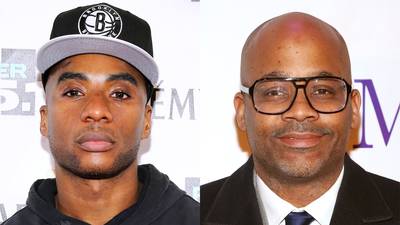 7 / 28
Charlamagne Tha God vs. Damon Dash - After a heated appearance on The Breakfast Club, during which Dame Dash said things like, "There's no pride in having a job," Charlamagne Tha God went in on the Roc-A-Fella co-founder via his Brilliant Idiots podcast. Calling Dash a "culture vulture," he added that he believed his "rhetoric was dangerous" and indicative of someone willing to exploit people. (Photos from left: Neilson Barnard/Getty Images for Power 105.1, Rob Kim/Getty Images)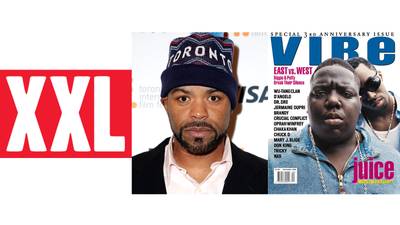 8 / 28
Method Man vs. XXL and VIBE - Method Man stopped by HuffPostLive to discuss his new movie with Adam Sandler, The Cobbler, and wound up taking magazines to task, holding XXL accountable for his minor beef with RZA over comments made about Once Upon a Time in Shaolin. and blaming VIBE for inciting the East Coast/West Coast "crap" that many believe led to deaths of Tupac and the Notorious B.I.G.(Photos from left: XXL Magazine, Philip Cheung/Getty Images, Vibe Magazine September 1996)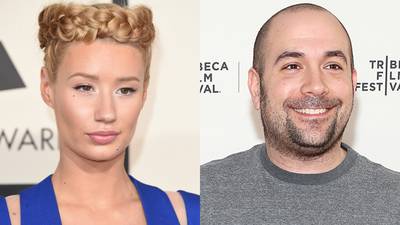 9 / 28
Iggy Azalea vs. Peter Rosenberg - Iggy Azalea wasn't feeling Hot 97's Ebro in the Morning giving Azealia Banks a platform to speak on cultural appropriation. "I find it particularly, personally offensive when they oftentimes take on the general opinion of others or the viewership to try to get clicks," Iggy said.Peter Rosenberg took a b-boy stance. "Honestly, Iggy has let her ego get in the way... You should not go to some random a** pop station — no disrespect — and talk about your relationship in hip hop," he said.(Photos from left: Jason Merritt/Getty Images, Robin Marchant/Getty Images for the 2014 Tribeca Film Festival)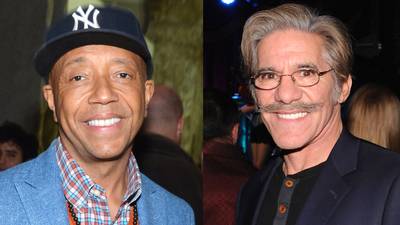 10 / 28
Russell Simmons vs. Geraldo Rivera - Geraldo Rivera fired shots at Russell Simmons and hip hop. "They have encouraged people to be so different from the mainstream that they can't participate other than, you know, the racks in the garment center and those entry-level jobs," he told HuffPost Live.Uncle Rush said the Fox News correspondent was just trying to get attention.(Photos from left: Mike Coppola/Getty Images, Andrew Toth/Getty Images)
11 / 28
Ma$e vs. Charlamagne tha God - Ma$e and Charlamagne tha God reportedly got into a mini shoving bout at the REVOLT Music Conference after The Breakfast Club host called the Harlem spitter a "hypocrite" for leaving the pulpit and returning to rap.Charlamagne downplayed the incident on Twitter: "He did run up and he got pushed and then we prayed together."(Photos from left: Dimitrios Kambouris/Getty Images for REVOLT TV, Alberto E. Rodriguez/Getty Images for BET)
Photo By
Photos from left: Dimitrios Kambouris/Getty Images for REVOLT TV
12 / 28
Fredro Starr vs. Charlamagne tha God - Things got heated when Onyx visited The Breakfast Club. Fredro Starr made it clear what happens when you bring up his past after Charlamagne tha God brought up a relationship with... we won't say who.(Photos from left: Bryan Steffy/Getty Images for Clear Channel, Larry Busacca/Getty Images)
Photo By
Photos from left: Bryan Steffy/Getty Images for Clear Channel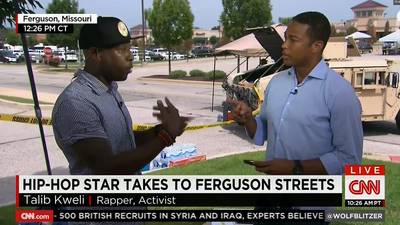 13 / 28
Talib Kweli and Don Lemon Face Off - The aftermath of Michael Brown's death got the best of Talib Kweli and news anchor Don Lemon. The two had a heated "conversation" live on CNN. "I felt like it was up to me to be here and control the narrative because the media's done a horrible job of making sure the stories get out in the right way," Kweli said.There was some yelling. There was walking off. Laughter. And in the end, a handshake.(Photo: CNN)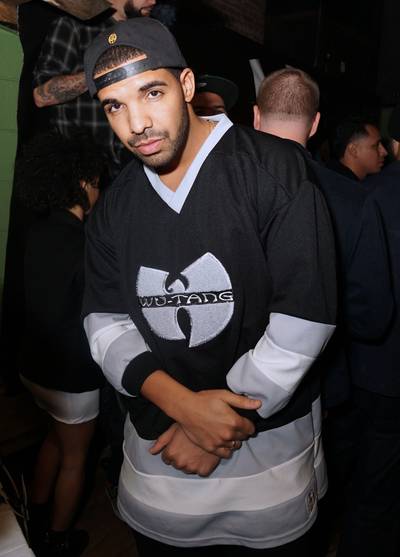 14 / 28
Drake vs. Rolling Stone - Drake took to Twitter to clear the air about his Kanye West diss published in Rolling Stone, specifically about Yeezus creating the phrase "Swaghili" (not even Fabolous would say such a thing, Drizzy said). The problem was that he said it off-the-record. "I'm done doing interviews for magazines," he concluded.(Photo: Johnny Nunez/Getty Images)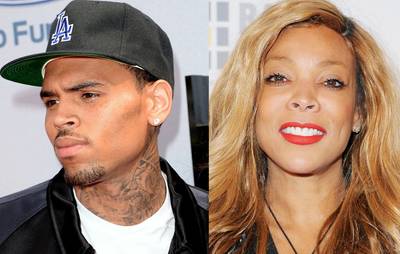 15 / 28
Chris Brown vs. Wendy Williams - Chris Brown took to Twitter to gp up against Wendy Williams after he got wind that he was a hot topic when blogger Perez Hilton visited her talk show. Breezy called them both "flunkies," and sent this message: "Thanks for the publicity. Your insecurities are manifested by your hatred."(Photos from left: Jason Merritt/BET/Getty Images, Michael Loccisano/Getty Images)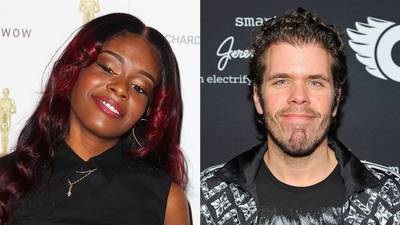 16 / 28
Azealia Banks vs. Perez Hilton - Perez Hilton is known for baiting celebs as much as Banks is known for beefing with them. The two turned their ire at each other over Twitter and it resulted in Banks using a homophobic slur (multiple times, and not in that context, she insisted).(Photos from left: Joe Scarnici/Getty Images for GQ, John Sciulli/Getty Images for smart)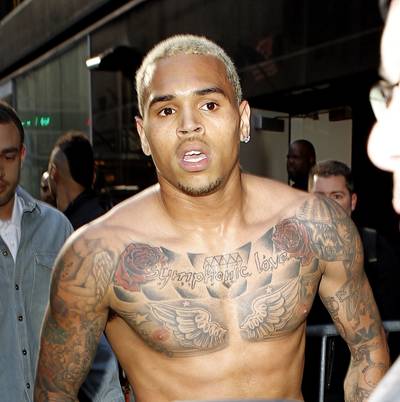 17 / 28
Chris Brown vs. Good Morning America - Chris has been fighting the press ever since news broke that he assaulted ex-girlfriend Rihanna in 2009. The low point was March 2011, when Breezy flipped out and stormed off the set of Good Morning America in response to host Robin Roberts' persistent questions about Rih. (Photo:  INFphoto.com Ref.: infusny-131/155|sp|)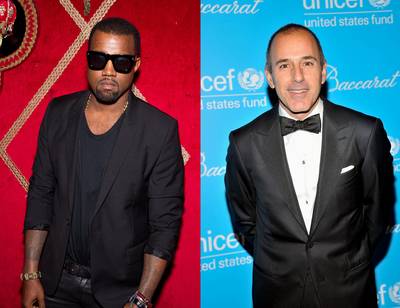 18 / 28
Kanye West vs. Matt Lauer - Though Yeezy's battles with the paprazzi are epic, his clashing with the media doesn't stop there. In 2011, he had a Twitter tantrum and canceled a Today show performance after host Matt Lauer played footage of his infamous VMA/Taylor Swift interruption, and of George W. Bush reacting to West saying he "doesn't like Black people." (Photos from left to right: Victor Boyko/WireImage  Stephen Lovekin/Getty Images for UNICEF)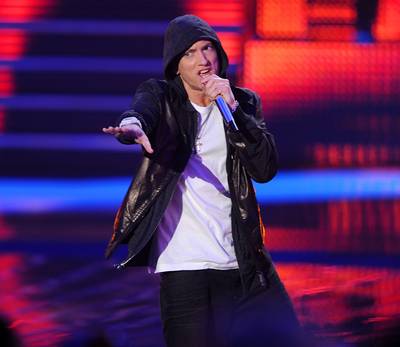 19 / 28
Eminem vs. The Source - The Source magazine's former owner, Benzino, had an obsessive hate of Eminem for years, and used the magazine to tear down the Detroit MC. Em didn't take it quietly. The long-running war yielded lawsuits and several vicious diss tracks. (Photo: Scott Gries/PictureGroup)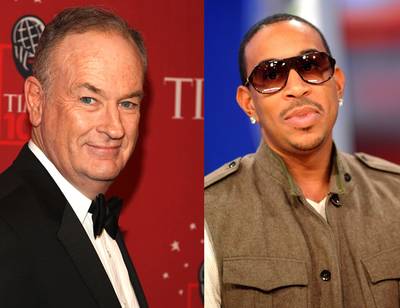 20 / 28
Ludacris vs. Bill O'Reilly - In 2002, Bill O'Reilly waged a campaign Pepsi for endorsing Ludacris, a "thug" who "disrespects women, encourages drug use, and encouraged violence." Luda struck back on-wax several times, and O'Reilly continued to denounce the rapper for years. The two ended their beef in 2010. (Photos from left to right: Stephen Lovekin/Getty Images Brad Barket/PictureGroup)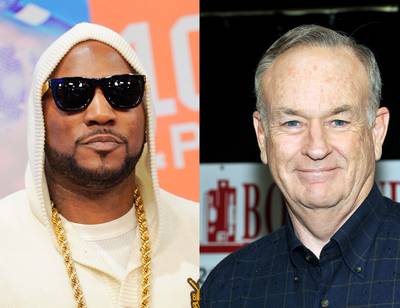 21 / 28
Young Jeezy vs. Bill O'Reilly - Bill-O struck again in 2009, when he lit into Jeezy for his celebratory performance of "My President Is Black" in Washingotn, D.C. when Barack Obama was inaugurated. He called it "hateful" and offensive. Jeezy responded by adding an additional verse to the song, going at O'Reilly. (Photos from left to right: John Ricard / BET, Mike Coppola/Getty Images)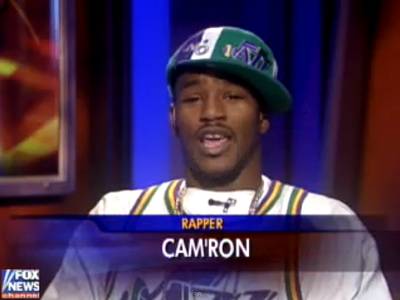 22 / 28
Cam'ron vs. Bill O'Reilly - Hip hop got the last laugh though, when Cam'ron appeared on The O'Reilly Factor to defend gangsta rap and taunted him with "You mad?" — birthing one of the best Internet memes of all time. (Photo: Courtesy Fox News)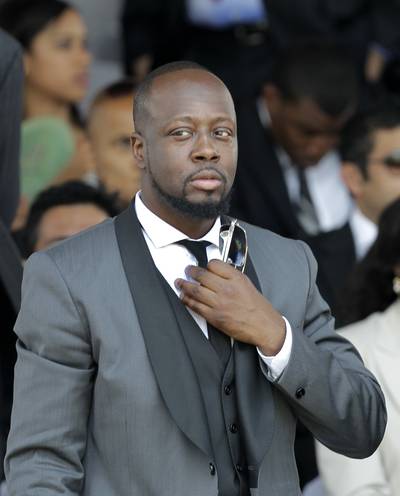 23 / 28
Wyclef vs. Blaze - Blaze magazine made quite a splash with its 1998 inaugural issue, in which the editor-in-chief, Jesse Washington, accused Wyclef of pointing a pistol at him in response to a negative record review. Wyclef denied the charges, and dismissed it as a publicity stunt. (Photo:Ramon Espinosa/AP Photo)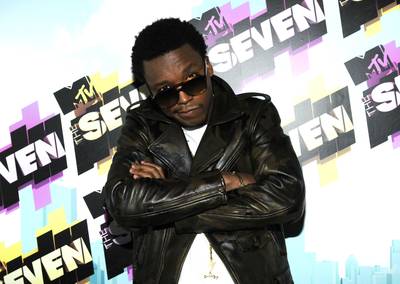 24 / 28
Lupe Fiasco vs. 2DopeBoyz - Lupe Fiasco and prominent blog 2DopeBoyz had a major tiff in 2011 over record leaks, leading the site's head, Shake, to announce that it was boycotting the rapper. "I sincerely wish the worst for him," Shake tweeted. (Photo: Fernando Leon/PictureGroup)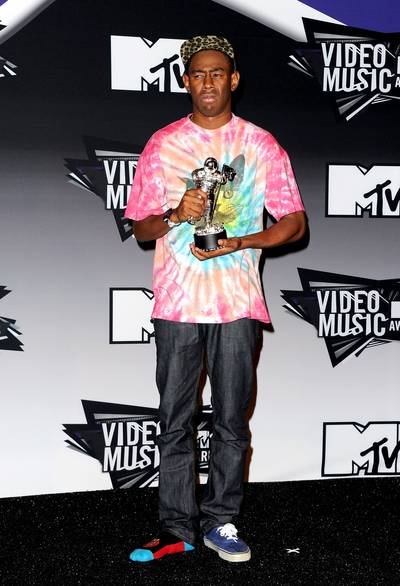 25 / 28
Tyler, the Creator vs. 2DopeBoyz and NahRight - Tyler has been beefing with these two influential blogs since 2009, accusing them of not giving any love to his early music. In 2011, he secretly took out an ad on both sites that linked to a website that read "F--- 2DopeBoyz and Nahright," and later gloated about the prank on Twitter.(Photo: Jason Merritt/Getty Images)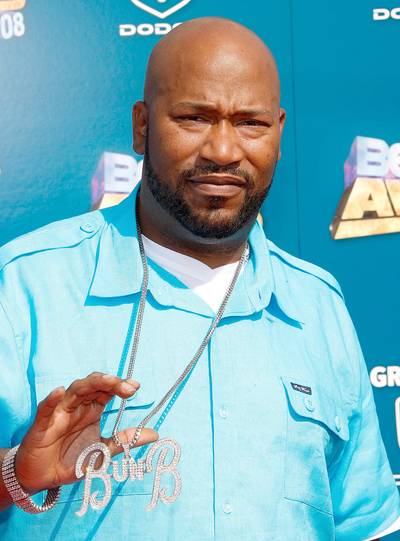 26 / 28
Bun B vs. Byron Crawford - Bun B bumped heads with former XXL blogger Byron Crawford, after the rabblerouser insulted Pimp C. The highlight of their lengthy war of words: Crawford writing that "Bun B is a girl," and Bun in turn calling Crawford an "Elks lodge habitatin', Masters in Augusta wanna-be, finger-pointin' behind the bushes, throwin' a rock and runnin' ass n---a." (Photo: Frazer Harrison/Getty Images)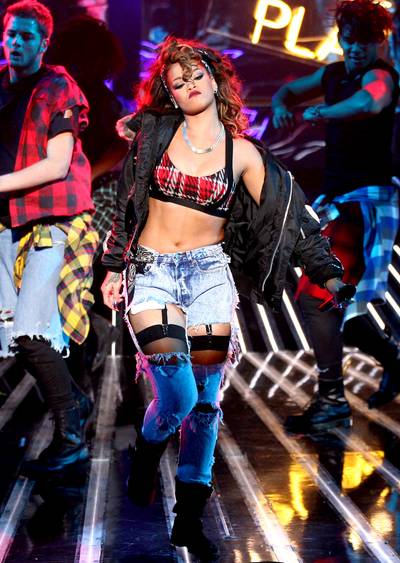 27 / 28
Rihanna vs. Jackie - Rihanna went in on Dutch mag Jackie after it called her "the ultimate n---a b---h" with a "ghetto a--." Rih took to Twitter to air it out, "On behalf of my race, here are my two words for you ... F--- YOU!!!" The mag's editor-in-chief Eva Hoeke quit soon after. (Photo: Brian Dowling/Fox/PictureGroup)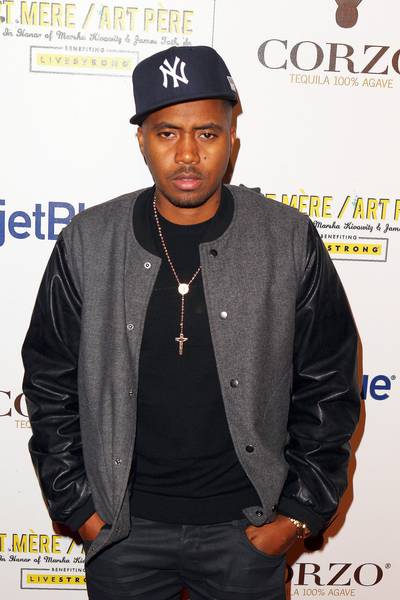 28 / 28
Nas vs. Hot 97 - Hot 97 got caught up in the crossfire between Nas and Jay Z back in 2002. Esco ethered the New York radio station in an interview on rival channel, Power 105, accusing execs of favoritism, and calling out Hot 97's on-air personalities Angie Martinez and Funkmaster Flex. (Photo: Joe Scarnici/Getty Images for CORZO Tequila)