Global Week in Review: Ebola Vaccine Study Set to Begin in Liberia
Bus attack kills at least eight in Ukraine, plus more.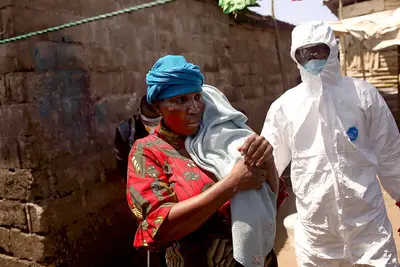 1 / 13
Ebola Vaccine Study Set to Begin in Liberia - Mortar shelling kills eight at Eastern Ukraine bus stop, plus more. — Patrice Peck In a few weeks, a highly anticipated major study of possible Ebola vaccines will start in Liberia, with a smaller study also being scheduled for Sierra Leone, according to U.S. officials. Dr. Anthony Fauci of the National Institute of Health told the AP that up to 27,000 people may ultimately be enrolled in the study, which will "compare two vaccine candidates with dummy shots." Researchers aim to determine the safety of the shots and whether either of the shots really protects against the deadly virus. "Unless you extinguish the very last case, it's not over 'til it's over," said Fauci.(Photo: John Moore/Getty Images)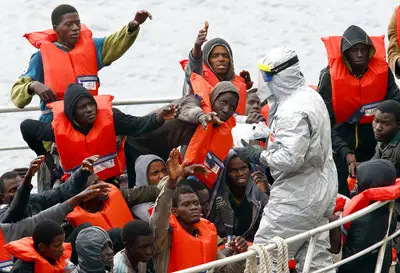 2 / 13
Malta Army Rescues 86 Migrants - Dozens of sub-Saharan African migrants were recently rescued by the Maltese army during a deadly crossing to the Southern European island country, the AP reports. The army was able to rescue 87 passengers aboad a drifting dinghy, but as many as 20 migrants are feared dead. The survivors — all men — hail from Mali, Burkina Faso, Guinea and Ivory Coast.(Photo: Darrin Zammit Lupi/Landov)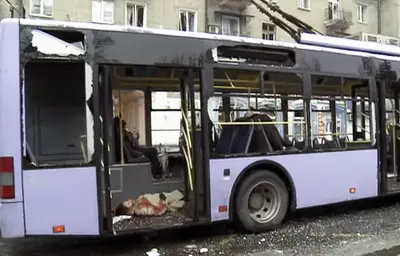 3 / 13
Bus Attack Kills at Least 8 in Eastern Ukraine - Shelling killed at least eight people and seriously injured at least 13 at a bus stop in Donetsk, Ukraine, on Thursday, hours after government forces retreated from an ongoing battle at the mainly rebel-held city's airport. Pro-Russian separatist forces captured 16 wounded soldiers during the fight, marching them through the city to be abused by outraged locals. Both sides have accused each other for Thursday's deadly mortar shelling.(Photo: AP Photo/ RU-RTR Russian Television Channel)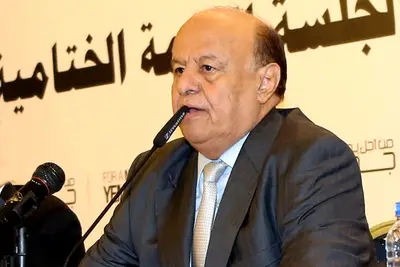 4 / 13
Yemen President and Prime Minster Resign - Yemen's President Abd-Rabbu Mansour Hadi has stepped down, along with Prime Minister Khaled Bahah, under pressure from Houthi rebels holding Hadi captive in his home, AP reports. Al Jazeera's Hashem Ahelberra claimed that the resignations have plunged the country into the "biggest crisis in Yemen's political history" and would likely create a power vacuum. The U.S. has been backing the Arab country in the fight against al-Qaeda's powerful local franchise. (Photo: AP Photo/Yemen's Defense Ministry, File)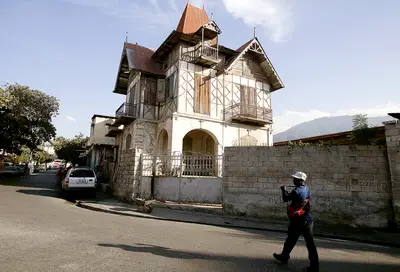 5 / 13
The Fight to Save Haiti's Gingerbread Homes - The Haitian nonprofit Knowledge & Freedom Foundation has teamed up with local craftsmen to restore dozens of "gingerbread houses," architectural gems that went unscathed during the devastating 2010 earthquake. The workers are being trained to work with imported wood, ochre-colored bricks and lime mortar, as opposed to more familiar, contemporary materials, like concrete blocks and cement, AP reports.(Photo: Dieu Nalio Chery/AP Photo)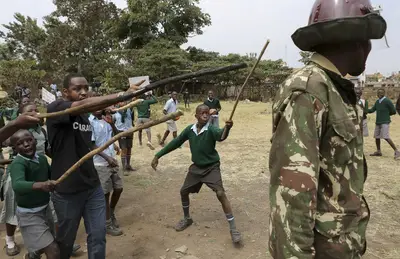 6 / 13
Police Tear-gas Kenyan School Children - Several young students at a Nairobi school were tear-gassed by Kenyan riot police as they protested the sale of the school's playground, the BBC reported. Some children sustained injuries in the police action and were taken to the hospital. At least one police officer was hurt when a protester struck him with a stone. The Kenyan government has reportedly apologized for the incident.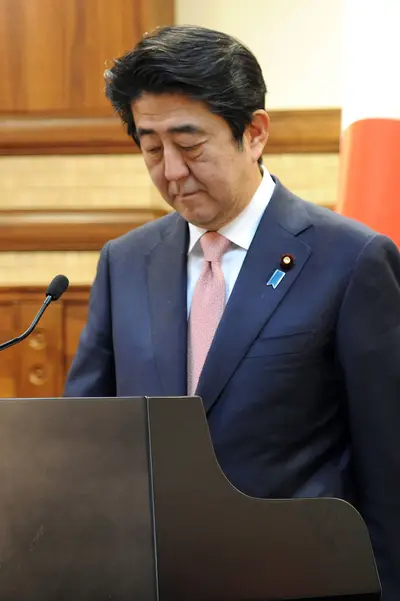 7 / 13
Islamic State Threatens to Kill Japanese Hostages - In a video posted online Tuesday, the Islamic State group demanded a $200 million ransom within 72 hours for the lives of two Japanese hostages, the AP reports. "To the prime minister of Japan...you willingly have volunteered to take part in this crusade," said a masked militant, standing between the captives, Kenji Goto, 47, and Haruna Yukawa, 42. It is likely the man was referring to Japan's Prime Minster Shinzo Abe's recent pledge of monetary aid to the Iraqi government and other countries fighting IS. According to the BBC, Abe, who is currently on an unrelated six-day tour of the Middle East which he is expected to cancel, has said the hostages are his "top priority."(Photo: Thaer Ghanaim/PPO via Getty Images)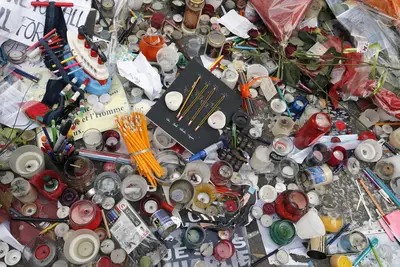 8 / 13
Four Men Linked to Paris Attack Appear in Court - The first suspects to face charges in this month's Paris terror attacks appeared in court on Tuesday, AP reported. The four men — all in their 20s — are suspected of providing logistical support to Amed Coulibaly, one of the terrorists who killed a policewoman and four hostages inside a kosher supermarket before being shot dead by police. According to the AP, it remains uncertain whether the four men participated in the plotting of the attacks or were aware of Coulibaly's plans. Meanwhile, Paris's mayor, Anne Hidalgo, announced plans to sue Fox News over incorrect on-air comments made about Paris having Muslim "no-go zones."(Photo: AP Photo/Francois Mori)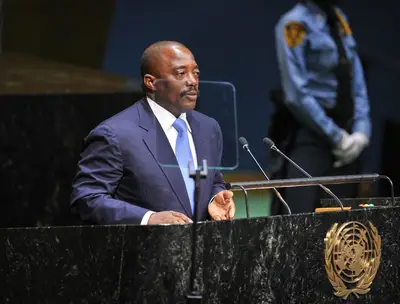 9 / 13
Deadly Protests in DR Congo Over Possible Election Delay - Recent clashes between the Democratic Republic of Congo's security forces and hundreds of opposition supporters have led to the deaths of at least four people, the BBC reported on Tuesday. Human rights activists have estimated a higher total, claiming up to 10 people have been killed. With President Joseph Kabila (pictured) constitutionally prohibited form running for a third term, protesters have reportedly been demonstrating against the possible delay of presidential elections. Kinshasa-based BBC reporter Maud Jullien says that most shops are closed and the government has ordered the shuttering of the Internet and text messaging services.(Photo: Xinhua/Niu Xiaolei/LANDOV)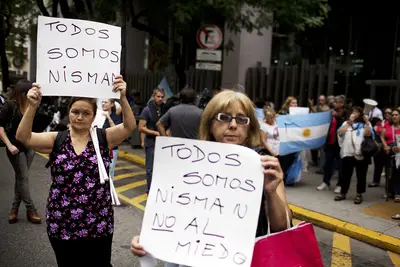 10 / 13
Protests Rock Argentina in Wake of Prosector's Controversial Death - As the BBC reports, the death of Argentine prosecutor Alberto Nisman, 51, has sparked thousands of locals to protest and call for a thorough probe. Nisman was found fatally shot in his apartment on Sunday, only hours before he was scheduled to present evidence to a congressional committee detailing his accusations against Argentina's President Cristina Fernandez de Kirchner in the 1994 bombing of Buenos Aires Jewish Centre. Eighty-five people were killed in the explosion. Cries of "No more lies" and "Yo soy [I am] Nisman" rang out among Monday's protests.(Photo: AP Photo/Rodrigo Abd)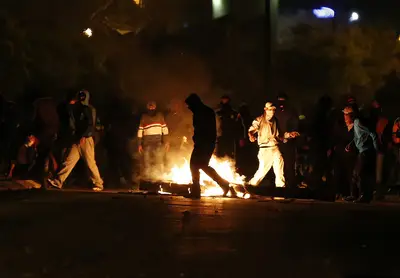 11 / 13
Israel Arab's Go on Strike to Protest Police Brutality - Following the Israeli police-involved deaths of two Arab men, Israel's large Arab community has launched a general strike from the northern Galilee to the southern Negev desert, Reuters reported on Tuesday. Shops and schools have been closed. Sami al-Jaar, an unarmed 20-year-old, was killed during an alleged drug raid, while Sami Zayadna, 45, died when police fired tear gas and rubber bullets at al-Jaar's funeral on Sunday. According to police, Zayadna died of a heart attack, but locals claim the man died of gas inhalation. Autopsy results are reportedly expected soon.(Photo: REUTERS /AMMAR AWAD /LANDOV)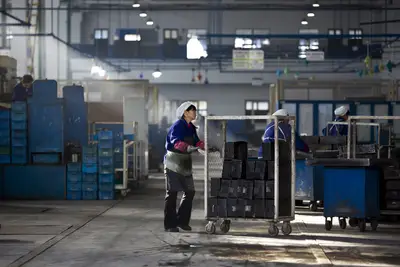 12 / 13
Chinese Economy Posts Lowest Growth Rate in 24 Years - USA Today reported that China is facing its lowest rate of growth since 1990, as recently announced by the government. The Asian nation's gross domestic product grew 7.4 percent over the whole year, slumping below the official target of 7.5 percent. Chinese leader Li Keqiang is expected to explain the nation's revised "new normal" goals of a slower but better quality economic growth at the World Economic Forum on Wednesday.(Photo: REUTERS /ALY SONG /LANDOV)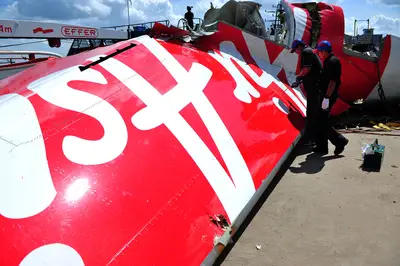 13 / 13
AirAsia Flight Ascended 'Too Fast' - Indonesia's transport minister recently told a parliamentary hearing that the AirAsia plane that crashed in the Java Sea last month had climbed too fast before stalling, BBC reported. "The plane, during the last minutes, went up faster than normal speed... then it stalled," Ignasius Jonan reportedly said. "I think it is rare even for a fighter jet to be able to climb 6,000 feet per minute. The average speed of a commercial aircraft is probably between 1,000 and 2,000 feet per minute because the aircraft is not designed to soar so fast." There were no survivors when the plane crashed and killed 162 people on December 28.(Photo: XINHUA /LANDOV)