Hip Hop Songs That Influenced Pop Culture Slang
The rap origins of "bootylicious," "YOLO," "crunk" and more.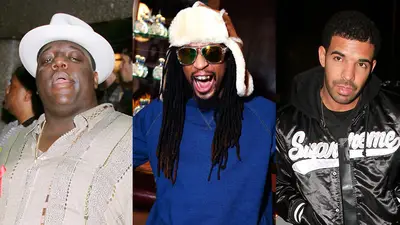 1 / 18
Trendsetters - When DJ Kool Herc created hip hop in the 1970's the movement almost immediately began setting trends, as Herc's new "break beat" style influenced the careers of Grandmaster Flash and Afrika Bambaataa. Decades later, hip hop is a billion dollar industry with influence over a global audience and leadership in various aspects of pop culture from fashion to cars, spirits and even the English language.Artists like Notorious B.I.G., Lil Jon and Drake have used music to create and coin phrases, which have found a way from lyrics to everyday jargon. Keep reading for a brief hip hop history of some of the artists and songs behind pop culture slang like "no diggity," "bootylicious," "ratchet" and "thot." —Dominique Zonyeé (@DominiqueZonyee)(Photos from Left: Jeff Kravitz/FilmMagic, Alexandra Wyman/Getty Images f...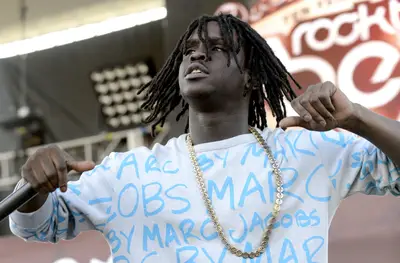 2 / 18
"Love No Thotties" - The term "T.H.O.T." or "That H-e Over There," emerged on the underground Chicago rap scene in 2012 with Katie Got Bandz, Chief Keef and his crew. Katie was one of the first rappers to put the term out there on her track "Ridin Around and We Drillin," but when Keef dropped "Love No Thotties," the following year, "thot" was already gaining usage across the nation. Even Fat Trel shared his disdain for promiscuous women on his track "Thots," and the word already transcends rap generations as Juicy J took it a step further in 2014 with his song "Beautiful Ones," in which he raps, "This is for the THOTs, T-H-O-T." Fabolous has also been known to shout out thots too; he gives them a nod on his "Cuffin Season" remix featuring 50 Cent. (Photo by Tim Mosenfelder...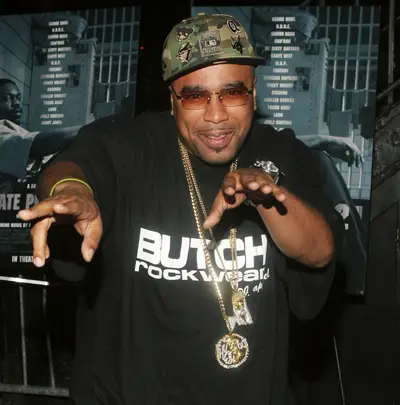 3 / 18
"Grimey" - N.O.R.E. put his twist on the word "grimy," which means covered in dirt, to create the word "grimey," the title of this 2002 track. From the gate, Noreaga comes out throwing shots at his adversaries. On the hook, he reiterates his disdain characterizing them as "grimey," which he chants repeatedly in his rugged tone over the Neptunes' beat. More than 10 years later, the word "grimey" is still used in slang today to describe a conniving person or a "shady" act.(Photo: Thos Robinson/Getty Images)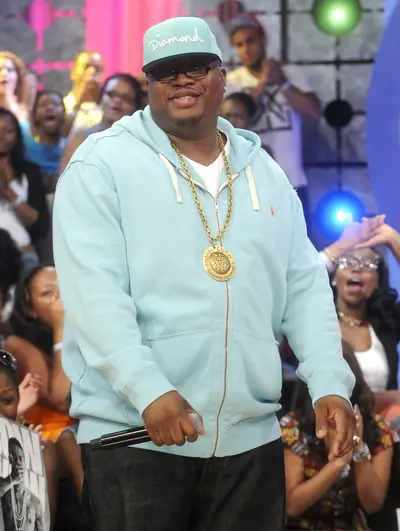 4 / 18
"Tell Me When to Go" - While the South was getting crunk, the San Francisco Bay Area was getting hyphy, short for "hyperactive." Keak Da Sneak set off the movement in 1994, but it would not explode until 2006 when E-40 put it on the map with "Tell Me When to Go." The 40 and Sneak collabo (produced by King of Crunk Lil Jon) was the lead single from 40's My Ghetto Report Card and established the Bay Area's own distinct turn up, as the new sound induces energetic fast-paced dance movements of the same name.Along with the music and the motion, the phrase "to get hyphy" is used to describe an over-excited or super-crunked person; and thanks to the Bay, "hyphy" has made its way all the to East. Jay Z, for example, "got hyphy" on his remake of Too Short's "Blow the Whistle."(photo: John Ricard / BET)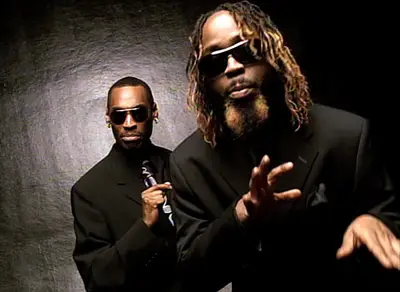 5 / 18
"Twerk" - The word "twerking" was introduced in 1993 when DJ Jubilee, from New Orleans, released his dance hit "Do the Jubilee All." On the track, he ad-libbed the word "twerk" to the rhythm beat. However, the word did not catch on until 2000 with the Ying Yang Twins' "Whistle While You Twurk." The rump-busting dance move would gain its claim to fame in 2013 following Miley Cyrus's viral video of her dropping it full-twerk mode at a Juicy J concert. "Twerk" was added to the Oxford Dictionary in August 2013.(Photo: TVT Records)
6 / 18
"Bandz a Make Her Dance" - Many may think that the term "ratchet" came straight from his "ratchet studios," Juicy J's makeshift mobile recording studio, which features a microphone above his driver's seat. But Hurricane Chris was the first rapper to introduce mainstream America to the word, used to describe the new "gold digger" or money hungry, low-down man/woman on his his 2007 debut album, 51/50 Ratchet.  Still "ratchet," gained notoriety on Juicy's 2012 "Bandz a Make Her Dance" with his line, "You say 'no' to ratchet p---y, Juicy J can't." Even Beyoncé got hip to the "ratchet wave," Queen Bey posed for a twisted-grill Insatgram photo in December 2012, rocking gold over-size door-knocker earrings with the word "ratchet" sprawled across them. That same year, "Ratchet Girl Ant...
7 / 18
"Poppin" - A young Chris Brown capitalized off the common phrase "it's going down" with his 2005 hit "Poppin," featuring Juelz Santana and Lil Wayne. Breezy captured the hearts of tweens and grown adults as he sang on the hook, "It's on and poppin." Although "poppin'" was already used, Chris made the word resurface and had everyone using it, from rappers to singers to parents.(Photo: Imeh Akpanudosen/Getty Images)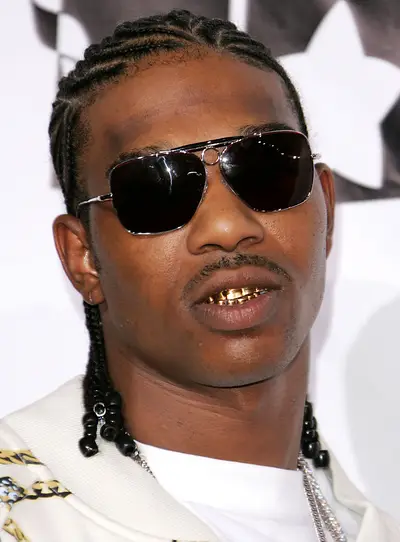 8 / 18
"Bling-Bling" - It may have been Chopper City in the Ghetto but BG sure had a lot of "Bling Bling" –– diamonds and jewels, way back in 1999. The Cash Money Millionaires became known for their obnoxious, iced-out accessories, as the stunna rapped, "Everytime you come around you see me, bling bling. Pinky ring worth about 50, bling bling…" The phrase almost immediately gained national attention. "Bling-Bling" was added to the Oxford English dictionary in 2003, and transcended from the rap world to fashion and beyond. Even the Los Angeles Lakers got in on the trend, their 2000 championship ring was saturated in diamonds and had the phrase etched into the sides.(Photo: Bryan Bedder/Getty Images)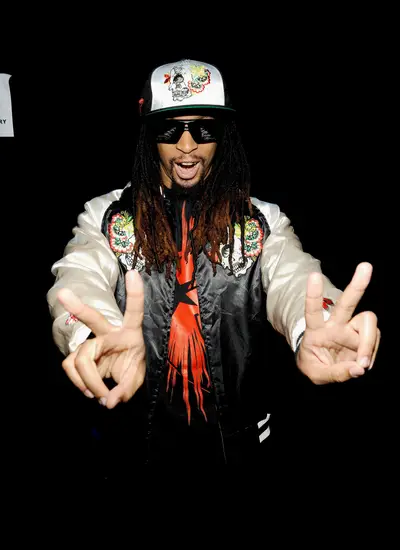 9 / 18
"Get Low" - When it comes to hip hop branding, Lil Jon is one artist who has the script down pat. Undoubtedly known for his pimp cup, Jon and the East Side Boyz redefined crunk (an up-tempo hip hop style that originated in Memphis, Tennessee, in the '90s) transforming it into a national movement with their 2004 album, Kings of Crunk. The Atlanta crew's fourth studio album sold more than 2 million copies thanks the album's second single, "Get Low," featuring the Ying Yang Twins. Laced with Jon's alcohol-infused crunk juice, the chart-topping song was the audio definition of "crunk" –– a combination of the words "crazy" and "drunk" –– an official party starter that dares you to "drop it to the floor," from the window to the wall.Although Jon and the East Side Boyz came out of the gate pushing the crunk funk in 1997 wit...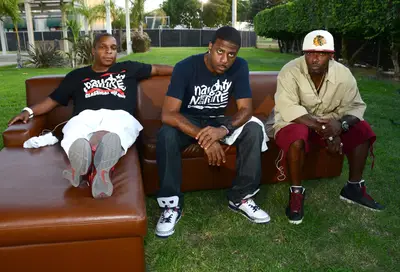 10 / 18
"O.P.P." - Thanks to Naughty By Nature in the early '90s, to "creep" on your mate meant to be down with "O-P-P" (at first listen most thought the acronym stood for "Other People's Property," however the last "P" refers to the female genitals).When this song from the trio, comprised of MC Treach, Vinnie and DJ Kay Gee, hit the airwaves in 1991, it became a No.1 hit, in part for the catchy chorus, "You down with O-P-P, yeah you know me." Apparently, everyone was down, it's the first rap song to top the pop charts, peaking at No. 6 on the Billboard Hot 100 list.(Photo: Araya Diaz/Getty Images)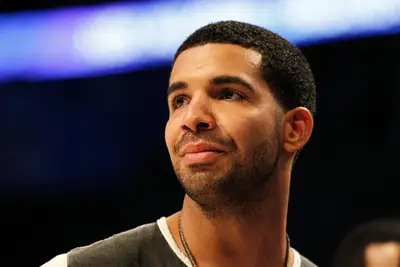 11 / 18
"The Motto" - When Drizzy dropped this song featuring Lil Wayne in 2011, he introduced the world to his personal mantra, "YOLO," or "You Only Live Once," as he used the hook to encourage listeners to step out of the box and go for their dreams. "YOLO" was immediately etched into rap discourse and everyday diatribe. "The Motto" and it's hook became so popular it was nominated for Best Rap Song at the 55th Annual Grammy Awards in 2013, two years after the song was released. Weezy said it best when he rapped, "And we gon' be alright if we put Drake on every hook."(Photo: Ronald Martinez/Getty Images)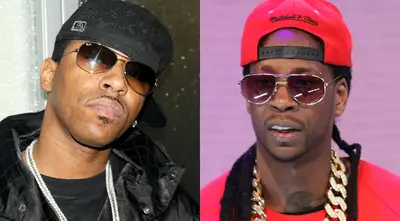 12 / 18
"Turn Up" - This catchphrase has no hidden interpretation, it simply means exactly what it reads: Turn up! Get excited, raise the volume and let loose. Atlanta rapper Rocko takes credit for coining the phrase in 2007 when he dropped his first mixtape, Swag Season. However, "turn up" caught mainstream attention in 2012 when fellow ATL rapper 2 Chainz dropped this song. Kevin Hart even got in on the "turn up" craze when he hosted the 2013 BET Awards and dropped the phrase in nearly every sentence. Since then, "turn up" has become the new "crunk," as Lil Jon asks on his song "Turn Down for What?"(Photos from left: Scott Gries/Getty Images, Bennett Raglin/BET/Getty Images)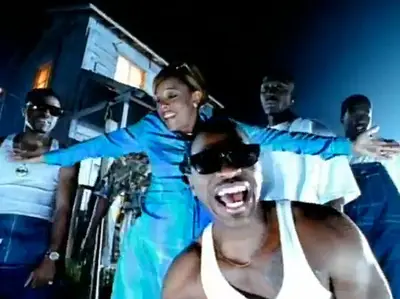 13 / 18
"No Diggity" - Before Snoop Dogg adopted the "izzle" at the end of his words, Teddy Riley and Blackstreet were already altering traditional English language. Blackstreet's "No Diggity," featuring Dr. Dre and Queen Pen, put a spin on the slang term "no doubt," which caught on like wild fire. The song ended the 14-week reign of "Macarena" (remember this dance?) on the pop charts, and even won a Grammy Award in 1998 for Best R&B Performance by a Duo or Group With Vocal.(Photo: Interscope Records)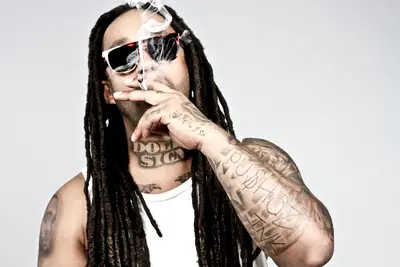 14 / 18
"Or Nah" - "Nah" was already incorporated into the 'hood dictionary as an alternative way to say "no," but the phrase "or nah" earned popular use when Left Coast rapper Ty Dolla $ign released his song "Or Nah," in which he asks a series of questions ending with the phrase."Are you gon' make them eggs cheesy with those grits, or nah?" Dolla Sign sings to a fictitious girl. "Or nah" was warmly embraced, especially on social media, as stars from Rihanna to Wiz Khalifa, who is featured on the remix, have used the term in tweets and photo captions.  (Photo: Courtesy of Atlantic Records)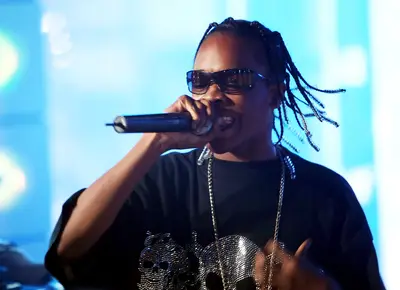 15 / 18
"A Bay Bay" - Just when you were getting used to "boo" being used as a term of endearment (as opposed to a word to scare), the term "bae," short for "baby" emerged as it synonym. The term first hit the airwaves in 2007 when Hurricane Chris dropped his catchy single "A Bay Bay," which didn't use the modernized spelling seen today thanks to Harlem lyricist Vado, who had everyone singing along to his song "Bae," featuring Jeremih, earlier this year.(Photo: Scott Gries/Getty Images)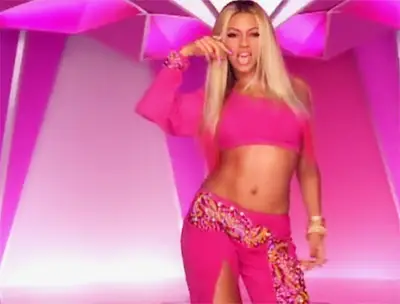 16 / 18
"Bootylicious" - When Beyoncé sang "my body is too bootylicious for you...baby," for this 2001 hit, the song's title became the mantra for bodacious body lovers across the globe. However, while Queen Bey helped to mass distribute the word, according to the Oxford English Dictionary, credit for the term actually belongs to Snoop Dogg, who first used it in 1992.(Photo: Sony Music)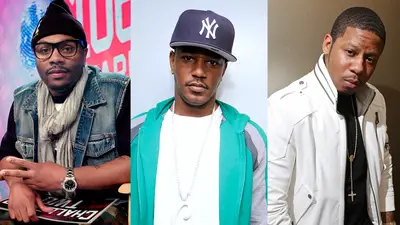 17 / 18
"20 Dollars" - When rapper/producer Ron Browz dropped his club classic "20 Dollars," everyone knew what "hand-cuffin'" or "cuffin'" meant. "Ether Boy" was against bringing your significant other to the party and demanded $20 for all those caught being "booed up" in the spot. A few years later his Harlem affiliates Cam'ron and Vado kept the momentum with "Cuffin'," featuring Gucci Mane.(Photos from Left: John Ricard / BET, John Ricard / BET, Bennett Raglin/BET/Getty Images for BET)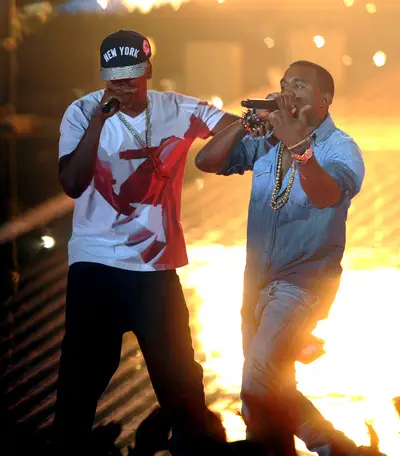 18 / 18
"N---- in Paris" - What's the point of the "z" in "crazy"? Ask Kanye West and Jay Z, there is none. The rappers drafted the word "cray" into the hip hop dictionary in 2011 with this Watch the Throne cut. 'Ye rapped, "That s—t cray" to counter Hov's "Ball so hard." The line may have been short, but its impact was strong, as people across the world started using "cray" in place of "crazy."(Photo: Kevin Winter/Getty Images)
Photo By
Kevin Winter/Getty Images