Sports Buzz: Kobe Bryant Flees Family Vacation For Melo Pitch
Plus, Kevin Durant and Russell Westbrook recruit Pau Gasol.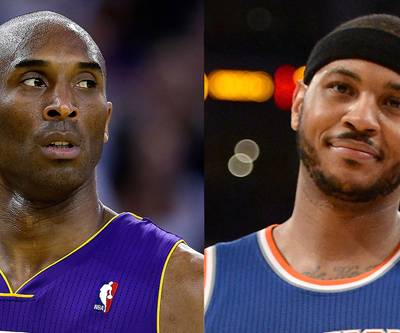 1 / 28
Kobe Bryant Flies to LA For Lakers' Melo Meeting - How serious is Kobe Bryant about winning? According to ESPN, Bryant left his family vacation in Europe and flew into Los Angeles on Wednesday night to make sure he was present for the Lakers' pitch to free agent Carmelo Anthony. The two superstars have a longstanding friendship and can help each other with the Black Mamba assisting Melo in winning his first ring and in turn Anthony aiding Bryant to capture his sixth NBA title.(Photos from left: Ezra Shaw/Getty Images, Harry How/Getty Images)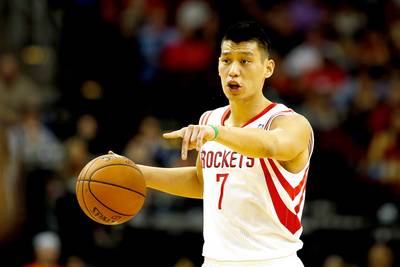 2 / 28
Rockets Diss Lin With No. 7 Melo Image - The Houston Rockets reportedly showed Carmelo Anthony pictures of himself in a No. 7 Rockets jersey during their meeting Wednesday. Cool idea, nice gesture. One problem, though: Rockets point guard Jeremy Lin already sports No. 7. The gesture could spell the Rockets' willingness to trade Lin, prompting the fourth-year guard to tweet a bible verse: "Luke 6:29 - If someone slaps you on one cheek, turn to them the other also. If someone takes your coat, do not withhold your shirt from them." Melo and Lin are no strangers, having been former teammates on the New York Knicks. In 2012, when the Rockets offered Lin a three-year, $25 million offer, Melo called it a "ridiculous contract."  (Photo: Scott Halleran/Getty Images)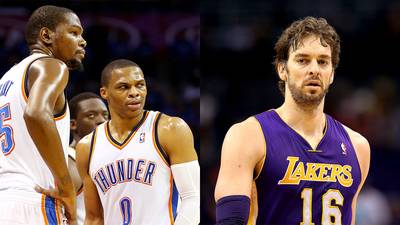 3 / 28
Kevin Durant, Westbrook Make Pitch to Gasol - The Oklahoma City Thunder didn't have enough firepower to hang with eventual-NBA champion San Antonio Spurs during the Western Conference Finals this past season. That being said, Thunder superstars Kevin Durant and Russell Westbrook made a face-to-face pitch to Pau Gasol in Los Angeles on Wednesday, stating their case as to why the veteran Lakers center should join them in OKC, ESPN is reporting. The Thunder salary cap is limited to roughly $5 million in spending cash.(Photos from Left: Ronald Martinez/Getty Images, Christian Petersen/Getty Images)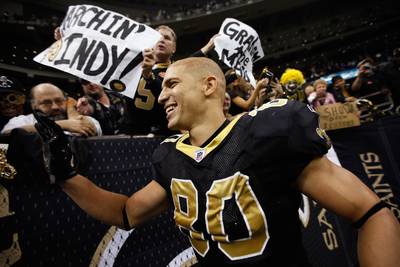 4 / 28
Arbitrator Rules Jimmy Graham Tight end - Nice try, but Jimmy Graham is a tight end. The NFL confirmed Wednesday that arbitrator Stephen Burbank denied Graham's request to be declared a wide receiver under the NFL's franchise-tag rules, as reported by ESPN. Graham, of the New Orleans Saints, was trying to officially be listed as a wideout instead of a tight end to leverage for just over $5 million via a one-year receiver tender offer. Instead, he will be relegated to a one-year, $7 million offer. (Photo: Chris Graythen/Getty Images)
5 / 28
Clippers Interested in Paul Pierce - A Paul Pierce-Doc Rivers reunion is in the works ESPN is reporting that coach Rivers' Los Angeles Clippers has been in talks with the Brooklyn Nets to land Pierce via a sign-and-trade deal. Pierce and Rivers shared many great years with the Boston Celtics, winning an NBA title together in 2008.(Photo: Al Bello/Getty Images)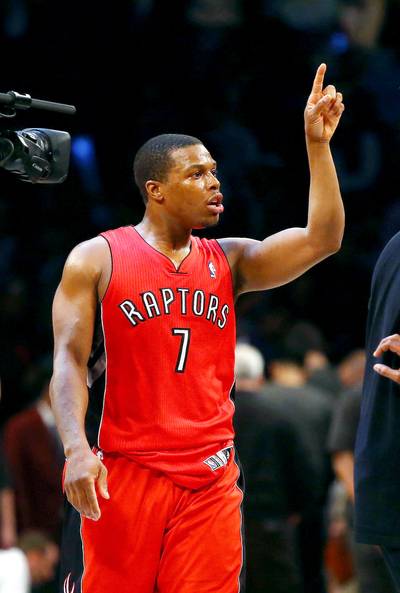 6 / 28
Kyle Lowry, Raptors Agree on Deal - Kyle Lowry was high atop the list of NBA teams looking to add a quality point guard. But in the end, Lowry decided to remain a member of the Toronto Raptors, agreeing to a four-year, $48 million contract. Lowry averaged 17.9 points and 7.4 assists per game this past season, helping Toronto make the playoffs for the first time since 2008. (Photo: Al Bello/Getty Images)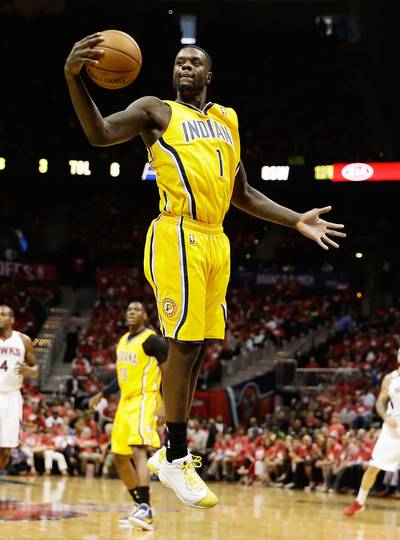 7 / 28
Report: Stephenson Rejects Pacers Offer - The Indiana Pacers' five-year, $44 million contract wasn't quite enough to get swingman Lance Stephenson to re-sign. According to ESPN's Chris Broussard, with the Pacers and Stephenson at an impasse, Lance will talk to other teams including the Chicago Bulls, Los Angeles Lakers and Charlotte Hornets. (Photo: Mike Zarrilli/Getty Images)
8 / 28
USA World Cup Ratings Top NBA Finals Average - Did the United States of America seriously feel World Cup fever or what? According to the Associated Press, an estimated 21.6 million Americans watched Belgium eliminate Tim Howard (pictured) and the U.S. from the World Cup on Tuesday. That's more than the average 15.5 million who tuned in to watch the NBA Finals between the Miami Heat and San Antonio Spurs. Impressive. (Photo: Jamie McDonald/Getty Images)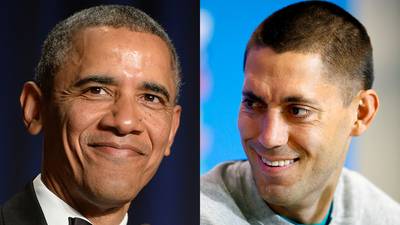 9 / 28
President Obama Calls USA Soccer Stars - It's tradition for the President of the United States to give a congratulatory call to championship sports teams. President Obama extended the tradition, placing a personal call to USA soccer stars Tim Howard and Clint Dempsey for the great American run in the 2014 FIFA World Cup. "To see the way that you guys captured the hearts and imagination of the whole country is unbelievable," Obama said. (Photos from Left: Olivier Douliery-Pool/Getty Images, Kevin C. Cox/Getty Images)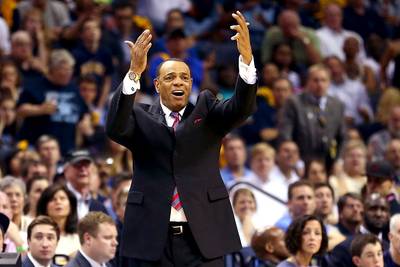 10 / 28
Brooklyn Nets, Coach Lionel Hollins Agree to Deal - The Brooklyn Nets got their new head coach. Late Wednesday night, the Nets and Lionel Hollins agreed to a deal that could be worth as much as four years and $20 million, ESPN reported. "We have a nice nucleus to build with," Hollins told ESPN. "We want to be better than last year, and obviously that's going to take work. We're going to work hard, be aggressive and we're never going to quit." Hollins last led the Memphis Grizzlies to a 56-win season and trip to the NBA's Western Conference Finals in 2012-13, before being controversially fired over alleged basketball differences of opinion. He replaces Jason Kidd, who left the Nets to coach the Milwaukee Bucks via a trade between the two organizations earlier this week.(Photo: Ronald Martinez/Getty Images)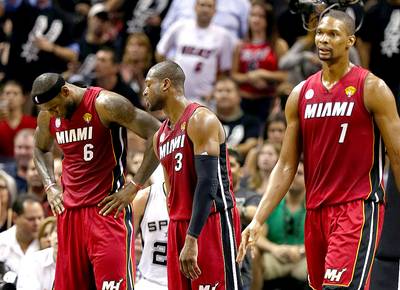 11 / 28
Pay Cuts for Dwyane Wade, Chris Bosh? - ESPN reports that all signs lead to the Miami Heat keeping its Big Three. But will they be able to keep them happy? With the Heat expected to meet LeBron James's demands for a maximum salary of just over $20 million, Dwyane Wade and Chris Bosh will most likely have to take substantial pay cuts. That being said, Henry Thomas, agent of both Bosh and Wade, already called reports of them taking as low as $12 million and $11 million, respectively, next season "BS." CBS Sports also points out that if Bosh and Wade take salaries in the combined $30 million range, the Heat would have to use roughly $9 million to fill out seven roster spots after owing Norris Cole his guaranteed money and awarding point guard Shabazz Napier with a rookie contract. The Heat are also reportedly interested in Toronto Raptors' guard Kyle Lowry, Cleveland Cavaliers small ...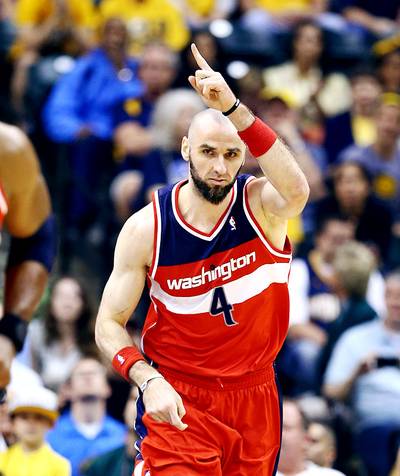 12 / 28
Wizards Re-sign Marcin Gortat - Marcin Gortat was one of the better big men in the NBA last season. Recognizing his effort, the Washington Wizards agreed to a five-year, fully guaranteed $60 million contract with the center on Tuesday night. Wizards star point guard John Wall was happy to learn the news. "Got my man @MGortat back now waitin for my bro @TrevorAriza…Come on!!" Wall tweeted. Gortat, 30, averaged 13.2 points and 9.5 rebounds per game this past season.  (Photo: Andy Lyons/Getty Images)
13 / 28
Warriors Pick Up Shaun Livingston - Coming off several devastating knee injuries, Shaun Livingston proved he can bounce back and be a serviceable NBA player, posting 8.3 points per game off the bench for the Brooklyn Nets this past season. The Golden State Warriors took notice and have added him to their roster, according to ESPN. "It's the fit. Definitely the fit," Livingston told ESPN. "I want to remain competitive and this is the best opportunity. It's sweet to just be in this opportunity. You look at coming into the year, you look at what everyone expected me to do and then you look at the offers and the deal that came in. It's sweet." (Photo: Maddie Meyer/Getty Images)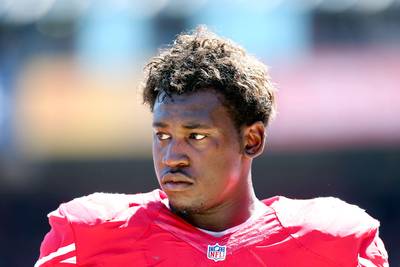 14 / 28
Aldon Smith Won't Be Charged for LAX Threat - Aldon Smith should consider himself a lucky man. The San Francisco 49ers linebacker will not face charges stemming from his April arrest for making a false bomb threat at Los Angeles International Airport, the L.A. city attorney's office spokesman told USA Today. That being said, the NFL is likely to suspend him for the start of the 2014 season. (Photo: Jeff Gross/Getty Images)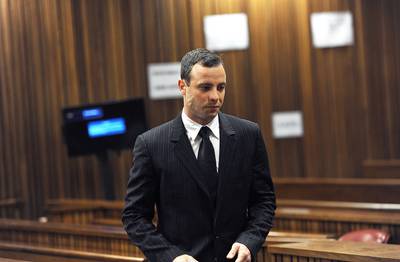 15 / 28
Defense Calls Pistorius Suicide Risk - Oscar Pistorius is suffering from depression, post-traumatic syndrome, and is at an increased suicide risk, his defense lawyer informed the court in Pretoria, South Africa, on Wednesday, as reported by the Associated Press. Pistorius, a double-amputee sprint runner, is on trial for murdering his girlfriend Reeva Steenkamp last year. He claims he accidentally shot her behind a bathroom door because he thought she was a home intruder. Pistorius faces 25 years to life in prison if found guilty. (Photo: Werner Beukes/SAPA/Gallo Images - Pool /Getty Images)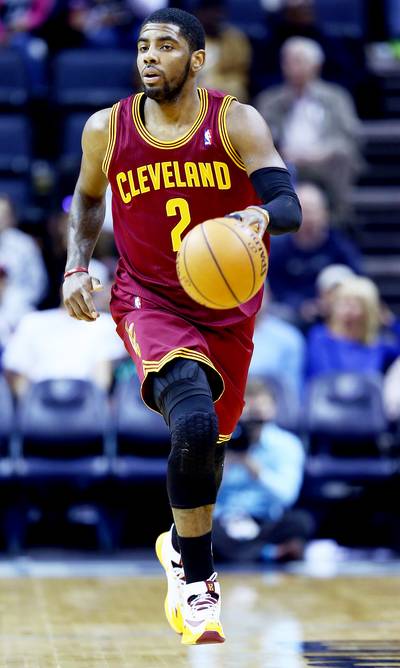 16 / 28
Kyrie Irving, Cavaliers Agree to Maximum Contract - Kyrie Irving is staying with the Cleveland Cavaliers. On Tuesday morning, the Cavs and their star point guard agreed to a five-year, $90 million maximum contract, which will be signed on July 10. "Looking forward to the next 6 years of @KyrieIrving in CLE," Cavaliers owner Dan Gilbert tweeted on Tuesday morning. "Just shook hands & intend to sign on the 10th. Can't be more excited about @cavs…" Irving averaged 20.8 points and 6.1 assists per game this past season.(Photo: Andy Lyons/Getty Images)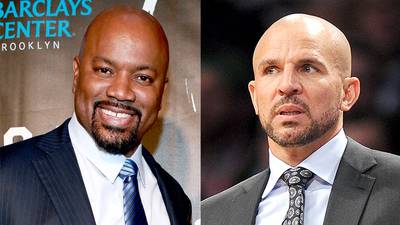 17 / 28
Nets GM Reacts to Jason Kidd's Departure - Brooklyn Nets general manager Billy King calls Jason Kidd's sudden departure as head coach a "big bump" that's "something that we've got to overcome." "The franchise is bigger than one person," King said to ESPN, referring to Kidd being traded to the Milwaukee Bucks for two second-round picks. "If you sit here and say one person leaves and everything comes falling down, then you don't have an organization. So we're not where we were like a week ago, but I think we can get back there quickly." Reportedly, Kidd attempted to supplant King, paving the way for him to be shipped to the Bucks.(Photos from Left: Robin Marchant/Getty Images, Maddie Meyer/Getty Images)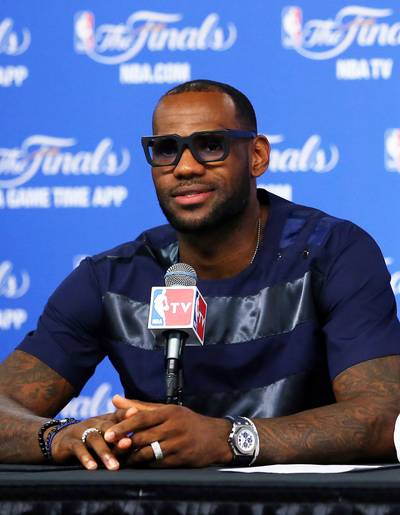 18 / 28
Lakers Call LeBron James's Agent - Think King James would consider a move to Hollywood? ESPN's Ramona Shelburne confirmed that the Los Angeles Lakers "placed a call" early Tuesday night to "Rich Paul, the agent for LeBron James" as soon as the NBA's free agency period opened. According to ESPN, the Lakers, Miami Heat, Dallas Mavericks, Phoenix Suns, Utah Jazz, Philadelphia 76ers and Orlando Magic are the seven teams who currently have the cap space to offer James a deal starting at $22.2 million per season. (Photo: Chris Covatta/Getty Images)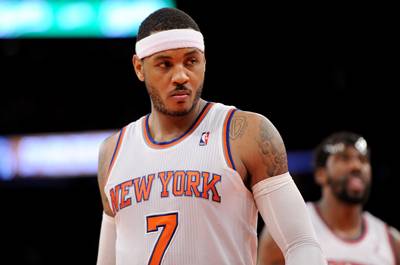 19 / 28
Lakers to Pitch Carmelo Anthony on Thursday - After reportedly beginning his free agency tour by meeting with the Chicago Bulls on Tuesday and the Houston Rockets and Dallas Mavericks on Wednesday, Carmelo Anthony will meet with the Los Angeles Lakers on Thursday, CBS Sports is reporting. Could a personal pitch from good friend Kobe Bryant be an integral part of the Lakers pitch to Melo? Probably a good chance.(Photo: Maddie Meyer/Getty Images)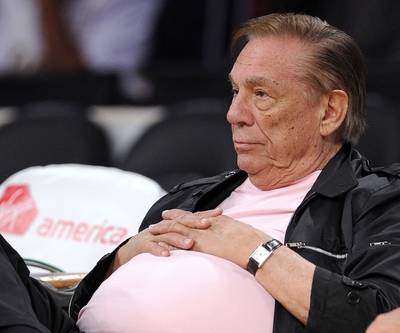 20 / 28
LA Judge Won't Delay Sterling Trial - Judge Michael Levanas said Monday in court that he won't delay the scheduled Donald Sterling-Shelly Sterling July 7 court hearing to accommodate Donald's doctor. Sterling's doctor, who vouched for the banned owner's mental health last week, could not be present during next Monday's trial due to previous obligations and traveling, but Levanas didn't feel like his possible presence was enough to reschedule the hearing. The hearing will decide if the Sterling Family Trust guidelines were properly followed in the $2 billion sale of the Los Angeles Clippers to ex-Microsoft CEO Steve Ballmer.(Photo: AP Photo/Mark J. Terrill, File)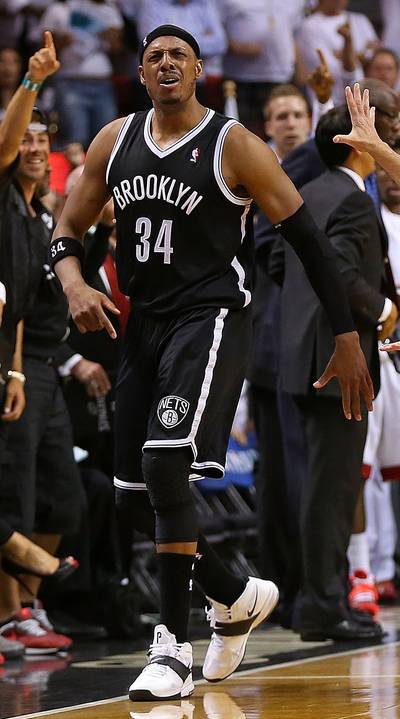 21 / 28
Nets Will Let Market Dictate Deal for Paul Pierce - Don't expect the Brooklyn Nets to make an immediate offer to their veteran star Paul Pierce. CBS Sports is reporting that the Nets' commitment to the 36-year-old Truth will be dictated by the market. The future Hall of Famer averaged a serviceable 13.5 points and 4.6 rebounds per game this past season.(Photo: Mike Ehrmann/Getty Images)
Photo By
Photo: Mike Ehrmann/Getty Images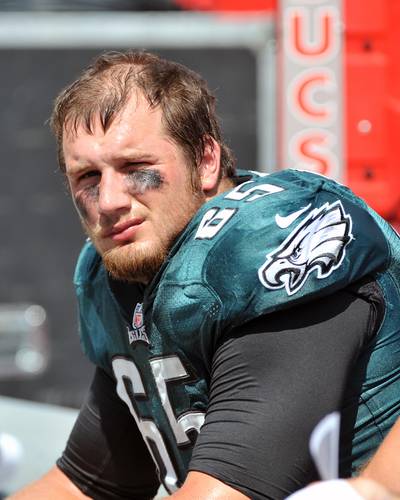 22 / 28
Eagles Lane Johnson Faces Four-Game Suspension - Looks like the Philadelphia Eagles will be without their starting right tackle Lane Johnson for the start of the 2014 NFL season. Johnson is facing a four-game suspension after testing positive for a performance-enhancing substance, ESPN is reporting. Johnson, 24, was the Eagles' first-round draft pick in 2013.(Photo: Al Messerschmidt/Getty Images)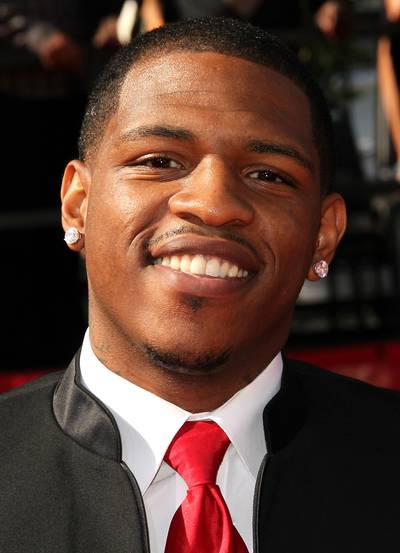 23 / 28
NCAA to Reopen UNC Academic Investigation - On Monday, the NCAA notified the University of North Carolina that it will reopen its 2011 investigation to look into "academic irregularities" among student athletes. "The NCAA has determined that additional people with information and others who were previously uncooperative might now be willing to speak with the enforcement staff. "Since 2011, the University had conducted and commissioned numerous reviews of this matter and provided the NCAA with updates," UNC athletic director Bubba Cunningham said in a statement, as reported by Yahoo Sports. This news comes after former Tar Heels star Rashad McCants alleged that he was advised to take sham classes in order to remain eligible as a student athlete. (Photo: Frederick M. Brown/Getty Images)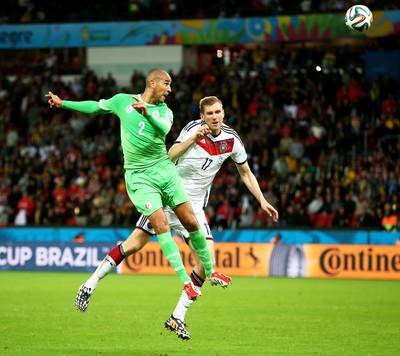 24 / 28
Germany Survives Algeria Scare - Talk about a scare. Germany needed extra-time to finally dispose of a pesky Algeria, 2-1, in World Cup action on Monday. Germany now advances to the quarterfinals, where they'll meet France on Friday. France scored a 2-0 win over Nigeria on Monday as well. Argentina faces Switzerland and the USA meets Belgium in World Cup action Tuesday.(Photo: Julian Finney/Getty Images)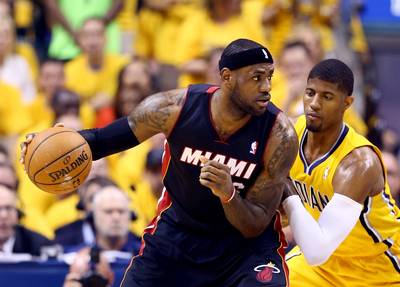 25 / 28
King James Wants $22 Million Per Season - LeBron James took a lower salary in 2010 to allow the Miami Heat the financial flexibility to sign a solid supporting cast. He's just not going to do the same this off season. Sources told ESPN that King James will be taking no less than the maximum salary number for next season. The max salary is projected to be $22.2 million in the 2014-15 season. Also according to ESPN, the Heat, Dallas Mavericks, Los Angeles Lakers, Phoenix Suns, Utah Jazz, Philadelphia 76ers and Orlando Magic are the seven teams that currently have the cap space to offer James a deal starting at $22.2 million per season. (Photo: Andy Lyons/Getty Images)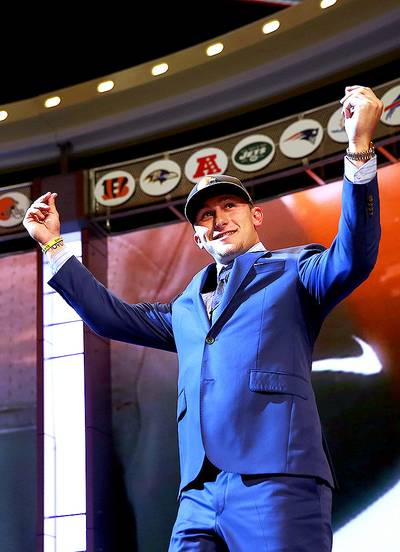 26 / 28
Johnny Manziel Defends His Choices - Johnny Manziel doesn't see anything wrong with partying and living his life to the max during his time off, as long as he's producing on the field. "I want to wake up with a week and not have my name going through something," the Cleveland Browns rookie quarterback told ESPN. "And I'm working on getting better at that, but if I want to go back home and spend time with my friends or go out and enjoy my weekends, I absolutely have the right to do that. I don't think I'm doing anything wrong. Everybody on the weekends goes out and enjoys their life. Just for them, they don't have people that, when they walk into a place, pull out their phone and all they want to do is follow me around and record everything."(Photo: Elsa/Getty Images)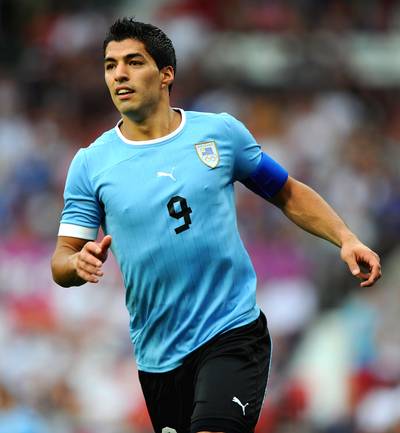 27 / 28
Luis Suarez Apologizes for Biting Player - After biting Italy's Giorgio Chiellini in a match last week, Uruguay's Luis Suarez has issued an apology. Included in the statement he posted on his Twitter account Monday were the bullet points: "I deeply regret what occurred," "I apologize to Giorgio Chiellini and the entire football family," and "I vow to the public that there will never again be another incident." After FIFA suspended Suarez for nine matches and four months of any soccer-related activity Friday, Uruguay was eliminated from the 2014 World Cup tournament with a 2-0 loss to Colombia on Saturday. (Photo: Michael Regan/Getty Images)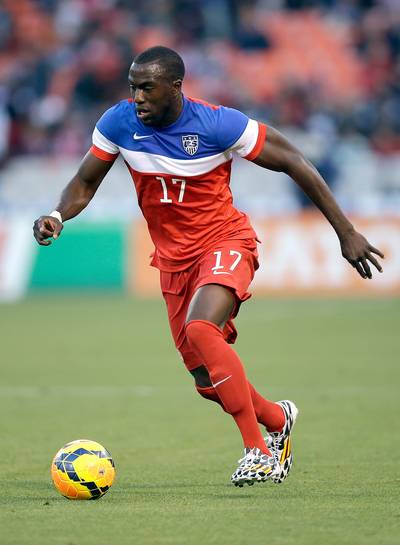 28 / 28
France Ousts Nigeria, Altidore a Go Versus Belgium - France kicked off Monday's World Cup action with a 2-0 shutout of Nigeria, advancing to the quarterfinals of the tournament. The other match on the day, Germany-Algeria, is currently underway and scoreless in the second half. In other World Cup news, USA forward Jozy Altidore will be available to play against Belgium in Tuesday's match. Altidore is coming off a strained hamstring. (Photo: Ezra Shaw/Getty Images)