Jesus Walks: When Rappers Liken Themselves to Christ
Artists depicted as the Lord and Savior.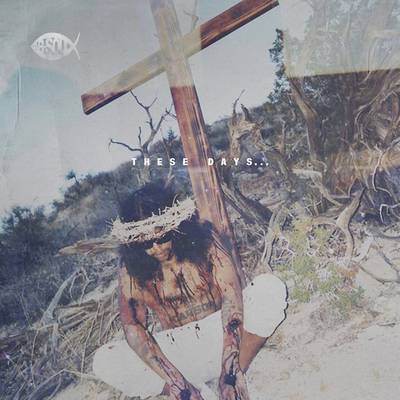 1 / 11
Christ-Like - Ab-Soul is gearing up for the June 24 release of his new album These Days, and the advanced cover art for the album shows the Carson, Calif. MC covered in blood and sitting underneath a cross, resembling Jesus Of Nazareth while wearing a crown of thorns.He also released a video from the project called "Stigmata," where the TDE rapper discusses his trials and tribulations and walks across a turbulent path carrying a cross like the son of God. A bold visual.But Ab's not the first to project Christ-like images in his album artwork and videos, read on for more rappers who've been inspired by The Anointed One. — Michael Harris (@IceBlueVA)(Photo: Top Dawg Entertainment)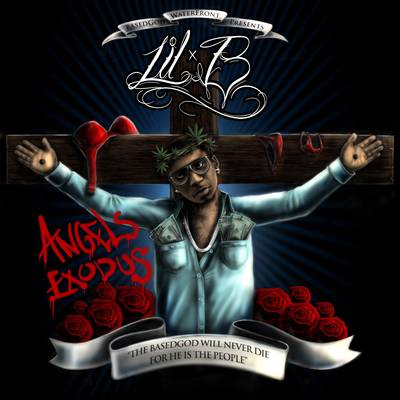 2 / 11
Lil B - Lil B has come under fire several times for his blasphemous lyrics and even released a song and video named "Look Like Jesus." The Based God 2011's mixtape, Angels Exodus, also featured the Cali MC nailed to a cross with money hanging out of his pockets and a bra and thongs draped over the wooden fixture. (Photo: Amalgam Digital)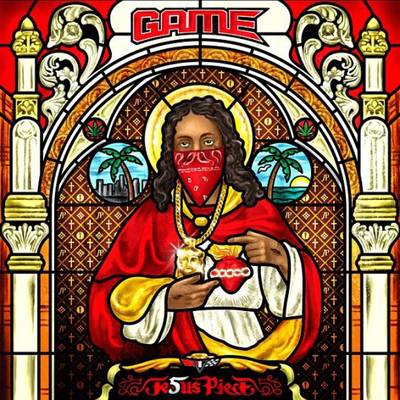 3 / 11
Game - For the artwork on his fifth album Jesus Piece, Game featured a picture of a Black Jesus on the cover. Nothing wrong with that, but Game's depiction had God's son wearing a red bandana over his mouth, a Jesus piece and a teardrop tattoo.Defending his choice with MTV, the LA spitter said, "I did the album cover the way I wanted to. It embodies part of my career, my life; it's all in that cover. And, you know, I love God, Jesus Christ is my savior and I'm still out here thuggin'."(Photo: Interscope)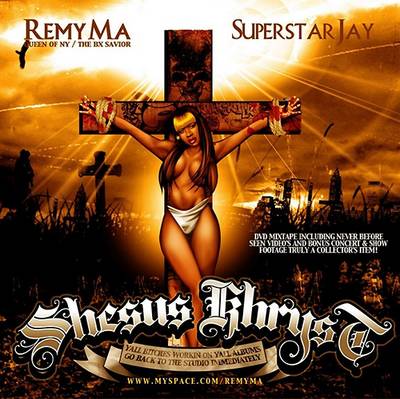 4 / 11
Remy Ma - Remy Ma has been locked up for an assault charge for six years now and is expected to finally be released next month. To help keep her name ringing in the streets, DJ Superstar Jay released her mixtape Shesus Khryst in 2007, which had the former Terror Squad MC being crucified on the cover. Remy also goes by the moniker Shesus Khryst, the Bronx Savior.(Photo: Capitol Records)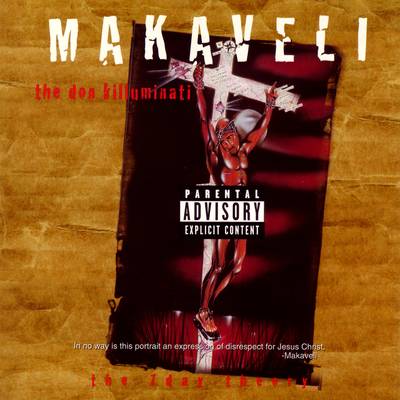 5 / 11
Tupac - Tupac's The Don Killuminati: The 7 Day Theory had the rapper on a cross conveying his persecution by the media and the drawing was meant to draw light to his artistic resurrection. The cover was painted by Death Row artist Ronald "Riskie" Brent. Showing no malice, a warning was also placed underneath the artwork. "In no way is this portrait an expression of disrespect for Jesus Christ. – Makaveli"(Photo: Death Row Records)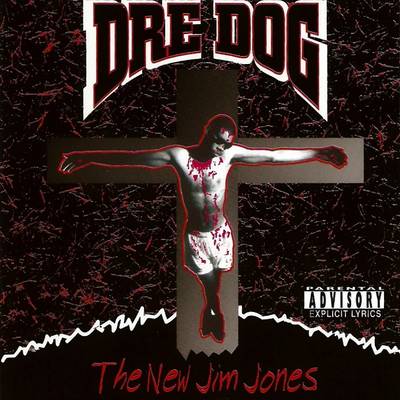 6 / 11
Andre Nickatina  - Bay area rap legend Andre Nickatina formerly recorded under the name Dre Dog and released his debut, The New Jim Jones, in 1993. The tape cover featured the Fillmore MC on a cross with his arms extended and covered in blood. (Photo: In-A-Minute Records)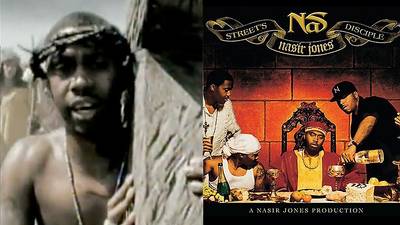 7 / 11
Nas - Nas and Diddy reenacted Jesus's march to his demise in the 1999 Hype Williams-directed video "Hate Me Now" and were crucified at the end of the clip. After the video was shot, Puff had reservations about being portrayed as the Holy Son and had his images as Christ removed, but not before a one-time showing of the unedited version on MTV.The artwork for his 2004 double album, Street's Disciple, also featured different shots of the Queens MC at "The Last Supper" table.(Photos: Columbia Records)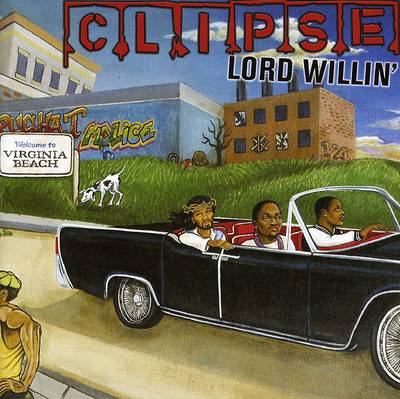 8 / 11
Clipse - The Clipse may have been spitting about their time in the streets with cuts like "Grindin'" on their 2002 debut, Lord Willin', but that doesn't mean they didn't bow down to a higher being. A Black Jesus is seen riding in the back seat watching over Pusha T and Malice despite their sinning ways. (Photo: Star Trak Records)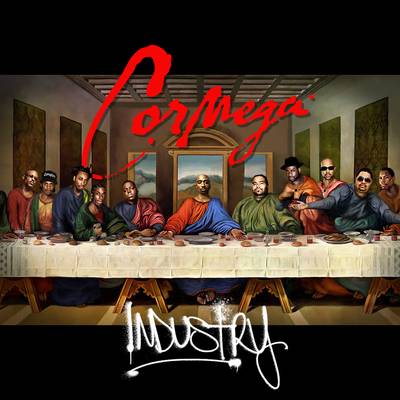 9 / 11
Cormega - Cormega recently dropped his new single, "Industry," from his upcoming album, Mega Philosophy, dropping July 22, and used a picture of "The Last Supper" for the artwork. Switching it up, Mega honored some of hip hop's fallen soldiers with an image drawn by Ibrahim Sincere of Gang Starr's Guru, Eazy-E, Big L, Heavy D, Ol' Dirty Bastard, The Notorious B.I.G., Big Pun, Jam Master Jay, Pimp C and Scott La Rock seated around Tupac, who's centered at the head of the table as Jesus Christ. (Photo: Slimstyle Records)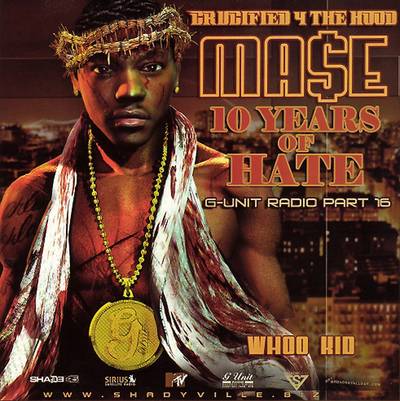 10 / 11
Ma$e - Ma$e was in talks to join 50 Cent's G-Unit Records and, in 2006, the mixtape G-Unit Radio 16 – Crucified for the Hood, was let loose to the streets courtesy of DJ Whoo Kid. The artwork featured Murda on the cover with a crown of thorns and a G-Unit medallion.(Photo: Bad Boy Records)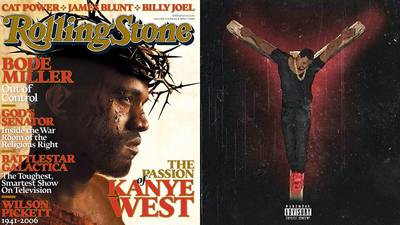 11 / 11
Kanye West - One of Kanye West's biggest hits to date was 2004's "Jesus Walks," where he paid homage to his savior. Yeezy also controversially covered the February 2004 cover of Rolling Stone wearing a crown of thorns for an article titled "The Passion of Kanye West," a take on the film The Passion of the Christ.  But his most talked about move was his latest album,Yeezus. The collection allegedly had an advance cover floating around the 'net with him nailed to a Y-shaped cross, and since the collection's release, he's had to eloquently defend criticism of its name and content (and the Jesus look-a-like he took on tour).Said Mr. West, "When someone comes up and says something like 'I am a God,' everybody says who does he think he is? I just told you who I thought I was. A god. I just told you. That's who I think I am. Would it have been better if I ha...