Sports Buzz: Manny Pacquiao Still Wants to Fight Floyd Mayweather Jr.
Plus, Manny Pacquiao wants to fight Floyd Mayweather Jr.
1 / 39
Patriots Apologize for Racist Auto-Tweet - The New England Patriots took to their Twitter account late Thursday night to apologize for a racist auto-tweet. The franchise had planned to celebrate its one-millionth follower by automatically acknowledging his or her Twitter handle on the back of a Patriots jersey. The trouble came when the millionth follower's twitter handle was "@IHATEN------," and the Patriots' auto-retweet system put the racist handle on the back of the jersey and sent it out to the masses. When Twitter goes wrong...way wrong. "We apologize for the regrettable tweet that went out from our account. Our filtering system failed & we will be more vigilant in the future," the Patriots tweeted.(Photo: New England Patriots via Twitter)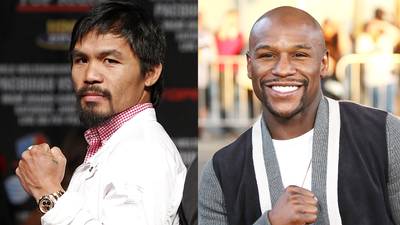 2 / 39
Manny Pacquiao Desperately Wants to Fight Floyd Mayweather Jr. - More than ever before, Manny Pacquiao is calling Floyd Mayweather Jr. out. A week before facing Chris Algieri on November 22, Pacquiao, 35, wants to make one thing perfectly clear: "I do have one specific goal, and that is to give the boxing fans the fight they have always asked for," Pacquiao said this week to ESPN. "I want that fight [with Floyd Mayweather Jr.], too." If the most-anticipated fight of this generation is going to happen, it will most likely take work for Mayweather to come to terms. "I don't even think about Pacquiao," Mayweather, 37, told reporters during a September press conference. "I don't even know him, actually. But I wish him nothing but the best. But that's not my focus. I could care less about what Pacquiao does. I don't wish anything bad on the man. I try...
3 / 39
Jay Cutler: 'I Have to Get Better' - After being called out by his head coach earlier this week, Chicago Bears quarterback Jay Cutler admitted Thursday that he must perform better. "We have to get better, I have to get better," Cutler told ESPN Chicago. "That's just kind of the focus right now, finding every little thing I can get better at to try to win a ballgame." Cutler threw for 272 yards, one touchdown and two interceptions in the Bears' ugly 55-14 road loss to the Green Bay Packers this Sunday night. The Bears (3-6) will try to right their ship at home against the Minnesota Vikings on Sunday. (Photo: Jonathan Daniel/Getty Images)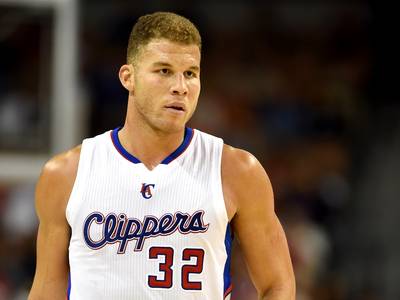 4 / 39
Blake Griffin Says He's Sorry for Distraction of Battery Charge - Blake Griffin told ESPN on Thursday that he's "very confident in the situation," referring to him being charged a misdemeanor battery for allegedly slapping a man in the face inside of a Las Vegas nightclub on October 19. But more than anything, the Los Angeles Clippers' superstar says he feels "more bad just for the fact that it's a distraction" to his team. The Clippers (4-3) host the Phoenix Suns at the Staples Center on Saturday night.  (Photo: Ethan Miller/Getty Images)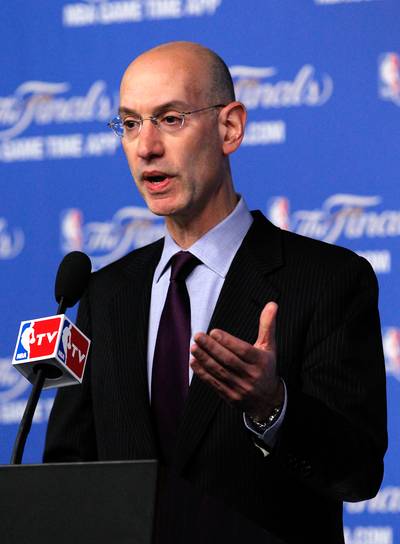 5 / 39
NBA Commissioner Is for Legal Gambling on Games - In an op-ed in the New York Times on Thursday, Adam Silver wrote that he's for legalizing sports betting and is open to allowing gambling on NBA games. "Any new approach must ensure the integrity of the game. One of my most important responsibilities as commissioner of the NBA is to protect the integrity of professional basketball and preserve public confidence in the league and our sport," Silver wrote. "I oppose any course of action that would compromise these objectives. But I believe that sports betting should be brought out of the underground and into the sunlight where it can be appropriately monitored and regulated." (Photo: Chris Covatta/Getty Images)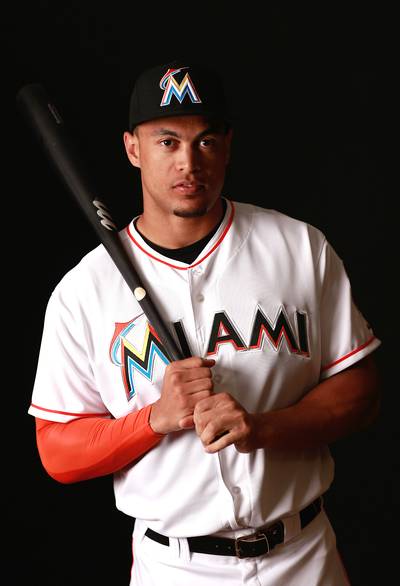 6 / 39
Giancarlo Stanton, Marlins Discussing $300 Million Extension - The Miami Marlins and star right fielder Giancarlo Stanton are in talks for what would be an unprecedented long-term deal in the neighborhood of 12 years for an estimated $320 million, Fox Sports is reporting. Stanton, 25, hit .288 with 37 home runs and 105 RBIs. Stanton is set to become a free agent after the 2016 MLB season. He already has 154 career homers. (Photo: Chris Trotman/Getty Images)
7 / 39
Dolphins Blast Bills Behind Big Second Half - Call it a tale of two halves for the Miami Dolphins on Thursday Night Football. Playing at home, the Dolphins only mustered three measly points and trailed the Buffalo Bills 6-3 at halftime. That wouldn't last, though, as Miami came roaring back in the second half, scoring 19 points to cruise to a 22-9 win. Quarterback Ryan Tannehill finished with 240 yards passing and two touchdowns to help the Dolphins improve to 6-4 in the AFC East division. (Photo: Joel Auerbach/Getty Images)
8 / 39
Grizzlies Rally, Beat Kings on Buzzer-Beater - Boy did the wheels fall off the game for the Sacramento Kings on Thursday night. Owning a 26-point fourth-quarter lead on Thursday night, the Kings fell victim to the largest rally in Memphis Grizzlies history. The Grizzlies used a 16-1 run to help cut into the massive deficit, before Mike Conley hit a 3-pointer and Courtney Lee followed with a layup at the buzzer to give Memphis the shocking 111-110 victory. The Grizzlies improved to 8-1 on the season and are 4-0 at home. (Photo: Nikki Boertman/The Commercial Appeal/ MCT /LANDOV)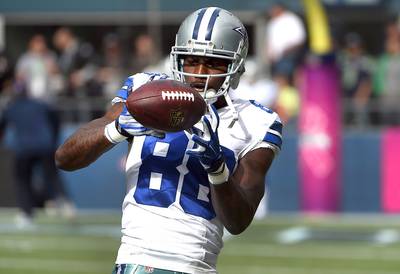 9 / 39
Dez Bryant Tells Dallas Cowboys: 'Don't Test My Loyalty' - Whether Dez Bryant reaches a contract extension with the Dallas Cowboys in what remains of this season or during the off-season, the star wide receiver is going to get paid. Bryant just wants to warn the Cowboys to not test his loyalty. "I just know what I'm going to accept and I know what I'm not going to accept," Bryant told the Fort Worth Star-Telegram. "You know, it's not about the money. It's not about none of that. I just feel like a little respect should play a factor in that. I love it [here]. I really do. But every day you grow. Let's see what happens. It's all about respect. It's all about respect. I am a very loyal person, but just don't test my loyalty." Bryant and his representatives have been in contract negotiations with the Cowboys about a long-term extension since last spring. Last week, Bryant j...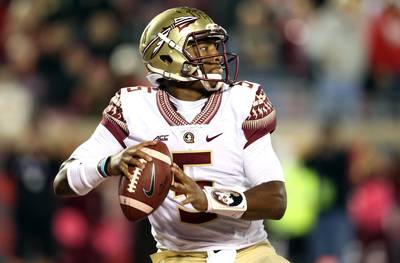 10 / 39
Jameis Winston Hearing Moved to December 1 - Florida State University has granted Jameis Winston's request to postpone the quarterback's student conduct code hearing until December 1, ESPN is reporting. The hearing, which revolves around the Heisman winner's alleged involvement in a sexual assault in December 2012, was originally scheduled for the week of November 17. Last week, Winston was named in an alleged point-shaving scheme.  (Photo: Andy Lyons/Getty Images)
11 / 39
Bulls Respond to Derrick Rose's Health Concerns - Derrick Rose sparked controversy on Tuesday for saying he's concerned about his long-term health, even bringing up being healthy enough to attend meetings and his son's graduation without feeling soreness, to ESPN. Well, on Wednesday, his Chicago Bulls teammates said they know their point guard is committed to the team. Bulls forward Mike Dunleavy told ESPN that Rose's "fully committed the way I see him working, the way I see him out there. Nobody should question that." Pau Gasol added much of the same, but at the same time mentioned the "price that we pay" as athletes dealing with pain. (Photo: Alex Goodlett/Getty Images)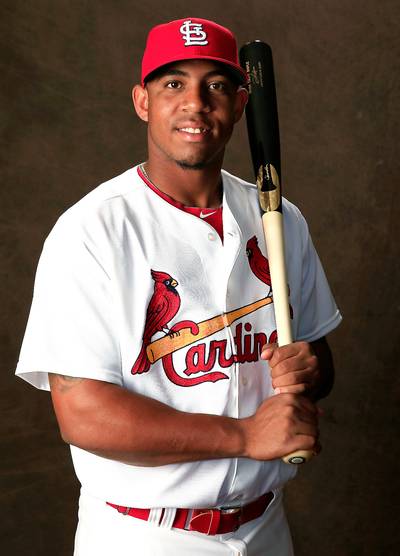 12 / 39
Oscar Taveras Was Drunk During Fatal Crash - St. Louis Cardinals outfielder Oscar Taveras was intoxicated during the fatal car accident, in which he and his girlfriend were killed on October 26 in the Dominican Republic. According to the Associated Press, the toxicology report released Wednesday showed Taveras with a blood-alcohol level of five times the legal limit when he lost control of his car. Taveras was 22. (Photo: Rob Carr/Getty Images)
13 / 39
Joe Johnson Calls Nets 'Very Sefish' - Joe Johnson defended his remarks Wednesday, calling his Brooklyn Nets team "very selfish" to ESPN, despite a 4-2 record, entering their Western Conference road trip. Well, maybe Johnson saw something Nets fans didn't because Brooklyn wound up opening the trip with a 112-104 loss to the Phoenix Suns. Johnson, who commented that the Nets hadn't played any stiff competition prior to Wednesday, had a team-high 21 points as the Nets dropped to 4-3. (Photo: Sam Greenwood/Getty Images)
14 / 39
Anthony Davis Has Another Monster Game, Leads Pelicans Past Lakers - The 2014-15 NBA season is still in its infancy, but Anthony Davis has already thrust himself into the early conversation of the MVP race. The New Orleans Pelicans' power forward continued his dominating ways Wednesday night, notching 25 points and 12 rebounds to lead his squad to a 109-102 win over the Los Angeles Lakers, offsetting Kobe Bryant's 33-point performance. The Pelicans are 4-3 this season.  (Photo: AP Photo/Gerald Herbert)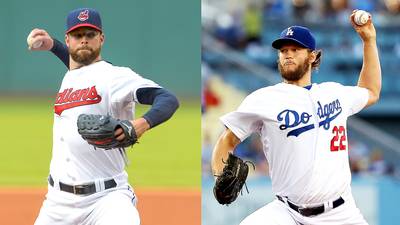 15 / 39
MLB Names Kluber, Kershaw Cy Young Winners - Major League Baseball named Cleveland Indians Corey Kluber and Los Angeles Dodgers Clayton Kershaw its American League and National League Cy Young recipients Wednesday, respectively. Kershaw went 21-3 with 239 strikeouts and a razor-thin 1.77 ERA for the Dodgers (94-68), although he didn't fare too well in the playoffs. Kluber posted an 18-9 record with a 2.44 ERA and 269 strikeouts.(Photos from left: Jason Miller/Getty Images, Victor Decolongon/Getty Images)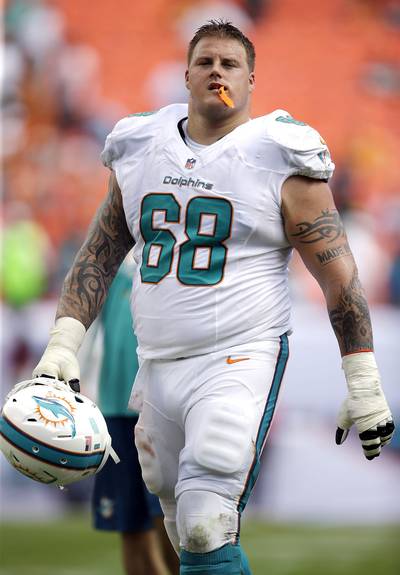 16 / 39
Denver Broncos Work Out Richie Incognito - The Denver Broncos worked out guard Richie Incognito on Monday, but did not sign him. Still, ESPN is reporting that the decision to not sign Incognito now doesn't mean that they won't sign him later. The veteran offensive lineman hasn't played since November 2013, when the Miami Dolphins suspended him over the harassment of then-teammate Jonathan Martin, who quit the team a month before and now plays on the San Francisco 49ers. (Photo: AP Photo/Wilfredo Lee, File)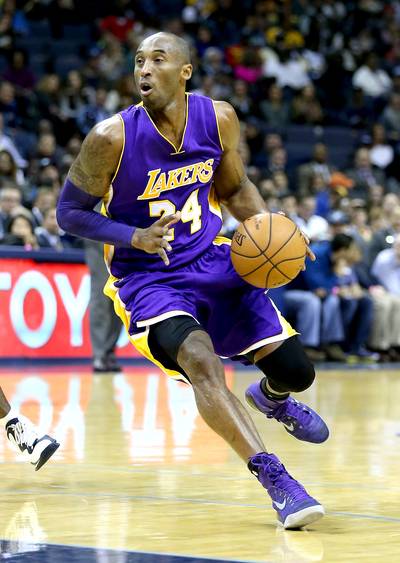 17 / 39
Kobe Bryant Sets Record For Field Goal Misses - Not the record Kobe Bryant necessary wanted attached to his name, but it does speak to his longevity. The five-time NBA champion set the record for most missed field goals in a career Tuesday during the Los Angeles Lakers' 107-102 road loss to the Memphis Grizzlies. Bryant has 13,418 missed field goals, overtaking John Havlicek as tops on the list. Bryant laughed off the record, while talking to ESPN afterwards. "Well, I'm a shooting guard that's played 19 years," he said. "Like I said, 'shooting' guard, 19th year." The Black Mamba did have a game-high 28 points in Tuesday's loss. Bryant is also closing in on Michael Jordan's No. 3 spot on the NBA's all-time career points list. (Photo: Andy Lyons/Getty Images)
18 / 39
Spurs Beat Warriors - Call it another statement game for the San Antonio Spurs. A day after defeating the Los Angeles Clippers on Monday night, the defending NBA champion scored a 113-100 victory over the Golden State Warriors on Tuesday night. Tony Parker had 28 points and dished seven assists to lead the Spurs (4-3) to the win. Klay Thompson scored 29 points for the Warriors (5-2). (Photo: Ezra Shaw/Getty Images)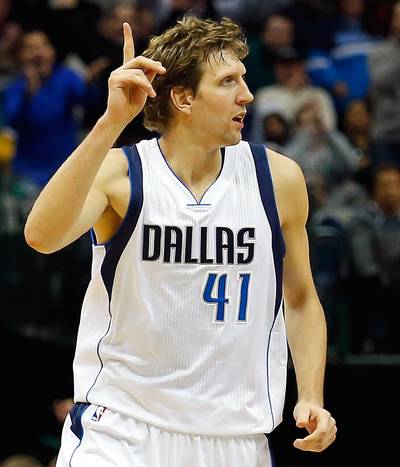 19 / 39
Dirk Nowitzki Passes Hakeem Olajuwon on Scoring List - Dirk Nowitzki just keeps adding to his legacy. The Dallas Mavericks superstar scored 23 points to lead his squad to a 106-98 victory over the Sacramento Kings on Tuesday night. In doing so, Nowitzki passed Hakeem Olajuwon for ninth on the NBA's all-time career points list. "You know to pass `The Dream' is unbelievable," Nowitzki, 36, told the Associated Press. "He was unguardable on the block. His footwork, his skill level, his hands, his touch was second to none, so I'm pretty proud." Nowitzki is now the top international scorer in NBA history. (Photo: Tom Pennington/Getty Images)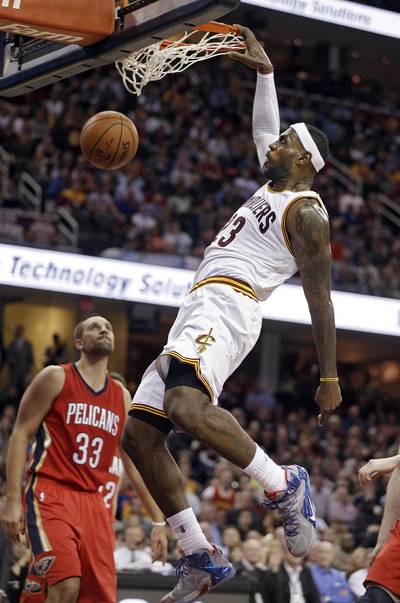 20 / 39
NBA Takes Away LeBron James's Triple-Double - LeBron James's triple-double against the New Orleans Pelicans on Monday night made headlines. But it actually wasn't a triple-double. According to Yahoo Sports, King James was incorrectly credited with a rebound and assist, giving him 32 points, 11 rebounds and nine assists instead of the 32 points, 12 rebounds and 10 assists he originally received on the stat sheet in the Cleveland Cavaliers' win Monday night. (Photo: AP Photo/Mark Duncan)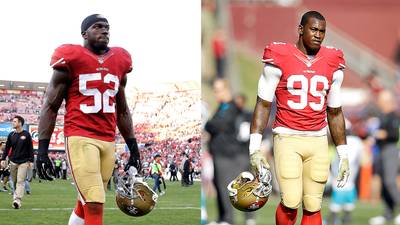 21 / 39
Niners Return Aldon Smith, Lose Patrick Willis - The San Francisco 49ers are losing one linebacker and getting another back. The Niners will return Aldon Smith after the linebacker is coming off a nine-game suspension for violating the NFL's personal conduct and substance-abuse policies. However, they have lost Patrick Willis for the rest of this season, as he needs toe surgery. The 49ers (5-4) visit the New York Giants on Sunday.(Photos: Ezra Shaw/Getty Images)
22 / 39
MLB Names AL, NL Manager of The Year - Major League Baseball named Buck Showalter and Matt Williams its American League and National League Manager of the Year, respectively, on Tuesday. Showalter led the Baltimore Orioles to 96 victories, their highest win total since 1997, as they won the AL East division. Williams also led the Washington Nationals to 96 wins, as they were crowned NL East division champions.(Photos from left: Mitchell Layton/Getty Images, Thearon W. Henderson/Getty Images)
23 / 39
LeBron James Notches Triple-Double in Cavs Win - LeBron James notched his 38th career triple-double with 32 points, 12 rebounds and 10 assists to lead the Cleveland Cavaliers to a 118-111 home win over the New Orleans Pelicans on Monday night. Kyrie Irving chipped in with 32 points — 27 of which came in the second half — and Kevin Love finished with 22 points, including six three-pointers. With the win, the Cavs improved to 3-3 on the season. (Photo: AP Photo/Mark Duncan)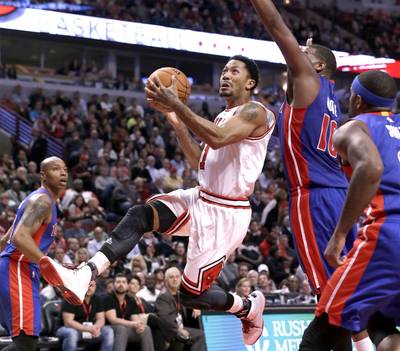 24 / 39
Derrick Rose Breaks Out With Big Game - Still hampered by sore ankles? It sure didn't seem like it Monday night. Inserted back into the starting lineup, Derrick Rose scored 24 points to lead the Chicago Bulls past the Detroit Pistons 102-91. The Bulls are now 6-2 this season. (Photo: AP Photo/Charles Rex Arbogast)
25 / 39
Bears Coach: Cutler Has to Play Better - There's plenty of blame to go around with the Chicago Bears to explain why they're 3-6 this season, including Sunday night's brutal 55-14 loss to the Green Bay Packers. While Bears coach Marc Trestman isn't singling out Jay Cutler, he does feel like the franchise quarterback deserves a share of the blame. "He didn't play well enough yesterday, and we didn't play well enough," Trestman told ESPN on Monday. "I'm certain he'd take accountability for that. But it's very clear he did not play well enough yesterday. We can't sugarcoat that. At the same time, we didn't play collectively well enough as a team." Cutler threw for 272 yards, a touchdown and two interceptions in Sunday night's loss. (Photo: Kevin C. Cox/Getty Images)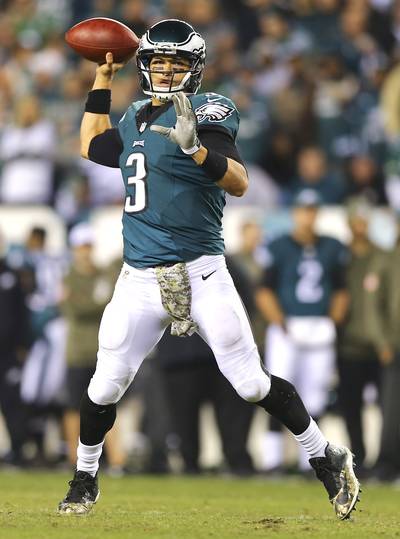 26 / 39
Mark Sanchez Leads Eagles' Rout of Panthers - Thrust into the starting quarterback spot after Nick Foles broke his collarbone two weeks back, Mark Sanchez led the Philadelphia Eagles to a 45-21 thrashing of the Carolina Panthers on Monday Night Football. Sanchez, who was maligned as the QB for the New York Jets, threw for 332 yards and two touchdowns in the win. The Eagles improved to 7-2 with the victory, including 5-0 at home. (Photo: Elsa/Getty Images)
27 / 39
Phil Jackson Irked by NBA Commissioner's Joke About Knicks - Last week, NBA commissioner Adam Silver joked about the New York Knicks "still learning" the triangle offense after another loss. Well, the Knicks' president, Phil Jackson, didn't appreciate the commish's wisecrack. "I wasn't so humored by the commissioner actually jumping in on top of that, too," Jackson told ESPN on Monday, the same day the Knicks lost to the Atlanta Hawks, dropping their fifth straight game "He doesn't need to get in on that. There's enough focus on [the] triangle. It's not anything. It's a system. It's simple basketball. Just play the game. We're over the triangle; let's get to business and play the right way."  (Photo: Brad Barket/Getty Images for The New Yorker Festival)
28 / 39
Spurs Outlast Clippers - Kawhi Leonard has been experiencing blurry vision during a bout with an eye infection early this season. But the NBA Finals MVP was seeing the basket just fine Monday night, leading the defending champion San Antonio Spurs to an 89-85 win over the Los Angeles Clippers by notching 26 points, 10 rebounds and three steals, including crucial takeaways from Chris Paul and Jamal Crawford. (Photo: Stephen Dunn/Getty Images)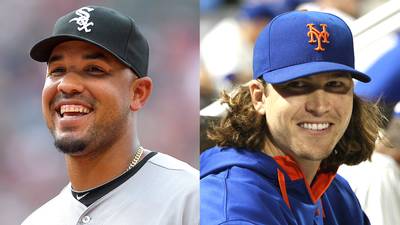 29 / 39
MLB Names AL, NL Rookie of the Year - Chicago White Sox first baseman Jose Abreu and New York Mets pitcher Jacob deGrom were named American League and National League Rookie of the Year, respectively, by Major League Baseball on Monday. Abreu hit 36 home runs and totaled 107 RBI, deGrom went 9-6 with a 2.69 ERA and 144 strikeouts in 22 starts this past season.(Photos from left: Jason Miller/Getty Images, Andy Marlin/Getty Images)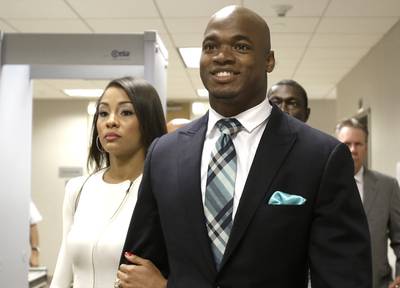 30 / 39
NFLPA Asks for Adrian Peterson's Reinstatement - After reaching a plea deal in his child-abuse case last week, Adrian Peterson wants to get back onto the field and rejoin his Minnesota Vikings as soon as possible. The NFL's Players Association believes the running back deserves that right. On Friday, the NFLPA sent a letter to the league, asking for an immediate reinstatement of Peterson and for the star rusher to be removed from the commissioner's exempt list, ESPN is reporting. The initial agreement between Peterson and the NFL was that he would be removed from the list as soon as a legal resolution was reached, which it was last week. The Vikings are scheduled to visit the Chicago Bears on Sunday. (Photo: AP Photo/Pat Sullivan) (Photo: AP Photo/Pat Sullivan)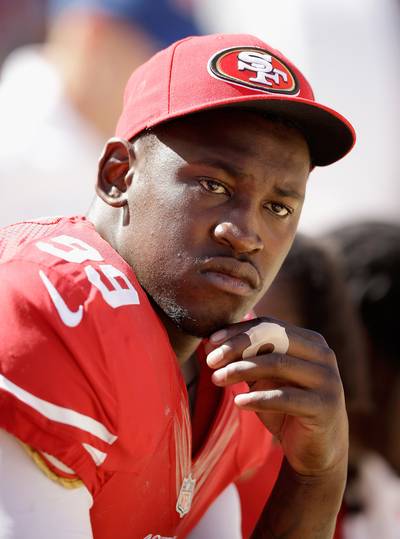 31 / 39
Aldon Smith First in NFL to Pay to Play - Hustling backwards? Aldon Smith is actually paying to play in the NFL this season, not playing to get paid. After serving a nine-game suspension for violating the league's personal conduct policy, the San Francisco 49ers linebacker is eligible to return this week, but will still be financially in the hole. With his salary this season at $1.099 million — net after taxes $525,000 — the 49ers will take his full amount of game checks due to the forfeiture of his signing bonus. Still, Smith will be short of the $1.18 million that he owes the 49ers, so the franchise will take another $661,000 from him after this season as ESPN reports. (Photo: Ezra Shaw/Getty Images)
32 / 39
Cardinals Palmer Suffers Torn ACL, Out for Season - The Arizona Cardinals' worst fear has come true. Quarterback Carson Palmer suffered a torn ACL in his left knee during the fourth quarter of the Cardinals' 31-14 win over the St. Louis Rams on Sunday, coach Bruce Arians confirmed with reporters on Monday afternoon. The season-ending injury came just two days after Palmer inked a three-year, $50 million contract extension with the franchise. The news marks a tough blow to the Cardinals, who sport an NFL-best 8-1 record and will have to start Drew Stanton at QB for the remainder of the season. (Photo: Christian Petersen/Getty Images)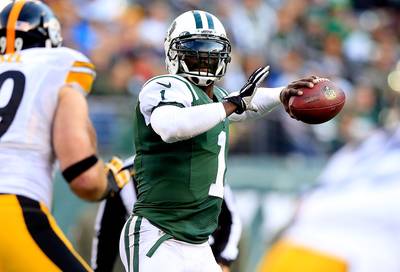 33 / 39
Michael Vick Leads Jets in Upset of Steelers - Michael Vick turned back the hands of time and looked the young quarterback who once dominated the NFL on Sunday. The veteran QB threw two touchdowns to lead the New York Jets to a surprising 20-13 home victory over the Pittsburgh Steelers (6-4), snapping the Jets (2-8) eight-game skid. Meanwhile, Steelers quarterback Ben Roethlisberger, who had thrown an NFL-record 12 touchdowns in the prior two games, was held to one TD strike, while tossing two interceptions.(Photo: Alex Trautwig/Getty Images)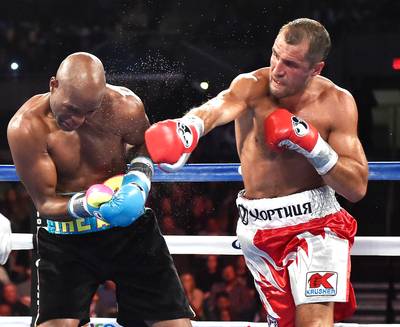 34 / 39
Bernard Hopkins Loses by Unanimous Decision - Father Time finally caught up with Bernard Hopkins. The 49-year-old boxing legend was dominated by the younger Sergey Kovalev at Atlantic City, New Jersey's Boardwalk Hall on Saturday night. Kovalev, 31, scored a lopsided, unanimous decision win over Hopkins (120-107, 120-107 and 120-106), winning every single round definitively and nearly scoring a knockout of Hopkins in the 12th round. Afterwards, Kovalev, who became the unified light-heavyweight champion, told HBO, "I really respect [Hopkins] for the fight, but he needs to stop his career." Hopkins, who was handed the seventh loss of his celebrated career, called it "50-50" if he will retire. The storied boxer will turn 50 in January. (Photo: Al Bello/Getty Images)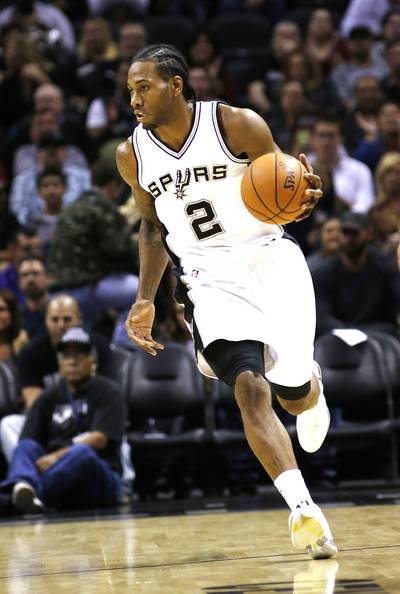 35 / 39
Kawhi Leonard Still Experiencing Blurry Vision - Kawhi Leonard is still feeling the effects of the eye infection he was battling with during the pre-season. The San Antonio Spurs small forward and NBA Finals MVP said his vision is still blurry following his 5-of-13 performance for 14 points in Saturday's loss to the New Orleans Pelicans. "My right eye, the vision's not all the way back yet," Leonard told reporters. "Hopefully I can heal up soon. I've just got to keep competing so I can get used to it and get my rhythm going." The Spurs (2-3) face the Los Angeles Clippers (4-2) Monday night at the Staples Center in an anticipated Western Conference match up. (Photo: Chris Covatta/Getty Images)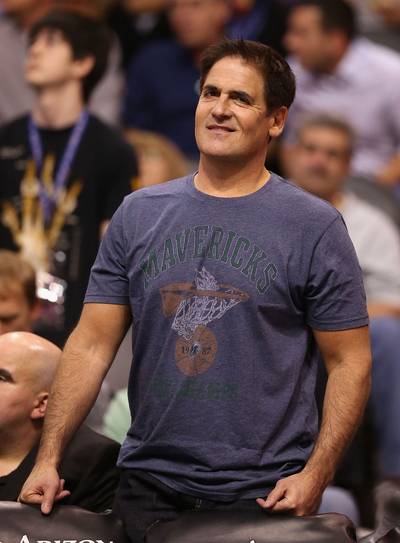 36 / 39
Mark Cuban: Thunder Should Think About Racing to the Bottom - Mark Cuban has an idea that the Oklahoma City Thunder are either going to love or hate. The Dallas Mavericks owner recently told ESPN that since the Thunder are without NBA MVP Kevin Durant and star point guard Russell Westbrook, they should seriously contemplate tanking this season and getting stronger via the NBA Draft, citing the San Antonio Spurs' 20-62 team of the 1996-97 season that was able to land Tim Duncan in the 1997 NBA Draft and go on to win five titles. "We already specialize in a race to the bottom," Cuban said. "More participants won't change anything. They're all high-profile participants." (Photo: Christian Petersen/Getty Images)
Photo By
Photo: Christian Petersen/Getty Images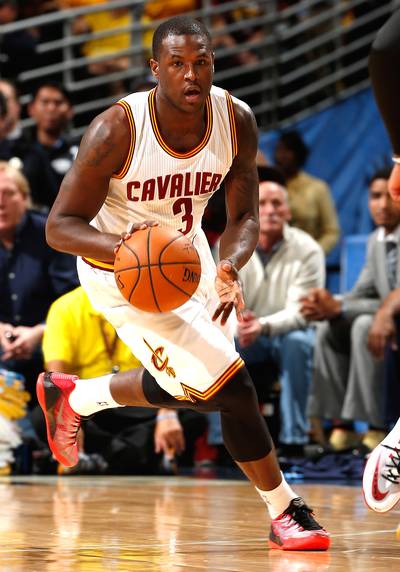 37 / 39
Dion Waiters Calls National Anthem Controversy Misunderstanding - Dion Waiters wants everyone to know that he loves the United States. The Cleveland Cavaliers shooting guard was scrutinized last Wednesday for skipping the national anthem before the Cavs' game against the Utah Jazz. Waiters told ESPN that him missing the national anthem on the court had nothing to do with his "religion" as he told the Northeast Ohio Media Group on Friday. "It was a big miscommunication," Waiters said Sunday. "Big misunderstanding. I love my country. I love the United States of America. I'd rather be here than any place else. It was just a big misunderstanding on both parts."(Photo: Doug Pensinger/Getty Images)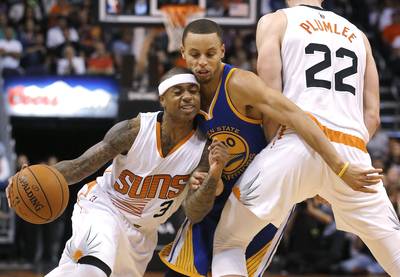 38 / 39
Suns Hand Warriors First Loss of Season - Isaiah Thomas scored 15 of his 22 points in the fourth quarter to lead the Phoenix Suns to a 107-95 home win over the Golden State Warriors, handing the Warriors (5-1) their first loss of the season. Phoenix (4-3) took advantage of the fact that the Warriors were playing without shooting guard Klay Thompson, who missed the game due to a sprained right hand. (Photo: AP Photo/Rick Scuteri)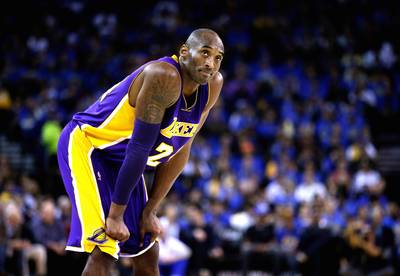 39 / 39
Lakers Notch First Win of Season - Kobe Bryant and Jeremy Lin scored 21 points apiece to lead the Los Angeles Lakers to a 107-92 victory over the Charlotte Hornets on Sunday night, marking the Lakers (1-5) first win of the season.(Photo: Ezra Shaw/Getty Images)