Sink or Swim: Polarizing NFL Rookies
Johnny Football isn't the first to feel the media's heat.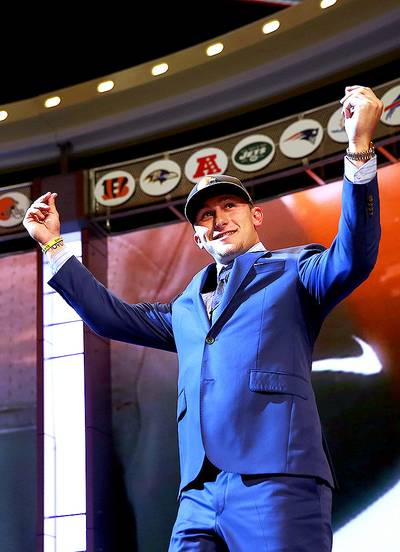 1 / 8
Johnny Manziel Isn't First Rookie to Feel the Media's Heat - Johnny Manziel hasn't even played a single down of NFL football, but already he's the most polarizing rookie in the league. Every move that Manziel makes has been scrutinized by the media — whether it's having the sounds of Drake blasting from the speakers during his Pro Day workout or making the finger-rubbing money gesture on stage at the NFL Draft. Even partying on the Las Vegas strip becomes headline news when it comes to Johnny Football. And the fact that Cleveland Browns coach Mike Pettine recently told local reporters that Manziel has "done everything that we've asked" probably won't lessen the media spotlight on the Heisman-winning QB. That being said, Manziel is far from the first rookie to feel the heat from the media. Every year, there's a player that has put together a storied college football career only to ...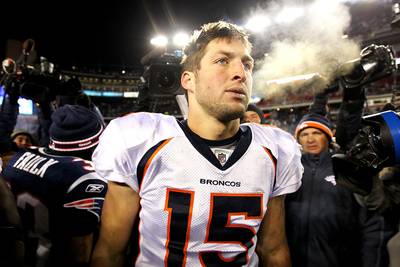 2 / 8
Tim Tebow - As scrutinized as Johnny Manziel has been, the media heat on him arguably pales in comparison to the damn-near hysteria that surrounded Tim Tebow a few years back. After leading the Florida Gators to national championships in 2007 and 2009, Tebow earned a cult-like following which he took to the Denver Broncos, who selected him with the 25th overall pick in the 2010 NFL Draft. Although he had a quiet rookie campaign, his stardom hit full tilt the following season. In 2011, he reversed the Broncos' dismal 1-4 start and led them to the playoffs, where they even defeated the Pittsburgh Steelers in overtime via Tebow's game-winning TD toss. The pious quarterback's signature kneeling prayer pose was even turned into a verb — Tebowing — by social media outlets. But just as fast as Tebow's star soared, it crashed and burned. The Broncos struck a deal for Peyton Manning and tr...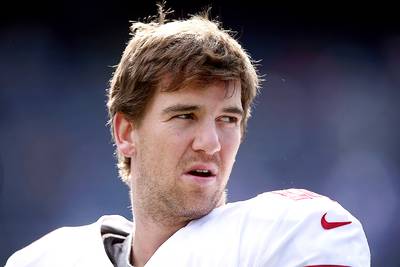 3 / 8
Eli Manning - Like Johnny Manziel, Eli Manning ruffled some serious NFL feathers before ever playing a single down. At the onset of the 2004 NFL Draft, Manning openly stated that he would refuse to play for the San Diego Chargers if drafted by them with the No. 1 pick. They tabbed him anyway, and the New York Giants orchestrated a trade to make Eli the face of the franchise. For Manning's first three seasons, that move didn't bode too well for the Giants. But Big Blue got its big payout from Eli in 2007 and again in 2011, as he led them to two Super Bowl victories. Still, Eli remains a bit of a polarizing figure. When he's great, he's unbelievable with a penchant for late-game mettle and heroics. When he's bad…he's downright putrid. (Photo: Jeff Gross/Getty Images)

4 / 8
Ryan Leaf - Crash and burn. Oh boy did Ryan Leaf do that. After being chosen only second to Peyton Manning in the 1998 NFL Draft, Leaf did what leaves do — fall. Leaf's off-field behavior — which included him notoriously yelling at a reporter and having to be restrained by Junior Seau — matched his terrible on-field play. Let's keep it funky — Leaf may have been the biggest draft bust in NFL history. And to think, the Chargers passed on the likes of Randy Moss, Hines Ward and Charles Woodson for a Leaf that would crumple under pressure. (Photo: Joe Robbins/Getty Images)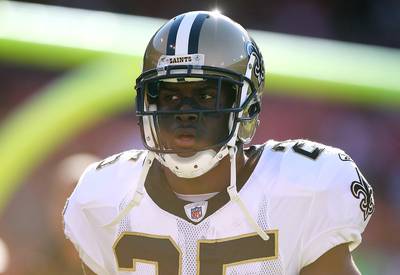 5 / 8
Reggie Bush - Reggie Bush was a college football god, coming out of USC. He was drafted by the New Orleans Saints with the second overall pick in 2006 and he had much to prove. How has his career panned out? Well, Bush has only played a full 16-game season in two of his nine years as a pro. However, when used right, as the Detroit Lions seem to be doing now, Bush has proved to be a very serviceable pro, one who could rush and receive out of the backfield and even dazzle on special teams. Bush is a keeper. (Photo: Jed Jacobsohn/Getty Images)

6 / 8
JaMarcus Russell - If Ryan Leaf was the No. 1 NFL Draft bust of all time, can we go ahead and make JaMarcus Russell No. 2? At least Top 5 dead or alive. Come on. Standing 6-foot-6 and 265 pounds and touting a cannon for an arm coming out of LSU in 2007, Russell presented hope for the Oakland Raiders and victory-depraved Raider Nation. Instead, his $61 million contract — with $32 million guaranteed — sort of gutted the franchise, setting them back several more years. Russell had a 7-18 record in three seasons as the Raiders starting quarterback. Everything from his lack of ambition to poor conditioning was picked apart by the media before the Raiders cut him in 2010. He was also arrested that same year for possession of codeine syrup without a valid prescription. After ballooning in weight, Russell, 28, is said to be back in shape and attempting a second life in the NFL. (Phot...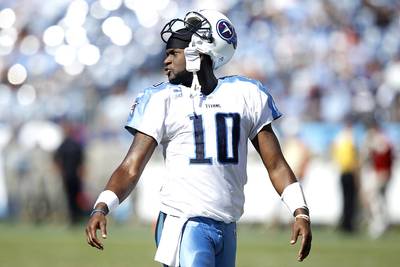 7 / 8
Vince Young - Vince Young's 2006 Rose Bowl performance was as epic as they get on the college gridiron. There, Young tallied 467 yards (200 rushing, 267 passing) to lead his Texas Longhorns to victory over USC. With that came plenty of NFL expectation for the young dynamic quarterback, who delivered by being named the league's Offensive Rookie of the Year with the Tennessee Titans in 2006. Overall, Young's career has had its fair share of highlights and disappointments. In 2008, Young made headlines for going missing and soon thereafter came clean about his financial troubles. (Photo: Joe Robbins/Getty Images)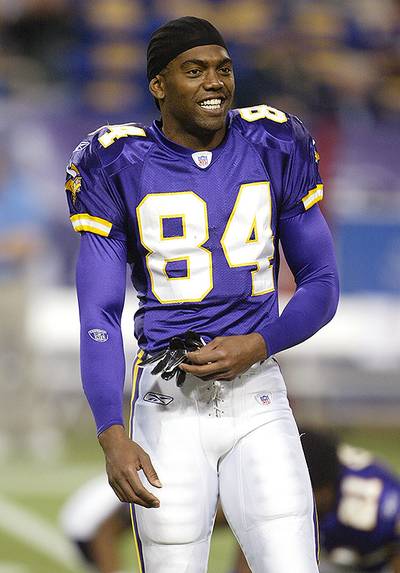 8 / 8
Randy Moss - Taken 21st in the 1998 NFL Draft by the Minnesota Vikings, Randy Moss lit the NFL on fire — not to mention seemingly any and every secondary he faced. The wiry wideout hauled in 17 touchdowns and 1,313 receiving yards in being named Offensive Rookie of the Year. We're probably looking at a first-ballot Hall of Famer. Moss is boss. (Photo: Jeff Gross/Getty Images)