Where Is the Love? When Exes Attack
From Gilbert and Laura to Steve and Mary.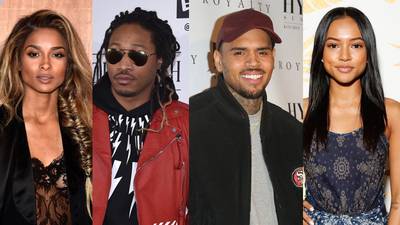 1 / 13
Unfriendly Exes - Celebrity breakups almost always come with public promises to stay close friends and committed co-parents, but it doesn't always end up that way. For every Russell and Kimora (seriously, how do they do it?) there are many former couples who just can't let things go. From Future and Ciara's public fights and parenting disagreements to Chris Brown and Karrueche Tran's never-ending drama, here are a few of Hollywood's ex-couples with some serious bad blood.(Photos from left: Pascal Le Segretain/Getty Images, Ethan Miller/Getty Images for New Era, Imeh Akpanudosen/Getty Images, Rochelle Brodin/Getty Images)
Photo By
Photos from left: Pascal Le Segretain/Getty Images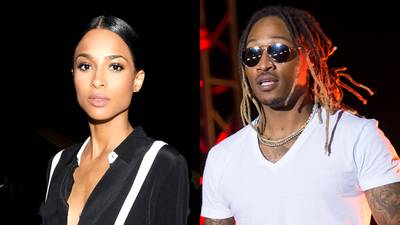 2 / 13
Future and Ciara - Back in 2013, Ciara and Future called off their engagement just months after welcoming their son amid rumors that the rapper had cheated on her. Naturally, things didn't end smoothly between these two. Future had a few things to say about CiCi's soon-to-be husband Russell Wilson interacting with his son, warning, "You don't even bring a man around your son. You know this dude for a few months and you're bringing him around your kid? Who does that?" He also tweeted that Ciara has "control issues" and made a bunch of other allegations, to which CiCi responded with a $15 million defamation lawsuit. Russell's ex, Ashton Wilson, appeared to get in on the shade by posting a pic of her engagement ring from Russell. Looks like Ashton is an ex for a reason!
Photo By
Photos from Left: Craig Barritt/Getty Images for NYFW: The Shows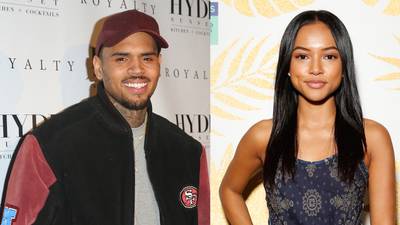 3 / 13
Chris Brown and Karrueche Tran - The relationship between these two over the past several years has played out like a storyline on Love & Hip Hop. Chris and Kae have been on-again, off-again for years, with public fights and rekindled romances along the way. Kae gave Chris another chance after his shameless fling with Rihanna, but finally washed her hands of the singer after he got Texas model Nia Guzman pregnant and found out he was a father. Things boiled over between the two earlier this month, when Karrueche put Chris on blast for shouting her out in his latest single "Back to Sleep," and Chris responded by shading her "talent" at booking club appearances and straight-to-DVD roles. Ouch!(Photos from left: Imeh Akpanudosen/Getty Images, Rochelle Brodin/Getty Images)
Photo By
Photos from left: Imeh Akpanudosen/Getty Images
4 / 13
Steve Harvey and Mary Shackleford - Steve Harvey's ex-wife, Mary Shakleford, put him on blast in early 2017 for sloppily ending their marriage to be with his then alleged mistress — and now wife — Marjorie. A month after her initial allegation, she claimed their divorce was not, in fact finalized, and wanted $50 million in damages. She eventually upped te amount to $60 million, adding murder to her long list of charges against him.(Photo: SGranitz/WireImage)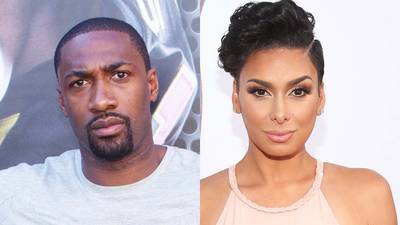 5 / 13
Gilbert Arenas and Laura Govan - Former Basketball Wives star Laura Govan made claims in 2015 that she contracted an STD from her ex Gilbert Arenas in a series of allegedly leaked emails. After an ongoing battle, Arenas decided to sue the reality star for defamation where she allegedly was ruled to pay a $110,000 judgmenet to Arenas.(Photo from left: Leon Bennett/WireImage, Jesse Grant/Getty Images for NAACP Image Awards)
Photo By
Photo from left: Leon Bennett/WireImage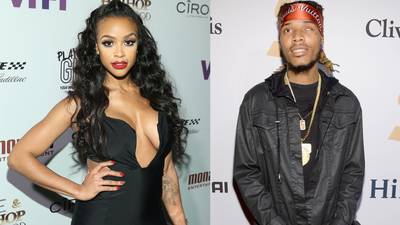 6 / 13
Masika Kalysha and Fetty Wap - Pregnancy is supposed to be a time of calm, relaxation and nesting. But for Masika, it's been one long game of "Who's Your Daddy?" The former reality star had been battling it out with her ex Fetty Wap over the paternity of their unborn child, with the rapper claiming he's not the father and then saying Masika trapped him into having a baby. Thankfully, these two seem to have sorted things out — for now — and are focused on the arrival of their child.(Photos from left: Jesse Grant/Getty Images for VH1, Kevork Djansezian/Getty Images)
Photo By
Photos from left: Jesse Grant/Getty Images for VH1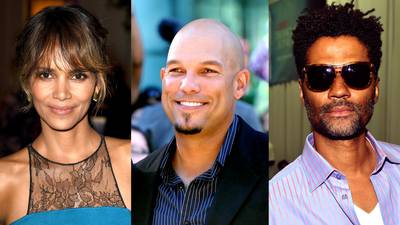 7 / 13
Halle Berry and David Justice - Former baseball player Justice has remained silent on rumors that he physically abused his ex-wife Halle Berry for years, but after she filed for divorce from her third husband Olivier Martinez last year, Justice felt compelled to share his side of the story. He tweeted, "Reading the latest Halle Berry Reports, it wasn't me who hit Halle causing the ear damage. Halle has never said that I hit her." He then proceeded to go on a rant claiming all of Halle Berry's husbands were the "Knight in Shining Armor, until it ends," topping it off by saying, "Only the guys in the relationship with Halle know the real deal. There will be another, of course. He'll be called 'The Best' until it ends." To make things worse, husband number two Eric Benet co-signed the rant by tweeting, "My man ‪@23davidjustice is tweeting some truth dis' mornin'!" 
Photo By
Photos from Left: Kevin Winter/Getty Images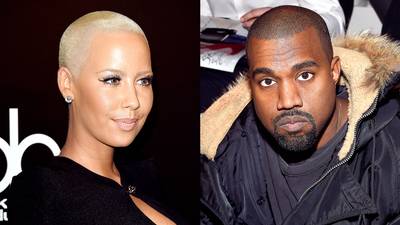 8 / 13
Amber Rose and Kanye West - Though it's been five years since they called it quits, the hits keep coming with these two. Last year, during an interview with Power 105.1's The Breakfast Club, Kanye notoriously said he "had to take 30 showers" after dating Amber and before he got with his wife Kim Kardashian. He slut-shamed his ex again earlier this year by picking a fight with her baby's father Wiz Khalifa on Twitter. Amber hilariously clapped back by alleging Kanye had a thing for "butt fingers." Thankfully, Kim and Amber sought the high road and buried the hatchet between them, even though Amber has made it clear she wants nothing to do with Kanye anymore.
Photo By
Photos from Left: Jason Merritt/Getty ImagesMike Coppola/Getty Images for Mercedes-Benz Fashion Week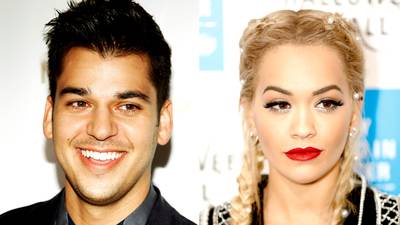 9 / 13
Rob Kardashian and Rita Ora - Before he found love with Blac Chyna, the once-reclusive reality star had his heart broken by ex Rita Ora and lashed out at her on Twitter after their break-up back in 2012. He publicly blasted Ora for allegedly sleeping with over 20 men during their relationship. "How can a woman who is so busy trying to start her own career have time to be with so many dudes all while in a relationship?!" he wrote. "I'm actually disgusted a woman could give up her body to more than 20 dudes in less than a year's time while trying to start a career." While Rita Ora remained quiet for a while, she eventually responded with some equally harsh words: "You should have to sit an exam before you go on Twitter. To see if you're mentally stable."
Photo By
Photos from Left: Isaac Brekken/Getty Images
10 / 13
Blac Chyna and Tyga - Speaking of Blac Chyna, before she and Rob started playing house, she was still feeling the sting of losing her baby's father Tyga to Rob's and one-time close friend and Kim Kardashian's baby sister Kylie Jenner. Chyna has consistently come between the two of them and even mocked Tyga for gifting a Ferrari to Jenner, which Chyna claimed he couldn't afford. Tyga responded through Instagram with a selfie in which he captioned, "When the hating don't work they start telling lies. #WhereYoFerarriTho?" Looks like all parties are trying to work things out for the sake of family unity, though.(Photos from Left: Frederick M. Brown/Getty Images for BET, Bryan Steffy/Getty Images for iHeartMedia)
Photo By
Photos from Left: Frederick M. Brown/Getty Images for BET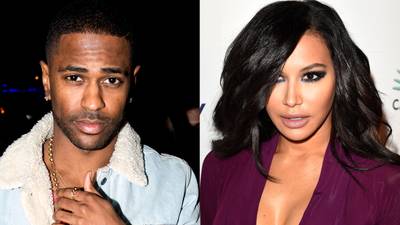 11 / 13
Big Sean and Naya Rivera - The rapper and the Glee beauty got engaged after six months of dating in 2014, but soon after called off the engagement after Big Sean claimed Naya had "violent fits of anger and jealousy." The rapper and actress had a huge fallout that clearly didn't end well. Rivera took to Twitter to attack her ex and even accused him of stealing: "@bigsean stealing rolexes from a lady's house now. Maybe cuz I'm on Glee and making more money or something. #triflin." The Detroit emcee responded by writing a track inspired by his ex: "IDFWU." (Photos from Left: Noam Galai/Getty Images for AWXII, Jason Merritt/Getty Images for De Re Gallery)
Photo By
Photos from Left: Noam Galai/Getty Images for AWXII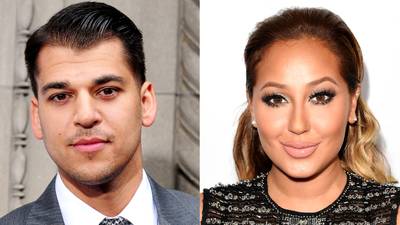 12 / 13
Rob Kardashian and Adrienne Bailon - These two seemed to be the picture of romance when they were together back in 2007, but an ugly breakup quickly followed. Years later, when Bailon was interviewed for Latina magazine in 2014, she said being associated with the Kardashians hurt her career. "To be stuck with that Kardashian label, that was so hurtful to me and my career," she said. "I probably realized that too late." The Kardashians did not stay quiet and took to twitter to defend Rob. Khloe tweeted, "FDB," and Kim also joined in, saying, "Funny how she says being with a Kardashian hurt her career yet the only reason she had the article is bc she is talking about a Kardashian." (Photos from Left: WENN, Jason Merritt/Getty Images)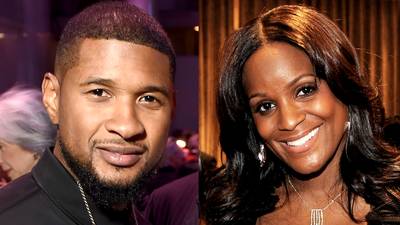 13 / 13
Usher and Tameka Foster - The R&B singer and his ex-wife had a long and tedious custody battle over their two children, Usher V and Naviyd. Foster claimed that Usher was an absentee father, would leave the children under other's supervision and was unresponsive towards her. Usher ended up winning the custody battle and only during an episode of Oprah's Next Chapter did the R&B singer choose to speak on his relationship with his ex-wife. "The friend that I was to Tameka, I don't know that I could ever be again, because I really felt like we were friends. She made us enemies in a way that I could never understand. It wasn't until I was on the stand, where I cried, when I realized, 'Oh, this is an attack.'" Things may not have ended well between the two of them, but for the sake of their children, lets hope they can stay cordial. (Photos form Left: Dimitrios Kambouris/G...
Photo By
Photos form Left: Dimitrios Kambouris/Getty Images for Gabrielle's Angel Foundation