Sports Buzz: Kevin Love Trade Talks With Cavaliers Heating Up
Plus, Derek Jeter gets a surprise from George W. Bush.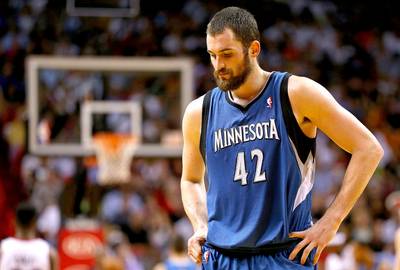 1 / 32
Cavaliers-Timberwolves Deal for Kevin Love Coming Soon? - It's not a matter of if, just when. According to ESPN, the Minnesota Timberwolves are only talking to the Cleveland Cavaliers — and no other team — to move All-Star power forward Kevin Love in a possible trade. Another indication that the trade may be happening soon is that Love withdrew from Team USA competition last week and Cavs power forward Anthony Bennett was just pulled from Toronto Pro-Am competition on Tuesday. The same agent represents both players. If reports serve true and Andrew Wiggins is involved in the deal, then August 23 will be the earliest date that the trade can be executed. Cleveland signed Wiggins to a rookie contract last week and NBA rules stipulate that a team trying to trade a rookie must wait at least 30 days to officially execute a deal. (Photo: Mike Ehrmann/Getty Images)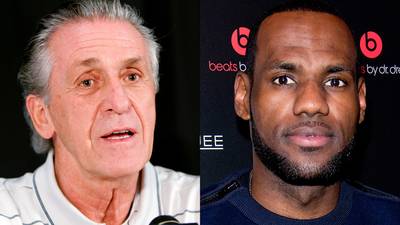 2 / 32
Pat Riley Says Heat Recovered Well From LeBron James's Departure - Losing LeBron James to the Cleveland Cavaliers was definitely a setback for the Miami Heat. But Heat president Pat Riley tells ESPN that the organization recovered well and that he feels like the Heat "will be as competitive as anyone in the Eastern Conference." Riley feels confident after re-signing Chris Bosh and Dwyane Wade and adding free agents such as Luol Deng, Josh McRoberts and Danny Granger.(Photos from Left: J Pat Carter, File/AP Photo, Noam Galai/Getty Images for Beats by Dr. Dre)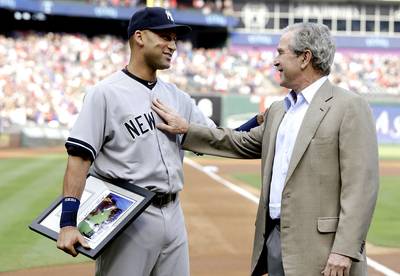 3 / 32
Jeter Honored by President Bush in Texas - The Texas Rangers pulled out all the stops in honoring Derek Jeter on Wednesday night in Arlington. Former President George W. Bush walked onto the field and presented Jeter with an autographed photo of himself and the New York Yankees shortstop from the 2001 World Series. Jeter also received a pair of cowboy boots with the Yankees logo and his No. 2 on them. (Photo: LM Otero/AP Photo)
Photo By
Photo: LM Otero/AP Photo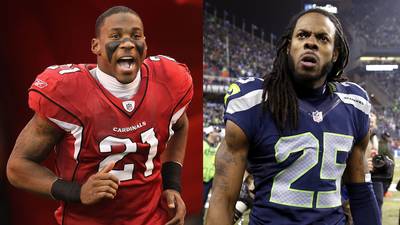 4 / 32
Patrick Peterson and Richard Sherman Exchange Words - Richard Sherman didn't take the news of Patrick Peterson becoming the highest-paid cornerback in the NFL well. Instantly, Sherman tweeted that Peterson allowed seven more touchdowns than he did last season. When Peterson responded with "Yu mad bro!!!!," Sherman fired back, "Can't ever be too mad" accompanied by a photo of him wearing a Seattle Seahawks Super Bowl ring. It's the Twitter beef that keeps on giving. (Photos from Left: Christian Petersen/Getty Images, Otto Greule Jr/Getty Images)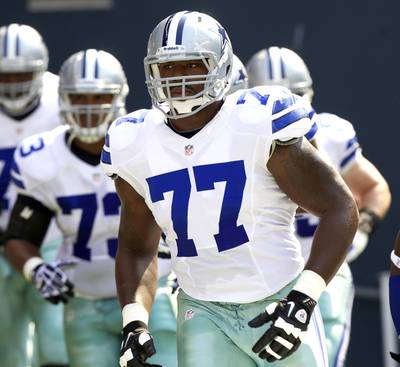 5 / 32
Cowboys, Tyron Smith Agree to $98 Million Extension - The Dallas Cowboys just sewed up long term protection for Tony Romo, and whoever plays quarterback thereafter, by signing left tackle Tyron Smith to an eight-year, $98 million deal on Wednesday. The Pro Bowl Smith, 23, was entering the final year of his contract. (Photo: Stephen Brashear/Getty Images)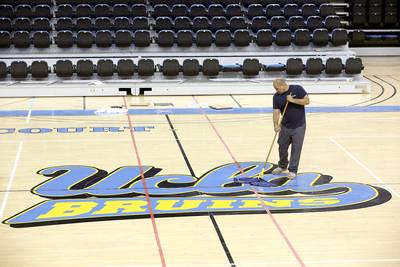 6 / 32
Workers Trying to Save UCLA Court - What a shame. After a three-year, $136 million renovation of UCLA's Pauley Pavilion was completed in 2012, a water main break Tuesday has caused enough flood damage to threaten the court's use. According to ESPN, workers are busy cleaning up and trying to assess the flood and waterlogged damages. (Photo: Nick Ut/AP Photo)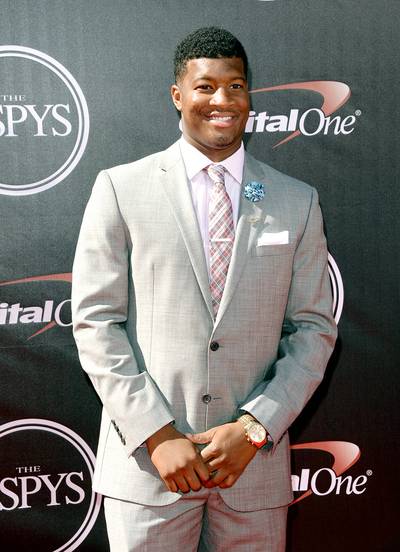 7 / 32
Winston Was Handcuffed Over 2012 Pellet Gun Incident - According to a Florida State police report obtained by USA Today, Jameis Winston was involved in a BB gun battle that damaged the building he was living in back in 2012 and was handcuffed by police for the incident. This latest news comes after the Heisman winner was cited in late April for shoplifting crab legs from a supermarket in April and escaping sexual assault charges last December.(Photo: Jason Merritt/Getty Images)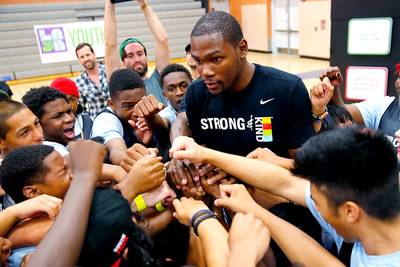 8 / 32
Where Will Kevin Durant Play in 2016? - LeBron James's second decision came and went, and in the end he decided to return home to the Cleveland Cavaliers. Will Kevin Durant choose a little home cooking when he becomes a free agent in the summer of 2016? It's certainly possible, as KD spent part of Tuesday telling ESPN about his love for his Washington, D.C., hometown. "That whole city is a part of me," Durant said. "It's in my blood. I love going back home, seeing my family and playing there, but I love Oklahoma City, too." Durant is currently in training camp in Las Vegas for Team USA, a squad that also counts the Washington Wizards' exciting back court of John Wall and Bradley Beal. Think they're in KD's ear just yet? Hmm... (Photo: Joe Scarnici/Getty Images for KIND Healthy Snacks)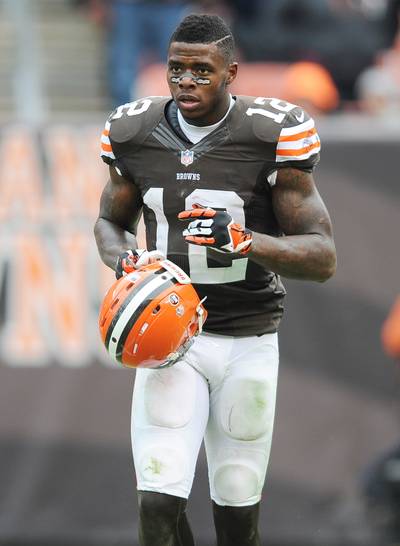 9 / 32
Josh Gordon Prepares His Defense Against Positive Marijuana Test - Attorneys for embattled Cleveland Browns wide receiver Josh Gordon have their legal strategy all set for Friday's hearing. They're reportedly going to argue that secondhand smoke caused Gordon to test positive for marijuana in attempt to thwart a possible yearlong suspension.(Photo: David Dermer/Diamond Images/Getty Images)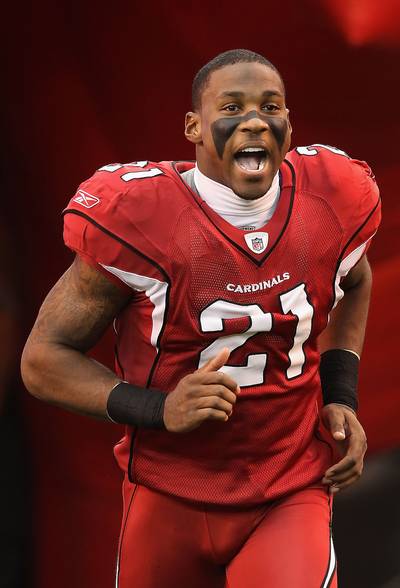 10 / 32
Patrick Peterson Becomes Top-Paid Cornerback in NFL - Move over Richard Sherman. The NFL has a brand new top-paid cornerback and his name is Patrick Peterson. The Arizona Cardinals signed Peterson to a five-year, $70 million deal Tuesday night, with $48 million guaranteed. This comes after Sherman inked a four-year, $56 million deal with the Seattle Seahawks earlier this month. (Photo: Christian Petersen/Getty Images)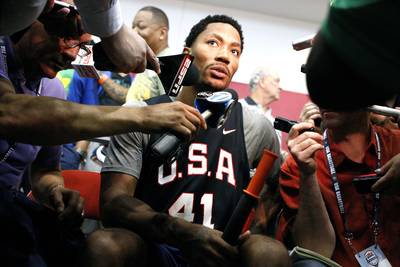 11 / 32
Boeheim Calls Derrick Rose "Most Impressive" on Team USA - Even on a squad that counts superstars like Kevin Durant, James Harden and Stephen Curry, Team USA assistant coach Jim Boeheim didn't hesitate in telling ESPN that Derrick Rose is the "most impressive guy here" Tuesday in training camp. (Photo: Erik Verduzco/Las Vegas Review-Journal/AP Photo)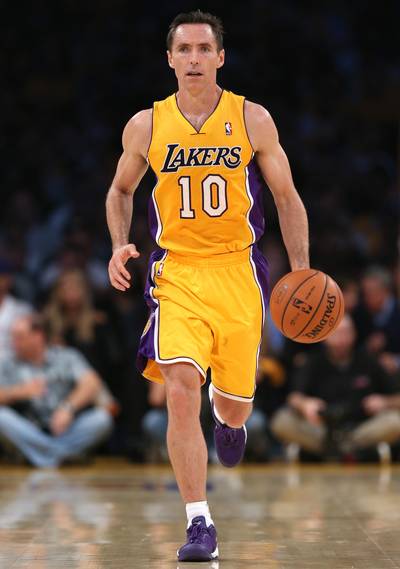 12 / 32
Steve Nash Announces Last Season - The 2014-15 NBA season will likely be the last of Steve Nash's glorious career. The former two-time league MVP and Los Angeles Lakers point guard told Sport TV, as reported by the Los Angeles Times, "I think this is my last season." Battling back and nerve issues last season, Nash, 40, only averaged 6.8 points per game. The Lakers owe him $9.7 million in the final year of his contract. (Photo: Jeff Gross/Getty Images)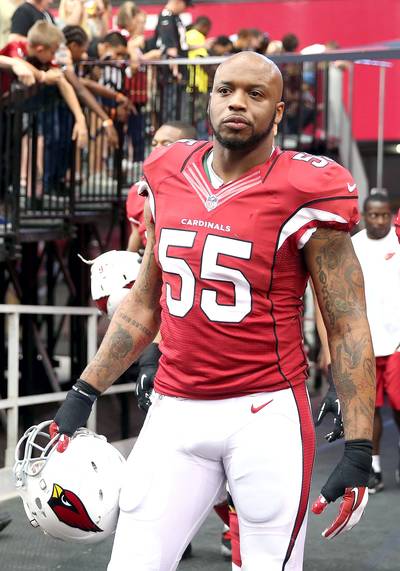 13 / 32
Cardinals Abraham Arrested on DUI Charge - An ugly incident unfolded for Arizona Cardinals outside linebacker John Abraham, who ESPN reports was passed out behind the wheel of his vehicle on June 29 before being arrested on a DUI charge. Despite the incident taking place a month back, details are only now emerging.  (Photo: Christian Petersen/Getty Images)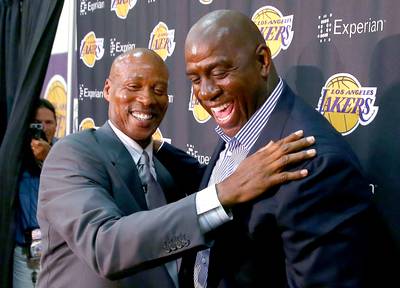 14 / 32
Magic, Kareem Applaud Lakers' Hiring of Scott - Now, that's a welcoming party. Magic Johnson and Kareem Abdul-Jabbar were on hand Tuesday to help introduce their former teammate, Byron Scott, as the new Los Angeles Lakers' head coach. The three were former teammates during the Lakers "Showtime" era of the 1980s.  (Photo: Jeff Gross/Getty Images)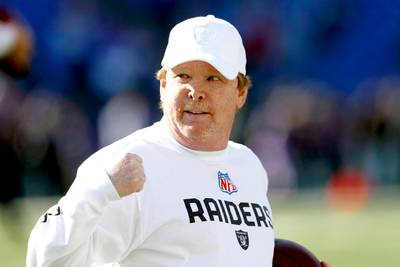 15 / 32
Raiders Thinking Possible Move to San Antonio? - Could the Oakland Raiders be eyeing a move to San Antonio? According to CBS Sports, it's possible, as Raiders owner Mark Davis reportedly met with San Antonio city officials to discuss the idea of moving the franchise from the Bay Area to the Texas city. Imagine the "Black Hole" in San Antonio? (Photo: Rob Carr/Getty Images)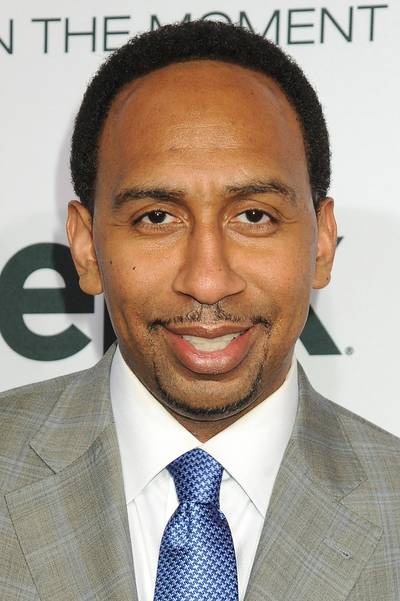 16 / 32
Stephen A. Smith Suspended Over Domestic Violence Remarks - Though he issued an apology for admittedly going overboard in trying to make a point about women provoking domestic violence in regards to the Ray Rice incident — Stephen A. Smith was suspended by ESPN today (Tuesday). The network issued a statement announcing that they would bench the outspoken personality for a week. "ESPN announced today that Stephen A. Smith will not appear on First Take or ESPN Radio for the next week. He will return to ESPN next Wednesday," the statement read. Smith called the comments "the most egregious error of my career." (Photo: Jennifer Graylock/Getty Images for EPIX)
17 / 32
NFL Stands by Two-Game Suspension of Ray Rice - The NFL is standing by its decision to hand Baltimore Ravens running back Ray Rice a two-game suspension stemming from his domestic violence arrest earlier in the year. Appearing on ESPN Radio's "Mike and Mike" show Monday, NFL senior vice president of labor policy Adolpho Birch said league commissioner Roger Goodell felt the two-game suspension was justified after listening to all parties involved in the case and the NFL's Players Association. Birch wouldn't reveal whether or not Goodell was able to see footage from the incident that the public didn't, though. In February, Rice was arrested after allegedly striking his then-fiancée, now wife, Janay Palmer, in an Atlantic City, New Jersey, casino hotel and then dragging her seemingly unconscious body out an elevator, as footage showed. Rice avoided trial by being accepted into a pret...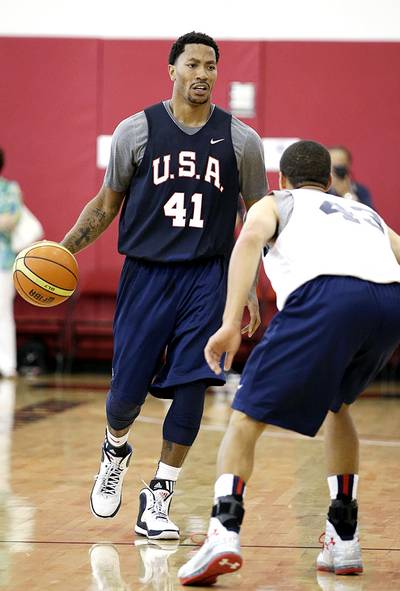 18 / 32
Derrick Rose Looked Good During Team USA Practice - Derrick Rose has played in only 10 games the past two NBA seasons because of a torn ACL in his left knee and torn meniscus in his right knee. Yet, the Chicago Bulls point guard looked like his aggressive self during Team USA training camp in Las Vegas on Monday, slashing to the hoop and dribble driving before pulling up with jumpers. "My confidence is very high, and that's the only thing you might see this year," Rose told ESPN, "that my confidence level is through the roof." (Photo: John Locher/AP Photo)
19 / 32
Suns Tucker Arrested for "Super Extreme DUI" - Before P.J. Tucker signed his three-year, $16.5 million deal with the Phoenix Suns, he was arrested in May for blowing a .222, in what Arizona labels as a "Super Extreme DUI." (Photo: Christian Petersen/Getty Images)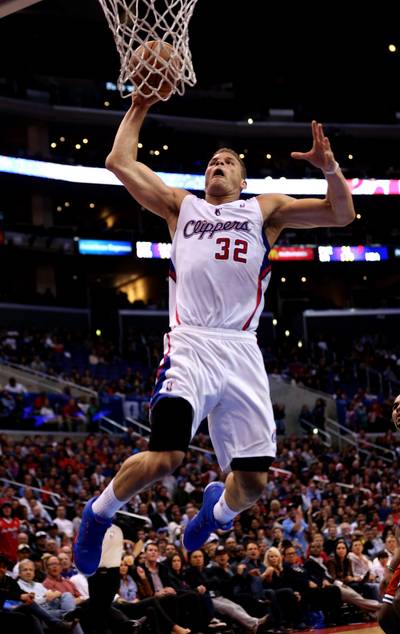 20 / 32
Blake Griffin Has Small Back Fracture - According to ESPN, when Blake Griffin withdrew from Team USA training camp last week, he was advised by doctors to give a small fracture in his back more time to heal. Griffin is expected to make a full recovery from the injury, which he suffered in the playoffs. Fellow All-Star power forward Kevin Love also withdrew from Team USA competition to rest his body for the upcoming 2014-15 season.(Photo: Stephen Dunn/Getty Images)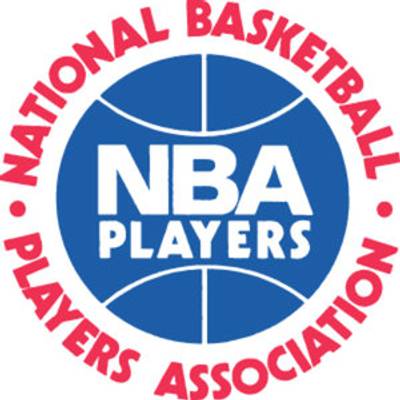 21 / 32
NBA Players Association Elects First Female Union Chief - Sports history has been made. For the first time in sports history, a female will lead a major North American sports union. Washington, D.C., attorney Michele Roberts has been voted in as the new executive director of the National Basketball Players Association. This comes after Chris Paul told ESPN that Roberts was "very relatable to a lot of our players." (Photo: National Basketball Players Associtation)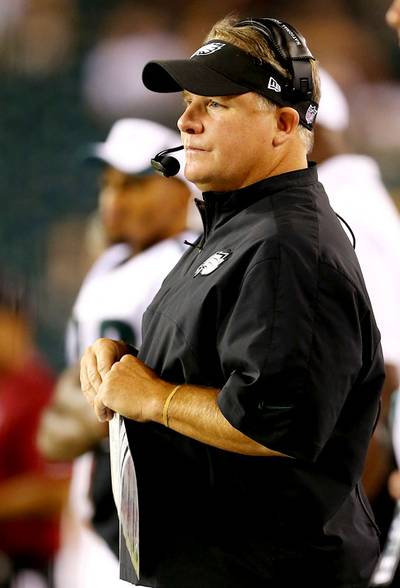 22 / 32
Chip Kelly Calls Draft Worst Part of NFL - In his short NFL career, Chip Kelly has proven that he isn't exactly shy. When asked what's the worst thing about the NFL by Sports Illustrated, the Philadelphia Eagles' head coach quickly answered the draft. "I mean, the hype that goes into the draft is insane. Totally insane," Kelly said. "The biggest thing for me is that everybody thinks whoever you drafted or whoever you signed is now gonna be a savior."  (Photo: Elsa/Getty Images)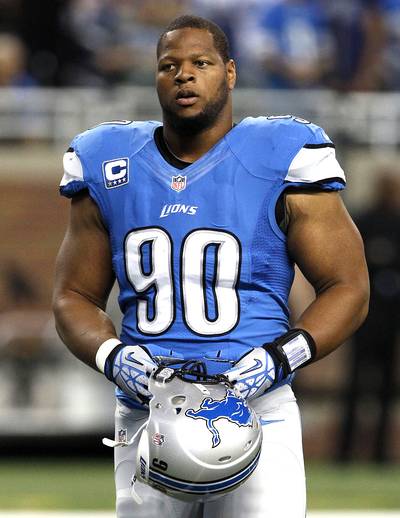 23 / 32
Lions Hold Off Talks With Suh Until After Season - The Detroit Lions have made their decision — they're reportedly tabling any contract talks with defensive tackle Ndamukong Suh until after the 2014 season. This coming season is the final year on Suh's five-year rookie contract. The Lions front office have expressed their intent to sign Suh to a long-term deal after the season. (Photo: Duane Burleson, File/AP Photo)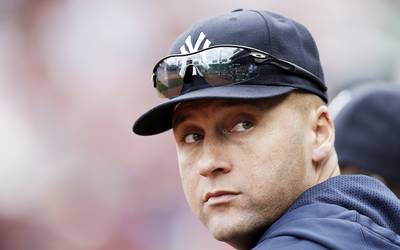 24 / 32
Jeter Moves to Seventh in All-Time Hits - Derek Jeter will be a first-ballot Hall of Famer without any doubt. Until then, the New York Yankees shortstop just keeps piling on the milestones. Jeter collected three hits Monday night to overtake Carl Yastrzemski for seventh place on the MLB's all-time hit list. Jeter now has 3,420 career hits, which are 10 shy of sixth-place Honus Wagner.  (Photo: Winslow Townson, File/AP Photo)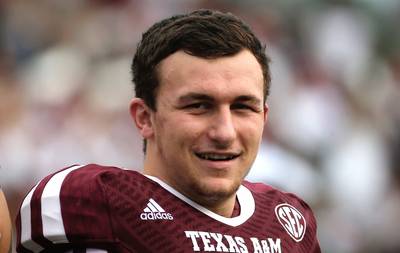 25 / 32
Manziel's Texas A&M Jersey Expected to Reach $100K Bid - SCP Auctions believes its autographed Johnny Manziel Texas A&M jersey will fetch a winning bid of about $100,000, according to ESPN. SCP says Manziel wore the jersey for all his home games during his 2012 Heisman-winning season. (Photo: Scott Halleran/Getty Images)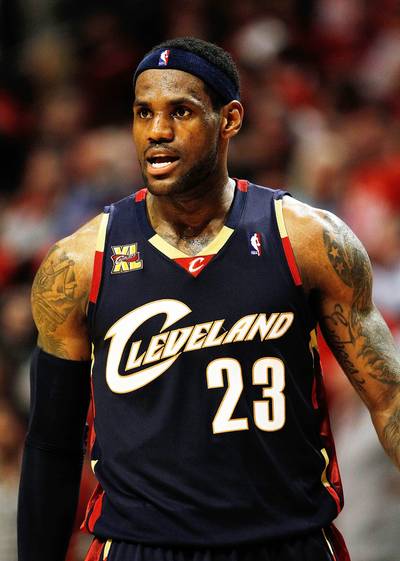 26 / 32
King James Picks No. 23 Over No. 6 - Deciding whether to rock No. 6 or 23 in his return to the Cleveland Cavaliers, LeBron James has a winner. "23 it is!" King James tweeted Sunday. "It's only right I go back. 2.3=6 We still family 6. #HomeTeam #StriveForGreatness." James wore 23 through high school and his first seven years in the NBA with the Cavs before switching to No. 6 with the Miami Heat in 2010. At the time, he cited leaving behind 23 as a tribute to Michael Jordan and encouraged the rest of the league to follow suit and never wear the number again. He chose No. 6 because his first-born son's birthday is October 6. (Photo: Jonathan Daniel/Getty Images)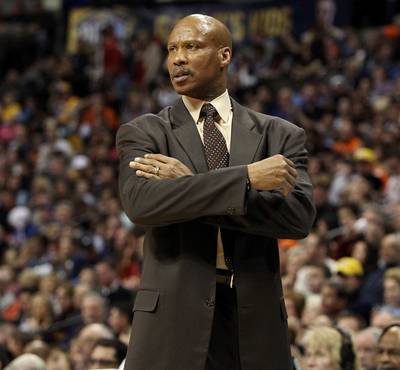 27 / 32
Byron Scott Agrees to Become Lakers Head Coach - The Los Angeles Lakers and Byron Scott are done negotiating. Scott is officially the Lakers new head coach, after agreeing to a four-year, $17 million deal with the storied franchise, which holds a team option on the final year of the contract. "It feels fantastic," Scott told local KCBS-TV on Sunday, as reported by ESPN. "This is a dream come true. I always wanted to coach the Lakers, especially when I got to coaching. It's so unreal. I have to thank [general manager] Mitch [Kupchak], Jeanie and Jim Buss to give me this opportunity." Scott won three championship alongside Magic Johnson of the "Showtime" Lakers of the 1980s. As a coach he led the then-New Jersey Nets to back-to-back NBA Finals appearances in 2002 and 2003 and was named NBA Coach of the Year with the then-New Orleans Hornets in 2008...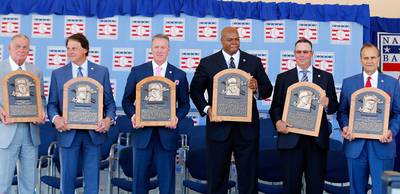 28 / 32
Frank Thomas, Joe Torre Headline Hall of Fame Class - Frank Thomas headlined a 2014 Baseball Hall of Fame class, which included managers Joe Torre, Tony La Russa and Bobby Cox, and pitchers Tom Glavine and Greg Maddux. "I'm speechless. Thanks for having me in your club," said Thomas, who finished his 19-year career with 521 home runs and 1,704 RBIs, reported the Associated Press. Torre, who managed the New York Yankees to four World Series titles, gave a moving speech, although he apologized afterward for forgetting to include late Yankees owner George Steinbrenner and his family in it. (Photo: Jim McIsaac/Getty Images)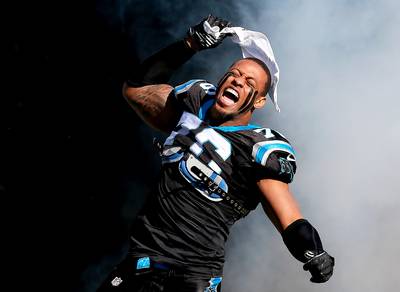 29 / 32
Greg Hardy Hates That He Distracted Panthers - Greg Hardy is repenting for his May arrest on domestic violence charges and hopes to move on. "I hate that I have distracted my team," the Carolina Panthers defensive end told media, including ESPN. Hardy was sentenced to 18 months probation and 60 days in jail following his domestic incident with his then-girlfriend, however, his lawyer appealed the decision and the defensive end will have a jury trial after the 2014 season concludes. (Photo: Kevin C. Cox/Getty Images)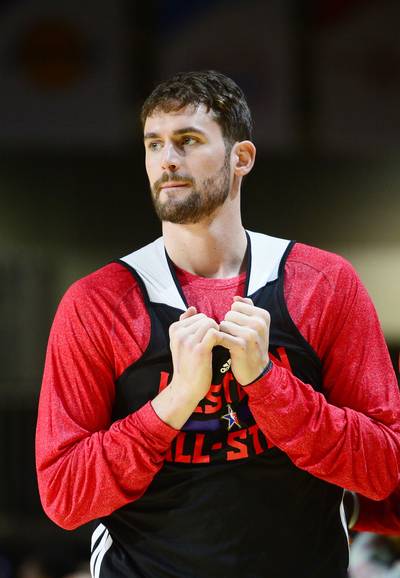 30 / 32
Kevin Love Bows Out From Team USA Competition - Wanting to put all his focus on the upcoming 2014-15 NBA season, Kevin Love has withdrawn from Team USA for the upcoming FIBA Basketball World Cup next month. To make up for the All-Star power forward's loss, Team USA has invited Atlanta Hawks power forward Paul Millsap to join the team. They also invited John Wall to the team last week. Meanwhile, Love joins Blake Griffin, LaMarcus Aldridge and Kawhi Leonard as NBA stars who have all withdrawn from Team USA to rest their bodies and/or put all their focus toward the 2014-15 season.(Photo: Bob Donnan-USA TODAY Sports)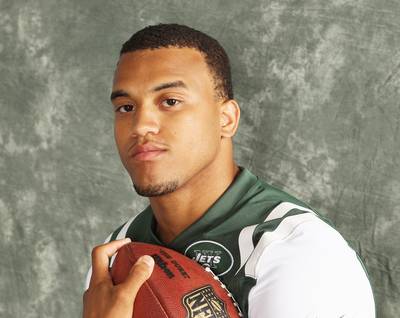 31 / 32
Jets' Dee Milliner Says He Is Best Cornerback in NFL - Dee Milliner certainly doesn't suffer from a lack of confidence. The New York Jets second-year cornerback thinks his late-2013 season surge catapulted him into being the best corner in the NFL as of right now. "The best corner in the league? Me," Milliner told the New York Daily News this past weekend. "I ain't gonna say that somebody else is better than me. I'm not going to say somebody that plays the same position is better than me. Don't care if they've been in the league 10 years and I've been here five months. That's how it's going to go. I'm the best."  (Photo: Al Pereira/New York Jets/Getty Images)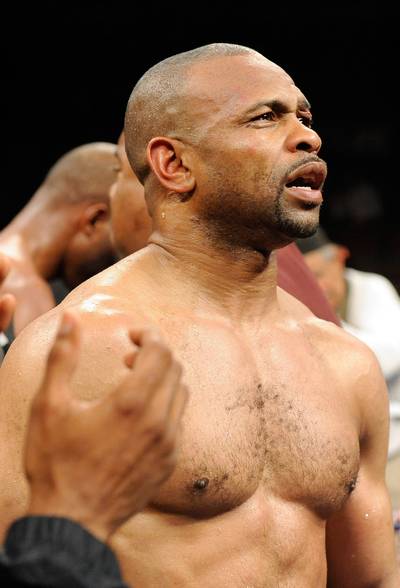 32 / 32
Roy Jones Jr. Scores Win, Raps in Ring - A 45-year-old Roy Jones Jr. scored a fifth-round technical knockout of Courtney Fry in Latvia on Saturday, and then proceeded to rap his single, "Can't Be Touched," live in the ring. Jones's record improves to 58-8 (41 KOs). Whether he plans to continue to fight or not is currently unknown.(Photo: Ethan Miller/Getty Images)