Sports Buzz: Warriors Add Klay Thompson to Kevin Love Trade Talks
Donald Sterling blasts doctor: "You're f------ incompetent!"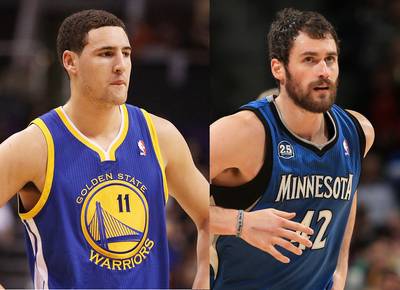 1 / 39
Warriors Add Klay Thompson to Kevin Love Trade Talks - The Golden State Warriors just upped the ante in hopes of landing All-Star power forward Kevin Love. Sources are telling ESPN that the Warriors are now willing to add guard Klay Thompson to a package including power forward David Lee and a first-round draft pick to send to the Minnesota Timberwolves for Love and Wolves swing man Kevin Martin. According to ESPN, the Warriors initially resisted including Thompson in a deal, but later relented.(Photos from left: Christian Petersen/Getty Images, Doug Pensinger/Getty Images)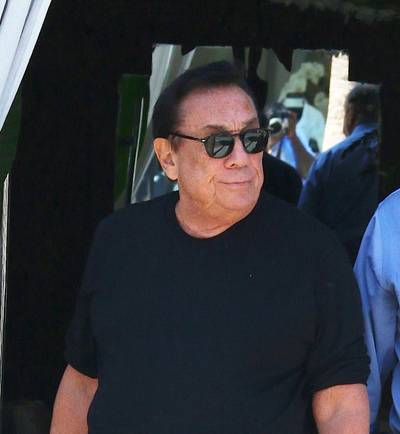 2 / 39
Donald Sterling Blasts Doctor: "You're F------ Incompetent!" - TMZ obtained a scathing voice mail recording of banned NBA owner Donald Sterling ripping apart one of the doctors who deemed he was "mentally incapacitated." "I'm not incompetent, you're f------ incompetent you stupid f------ doctor!" Sterling yells. "You released my medical records of my head to a law firm without my permission. And you came in and you purported to examine me and you never told me anything about it. You're nothing but a fraud and liar and a cheat and I'm gonna see that you lose your license...and I'm suing you for conspiracy!"(Photo: WAB / Splash News)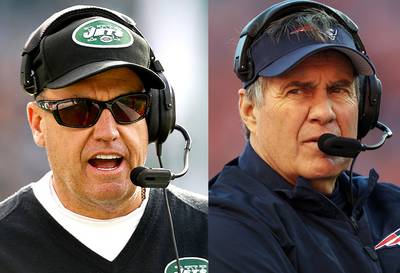 3 / 39
Is Jets Playbook in Patriots Possession? - Who would have thought that they'd see the day when New York Jets coach Rex Ryan actually defends rival New England Patriots coach Bill Belichick? Well, it's happening. After former Jets defensive coordinator and current Cleveland Browns coach Mike Pettine suggested to Sports Illustrated that Belichick obtained a copy of Gang Green's defensive play book from Alabama's Nick Saban, Ryan shot down the whole story. "I get it, because I gave a defensive play book to Nick Saban when he came here and spent four or five days with us," Ryan told ESPN. "One thing I know for a fact: No. 1, I think it's disrespectful to New England to say, 'Oh, they did this.' I can tell you every single game we've ever had with New England has been decided on the field. I don't understand what he's trying to gain by it, but that's up to Mike. To ...
4 / 39
David Blatt Agrees to Deal With Cavs - The Cleveland Cavaliers have reportedly signed longtime European coach David Blatt as their next head coach, sources confirmed to ESPN on Friday. Blatt, 55, counts a successful 20-year coaching career overseas, including stops in Greece, Israel, Russia and Turkey. He led Maccabi Tel Aviv to the Euroleague championship this season.(Photo: NBA)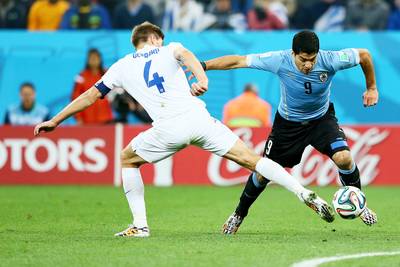 5 / 39
Luis Suarez Shines, Uruguay Drops England - Luis Suarez might be the single reason responsible for England suffering an early elimination from the 2014 FIFA World Cup. On Thursday, Suarez netted two goals to lead Uruguay to a 2-1 victory over England, giving the English its second loss of the tournament. For Suarez, it marked a personal victory having missed the first match of the tournament due to injury only to return and score thrilling goals in the 39th and 85th minutes of play. In other World Cup action Thursday, Colombia scored a 2-1 win over the Ivory Coast, and Japan and Greece battled to a scoreless draw. (Photo: Kevin C. Cox/Getty Images)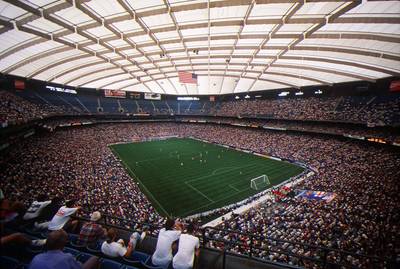 6 / 39
Remnants of Pontiac Silverdome Auctioned - It was the stadium that once hosted the hometown Detroit Pistons and Detroit Lions, Super Bowl XVI in 1982, first-round action of the 1994 FIFA World Cup, and WrestleMania III, in which 93,173 fans witnessed Hulk Hogan body slam Andre the Giant. Now, remnants of the Pontiac Silverdome, including restrooms, are being auctioned off. According to ESPN, among the items already sold: the building's copper wiring going for $89,126, two turf end zones with "Lions" on them for $1,950 each, and a "Welcome to Super Bowl XVI" sign that went for $914.(Photo:  David Cannon/ALLSPORT)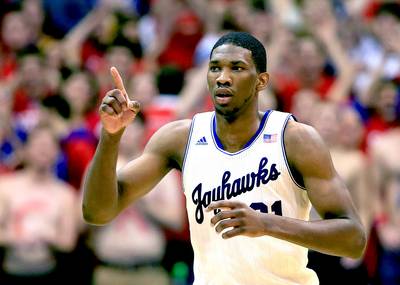 7 / 39
Joel Embiid Suffers Fractured Foot - A bad break...both figuratively and literally. Long considered to be the top selection in the June 26 NBA Draft, 7-foot Kansas center Joel Embiid suffered a fractured right foot and will undergo surgery Friday, his agent confirmed to ESPN. "Joel Embiid suffered a stress fracture to the navicular bone in his right foot," Arn Tellem said Thursday. "He is scheduled to have surgery [Friday]. Joel will be unable to participate in any additional workouts, and will not attend the draft in New York. We will have no further comment until after the surgery." It's a blow to Embiid, considering he had a solid workout for the Cleveland Cavaliers, who have the first selection in the Draft, earlier this month. (Photo: Jamie Squire/Getty Images)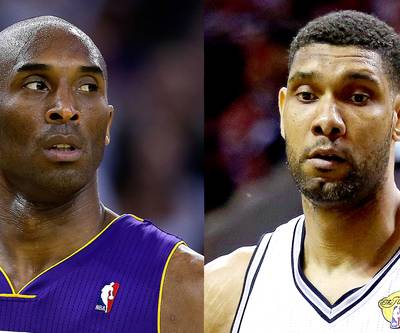 8 / 39
Kobe Bryant Doesn't Want to See Tim Duncan Win Sixth Title - Don't think the ultra-competitive Kobe Bryant isn't aware that Tim Duncan has five NBA championship rings just like he does. Speaking to ESPN while on vacation at the 2014 FIFA World Cup in Brazil on Wednesday, Bryant just doesn't want to see the San Antonio Spurs big man win a sixth title before he does. "If you ask me if I'm OK with Tim [winning his sixth championship], I'm not," Bryant said. "I'm not OK with that." (Photos from left: Ezra Shaw/Getty Images, Andy Lyons/Getty Images)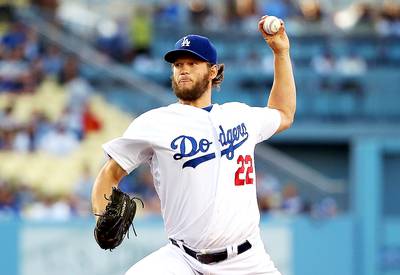 9 / 39
Dodgers Clayton Kershaw Pitches No-Hitter - Los Angeles Dodgers pitcher Clayton Kershaw just keeps padding his resume. The 26-year-old lefty tossed a no-hitter, striking out a career-high 15 on 107 pitches, in the Dodgers' 8-0 home rout of the Colorado Rockies on Wednesday night. He only allowed one base runner on an error by Dodgers shortstop Hanley Ramirez. Kershaw can now add the no-hitter to a budding profile that includes two Cy Young awards, three consecutive ERA titles and a 20-win season.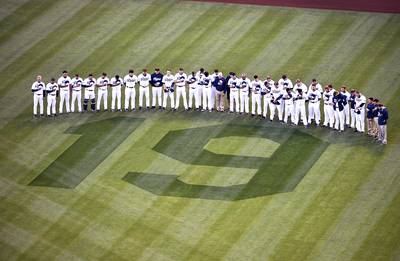 10 / 39
Padres Honor Tony Gwynn, Plan Public Memorial - The San Diego Padres honored late Hall of Famer Tony Gwynn with a moment of silence before scoring a 2-1 home win over the Seattle Mariners on Wednesday night. "It was a little different today," Padres manager Bud Black told ESPN. "Even when the game was over. I think everybody handles what has happened with Tony a little bit differently." Gwynn died of cancer Monday. He was 54. According to the Associated Press, the Padres are also planning a public tribute to Gwynn on June 26 at Petco Park. (Photo: Denis Poroy/Getty Images)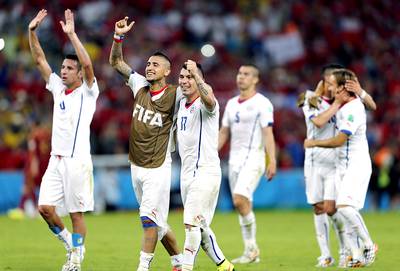 11 / 39
Chile Eliminates Defending Champion Spain From World Cup - There will be a new FIFA World Cup champion. That became conclusive after Chile scored a 2-0 win over defending champion Spain on Wednesday, ending the Spaniards' chance of repeating as World Cup winners. Other World Cup results Wednesday included the Netherlands scoring a thrilling 3-2 win over Australia and Croatia blanking Cameroon, 4-0. (Photo: Frank Augstein/AP Photo)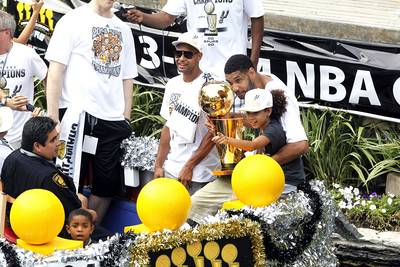 12 / 39
Spurs Celebrate NBA Title With Parade - Work hard, play hard. After defeating LeBron James and the Miami Heat in five games during the NBA Finals, the Spurs celebrated their fifth league title with a fan-filled championship parade down the River Walk in San Antonio. "It is soaking in, but I'm still going to live it up for about the whole summer," NBA Finals MVP Kawhi Leonard told the Associated Press. "(I haven't slept) very much. I've been trying to live the moment. It's been hard to sleep still. Thought I would get some sleep after we won the Finals, but I'm still celebrating. Go Spurs Go! San Antonio!" (Photo: Michael Thomas/AP Photo)
13 / 39
Richard Sherman Fights Receiver in Seahawks Minicamp - Tempers flared during minicamp for the defending champion Seattle Seahawks, headlined by Pro Bowl cornerback Richard Sherman scuffling with receiver Phil Bates. Fellow Seahawks wideout Percy Harvin also reportedly pushed Sherman. According to ESPN, Sherman and Bates each landed blows to the other's head, but neither was injured.(Photo: Otto Greule Jr/Getty Images)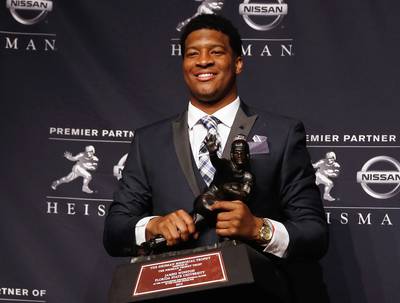 14 / 39
Jameis Winston to Stay in College Two More Years - Good news for Florida State University — its Heisman-winning quarterback Jameis Winston may be returning for his 2014 and 2015 seasons. Winston's father, Antonor Winston, told AL.com: "We want Jameis to succeed with one more year in baseball and two more years in football. We've never strayed from our plan that he is going to be in college until he gets that degree."(Photo: Jeff Zelevansky/Getty Images)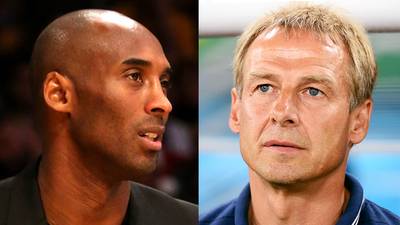 15 / 39
Bryant Has Words for USA Soccer Coach Klinsmann - It took a while, but you knew that the "Black Mamba" was going to strike back. After learning of USA soccer coach Jurgen Klinsmann's comments that the Los Angeles Lakers were wrong to give Kobe Bryant a two-year $48.5 million extension in 2013 because it was based on past accomplishments and not the future, Kobe bit back. "I thought it was pretty funny. I thought it was pretty comical actually," Bryant told ESPN. "I see his perspective. But the one perspective that he's missing from an ownership point of view is that you want to be part of an ownership group that is rewarding its players for what they've done while balancing the team going forward. If you're another player in the future and you're looking at the Lakers organization, you want to be a part of an organization that takes care of its players while at the ...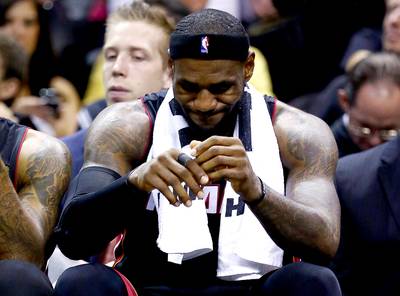 16 / 39
LeBron James Uncertain About Future With Heat - LeBron James will take a vacation with his family before deciding whether he will opt out of the remaining two years on his Miami Heat contract this summer, according to ESPN. When he returns, King James also intends to sit down with his fellow members of the Heat's Big Three, Dwyane Wade and Chris Bosh, to discuss their futures in Miami. "There is a conversation that will be had between the three of us — I think that's only right," James told ESPN. "We've earned that for each other. I don't know what Dwyane right now is thinking. I don't know what Chris is thinking right now. We'll see what happens." Each of the Big Three have two seasons and at least $40 million remaining on the contracts they inked in 2010. (Photo: Andy Lyons/Getty Images)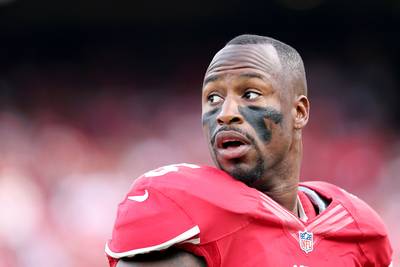 17 / 39
Harbaugh Disappointed in Vernon Davis's Absence - San Francisco 49ers coach Jim Harbaugh didn't like the fact that star tight end Vernon Davis was a no-show for day one of the team's mandatory minicamp Tuesday. "I'm disappointed in that decision for them not to be here…[It's] not the decision I envision being the 49er way," Harbaugh told ESPN. Davis explained he's holding out to leverage a higher salary as a guest columnist for Sports Illustrated on Monday.(Photo by Jeff Gross/Getty Images)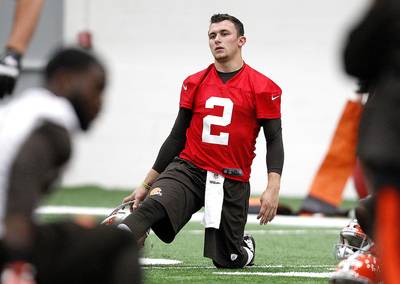 18 / 39
Johnny Manziel, Browns Come to Contract Terms - When Johnny Manziel was drafted by the Cleveland Browns last month, he walked across the stage of New York City's Radio City Music Hall and rubbed his thumb, index, and middle finger in a money-making gesture. Now, the rookie quarterback can start to literally cash in. Manziel and the Browns agreed to a four-year rookie deal Tuesday, in which he'll earn $8.2 million from 2014-2017 with a $4.3 million signing bonus. The Browns hold an option on Manziel for the 2018 season, according to CBS Sports.(Photo: David Maxwell/Getty Images)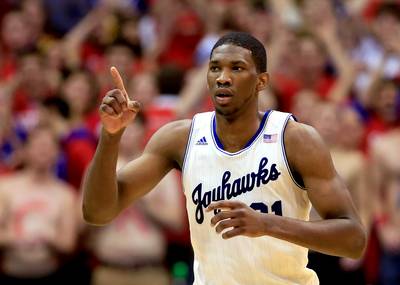 19 / 39
Report: Cavs Leaning Toward Joel Embiid With No. 1 Pick - ESPN is reporting that the Cleveland Cavaliers are indeed leaning toward drafting the 7-foot center from Kansas, Joel Embiid, with the No. 1 pick in the NBA Draft on June 26. Embiid reportedly wowed the Cavs' front office and owner Dan Gilbert in his full workout last week, reportedly ending it by launching and nailing a series of three-pointers. (Photo: Jamie Squire/Getty Images)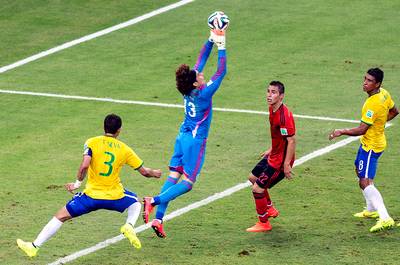 20 / 39
Brazil, Mexico Battle to Thrilling World Cup Draw - Brazil and Mexico battled to a scoreless draw in World Cup action Tuesday thanks to the astounding goalkeeping of Guillermo Ochoa. Mexico's keeper dynamically blocked three Brazilian shots on goal in the first half, including a stellar, diving save on a sure score by Brazil's star Neymar. Other World Cup action Tuesday included Belgium's 2-1 win over Algeria and Russia and the Korea Republic playing to a 1-1 draw. (Photo: Miguel Tovar/Getty Images)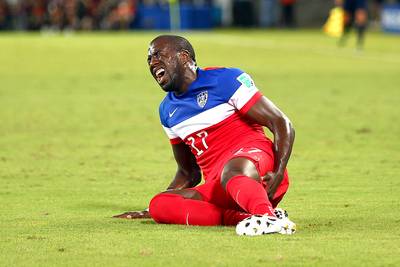 21 / 39
USA Hopes Jozy Altidore Can Return - After pulling off a thrilling 2-1 win over Ghana on Monday, USA hopes to have the services of striker Jozy Altidore for its next World Cup match against Portugal on Sunday evening. Altidore suffered a strained left hamstring Monday and had an MRI Tuesday. "We've got to see how he now reacts the next couple of days with his hamstring, and we're full of hope that he comes back still in the tournament," USA coach Jurgen Klinsmann told ESPN. Added Altidore via his Twitter account: "Thanks to all of you for the messages and well wishes it means so much to me. I love this team and our amazing fans. I believe."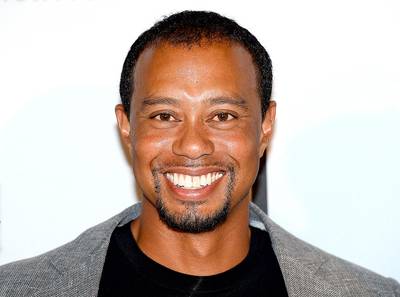 22 / 39
Tiger Woods to Return for British Open? - The Golf Channel is reporting that Tiger Woods is taking full swings, including with his driver. That signals that Woods may be able to make his official comeback from back surgery in time for the start of the British Open next month.(Photo: Ethan Miller/Getty Images)
Photo By
Photo: Ethan Miller/Getty Images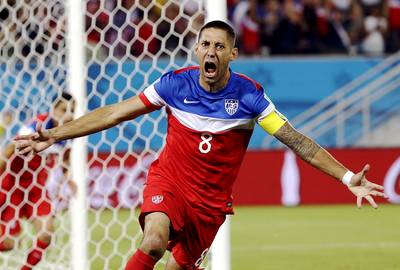 23 / 39
United States Scores 2-1 Win Over Ghana - Before the 2014 FIFA World Cup tournament even began, USA coach Jurgen Klinsmann made headlines when he said that it's not "realistic" that the Americans can win. Well, after the U.S. pulled off an improbable 2-1 victory over Ghana on Monday in Brazil, Klinsmann was singing a different tune. "We fight to the last second," Klinsmann told ESPN. "It was a grind but a wonderful win at the end of the day. There are undoubtedly things that we need to improve on. The U.S. team always has a great spirit." Clint Dempsey shocked Ghana with a goal just a half-minute into the match to give the U.S. a 1-0 lead. The Americans would carry that lead late into the second half, when Ghana's Andre Ayew scored a goal at the 82nd minute to tie the match at 1-1. However, fighting to the end as Klinsmann said, John Brooks Jr. scored the game-...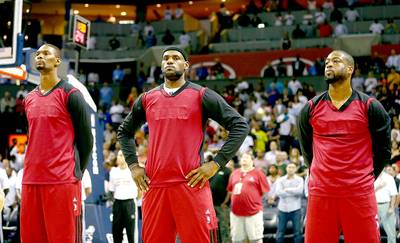 24 / 39
Chris Bosh on Big Three: "We Want to Stay Together" - This season more than others, Chris Bosh felt like there was "no genuine joy" for him and his Miami Heat teammates as the pressure to three-peat might have taken away from the fun of basketball. That being said, Bosh made it clear that Miami's Big Three of LeBron James, Dwyane Wade, and himself want to remain together. "We want to stay together, man," Bosh told the Associated Press. "I'll say that. It's a great organization, great team and great city. And to have a chance, that's all you can ask for." (Photo: Streeter Lecka/Getty Images)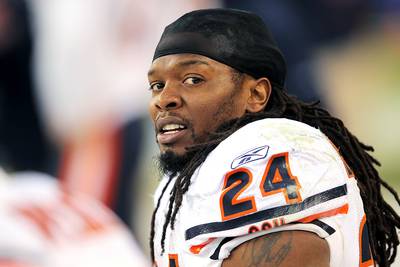 25 / 39
Former Cowboys Running Back Marion Barber Arrested - Former Dallas Cowboys running back Marion Barber was arrested in Texas on Sunday night, TMZ reported. The celebrity news website says police records indicated that Barber was arrested for reasons currently unknown and is being held for "mental detention and observation." (Photo: Doug Pensinger/Getty Images)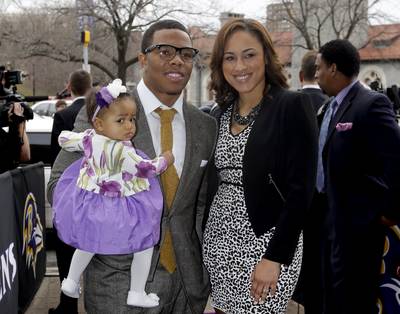 26 / 39
Ray Rice, Wife Met With NFL Comissioner - Baltimore Ravens running back Ray Rice and his wife met with NFL commissioner Roger Goodell on Monday, a league source confirmed with ESPN. The NFL is expected to determine its discipline for Rice, who was arrested and indicted for assault-domestic violence in February after a physical altercation with then-fiancée Janay Palmer at the Revel Casino and Hotel in Atlantic City, New Jersey. Rice was accepted into a pretrial intervention program last month. (Photo: Patrick Semansky, File/AP Photo)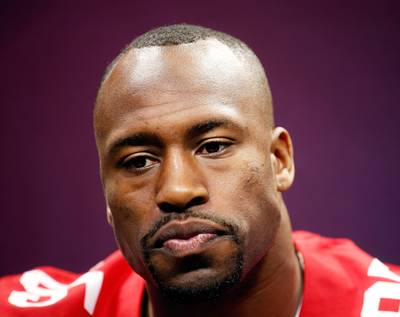 27 / 39
Vernon Davis Holds Out for Higher Salary - You get what you deserve. San Francisco 49ers tight end Vernon Davis believes in the old adage, and made it clear as a guest columnist for Sports Illustrated that it's the reason why he's holding out. "In 2010 I signed a five-year, $37 million contract extension with $23 million guaranteed," Davis wrote. "It was the biggest contract for a tight end in league history. Four years later, and I'm playing at a higher level than I was then, which brings me to why I'm holding out. It's all about getting paid what you deserve. It's not that complicated. I want the 49ers to win the Super Bowl, and I want to be on the field this summer working toward that goal, but I have to worry about my future first."(Photo: Chris Graythen/Getty Images)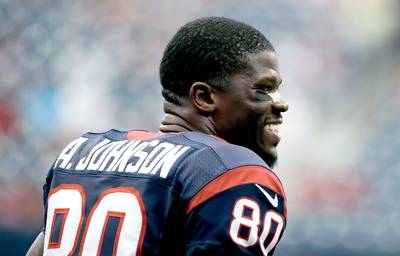 28 / 39
Andre Johnson to Skip Texans Mandatory Minicamp - Don't hold your breath looking for Andre Johnson at the Houston Texans minicamp. The Pro Bowl wide receiver will skip the Texans mandatory minicamp Tuesday-Thursday, his adviser and uncle Andre Melton confirmed with the Houston Chronicle on Monday. Last month, Johnson publicly stated that he's unsure whether he wants to continue playing for the Texans, the only organization he has played for in his 12-year career.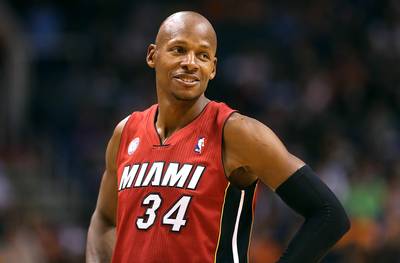 29 / 39
Ray Allen Contemplating Retirement - Have we seen the last of arguably the sweetest shooter in NBA history? Quite possibly. According to ESPN, Ray Allen is considering retirement following the Miami Heat's NBA Finals loss to the San Antonio Spurs on Sunday night. "I've had a great career, I'm content with what I've done," said Allen, a 10-time All-Star and two-time champion in 18 seasons. "It's hard to think past this moment. In the next couple of days I'll think about it and see where my true heart lies." (Photo: Christian Petersen/Getty Images)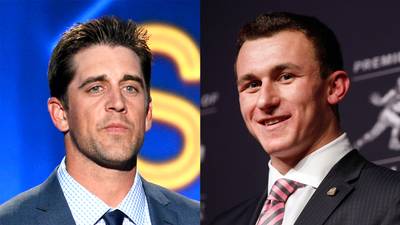 30 / 39
Aaron Rodgers: "I'm a Big Johnny Manziel Fan" - Johnny Football has a fan in Aaron Rodgers. The Green Bay Packers' quarterback told ESPN that he likes the Cleveland Browns' rookie QB's dynamic game, and that he has the right to party in his off time. "His talent speaks for itself, but you know what, I think he has kept the right attitude through all of this," Rodgers said of Johnny Manziel. "He's a young guy doing what young guys do, and he's enjoying life... He should feel comfortable doing exactly what he wants to do, and I don't think he's done anything wrong." (Photos from left: Ethan Miller/Getty Images, Photo12/UIG/Getty Images)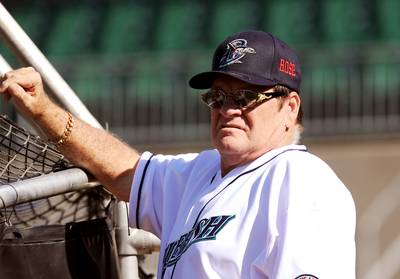 31 / 39
Pete Rose Isn't Giving Up on Lifetime Ban - It's been 25 years since he has last managed the Cincinnati Reds, but Major League Baseball's all-time career hits leader, Pete Rose, remains optimistic that his lifetime ban for betting on baseball will one day be lifted. "I've waited 25 years, but I've done so because I was the one who screwed up," Rose told ESPN. "And if I were given a second chance, I would be the happiest guy in the world." (Photo: Christopher Pasatieri/Getty Images)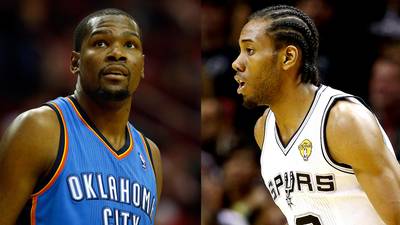 32 / 39
Kevin Durant Downplays Kawhi Leonard's Finals Performance - Kevin Durant doesn't seem to be too impressed by San Antonio Spurs star and NBA Finals MVP Kawhi Leonard. When a Twitter user asked Durant if Leonard would be able to produce as a member of the Indiana Pacers, KD's answer was surprising. "No," Durant tweeted. "He doing work like this because of the system. Put Paul George on the spurs what would happen?" Durant, the reigning NBA MVP, later deleted his tweets about the Spurs' rising star. It was Leonard and the Spurs who defeated Durant's Oklahoma City Thunder in six games in the Western Conference Finals.
Photo By
Photos from left: Scott Halleran/Getty Images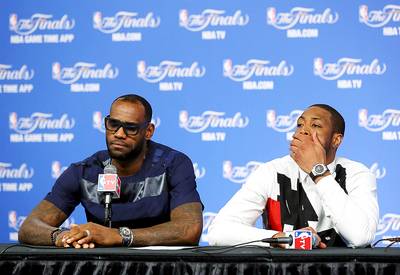 33 / 39
LeBron James, Dwyane Wade Talk Big Three's Future - No three-peat for the Miami Heat. The two-time defending champion Heat were dethroned and humbled through five games of the NBA Finals by the San Antonio Spurs, leaving Miami's Big Three of LeBron James, Dwyane Wade and Chris Bosh to ponder their future together. "I will deal with my summer when I get to that point," James said during a postgame press conference following Game 5 on Sunday night, as reported by Sports Illustrated. "Me and my team will sit down and deal with it. I love Miami. My family loves it. But obviously right now that's not even what I'm thinking about. I haven't even really thought about [my future] just yet. Added Wade: "It's been a hell of a ride in these four years. When we decided to play together, we didn't say, 'Okay, let's try for four years.' We said, 'Let's just play together and let's see...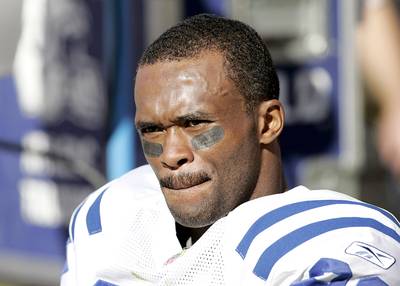 34 / 39
Former NFL Player Marvin Harrison Shot At  - Caught in the wrong place at the wrong time? It sure seems like it for former NFL wide receiver Marvin Harrison. The Philadelphia Daily News reports that Harrison's Ford F-350 was shot at early Saturday morning. He was driving through Northwest Philly at 3:20 a.m. when he was frantically flagged down by a man in his boxers. Apparently the man had just been the victim of a home burglary and was asking Harrison for help. Harrison obliged and allegedly let the man hop into the flatbed of his truck. At that point, the burglars ran out the victim's home and shot at Harrison's truck twice. Neither man was wounded. Harrison most famously served as Peyton Manning's star receiver with the Indianapolis Colts from 1998-2008 before retiring. (Photo: Robert B. Stanton/NFLPhotoLibrary)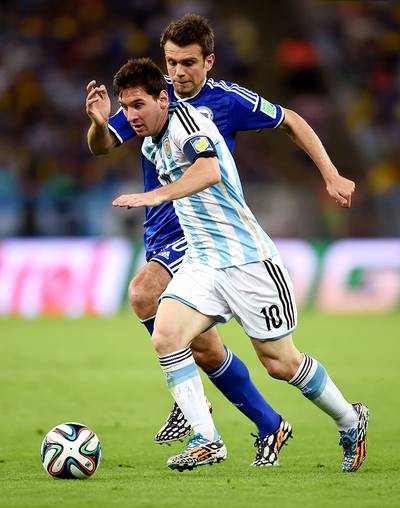 35 / 39
Argentina, France, Switzerland Win in World Cup Action - Argentina, Switzerland and France all won in World Cup action live from Brazil on Sunday. Perhaps most exciting was Haris Seferovic's match-winning goal in stoppage time to give the Swiss a 2-1 victory over Ecuador. Meanwhile, Lionel Messi scored a goal in the 65th minute to give Argentina a 2-0 lead and it never looked back, holding off Bosnia and Herzegovina, 2-1. Honduras was no match for France, as France rolled to a 3-0 victory. (Photo: Matthias Hangst/Getty Images)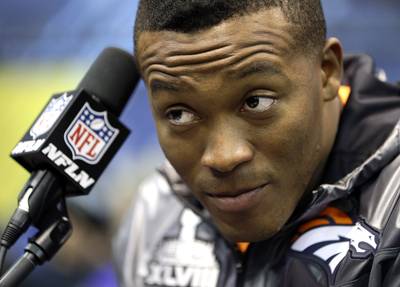 36 / 39
Broncos Offer Demaryius Thomas Five-Year Contract - The Denver Broncos must really like what they've seen from star wide receiver Damaryius Thomas through his first four years with the team. That's because the organization is reportedly offering him a five-year extension, CBS Sports has learned. The financial terms haven't been disclosed just yet. In two seasons with Peyton Manning, Thomas has tallied 186 catches, 2,864 yards and 24 touchdown catches. (Photo: Mark Humphrey/AP Photo)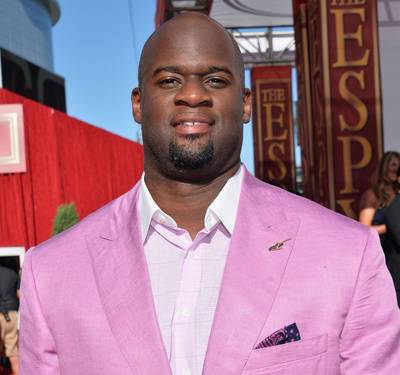 37 / 39
Vince Young Retires, Wants Job at Texas - Vince Young is calling it a career. The former NFL Rookie of the Year and two-time Pro Bowl quarterback made the decision after being cut by the Cleveland Browns last month. "It's definitely official I think in my book," Young said Saturday at his annual football camp as reported by The Sporting News. "Unless we get a great opportunity, something guaranteed...other than that I've started moving forward in some things." The Sporting News reports that Young will look to be an ambassador for his alma mater, the University of Texas. (Photo: Alberto E. Rodriguez/Getty Images for ESPY)
Photo By
Photo: Alberto E. Rodriguez/Getty Images for ESPY

38 / 39
Former Steelers Coach Chuck Noll Dies at 82 - Hall of Famer and former Pittsburgh Steelers coach Chuck Noll died at his home just outside of Pittsburgh late Friday night. He was 82. Although he suffered from Alzheimer's and heart disease, Noll passed away due to natural causes, according to CNN. Noll famously led the Steelers to four Super Bowl championships (1975, 1976, 1979, 1980). (Photo: Rick Stewart/ALLSPORT/Getty Images)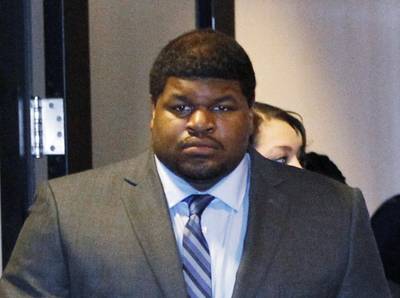 39 / 39
Former Cowboys Tackle Josh Brent Released From Jail - Former Dallas Cowboys tackle Josh Brent tragically killed his friend and teammate Jerry Brown in a December 2012 crash. After being convicted in January of intoxication manslaughter and serving 180 days in jail, Brent was released Sunday. It's unclear whether the NFL will suspend Brent, 26, before he can play again, ESPN reports. Cowboys linebacker Sean Lee reportedly attended part of Brent's trial in support of his former teammate. (Photo: Mike Stone/Landov/Reuters)