Juneteenth: Black Freedom Celebrations Around The World
June 19 is a time for Black American celebration, but Black liberation holidays happen throughout the pan-African diaspora. Here are some examples.
1 / 13
Liberia was founded in 1822 as an African nation where freed Black people could settle. On July 26, 1874, Joseph Jenkins Roberts, a Black man from Virginia, declared the country an independent republic. He was later elected its first president. Today Liberians worldwide still celebrate the day they became independent from America.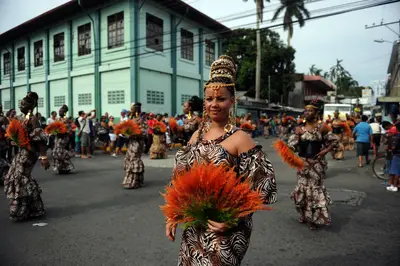 2 / 13
Costa Ricans are Spanish-speaking people who are proud of their Black roots. So much so that they observe Aug. 31 as the Day of the Black Person and Afro-Costa Rican Culture, commemorating an event thousands of miles away: the First International Convention on Blacks, which took place that day in 1920 in New York. In 1980, the Union of Educators in Costa Rica lobbied for a celebration of the rich Black culture that inhabited the island and gave rise to the first "Día del Negro."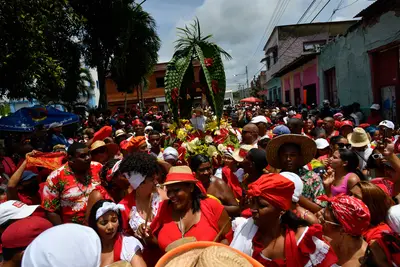 3 / 13
El Fiesta Del San Juan in Venezuela is meant to celebrate St. John the Baptist. However, Afro-Venezuelans, particularly in the nation's coastal regions, takes the July 24 holiday and gives it an Afro-Venezuelans flavor while maintaining Catholic traditions because it has traditionally been a time when Black people could celebrate their culture, even during slavery. The practice officially ended in 1854, but Afro-Venezuelans embraced the celebration.
4 / 13
One of the newer Black liberation celebrations commemorates April 27, 1994, the day of the first post-apartheid elections in South Africa. It marks the end of three centuries of colonial rule of the nation, which barred Black people from participating in the political process.
5 / 13
In Ghana, on March 6, citizens recognized the day they gained independence from Britain and those who fought to make it happen. Dr. Kwame Nkrumah, an HBCU-educated statesman, led a movement to take the land away from the rule of Queen Elizabeth II—the "Big Six," who controlled the United Gold Coast Convention. The group gained enough support for independence as the Crown reduced its hold on African colonies after World War II. The 1957 de-colonization began a wave of similar events across the continent.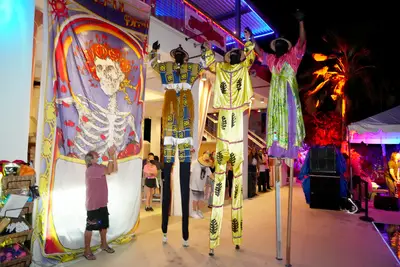 6 / 13
Residents of the U.S Virgin Islands (USVI) and Puerto Rico (PR)are American and Caribbean. Their geographic proximity means they have a shared cultural history and recognize Black freedom similarly. July 3 commemorates slavery ending in 1848 with the USVI under Danish rule. March 22, 1873, marks the end of slavery in PR when Spain ended the practice there.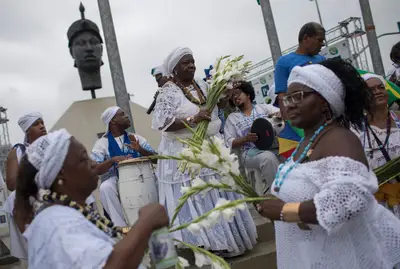 7 / 13
Brazil has one of the highest populations of Black people. The enslaved population was freed there in 1888. Black culture is rich and unique there, and Brazilians take November 20 to recognize Black Consciousness Day and their enormous contribution to Brazil's very existence.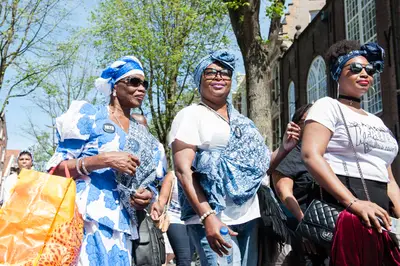 8 / 13
In former Dutch colonies like Suriname, Sint Maarten Sint Eustatius, and the Netherlands, Dutch Emancipation Day is called "Keti Koti" which means "break the chains." It signifies July 1, 1863, when slaves were freed in Suriname. Today all of the current and former Dutch colonies celebrate the day.
9 / 13
Patriots Victory Day, also known as "Arbegnoch Qen," is one Black holiday that does not celebrate liberation from slavery or colonization but rather Ethiopia's resistance against Italian invaders, who held the country for five years from 1936 until 1941. Italy ceded control, and Emperor Haile Selassie returned to the throne on May 5. The nation has celebrated ever since.
10 / 13
Taken from the Swahili word for "republic," this commemoration observes the day when Kenya became a sovereign nation 18 months after it gained self-rule. That day is called "Madraka Day" and is celebrated on June 1.
11 / 13
In several former French colonies, people celebrate Slavery Abolition Day. On several islands, the French enslaved indigenous and African people. Slavery was abolished in many places but re-established in the early 19th century by Napoleon. That lasted until the late 1840s. Martinique celebrates on May 22, Guadeloupe (pictured), Saint Martin on May 27, and French Guiana on June 10.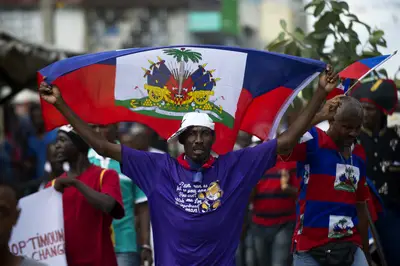 12 / 13
It is well documented that Jan 1. 1804 was the day Toussain L'Overture's forces defeated Napoleon, forcing back his troops from what had been known as Saint Domingue, making it the world's first Black republic and the first in the Western Hemisphere to abolish slavery. Today, Hatians there as well as throughout the world still celebrate the day, as they strive for stability.
13 / 13
Emancipation Day takes place Aug 1. in multiple former British colonies like Trinidad and Tobago (pictured),, as well as the United Kingdom itself and is a celebration of the British parliament's abolishment of slavery in 1834. It also serves as a celebration of Black heritage.