Ebola: What You Need to Know
Sierra Leone's most senior doctor dies from disease.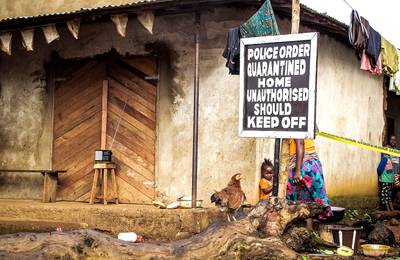 1 / 55
Sierra Leone Doctor Dies From Ebola - Sierra Leone suffered a major loss in the fight against Ebola on Dec. 18 when Dr. Victor Willoughby, the nation's most senior physician, became the 11th doctor in the country to succumb to the disease, AP reported. That same week, President Ernest Bai Koroma reportedly imposed new restrictions on public transit and gatherings, including holiday celebrations. For the past several months, this deadly disease has wreaked havoc in West Africa. Learn more about this deadly disease.— Kellee Terrell and Patrice Peck(Photo: Michael Duff, File/AP Photo)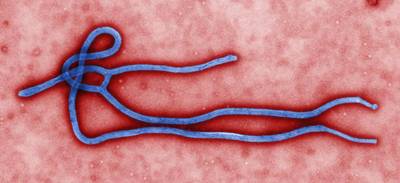 2 / 55
What Is Ebola? - Discovered in 1976, Ebola is a rare virus that kills 60 percent of those who come in contact with it. More than 6,800 people have died from the virus, says the World Health Organization. (Photo: AP Photo/CDC)

3 / 55
Why Is Ebola So Deadly? - One reason why Ebola is so deadly is because it completely attacks our immune system. Ebola kills our white blood cells, which makes it near impossible for our bodies to fight off the virus. This is what sets off the disease. (Photo:S TEVE GSCHMEISSNER/Getty Images)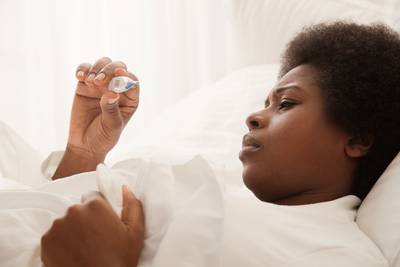 4 / 55
What Are the Symptoms? - Early symptoms look like the flu: Fever, aches, weakness, sore throat, diarrhea, vomiting and rash. Over time they develop into internal bleeding and bleeding from the eyes, ears and mouth, kidney failure and death. (Photo: Getty Images)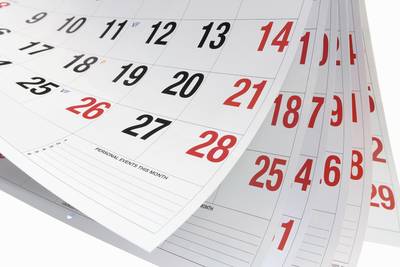 5 / 55
How Long Before Symptoms Show - Symptoms can start to show from two days after infection, but can take up to 21 days. People are contagious as soon as they start to show symptoms and for as long as their blood and other bodily fluids contain Ebola. (Photo: sunstock/GettyImages)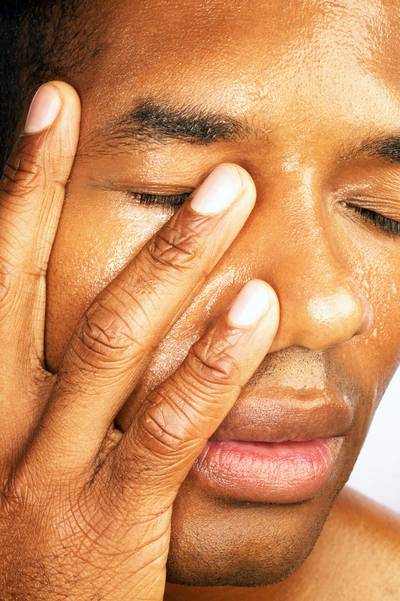 6 / 55
How Is It Transmitted? - Ebola can be transmitted through an infected person and animal's blood or bodily fluids such as sweat, urine and semen. It can also be transmitted through bedding and medical tools that are infected. You can also get Ebola from someone who is dead or alive, but note that it's hard to get. (Photo: Plush Studios/Getty Images)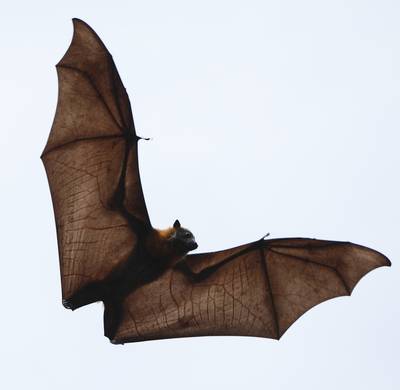 7 / 55
Why Now? - Ebola has a history of popping up and then going away. The disease mostly lives in animals, especially in bats, writes Vox, and somehow "spills over" into humans. Outbreaks usually happen for a few months, yet this outbreak has been much longer. (Photo: Craig Dingle/Getty Images)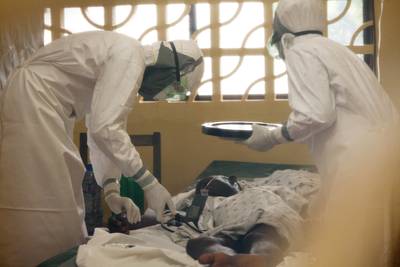 8 / 55
How Is Ebola Treated? - There is no cure for Ebola. Currently, people are treated for the symptoms; including fluids for dehydration, oxygen for those who have issues breathing; meds to control fever and blood clots; and antibiotics. Treatment works for almost 40 percent of the people infected with Ebola. (Photo: AP Photo/Samaritan's Purse)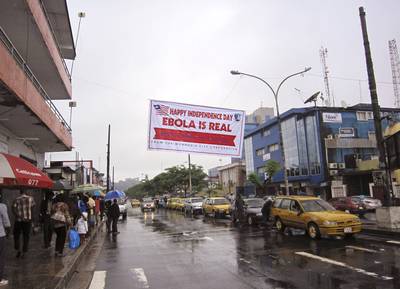 9 / 55
What Is Being Done? - Health care workers in Africa are working hard to control the outbreak by providing treatment, doing public awareness and placing those traveling from these countries in quarantine. But it hasn't been easy. (Photo: AP Photo/Jonathan Paye-Layleh)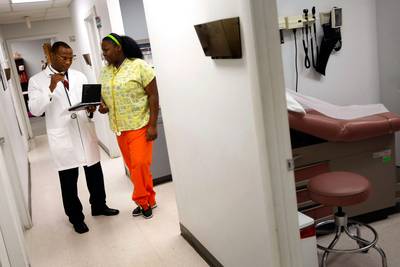 10 / 55
Should We Be Worried? - Despite the fact that a few Americans traveling to Africa have died from the virus, the likelihood of it spreading to outbreak proportions here in the U.S. is unlikely. Here, doctors are better equipped and trained to handle an infected person to prevent the disease from spreading. (Photo: Joe Raedle/Getty Images)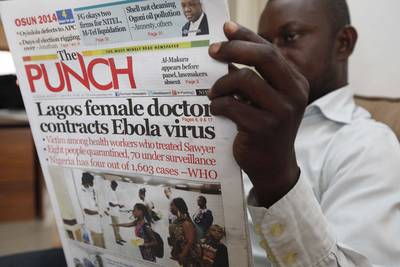 11 / 55
Nigeria Confirms 1 Ebola Death, 5 Cases - On Aug. 6, Nigeria's health minister announced that a local nurse who treated Patrick Sawyer, a 40-year-old American of Liberian descent, with Ebola is now dead and five others are now infected with the virulent disease. Sawyer was traveling on a business flight to Nigeria last month when he fell ill. (Photo: AP Photo/Sunday Alamba)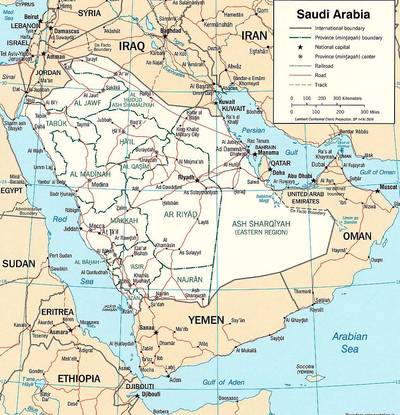 12 / 55
Saudi National Being Tested for Ebola Dies - A 40-year-old Saudi national who became sick after returning from Sierra Leone died on Aug. 6 in his hospital isolation ward where he was being tested for the Ebola virus, the Saudi Health Ministry reported. The man had been showing symptoms of the viral hemorrhagic fever and was hospitalized upon his return to Saudi Arabia.(Photo: Courtesy of University of Texas at Austin Library)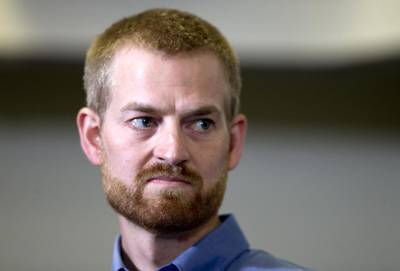 13 / 55
American Aid Workers Cured - Dr. Kent Brantly (pictured) and Nancy Writebol, American aid workers who contracted Ebola while working in West Africa and received the experimental drug Zmapp, were discharged from Emory University Hospital on Aug. 21. At a press conference, Dr. Bruce Ribner, director of Emory's infectious disease unit, said that they had recovered and were no longer contagious. (Photo: AP Photo/John Bazemore)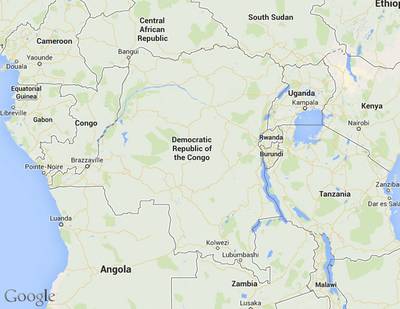 14 / 55
New Ebola Cases in DR Congo - Two new Ebola cases were reported in the Democratic Republic of Congo, a government spokesman said on Aug. 24. However, the central African country's health minister claimed that the strain is different from the one that has killed nearly 1,500 throughout West Africa. The death of Dr. Abrahim Borbor, a Liberian doctor who had received the ZMapp drug, was also declared on Aug. 24.(Photo: Google Maps)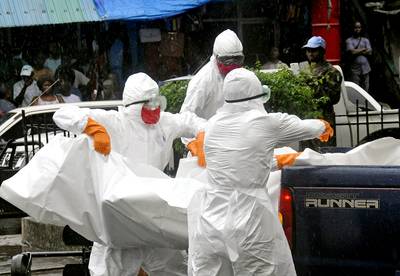 15 / 55
"Losing the Battle" - "Six months into the worst Ebola epidemic in history, the world is losing the battle to contain it," Joanne Liu, president of Doctors Without Borders, said at a recent U.N. forum on the outbreak. While Liu called on other countries to send medical workers and material contributions, President Barack Obama discouraged West Africans from directly touching the bodies of Ebola victims. "You can respect your traditions and honor your loved ones without risking the lives of the living," Obama said in the brief video message on Sept. 2, AP reports.(Photo: Abbas Dulleh/AP Photo)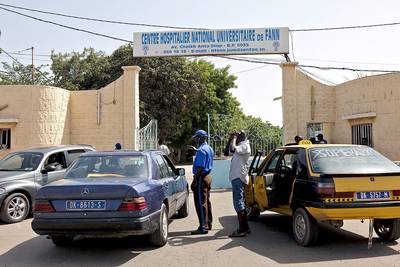 16 / 55
New Case in Senegal - Senegal is facing its first Ebola case after a student infected with the deadly disease crossed into the country in August, despite border closure. The student, who has lost three family members to the virus, initially concealed from doctors that he had been in contact with infected people and was first treated for malaria. The Senegal Health Ministry announced that it has tracked down everyone the student came into contact with and are examining them twice a day, AP reports.(Photo: Jane Hahn/AP Photo)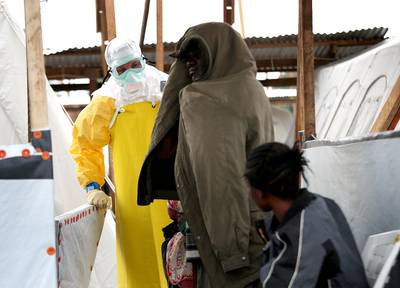 17 / 55
Third American Sickened by Ebola - Boston-based Dr. Rick Sacra became the third American infected with Ebola. Sacra reportedly returned to Liberia after a fellow missionary worker and doctor fell ill with the virus, although he was delivering babies at the missionary group's hospital and not caring for Ebola patients. (Photo: John Moore/Getty Images)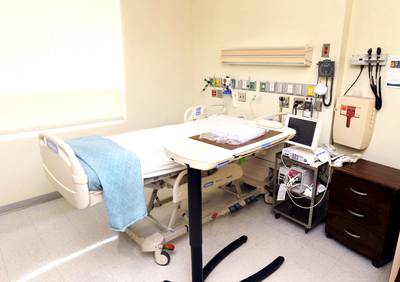 18 / 55
Fourth Sickened Aid Worker Flown to Emory - The fourth American aid worker infected with the Ebola virus arrived in the U.S. on Sept. 9. The unnamed patient will receive medical treatment at Emory University Hospital in Atlanta, where two other American aid workers have been successfully treated, AP reports. Dr. Rick Sacra, who was recently flown in from Liberia after contracting the virus, remains in stable condition at the Nebraska Medical Center in Omaha.(Photo: Jack Kearse/Emory University via Getty Images)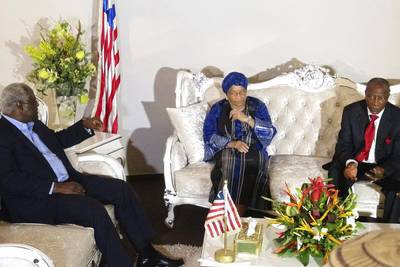 19 / 55
Liberian President Ellen Johnson Sirleaf Requests Aid - Liberian President Ellen Johnson Sirleaf appealed to Obama on Sept. 13 for immediate help in tackling Ebola, saying that her country will lose the fight against the virus without it, Reuters reported. The following day, President Sirleaf announced that she had fired 10 senior officials because they had disregarded instructions to return from abroad to help the government fight Ebola.(Photo: Saliou Samb /Stringer/Landov)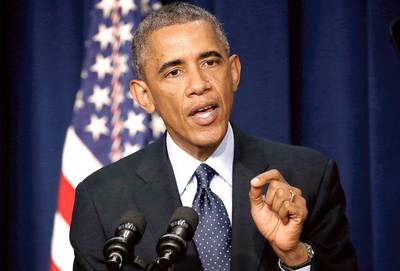 20 / 55
President Obama Deploys Troops to Aid - On Sept. 16, the United States vowed to send 3,000 military engineers and medical personnel to West Africa to train health care workers and construct treatment clinics to stop the spread of the virus, Reuters reported. President Sirleaf said on Sept. 17 that she hoped Obama's decision to send troops would motivate other countries to also provide urgent aid.(Photo:Win McNamee/Getty Images)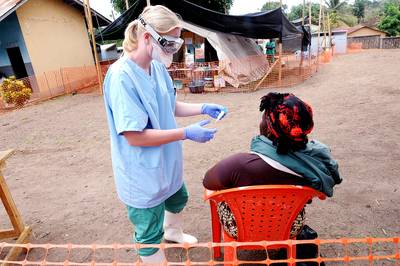 21 / 55
MSF Staff Contracts Ebola - The global medical charity organization Médecins Sans Frontières, also known as Doctors Without Borders, reported on Sept. 17 that a French nurse volunteering in Liberia had contracted Ebola, increasing the tally of local infected MSF staff to seven. They also reported that three of their infected staff members have died from the virus.(Photo: Seyllou/AFP/Getty Images)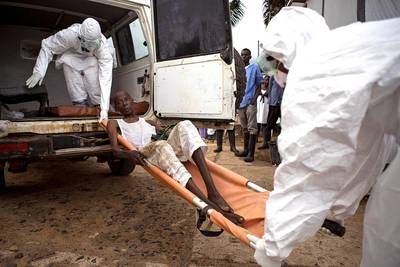 22 / 55
An Attack in Guinea - According to Guinean government officials, eight bodies, including those of three journalists, were reportedly found on Sept. 18 after an attack on a team trying to raise awareness about Ebola in a remote region of the country. WHO also updated its tally of Ebola's toll: 2,630 dead out of 5,357 infected, Reuters reported.(Photo: Tanya Bindra/AP Photo)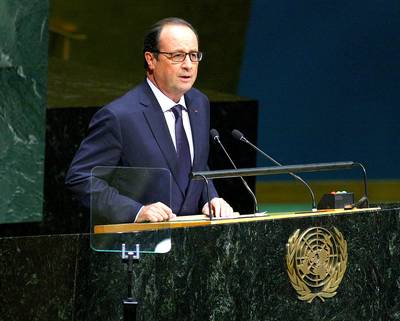 23 / 55
French President Francois Hollande Vows to Help - On Sept. 18, French President Francois Hollande promised to deploy a military hospital in the Forest Region of southeastern Guinea, where Ebola was first detected in March.(Photo: Monika Graff/UPI/Landov)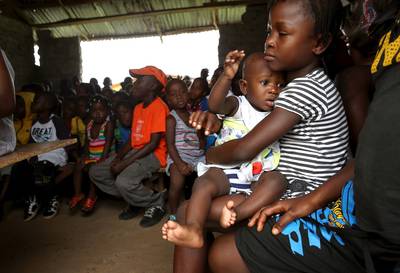 24 / 55
Orphans Shunned - UNICEF reported on Sept. 30 that at least 3,700 children in Liberia, Guinea and Sierra Leone whose parents have died from Ebola face being shunned. Children as young as three and four years old are in urgent need of special attention and support, the U.N. children's organization said.(Photo: John Moore/Getty Images)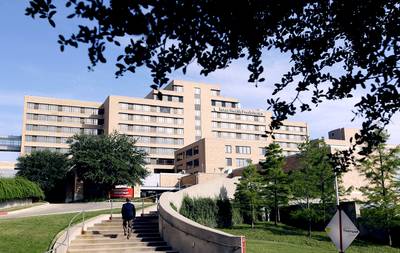 25 / 55
Thomas Eric Duncan Dies, Nina Pham Is Infected in Dallas - The first Ebola patient diagnosed in the United States died on Oct. 8 in a Dallas hospital, the Associated Press reported. Thomas Eric Duncan carried the disease from his home country, Liberia. Last week, Nina Pham became the first person infected with the disease in the U.S., after treating Duncan in Dallas. (Photo: LM Otero/AP Photo)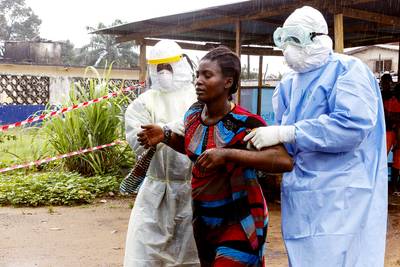 26 / 55
Up to 10,000 Cases Per Week Anticipated - On Oct. 14, the World Health Organization estimated that there could be up to 10,000 Ebola cases per week in Guinea, Liberia and Sierra Leone by December. The agency also reported that the current outbreak is now killing 70 percent of its victims.(Photo: Ahmed Jalanzo/EPA/Landov)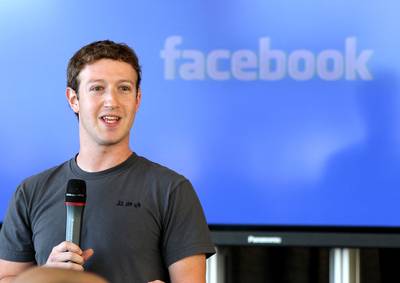 27 / 55
Mark Zuckerberg Donates $25 Million - Facebook founder Mark Zuckerberg and his wife, Priscilla Chan, are donating $25 million to the U.S. Centers for Disease Control and Prevention to fight Ebola, he announced on Oct. 14. "We need to get Ebola under control in the near term so that it doesn't spread further and become a long term global health crisis that we end up fighting for decades at large scale, like HIV or polio," he wrote.(Photo: Justin Sullivan/Getty Images)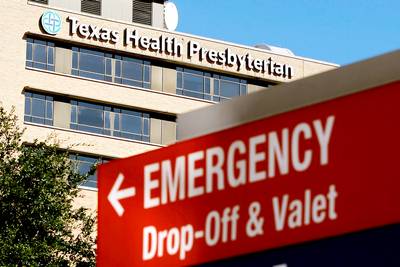 28 / 55
Second Nurse Diagnosed With Ebola - A second Texas nurse who tested positive for Ebola has been put into isolation, Dallas officials announced on Oct 15. Because Amber Vinson was on a commercial flight from Cleveland to Dallas the night before she was diagnosed with the deadly virus, the CDC is now contacting the 132 passengers who flew with her. The flight crew members claimed Vinson had no symptoms during the flight. (Photo: Mike Stone/Getty Images)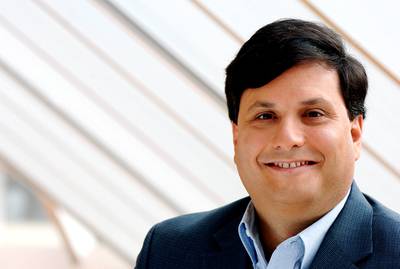 29 / 55
Obama Picks Ebola 'Czar' - The Obama administration has named Ron Klain an "Ebola czar," making the veteran crisis-response operative and former chief of staff to Vice President Joe Biden responsible for overseeing health security in the U.S. and abroad. "What we were looking for is not an Ebola expert but rather an implementation expert, and that's exactly what Ron Klain is," said Josh Earnest, the White House press secretary.(Photo: AP Photo/Revolution)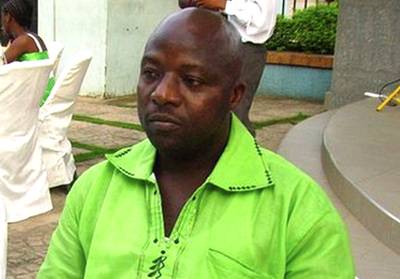 30 / 55
Thomas Eric Duncan's Fiancée Cleared - The fiancée of Thomas Eric Duncan, the first person diagnosed with Ebola in the U.S., and three family members have been cleared after not demonstrating any symptoms during a 21-day monitoring period. "We are so happy this is coming to an end, and we are so grateful that none of us has shown any sign of illness," Louise Troh said in a statement on Oct. 19. "We have lost so much, but we have our lives and we have our faith in God, which always gives us hope."(Photo: Wilmot Chayee/AP Photo)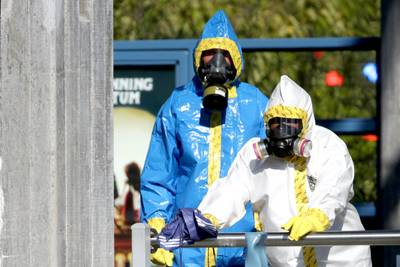 31 / 55
Dallas Officials Announce Conflicting Numbers - Dozens of people who also came into contact with Duncan have also been cleared, according to Dallas County Judge Clay Jenkins and Mayor Mike Rawlings on Oct. 20. However, the exact numbers from each official conflicted with one another. Texas Nurses Nina Pham and Amber Vinson remain hospitalized, CNN reports. (Photo: Chip Somodevilla/Getty Images)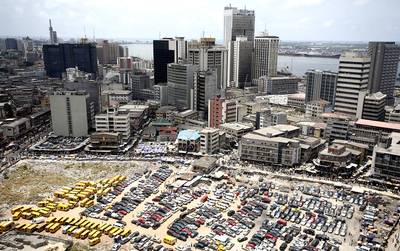 32 / 55
Two African Countries Free of Ebola - Both Nigeria and Senegal have been declared Ebola-free by the World Health Organization. "What the World Health Organization is saying is that everything came together,"said NPR's Ofeibea Quist-Arcton. "Cooperation and communication between federal and local authorities in Nigeria made sure the isolated cases didn't spiral out of control and become a true catastrophe." (Photo: Akintunde Akinleye/Reuters)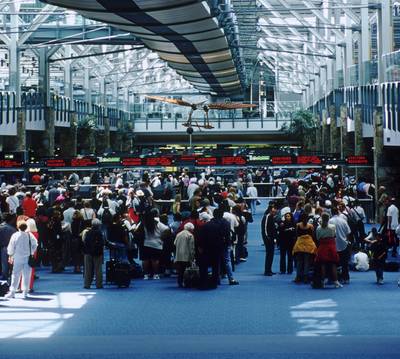 33 / 55
21-Day Monitoring - On Oct. 22, CDC announced that anyone returning to the U.S. from an Ebola-stricken African country would be monitored for 21 days starting Monday. "These new measures I'm announcing today will give additional levels of safety so that people who develop symptoms of Ebola are isolated quickly," Dr. Tom Frieden, director of the CDC, said. (Photo: Chuck Savage/Corbis)
34 / 55
First Case in Mali Announced - A Mali government official has confirmed the first case of Ebola, bringing the total count of West African nations affected by the deadly virus to six. Health Minister Ousmane Kone announced that the patient was a 2-year-old girl who recently returned from neighboring Guinea, AP reports.(Photo: Gavin Hellier/Robert Harding World Imagery/Corbis)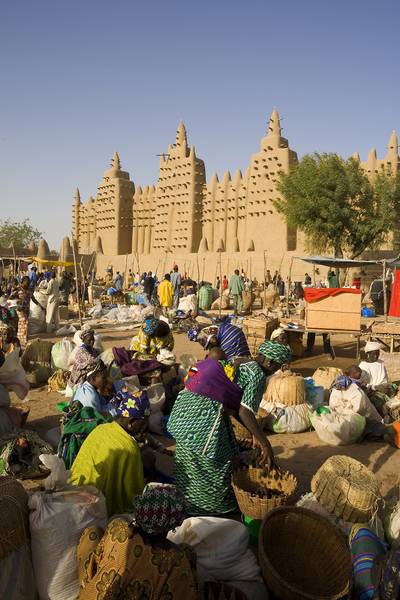 35 / 55
First Case in Mali Announced - A Mali government official has confirmed the first case of Ebola, bringing the total count of West African nations affected by the deadly virus to six. Health Minister Ousmane Kone announced that the patient was a 2-year-old girl who recently returned from neighboring Guinea, AP reports.(Photo: Gavin Hellier/Robert Harding World Imagery/Corbis)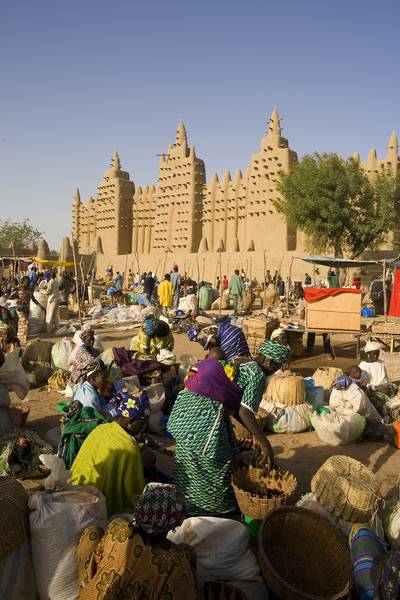 36 / 55
First Case in Mali Announced - A Mali government official has confirmed the first case of Ebola, bringing the total count of West African nations affected by the deadly virus to six. Health Minister Ousmane Kone announced that the patient was a 2-year-old girl who recently returned from neighboring Guinea, AP reports.(Photo: Gavin Hellier/Robert Harding World Imagery/Corbis)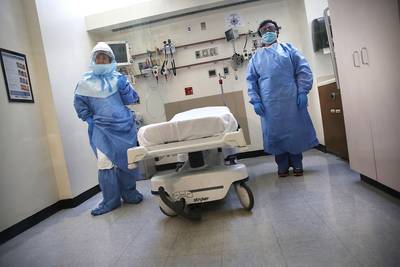 37 / 55
Patient Tests Positive for Ebola in New York City - A 33-year-old doctor tested positive for Ebola at Bellevue Hospital in New York City on Oct. 23, New York Times reports. Craig Spencer had recently returned from Guinea where he worked with Doctors Without Borders. Sources say Spencer told authorities he had quarantined himself after developing nausea and a high fever, New York Daily News reports. But the young doctor traveled from Manhattan to Brooklyn in an Uber taxi to a bowling alley in Brooklyn on Oct. 22. (Photo: Spencer Platt/Getty Images)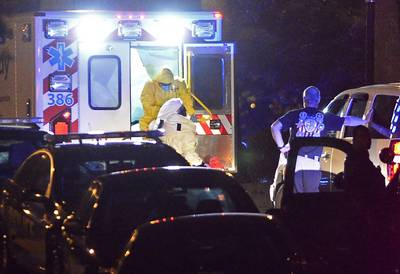 38 / 55
Nurse Is Ebola-Free, Says Family - Amber Vinson, one of two Texas Presbyterian Hospital nurses to be diagnosed with Ebola, is now free of the deadly virus, according to a family spokesperson. But a CDC spokesperson told Yahoo News that he was "not aware of Vinson's recovery." (An ambulance carrying Amber Joy Vinson on Oct. 15. Photo: AP Photo/David Tulis)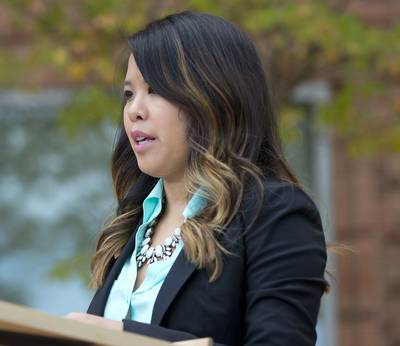 39 / 55
Obama to Meet With Cured Nurse - Nina Pham, the Dallas nurse who contracted Ebola after treating an infected man, will meet with President Obama in the White House on Oct. 24, the Guardian reported. Having been cured of the deadly virus, Pham was recently released from a Maryland Hospital. (Photo: AP Photo/Pablo Martinez Monsivais)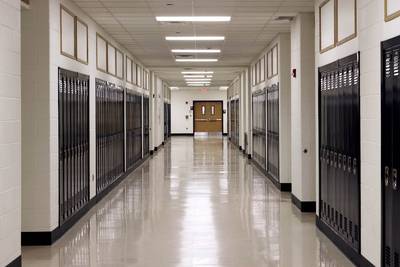 40 / 55
Young African Brothers Attacked in Bronx School, Called "Ebola" - An attack motivated by fears of Ebola put two Senegalese-American middle school students in a New York City hospital on Oct. 24. During lunchtime, Brothers Abdou and Amedou Drame were kicked and punched by their fellow classmates, who were reportedly chanting "Ebola! Ebola!" The attack at the Bronx public school was deemed a "hate crime" by local lawmakers. "Ebola is a bullying crisis in our public schools and in our charter schools," said State Sen. Bill Perkins. "Our mayor needs to take some steps so that children in our public schools know what Ebola really is and don't go out and attack their fellow students."(Photo: Tom Sibley/Corbis)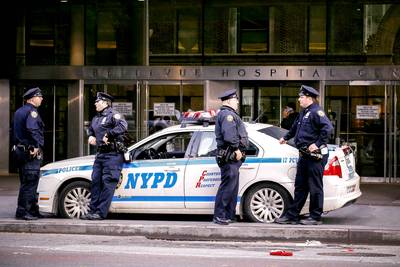 41 / 55
Boy and Mother Isolated in NYC Hospital - A 5-year-old boy who recently visited Guinea tested negative for Ebola at New York City's Bellevue Hospital, Bloomberg News reported on Oct. 28. Contrary to initial reports, he showed no symptoms when he arrived at the hospital, but he and his mother were placed in isolation. "Out of an abundance of caution, further negative Ebola tests are required on subsequent days to ensure that the patient is cleared," the health department said in the statement. (Photo: Kena Betancur/Getty Images)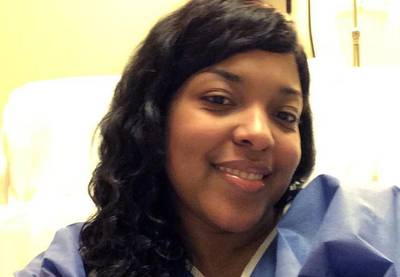 42 / 55
Second Dallas Nurse Is Ebola-Free - Dallas nurse Amber Vinson was declared free of the Ebola virus on Oct. 28, NBC News reported. She and Nina Pham contracted the deadly virus while treating Thomas Eric Duncan, the first person to be diagnosed with Ebola in the U.S. (Photo: AP Photo/Amber Vinson, File)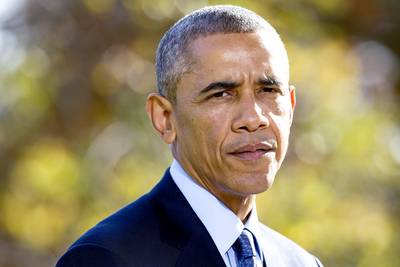 43 / 55
Obama Speaks Out on Ebola Crisis - On Oct. 28, President Obama indirectly criticized politicians, like New Jersey Gov. Chris Christie and New York Gov. Andrew M. Cuomo, who have implemented mandatory quarantines on health workers coming back from West African countries. "We don't just react based on our fears. We react based on facts and judgment and making smart decisions," Obama said." (Photo: Jacquelyn Martin/AP Photo)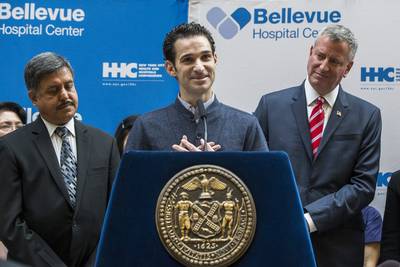 44 / 55
NYC Doctor Cured of Ebola - Dr. Craig Spencer, who was infected while working with Doctors Without Borders in Guinea, was released from New York City's Bellevue Hospital on Nov. 11, NBC News reported. The 33-year-old was the last remaining U.S. patient with Ebola. (Photo: REUTERS /LUCAS JACKSON /LANDOV)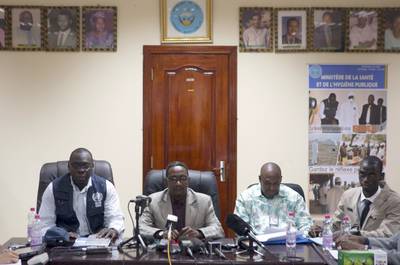 45 / 55
Mali Reports Two New Ebola Deaths - On Nov. 12, two new Ebola deaths were confirmed in Bamako, the capitol of Mali, Reuters reported. A 25-year-old nurse and another unidentified person contracted the virus from a Guinea-based imam who died with Ebola-like symptoms, but was never treated for it. The Islamic worship leader traveled to Mali for treatment in late October. Dozens of people are now in quarantine, Mali officials said.(Photo: REUTERS/JOE PENNEY/LANDOV)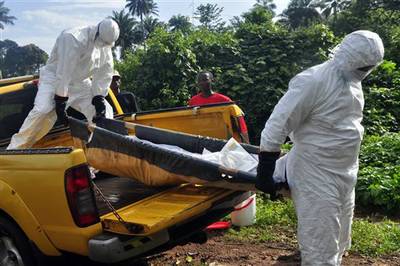 46 / 55
Liberia Ends State of Emergency - Liberia's President Ellen Johnson Sirleaf will discontinue a national state of emergency, she announced on Nov. 13. "Not because the fight against Ebola is over," she said about the move, according to The New York Times. But, because progress has been made to "sustain the fight against the virus until it is finally eradicated from our country." That Thursday, Doctors Without Borders also reported it would host Ebola clinical trials using experimental drugs starting next month. (Photo: AP Photo/Abbas Dulleh, File)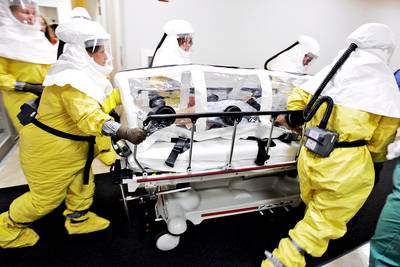 47 / 55
Ebola-Infected Doctor Being Brought to U.S. - General surgeon Dr. Martin Salia, a citizen of Sierra Leone and a permanent U.S. resident, has been diagnosed with Ebola, according to a U.S. government source. Having tested positive while working at a hospital in the Sierra Leone capital of Freetown, Salia will be flown to Nebraska for treatment, becoming the 10th person to be treated in the U.S. with Ebola. (Photo:Nati Harnik, File/AP Photo)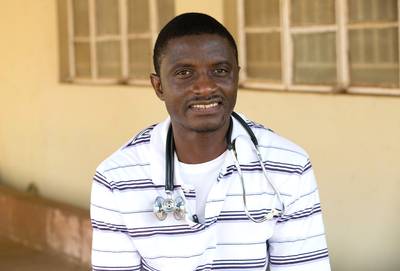 48 / 55
Dr. Martin Salia Dies - A surgeon who was diagnosed with Ebola while working in Sierra Leone and flown to the U.S. for specialized treatment has died, officials reported on Nov. 17. According to USA Today, Dr. Martin Salia, a permanent U.S. resident, died about 36 hours after arriving at the Nebraska Medical Center's Bicontainment Unit. "Dr. Salia dedicated his life to saving others," President Obama said in a statement. "He viewed this vocation as his calling."(Photo: AP Photo/United Methodist News Service, Mike DuBose, File)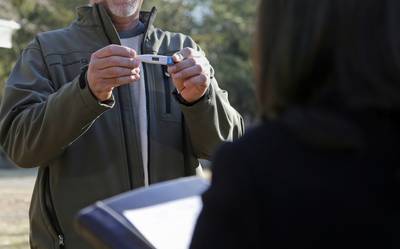 49 / 55
Liberian Hospital Needs More Volunteers, Say Doctors - Two volunteer doctors with a Charlotte-based Christian mission group told reporters in early December that there is still a need for doctors and health care workers in a 200-bed hospital in Monrovia, Liberia. Dr. John Fankhauser and Dr. Dan Crawford will fly back to the Liberian capital to help those seeking medical help. "You just feel like we have so much here in the United States available to us, not only medically but in other ways: materially and spiritually," Crawford, who is returning for a third time after a recent quarantine in the U.S., told AP. "We just feel like it's a calling to go and share those things with the people around the world who don't have as much as we do."(Dr. John Fankhauser, left, shows his temperature reading to a supervising nurse with the Mecklenburg County Health Department in Ch...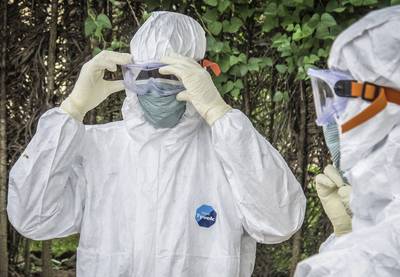 50 / 55
11th Sierra Leonean Doctor Tests Positive - Dr. Dauda Koroma became the 11th Sierra Leonean doctor to become infected with Ebola on Dec. 2. He is being treated at a military hospital in the capital. The following day, the U.N. health agency WHO announced that poor data from the outbreak is complicating efforts to track progress in containing the disease, AP reported. More than 17,000 people, predominantly residents of Guinea, Liberia and Sierra Leone, have been infected with Ebola, as of early December. (Photo: AP Photo/Michael Duff, File)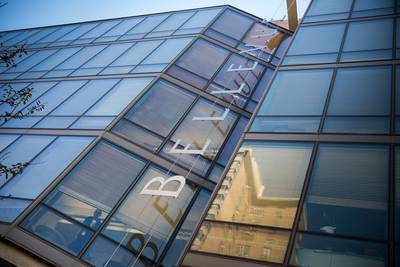 51 / 55
Ebola Monitoring Ends for Many NYC Health Workers - More than 100 workers at New York City's Bellevue Hospital who were involved in the care of Dr. Craig Spencer have been declared Ebola-free, CBS New York reported on Dec. 2. Spencer was successfully treated for Ebola after he tested positive for the disease in October.(Photo: Andrew Burton/Getty Images)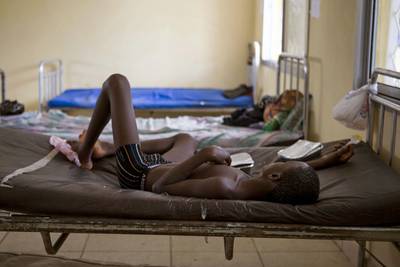 52 / 55
Nigerian Health Workers to Deploy - In late November, the African Union vowed to deploy 1,000 health care workers to fight Ebola in West Africa. But, as of Dec. 3, only 87 medical workers have been sent to Liberia, Guinea and Sierra Leone, the most stricken nations. To help deliver on the AU promise, Nigeria is gearing up to deploy 250 health workers to fight the deadly disease, AP reported. (Photo: AP Photo/Tanya Bindra,File)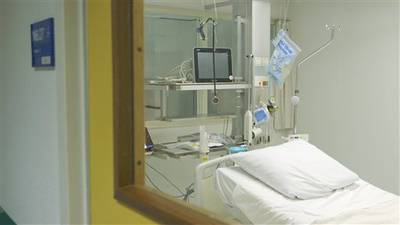 53 / 55
U.N. Peacekeeper Infected - On Dec. 5, a Dutch Health Ministry spokeswoman reported that a U.N. peacekeeper who contracted the disease in Liberia would be flown to a medical treatment center in the Netherlands that weekend. The Nigerian solider is the third person from the 7,700-person mission that has tested positive for Ebola. (Photo: AP Photo/UMC Utrecht, HO)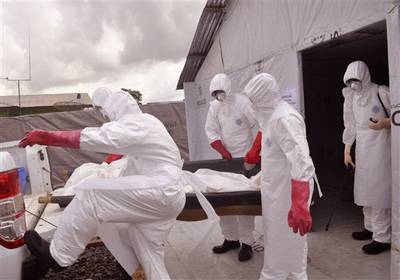 54 / 55
WHO December Target Reached - Liberia and Guinea have reached the World Health Organization's Dec. 1 target for isolating 70 percent of people infected with Ebola and safely burying 70 percent of those who die, AP reported. WHO's Dr. Bruce Aylward also said that Sierra Leone's national levels are expected improve "in the coming weeks." (Photo: AP Photo/ Abbas Dulleh)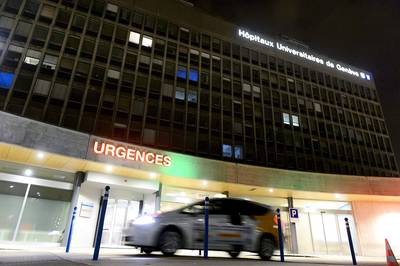 55 / 55
Swiss Ebola Vaccine Study Suspended - A 59-person study of a leading Ebola vaccine candidate has been suspeded by researchers in Switzerland due to unexpected side effects, AP reports. The Hopitaux Universitaires de Geneve released a statement on Dec. 11 citing four cases of mild joint pain in the hands and feet of volunteers who received the vaccine 10 to 15 days prior. The trial is reportedly slated to resume in Geneva in January. (Photo: Laurent Gillieron/Landov)