When Rappers and R&B Singers Beef
Did Lil B put the curse on The Weeknd?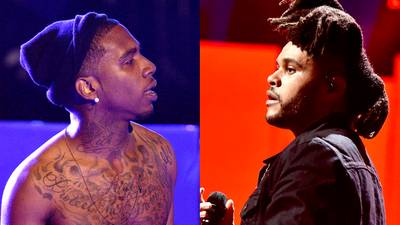 1 / 18
Lil B vs. The Weeknd - Going against Lil B is never a good idea (just ask Kevin Durant or James Harden). Even worse is if the Basedgod comes at you out of nowhere. That may peak the fears of The Weeknd. Recently releasing his latest song and accompanying video (of course) with "4 tha Record," the Berkeley, California, native takes aim at the R&B singer with the lines, "Call me Lil Bars with the XO Bars / Saying f**k The Weeknd, I can't sing that soft" and "a lot of suckas fake, so I can't respect it / F**k The Weeknd, put that on record."The song is off of his forthcoming Thugged Out Pissed Off mixtape. It is unclear as to what provoked Lil B to attack. Could this begin a new curse for The Weeknd? While we wait to see how this plays out, check out other occasions when rappers and singers couldn't get along. — BET.com Staff(Photos from Left: Tim Mosenfe...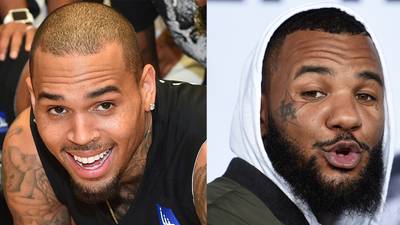 2 / 18
Game vs. Chris Brown - Chris Brown and Game are some of the latest R&B and hip hop artists to trade shots, and a line has apparently been drawn. Not feeling the West Coast MC liking pictures of his ex Karrueche Tran on IG, Chris posted, "Someone must have something they need to promote. It's sad people need gimmicks to maintain fame. All pub is good pub I guess." Putting the situation all the way out there, Game fired back with, "Keep throwing subliminals n***a…We both know when it's ME vs. YOU who gone come out on top punk…. I still owe you one for that s**t you pulled…We both know yo time coming blood."(Photos from left: Paras Griffin/WireImage, Amanda Edwards/WireImage)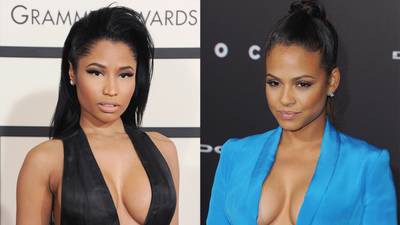 3 / 18
Nicki Minaj vs. Christina Milian - Apparently, beef knows no genre. Nicki Minaj called out Christina Milan for taking the "Pretty on Fleek" phrase she popularized and selling it on T-shirts. "I was waiting on my percentage at the door! *tilts head*" she tweeted. Wayne may have had to play peacemaker between the two Young Money cohorts because it didn't last long.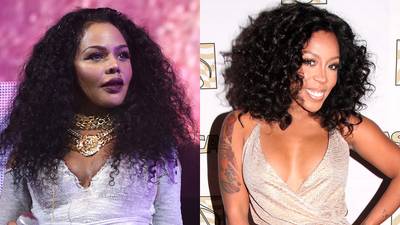 4 / 18
Lil Kim vs. K. Michelle - Lil Kim went straight for K. Michelle's neck on Instagram, calling her a "lying, sick, pyscho b**h." She disagreed with the R&B singer's memory of the first time they met. (Photos from left: WENN.com, Paul Redmond/WireImage)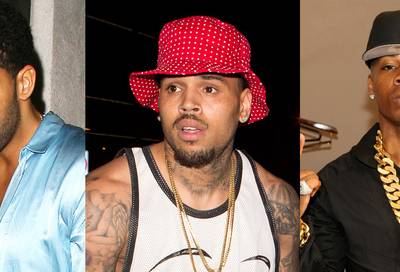 5 / 18
Chris Brown vs. Plies - Chris Brown, during a breakup with Karrueche, accused her of sneaking off to see his frenemy Drake while he was locked up. He apologized, but it came back up when Plies seemingly called him out. "If U Tell A Female Business Just When U Get Mad U A F**k N**…." the Florida MC tweeted. Breezy replied, "@plies ... If no one listens to your music anymore your career is dead blood."(Photos from left: Roshan Perera/Splash News, SPW/Splash News, Bennett Raglin/BET/Getty Images for BET)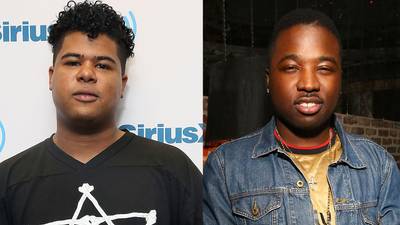 6 / 18
ILoveMakeonnen vs. Troy Ave - Drake's protégé, ILoveMakeonnen, wasn't happy with all the unofficial remixes of "Tuesday" and took to Twitter to lash out at the "bootleg game." New York emcee Troy Ave, being one of the ones who flexed over the hit, had a Twitter response of his own: "jus snow dat #we gon see about thum comments when we see u fat b***h !"(Photos from left:  Astrid Stawiarz/Getty Images, Astrid Stawiarz/Getty Images for Roc Nation)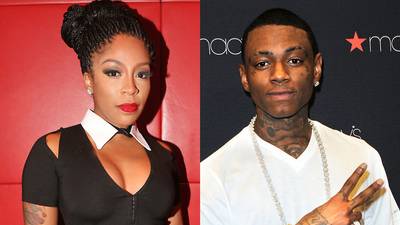 7 / 18
K. Michelle vs. Soulja Boy - Soulja Boy and K. Michelle engaged in a few heated tweets that consisted of the "Crank That" rapper saying that K's "hot pocket" wasn't so fresh to Michelle saying that Soulja had a relationship with a transgender woman.(Photos from Left: Johnny Nunez/WireImage, WENN)
Photo By
Photos from Left: Johnny Nunez/WireImage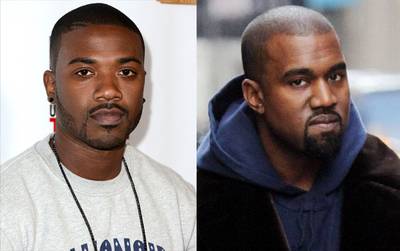 8 / 18
Ray J vs. Kanye West - Kanye West apparently had enough of the stank that came from Ray J's "I Hit It First." After the release of that song, Yeezy performed his new track, "Bound 2," on Late Night With Jimmy Fallon and had this message for Ray: "Brandy little sister lame and he know it now/When a real brotha hold you down, you're supposed to drown." (Photos from left: Frazer Harrison/Getty Images) Ralph, PacificCoastNews.com)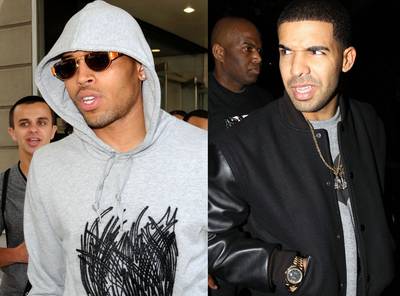 9 / 18
Chris Brown vs. Drake - Chris Brown and Drake were involved in a bottle-throwing brawl at a night club in Manhattan, leaving Breezy and several bystanders sporting wounds. Reportedly, the beef was over Rihanna.(Photos from left: Hall/Pena, PacificCoastNews.com, PacificCoastNews.com)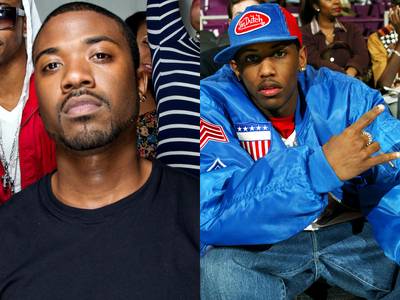 10 / 18
Ray J vs. Fabolous - Triggered by a joke Fabolous made about Ray J on Twitter, the two scuffled in Vegas in September 2011. Ray claimed he knocked Fab out, and Fab brushed off the incident as just a case of too-much-alcohol and a bruised ego on Ray J's part.(Ray J Photo: Adrian Sidney/Picturegroup, Fabolous Photo: Ray Amati/Getty Images)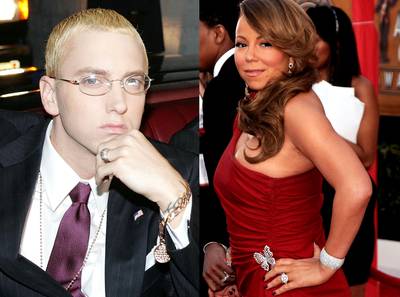 11 / 18
Eminem vs. Mariah Carey - Beginning in 2002 and ending with her then-hubby, Nick Cannon, coming to her defense, R&B singer Mariah Carey and rapper Eminem exchanged musical jabs at one another including "The Warning," a track which features samples of alleged voicemails to Em left by Carey.(Mariah Photo: Gregg DeGuire/PictureGroup, Eminem Photo: Frank Micelotta/Getty Images)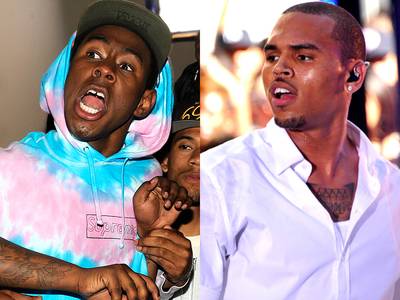 12 / 18
Tyler, the Creator vs. Chris Brown - Tyler, the Creator came to the defense of Odd Future crew member Hodgy Beats in a Twitter battle with Chris Brown, who tweeted his disdain for "dark music," (for which OF is known). The beef was later revisited when Brown sent another perceived diss at OF crooner Frank Ocean.(Chris Brown Photo:  Stephen Lovekin/Getty Images, Tyler The Creator Photo: Frank Micelotta/PictureGroup)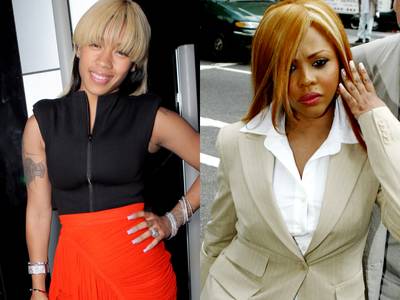 13 / 18
Keyshia Cole vs. Lil Kim - The Queen B let her dislike of Nicki Minaj get out of hand when she brought R&B diva Keyshia Cole into the fray, calling her a traitor for doing a song with the Barb. Cole set Kim straight on Twitter, defining the word "friend" and clarifying that their collaboration "Let It Go" was just business.(Lil Kim Photo: Scott Gries/Getty Images, Keyshia Cole Photo: Adrian Sidney/PictureGroup)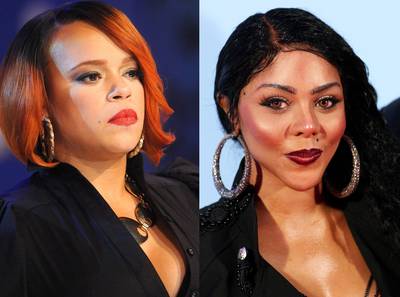 14 / 18
Lil Kim vs. Faith Evans - The well-known beef between Lil Kim and Faith Evans over her late husband, Notorious B.I.G., turned another page when Evans gave her account of catching Kim in bed with Biggie in her book, Keeping the Faith.(Lil Kim Photo: Dave Hogan/Getty Images, Faith Evans Photo: Brad Barket/PictureGroup)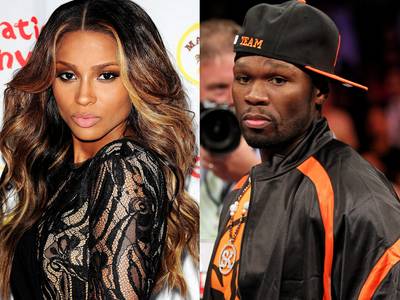 15 / 18
Ciara vs. 50 Cent - In another case of "When Subliminal Tweets Go Wrong," 50 Cent called Ciara out for calling attention to tweets he was sending in pursuit of some "strong potential hoes." Although the back and forth was quickly halted by 50, the exchange between the once rumored couple raised a lot of eyebrows.(Ciara Photo: Johnny Louis/WENN.com, 50 Cent Photo: Al Bello/Getty Images)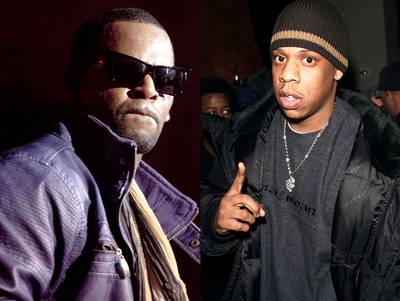 16 / 18
R. Kelly vs. Jay Z - When Jay Z and R. Kelly teamed up for Best of Both Worlds, neither knew it would be at the expense of their friendship. Kellz' legal issues interfered with the duo's touring schedule, so they tried again on Unfinished Business, however, Kelly unexpectedly dropped out of that tour as well, during a stop in New York. He claimed someone was threatening his life. Jay told the audience that night, "I don't need that n***a."(R Kelly: Photo: Jakubaszek/Getty Images, Jay Z  Photo: Nick Elgar/ImageDirect)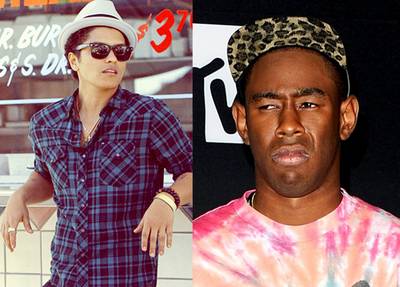 17 / 18
Bruno Mars vs. Tyler, the Creator - This relatively one-sided beef between Tyler, the Creator and Bruno Mars was started when Tyler dissed the "Just the Way You Are" singer on his track "Yonkers." Despite repeated disses since, the Grammy-winning singer has continued to dismiss the teenager's insults.(Bruno Photo: Courtesy Atlantic Records,  Tyler Photo: Jason Merritt/Getty Images)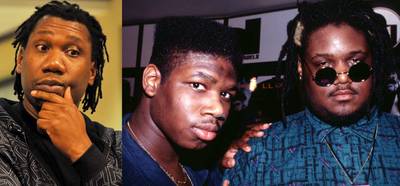 18 / 18
KRS-One vs. PM Dawn - KRS-One notoriously rushed the stage at a PM Dawn concert in 1992 in response to a disparaging statement Prince Be made in Details magazine. KRS not only tossed the group off stage, but also used it to perform three songs before leaving.(KRS One Photo: BET, Pm Dawn Photo: Steve Eichner/WireImage)