Sports Buzz: LeBron James, Wade, Bosh Meet to Discuss Future
Plus, Warriors aim to land Love to lure LeBron.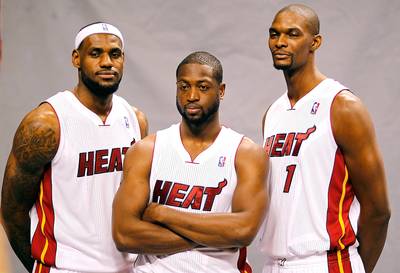 1 / 34
Miami's Big Three Meet - Just as they did in 2010 before all signing with the Miami Heat, the Big Three of LeBron James, Dwyane Wade, and Chris Bosh met to collectively discuss their future on Wednesday, ESPN is reporting. James opted out of the final two years and $42 million of his Heat contract on Tuesday. Wade and Bosh will have until midnight on Monday to decide whether or not they will follow suit. ESPN is also reporting that the Heat want to make an aggressive attempt to move up in Thursday's NBA Draft to select UConn's point guard Shabazz Napier. James tweeted during the NCAA title game, which Napier's Huskies won, in April: "No way u take a PG in the lottery before Napier." Landing Napier would entince King James to return to Miami, the Heat organization is hoping. (Photo: Mike Ehrmann/Getty Images)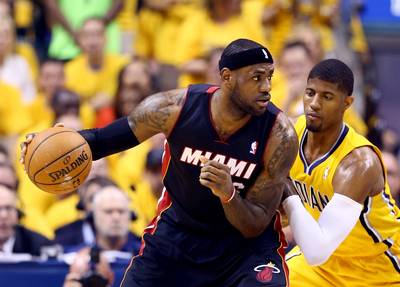 2 / 34
DIANAPOLIS, IN - MAY 20: LeBron James #6 of the Miami Heat controls the ball against Paul George #24 of the Indiana Pacers during Game Two of the Eastern Conference Finals of the 2014 NBA Playoffs at at Bankers Life Fieldhouse on May 20, 2014 in Indianapolis, Indiana. NOTE TO USER: User expressly acknowledges and agrees that, by downloading and or using this photograph, User is consenting to the terms and conditions of the Getty Images License Agreement. (Photo: Andy Lyons/Getty Images)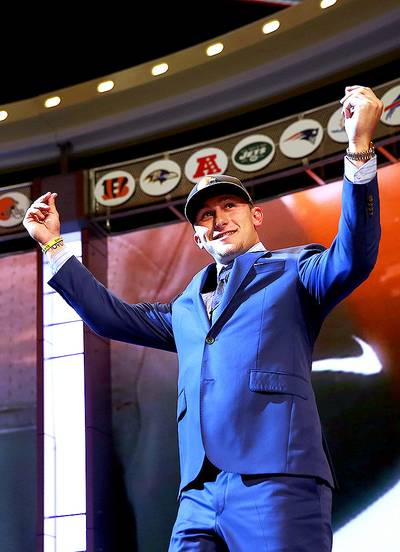 3 / 34
NEW YORK, NY - MAY 08: Johnny Manziel of the Texas A&M Aggies takes the stage after he was picked #22 overall by the Cleveland Browns during the first round of the 2014 NFL Draft at Radio City Music Hall on May 8, 2014 in New York City. (Photo: Elsa/Getty Images)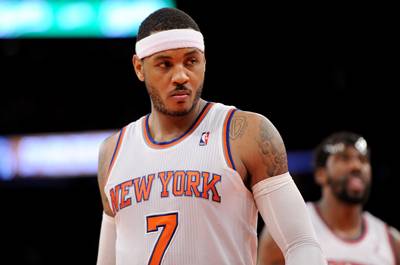 4 / 34
NEW YORK, NY - DECEMBER 16: Carmelo Anthony #7 of the New York Knicks looks on during the second half against the Washington Wizards at Madison Square Garden on December 16, 2013 in New York City. NOTE TO USER: User expressly acknowledges and agrees that, by downloading and/or using this photograph, user is consenting to the terms and conditions of the Getty Images License Agreement. The Wizards defeat the Knicks 102-101. (Photo: Maddie Meyer/Getty Images)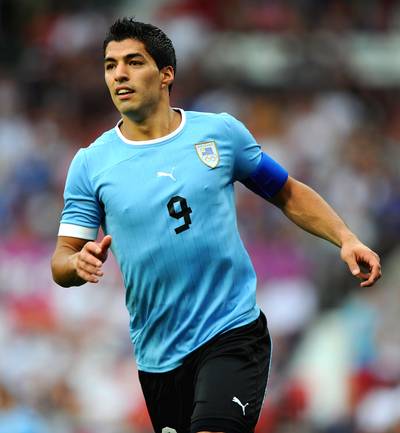 5 / 34
MANCHESTER, ENGLAND - JULY 26: Luis Suarez of Uruguay looks on during the Men's Football first round Group A Match of the London 2012 Olympic Games between United Arab Emirates and Uruguay, at Old Trafford on July 26, 2012 in Manchester, England. (Photo: Michael Regan/Getty Images)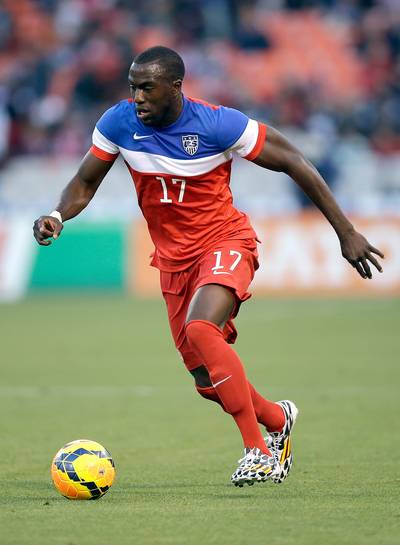 6 / 34
 SAN FRANCISCO, CA - MAY 27: Jozy Altidore #17 of the United States in action against Azerbaijan during their match at Candlestick Park on May 27, 2014 in San Francisco, California. (Photo: Ezra Shaw/Getty Images)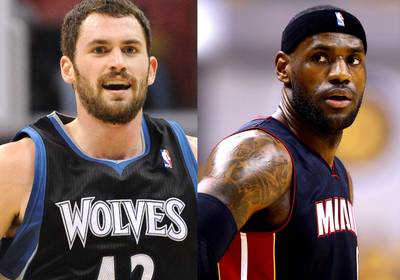 7 / 34
Warriors Aim to Land Love to Lure LeBron - Are the Golden State Warriors plotting on building a super team? That's what ESPN's Chad Ford said on ESPN LA 710 AM on Wednesday, as reported by CBS Sports. According to Ford, the Warriors are desperately trying to land Minnesota Timberwolves power forward Kevin Love via a trade to then lure the services of LeBron James. "At the end of the day, I don't think there's a better Kevin Love deal for the Wolves than what the Warriors can offer, and I think the Warriors are very motivated to get Kevin Love in part I think not just because he's an upgrade over David Lee, but in part because I think that now that you can have a Steph Curry and you have a Kevin Love, I think they feel at that point that they could be credible suitors for LeBron James," Ford said. "There are many suitors that are hoping to be credible suitors for LeBron James, but ...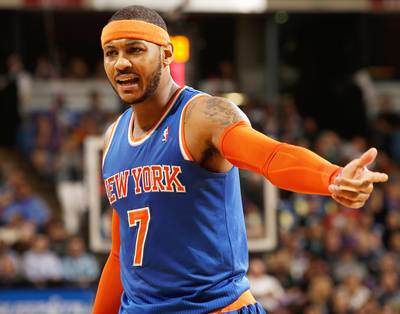 8 / 34
Carmelo Anthony to Visit Houston, Dallas, and Chicago - We've heard all about the teams interested in the services of Carmelo Anthony. Well now official team visits are coming to fruition for the New York Knicks small forward. ESPN is reporting that Melo has decided to first visit the Houston Rockets, Dallas Mavericks, and Chicago Bulls once teams are allowed to meet with free agents on July 1. In addition, also according to ESPN, even though the Los Angeles Lakers aren't on Anthony's current visit list, their superstar Kobe Bryant plans to recruit Melo to the team. Bryant, a close friend of Anthony's, spoke to Melo earlier this week and plans to meet with him as well.(Photo: Ezra Shaw/Getty Images)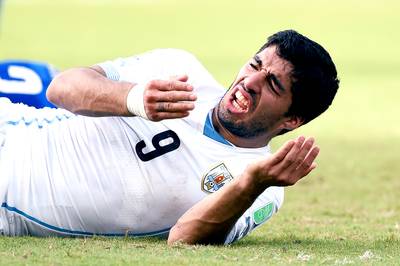 9 / 34
Luis Suarez Banned Four Months For Biting - FIFA has come down hard on Uruguay striker Luis Suarez for biting Italy defender Giorgio Chiellini during a World Cup match on Tuesday. On Thursday, FIFA announced that Suarez will be suspended for nine matches and banned for four months from all soccer-related activity, as reported by the Los Angeles Times. That means Suarez will not be available for Uruguay's second-round match with Colombia on Saturday. This was the third time Suarez bit an opponent during a match dating back to his first infraction in 2010. (Photo: Matthias Hangst/Getty Images)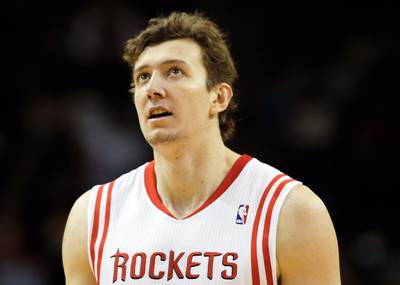 10 / 34
Rockets Trade Asik to Pelicans - The Houston Rockets have agreed to send 7-0 center Omer Asik and $1.5 million in cash to New Orleans in exchange for the Pelicans' 2015 first-round Draft pick, ESPN is reporting. The move also sets up a potential trade of Rockets guard Jeremy Lin to put the franchise under the salary cap enough to pursue Carmelo Anthony and LeBron James. (Photo: Scott Halleran/Getty Images)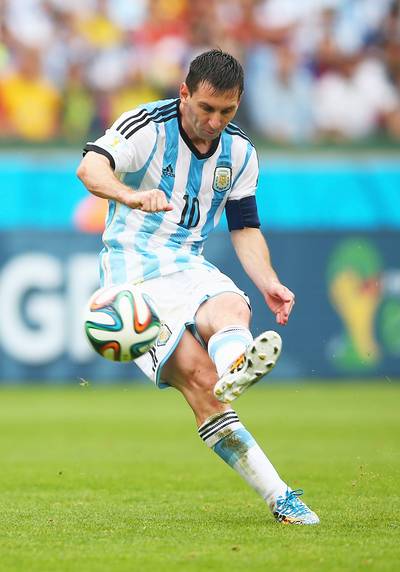 11 / 34
Lionel Messi Scores Two Goals in Argentina's Win - Is Lionel Messi leaving any doubt that he's the best player in the world? The dynamic forward struck three minutes in with a goal and again at the 45th minute to lead Argentina to a 3-2 win over Nigeria on Wednesday. Messi now has four goals through three World Cup matches. Other World Cup action Wednesday included Bosnia and Herzegovina scoring a 3-1 win over Iran, Switzerland blanking Honduras, 3-0, and Ecuador battling France to a scoreless draw. (Photo: Paul Gilham/Getty Images)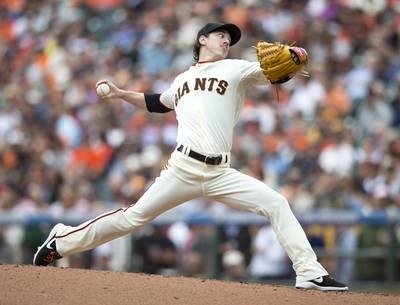 12 / 34
Tim Lincecum No-Hits Padres Again - To say that Tim Lincecum has the San Diego Padres' number at this point would be an understatement. The right-handed pitcher threw a one-walk, no-hitter in the San Francisco Giants' 4-0 win over the Padres on Wednesday, marking the second time in less than a year that Lincecum no-hit San Diego. He last notched the no-no against the Padres on July 13th, 2014. (Photo: Jason O. Watson/Getty Images)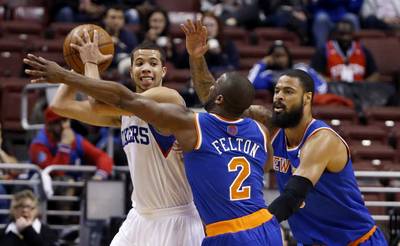 13 / 34
Knicks Deal Tyson Chandler, Raymond Felton to Mavs - The New York Knicks are not wasting any time trying to show Carmelo Anthony that things will be different if he returns to New York next year. According to multiple media reports the Knicks have traded all-star center Tyson Chandler and point guard Raymond Felton to the Dallas Mavericks in a multi-player deal. In return for Chandler and Felton the Knicks get Jose Calderon, Samuel Dalembert and Shane Larkin, Wayne Ellington and the No. 34 and 51 pick in tomorrow's draft. (AP Photo/Matt Slocum)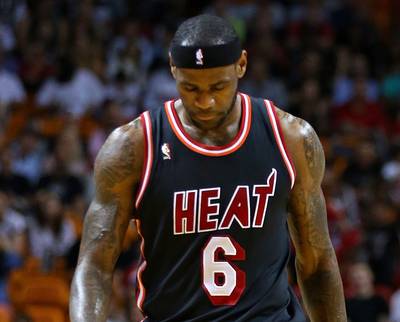 14 / 34
King James to Clippers Via Sign-and-Trade? - Do the Los Angeles Clippers have a shot of landing LeBron James? According to Yahoo Sports, they do via a sign-and-trade scenario, which would allow King James to play with friend Chris Paul and under coach Doc Rivers. However, despite James opting out of his Miami Heat contract Tuesday, he is still expected to meet with Dwyane Wade and Chris Bosh to collectively discuss their futures with the team. Is this the end of LeBron and the Big Three in South Beach? (Photo: Mike Ehrmann/Getty Images)

15 / 34
Brandon Flowers, Chargers Agree to Contract Terms - Earlier this month, the Kansas City Chiefs released cornerback Brandon Flowers because they didn't want to pick up the $10.5 million they owed for 2014. Now Flowers has a chance to stick it to his former team twice per season in the AFC West. That's because, on Tuesday, he and the San Diego Chargers agreed to terms on a new contract, a league source told CBS Sports. The exact terms of the contract haven't been disclosed as of yet.(Photo: Jamie Squire/Getty Images)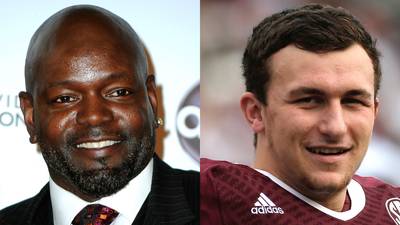 16 / 34
Emmitt Smith Says Manziel Needs to Tone Down Partying - Turn down for what? Well, in the case of Johnny Manziel, Hall of Famer Emmitt Smith believes that the Cleveland Browns rookie quarterback needs to do a better job at managing his career and partying lifestyle off the field. "That lifestyle is going to be a short lifestyle — a short career lifestyle — if he continues that," Smith said during an interview with 105.3 The Fan, as reported by CBS Sports. "As we used to say, you can't keep burning the candle at both ends of the stick. The candle gets small fairly quick. Johnny is going to have to figure it out. Hopefully he's not doing anything to hurt himself outside of drinking — which is going to harm his body and harm his performance anyway. At the end of the day, he's going to have to learn to manage those things."(Photos from left: Alberto E. Rodriguez/Getty Images, Scot...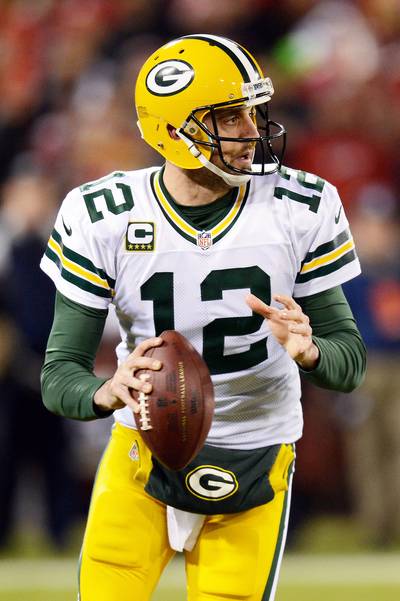 17 / 34
Aaron Rodgers Vows "Bigger, More Physically Intimidating" Packers - The Pack is back on the attack. Green Bay Packers quarterback Aaron Rodgers is looking forward to the 2014 NFL season, promising a "bigger, more physically intimidating team." "We haven't had the kind of physical talent as far as size here in a while," Rodgers told ESPN. "I think there's been times — I think back to playing Jacksonville in '08 in Jacksonville [a 20-16 Packers' loss], some of the battles we've had with our division teams at times — where you walk on the field and feel like you're kind of a JV team. We've still won a lot of games looking like that, but it's fun when you walk around the locker room and you've got guys like [Julius] Peppers, [Adrian] Hubbard, Datone Jones and then with Derek [Sherrod] back with his size, adding size at receiver, tight end with Richard Rodgers. We just h...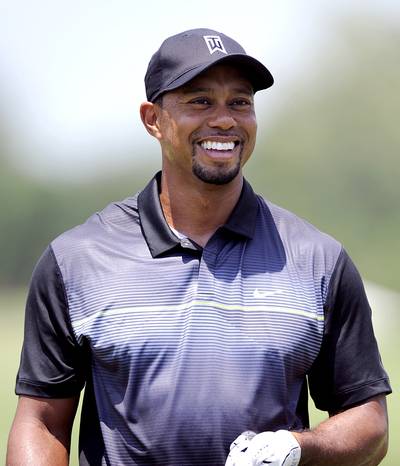 18 / 34
Tiger Woods Confirms Return - Tiger is about to be back on the prowl. Tiger Woods confirmed to the Associated Press that the British Open (July 17-20) will be his first official tournament following back surgery in March. Woods, 38, said he'll have to listen to his body more from here on out. "I have to now pick my spots when I can and can't push," he said. "Before, when you're young, I just pushed it all the time. But now I've got to listen to my body, listen to my therapist and then get treatment. When I was younger, I didn't need it." (Photo: Nick Wass/AP Photo)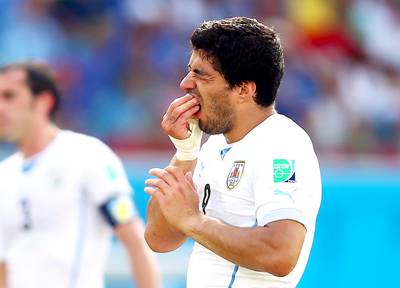 19 / 34
Uruguay's Suarez Bites Opponent, FIFA to Investigate - He's one of the best players in the world and now FIFA is investigating him for biting his opponent. Luis Suarez bit Giorgio Chiellini during the second half of Uruguay's 1-0 victory over Italy in World Cup action Tuesday. The Associated Press reported that FIFA announced early Wednesday that its disciplinary committee opened proceedings against Suarez hours after Tuesday's incident. Oddly enough, this marks the third time that Suarez has bitten an opponent on the soccer field. A suspension would definitely hurt Uruguay's chances of defeating Colombia on Saturday. Tuesday's World Cup results also included Colombia blasting Japan 4-1, Greece scoring a 2-1 win over the Ivory Coast and England and Costa Rica battling to a scoreless draw. (Photo: Clive Rose/Getty Images)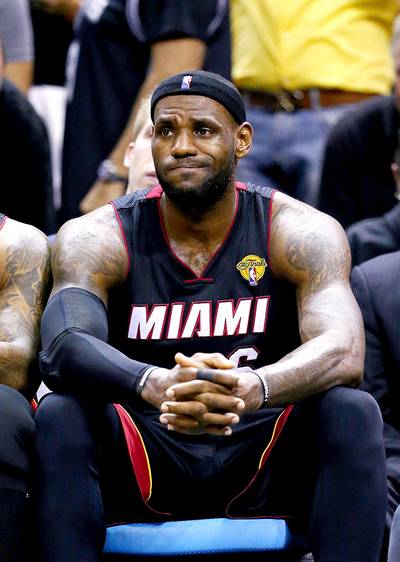 20 / 34
LeBron James to Become Free Agent - LeBron James's agent, Richie Paul, informed the Miami Heat that James will exercise his early termination option and become an unrestricted free agent, ESPN's Chris Broussard is reporting. The news comes nine days after the Heat suffered a five-game NBA Finals' loss to the San Antonio Spurs. Yahoo Sports NBA insider Adrian Wojnarowski tweeted: James is "determined to impose pressure on Miami to improve roster and spend, sources say." James was scheduled to make $20 million with the Heat next season.  (Photo: Andy Lyons/Getty Images)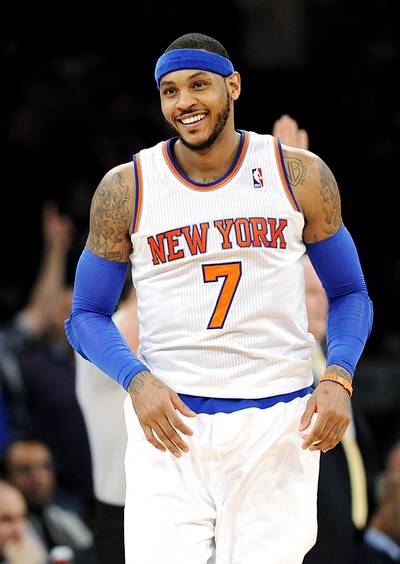 21 / 34
Seven Teams to Pitch Carmelo Anthony  - The New York Knicks reportedly already made their pitch to Carmelo Anthony about why he should stay in the Big Apple. Come July 1st, when the NBA's free agency period officially begins, seven other teams are expected to vie for Melo's services. According to ESPN, the Chicago Bulls, Houston Rockets, Dallas Mavericks, Los Angeles Lakers, Atlanta Hawks, and Miami Heat are seven other teams expected to pitch Anthony. ESPN lists Chicago as the front-runner, but walking away from the Knicks to become a Bull would spell Melo leaving $50 million on the table. (Photo: Bill Kostroun/AP Photo)
Photo By
Photo: Bill Kostroun/AP Photo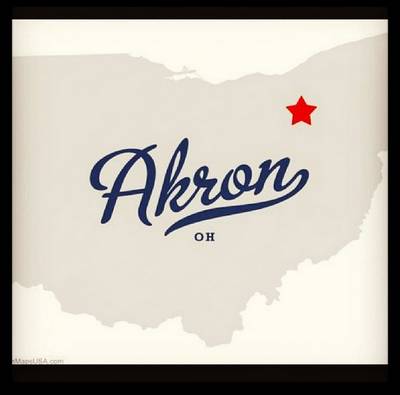 22 / 34
Savannah James's Family Vacation Tweet Causes Stir - All this speculation for a family vacation? That's what it seems like when LeBron James's wife, Savannah James, posted an Instagram image Sunday with a map of Ohio with "Akron" written across it and the accompanying caption, "Home sweet home!! The countdown is real! #330" Immediately, the Instagram post created speculation that King James would be returning to play for the Cleveland Cavaliers. However, a source tells ESPN that Savannah's post simply referred to the James family's summer plans.(Photo: Savannah Brinson via Instagram)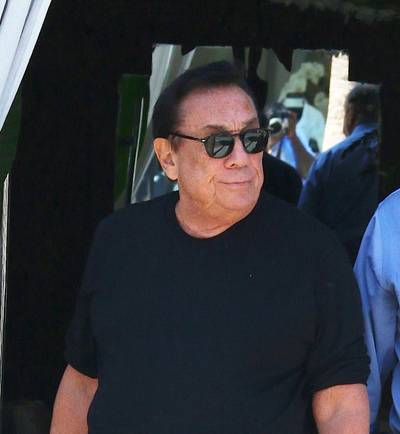 23 / 34
Donald Sterling Gets His Own Doctor to Vouch For Him - Banned NBA owner Donald Sterling has his own doctor to vouch that he is mentally competent, according to TMZ. The celebrity news website says Sterling got Dr. Jeffrey Cummings—Director of the Cleveland Clinic Lou Ruvo Center for Brain Health—to vouch for him, but he will be out of town and unable to testify in court until after July 20th. This comes after doctors originally declared Sterling medically incapacitated.(Photo: WAB / Splash News)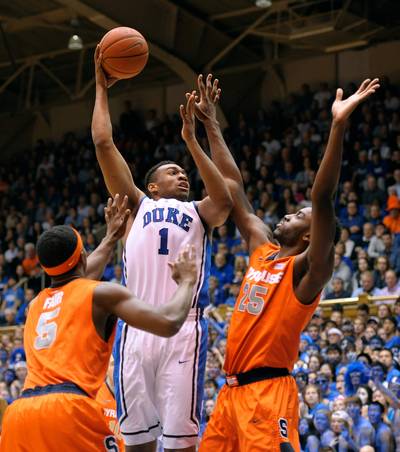 24 / 34
Report: Did Jabari Parker Tank Cavs Workout? - Sources are telling ESPN that the Cleveland Cavaliers are leaning toward taking Duke small forward Jabari Parker with the No. 1 pick in the NBA Draft now that Joel Embiid suffered a fractured foot. However, Parker being tabbed as the No. 1 pick is far from a lock, especially when his workout in front of the Cavs' front office Friday didn't go so great. Cavs sources say Parker was a bit heavy—255 pounds, which is up from the 241 listed as his playing weight—and looked indifferent. One source even told ESPN that he might have "tanked" the workout because he desperately wants to play for the Milwaukee Bucks, who have the second overall pick. The NBA Draft is on June 26th. (Photo: Grant Halverson/Getty Images)
25 / 34
Timberwolves-Warriors Talks For Love Dead - The Golden State Warriors front office is reportedly divided on including guard Klay Thompson in trade talks for the Minnesota Timberwolves power forward Kevin Love. That's what killed the potential blockbuster swap for now, CBS Sports is reporting. An original deal had the Warriors sending David Lee, Thompson, Harrison Barnes, and a first-round Draft pick to Minnesota for Love, and Kevin Martin, before Golden State expressed reservations for dealing Thompson. (Photo: Hannah Foslien/Getty Images)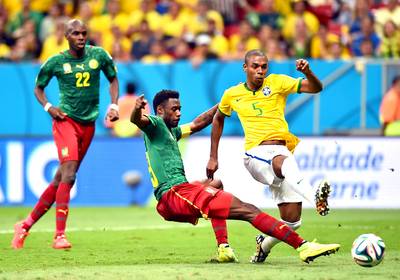 26 / 34
Brazil Rolls to Victory - Neymar is doing what stars are supposed to do on a world stage—rise to the top. The 22-year-old dynamic forward scored two goals to lead Brazil to a 4-1 victory over Cameroon in World Cup action Monday, putting the host country atop Group A and setting up a second-round showdown with Chile. Other World Cup results on Monday included Spain scoring a 3-0 win over Australia, Netherlands blanking Chile, 2-0, and Mexico pounding Croatia, 3-1, scoring three goals in a 10-minute span. (Photo: Buda Mendes/Getty Images)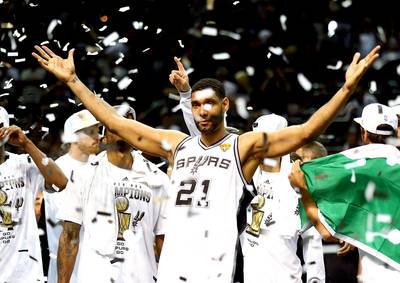 27 / 34
Tim Duncan Exercises Option With Spurs - No surprise here. After winning his fifth NBA championship, Tim Duncan exercised his $10.3 million player option Monday to re-up with the San Antonio Spurs. Duncan, 38, averaged 15.1 points and 9.7 rebounds per game this season. (Photo: Andy Lyons/Getty Images)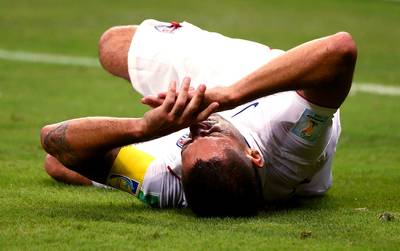 28 / 34
USA Watches Win Over Portugal Slip Away - Instead of a victory, the United States had to settle for a tie. Up 2-1 against Portugal in the waning seconds of its second 2014 FIFA World Cup match Sunday, the USA watched Cristiano Ronaldo set up a perfect stoppage-time cross pass which was converted into a header goal. The match ended in a 2-2 tie. "He made a great cross," said American goalkeeper Tim Howard of Ronaldo's pass. "Football's cruel sometimes." Clint Dempsey (pictured here) and the USA now need a draw or win against Germany on Thursday to advance to the World Cup's knock-out round. (Photo: Kevin C. Cox/Getty Images)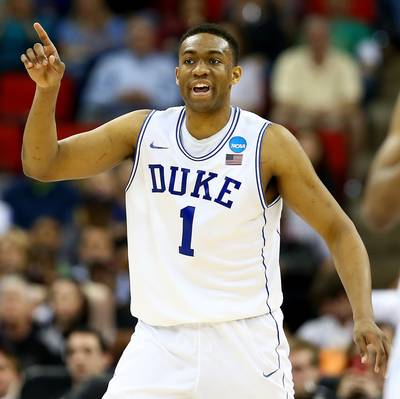 29 / 34
Cavaliers Lean Towards Jabari Parker With No. 1 Pick - With Joel Embiid suffering a fractured foot, Duke's Jabari Parker has moved into position to be the No. 1 selection in the NBA Draft by the Cleveland Cavaliers, according to CBS Sports. The 6-foot 8-inch small forward averaged 19.1 points and 8.7 rebounds per game for Duke during the 2013-14 season. CBS Sports also reports that the Milwaukee Bucks would tab Kansas's Andrew Wiggins with the second pick. (Photo: Streeter Lecka/Getty Images)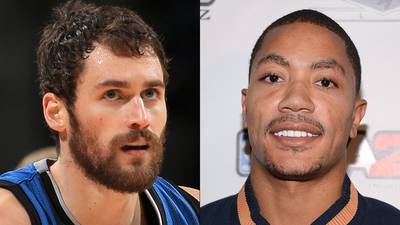 30 / 34
Derrick Rose Prefers Love Over Anthony? - According to the New York Daily News, Derrick Rose wants the Chicago Bulls to work out a deal to land Minnesota Timberwolves power forward Kevin Love. The report indicates that Rose believes that Love is more of a team player than Carmelo Anthony and would fit in better.(Photos from Left: Doug Pensinger/Getty Images, Dimitrios Kambouris/Getty Images)
31 / 34
Aaron Hernandez Has Hospital Visit - Former New England Patriots tight end Aaron Hernandez was taken out of jail to a hospital for an undisclosed problem on Saturday. The Associated Press reports that Hernandez was brought to St. Luke's Hospital in New Bedford, Massachusetts, Saturday before being returned to Bristol County jail an hour later. Hernandez has pleaded not guilty to three murders — the 2013 slaying of Odin Lloyd and the 2012 drive-by shooting of two Boston men. (Photo: Dominick Reuter, Pool, File/AP Photo)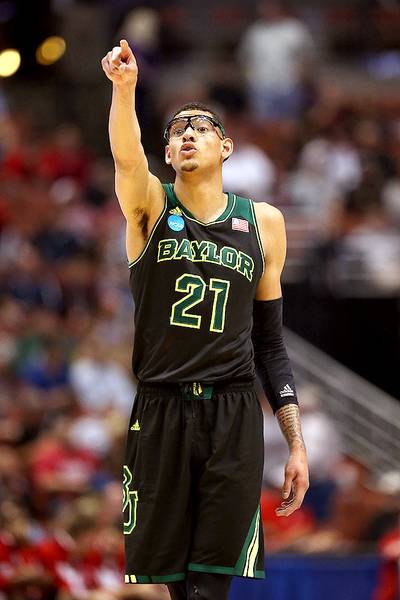 32 / 34
NBA Prospect Gets Career-Ending Prognosis - Crushing news for former Baylor center and NBA prospect Isaiah Austin — he won't be able to pursue a career in the league due to a life-threating disorder. Austin was diagnosed with Marfan syndrome, a genetic disorder that affects the body's connective tissue. Austin, 20, learned about his medical condition after undergoing a standard physical at the NBA combine and his EKG test revealing an abnormality. "They said I wouldn't be able to play basketball anymore at a competitive level," Austin told ESPN. "They found the gene in my blood sample. They told me that my arteries in my heart are enlarged and that if I overwork myself and push too hard that my heart could rupture. The draft is four days away, and I had a dream that my name was going to be called." (Photo: Jeff Gross/Getty Images)
33 / 34
Browns Teammate Suggests Manziel Needs "Phone Valet" - Cleveland Browns cornerback Joe Haden knows how rookie quarterback Johnny Manziel can limit footage of him partying from leaking out — a "phone valet." "Johnny needs to check his friends a little bit," Haden told ESPN. "Everybody is going to go out and have a good time. You gotta make sure when you're with your people, it just doesn't get out. He's going to have a good time, but a lot of things need to be taken away. You need to have a phone valet — tell your friends to put your phones away. We're going to go out but don't record." (Photo: Jason Miller/Getty Images)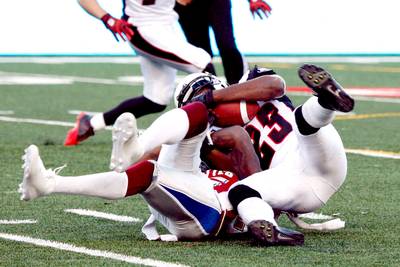 34 / 34
Chad Johnson Makes CFL Debut - Not being able to get another chance in the NFL, Chad Johnson has taken his game up North. The former NFL wide receiver made his debut for the Montreal Alouettes of the CFL on Friday, catching one pass for 13 yards. "It felt good. Nervous, butterflies. It was cool," Johnson said after the game, as reported by ESPN. "A little sloppy, I have a lot of work to do, but it felt good. It felt good to be on the field again. It was fun." In 11 NFL seasons, Johnson caught 766 passes for 11,059 yards and 67 touchdowns. (Photo: Richard Wolowicz/Getty Images)