Best LGBT Moments of 2013: Raven-Symoné , Jason Collins and More
Highlights from a landmark year for equality.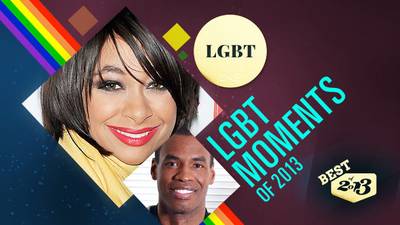 1 / 15
Best LGBT Moments of 2013: Raven-Symoné, Jason Collins and More - It was a huge year for the LGBT community, from the downfall of DOMA to openly gay athletes in professional sports. With so many big moments to celebrate, it's hard to narrow it down to a handful. But, we managed to find some groundbreaking moments that deserve special recognition. Here are our biggest LGBT moments of 2013... (Photos from left: Theo Wargo/Getty Images, AP Photo/ABC, Eric McCandless)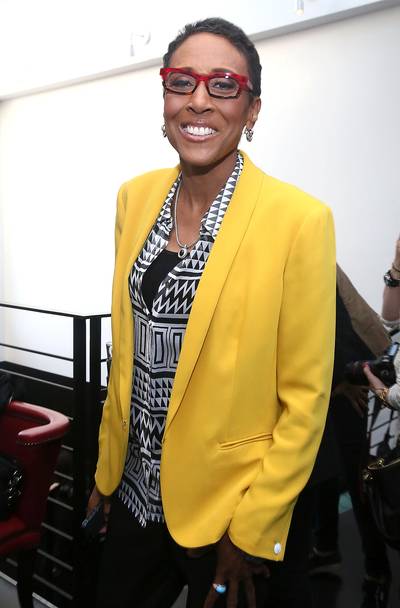 2 / 15
Robin Roberts - In December 2013, GMA's Robin Roberts celebrated an important 100 day-milestone after undergoing a blood marrow transplant.  In a Facebook post, she thanked her friends, family and — officially came out when she said — "my long time girlfriend, Amber."  The two have been together for over ten years.  (Photo by Astrid Stawiarz/Getty Images)
3 / 15
Raven-Symoné and AzMarie Livingston Find Love - The former Cosby Show star finally confirmed she is gay this past August — after the Defense of Marriage Act was struck down. In September, the actress posted a picture of herself looking very coupled up with longtime friend AzMarie Livingston. She is truly out and proud! (Photo: Rick Diamond/Getty Images for Neuro Drinks)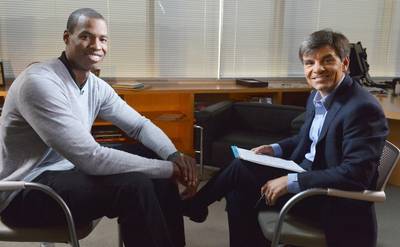 4 / 15
Jason Collins Comes Out - Professional sports has long been considered the last frontier for LGBT equality and NBA player Jason Collins burst through the barrier this past summer when he became the first active player to come out as gay. Colliins' declaration inspired millions and also earned him a pat on the back from both Presidents Obama and Clinton.  (Photo: AP Photo/ABC, Eric McCandless)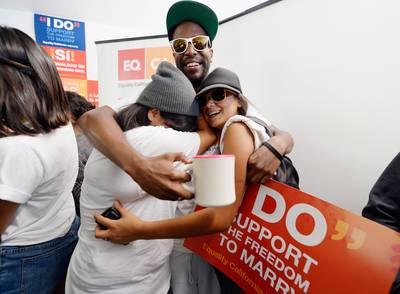 5 / 15
DOMA Goes Down - Here's change we can all believe in: the Supreme Court struck down the Defense of Marriage Act (DOMA) this past June, paving the way for states to legalize gay marriage and LGBT couple everywhere to express their love with the full backing of the government. The decision prompted celebration across the country. (Photo: Kevork Djansezian/Getty Images)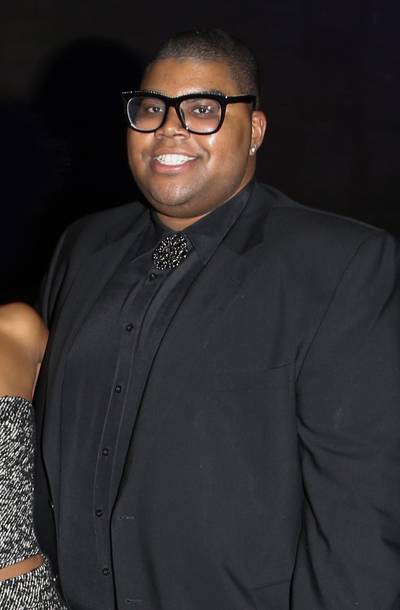 6 / 15
EJ Johnson Lands a Reality Show - EJ Johnson charmed us all when he came out publicly earlier this year (almost as much as his super-supportive dad Magic Johnson did), and now we can expect even more of the celebrity scion right in our living rooms. Johnson announced recently that he will star in the reality show Rich Kids of Beverly Hills, set to debut next year.   (Photo: Charles Norfleet/Getty Images)
7 / 15
Zoe Saldana Keeps 'Em Guessing - She may be married to an Italian hunk now, but Saldana set tongues wagging this summer when she told Marie Claire, "I may just end up with a woman, raising my kids." The actress was clearly trying to make a point about not being boxed in with regards to her sexuality.  (Photo: News Pictures/WENN.com)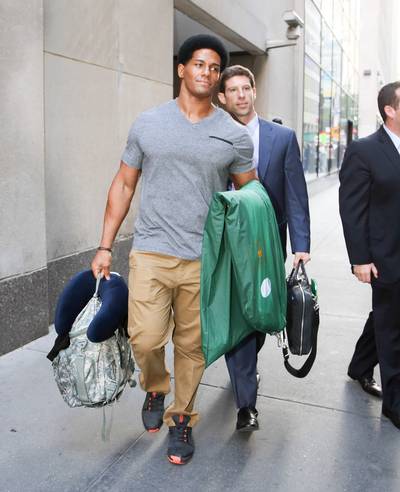 8 / 15
Darren Young Comes Out - Like Jason Collins did for the NBA, Young took a brave step this year when he became the first WWE wrestler to come out. The wrestler revealed he was "terrified" to break ground as the first openly gay athlete in the club, but said he could no longer "live a double life." As expected, his bravery has been applauded and set an example for millions.(Photo: Dave Spencer / Splash News)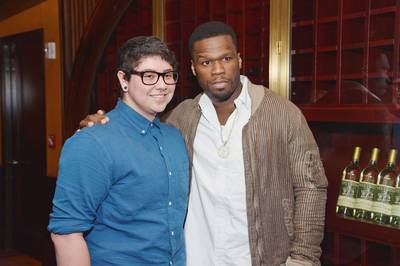 9 / 15
50 Cent Supports Transgender Teen - 50 Cent has come a long way since his days of inflammatory tweets and lyrics offending the LGBT community. The rapper and entrepreneur, who insisted he is "not a homophobe" despite his words, proved he's turning over a new leaf when he counseled a transgender teen for an episode of the Sundance Channel's Dream School.   (Photo: Mike Coppola/Getty Images for Sundance Channel)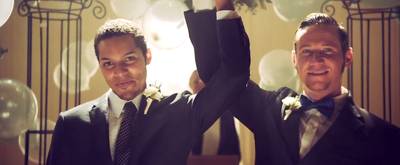 10 / 15
Macklemore & Ryan Lewis Pen Equality Anthem "Same Love" - The dynamic duo put the sentiments of millions into song when they released the power anthem "Same Love" right around the time DOMA was struck down.  The song was a hit and Jennifer Hudson performed the hit with them at this year's MTV Video Music Awards. (Photo: Macklemore LLC)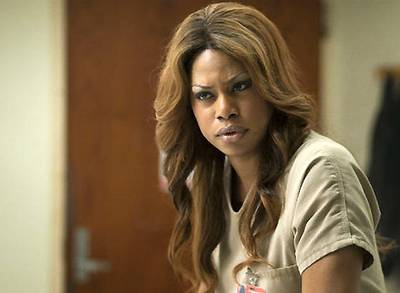 11 / 15
Laverne Cox Rocks Orange Is the New Black - The Netflix dramedy set in a women's prison is credited for creating more fresh and diverse female characters than all the network shows combined, but the series is also a big step forward for the transgender community. Cox, who plays trans hairdresser Sophia Burset in the series, says she plays a "multi-dimensional character that the audience can really sympathize with" — a first for mainstream television. (Photo: Netflix)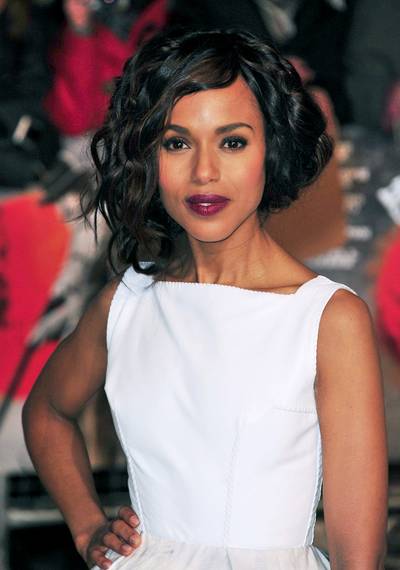 12 / 15
Kerry Washington Speaks Up - The Scandal star put to bed the lesbian rumors that have followed her for years when she married NFL player Nnamdi Asomugha this past summer (the couple recently announced they are expecting their first child), but resisted the urge to say "told you so" to gossip mongers. Instead, she told The Advocate that she has "never been bothered" by the rumors of her sexuality. "There's nothing offensive about it, so there's no reason to be offended," she added. Bravo, Kerry!  (Photo: PacificCoastNews.com)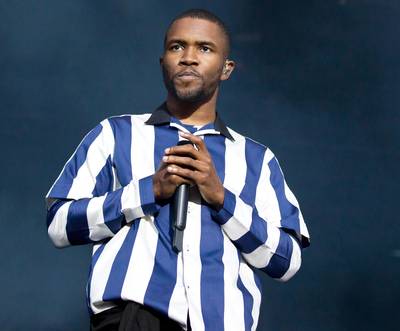 13 / 15
Frank Ocean Gets Grammy Love - After his heartfelt open letter, in which he revealed his first love was another man, put him on the map with mainstream America, the Odd Future collaborator let his music speak for itself. Ocean's debut solo album, channel ORANGE, won a Grammy Award for Best Urban Contemporary Album and the singer got a standing ovation — from everyone except nemesis Chris Brown — at the show.
14 / 15
Billy Porter Is a Tony-Winning Diva - This year, the out-and-proud actor won a Tony Award for Best Actor in a musical for his portrayal of Lola in the Broadway show Kinky Boots — only the sixth Black actor to win in that category. Porter and his Kinky Boots crew received some backlash when they performed at the Macy's Thanksgiving Day Parade, but Billy shut down the haters by saying via Twitter, "You change the world when you change your mind!!! Kinky Boots walks tall in Macy's after parade controversy."(Photo: Mike Coppola/Getty Images)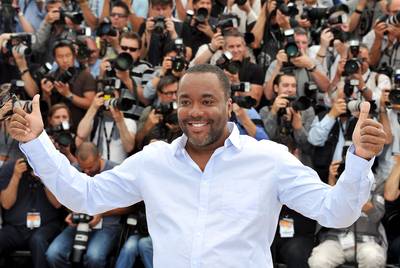 15 / 15
Lee Daniels' Upcoming Project - After the runaway success of The Butler, Daniels is entitled to a free pass in Hollywood, and the A-list director intends to use it on a passion project he's been cooking up for years — a gay action superhero movie. Daniels has lined up Magic Mike star Alex Pettyfer to his "interracial love affair action movie," adding that the film is like "Mr. & Mrs. Smith but with two good-looking guys." Daniels continues his mission of changing Hollywood's perception of both minorities and the LGBT community! (Photo: Pascal Le Segretain/Getty Images)