Top 20 R&B Girl Groups
These crazy, sexy, cool ladies were on top of their game.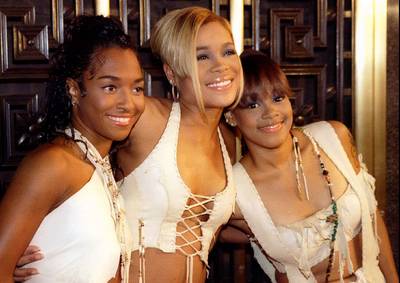 1 / 20
Top 20 R&B Girl Groups - This month marks the 20th anniversary of the release of Ooooooohhh... On the TLC Tip, the debut album of hip hop soul trio, TLC. So, in honor of one of the best-selling female group of all time, we're highlighting 20 of the most impactful R&B girl groups.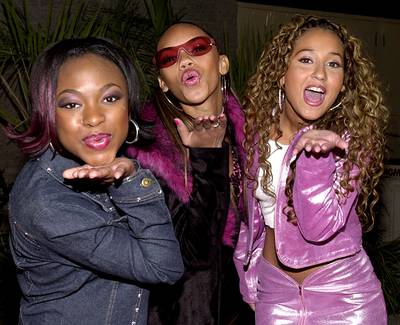 2 / 20
20. 3LW - The young trio featuring Adrienne Bailon, Kiely Williams and Naturi Naughton, 3LW (Three Little Women) made a splash with their singles, "No More (Baby I'ma Do Right)" and "Playas Gonna Play." During their peak, the trio toured with stars like Destiny's Child, Nelly and Eve. After tracks from the group's sophomore LP, A Girl Can Mack, leaked, Epic Records considered dropping the act and fans campaigned to keep the group intact. They eventually released the second album with the Diddy-produced single, " I Do Wanna Get Close To You,"  before Naturi Naughton claimed she was forced out of the group. 3LW's music continued to underperform without Naughton, but remaining members Bailon and Williams struck gold, joining the Disney franchise Cheetah Girls alongside sitcom star Raven-Symoné. Naughton has gone on to achieve Hollywood success with film roles in the Notorious B....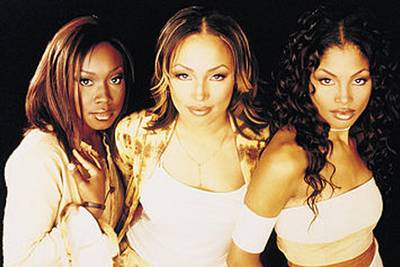 3 / 20
19. 702 - Named after their hometown area code, Las Vegas trio 702 featured sisters Irish and LeMisha Grinstead and Kameelah Williams singing hip hop-inflected R&B. Initially discovered by comedian Sinbad and later signed by New Edition's Michael Bivens, the group first appeared on the single, "This Lil Game We Play" by the short-lived male quartet, Subway. They went on to achieve success with their debut album, No Doubt, which featured production by Missy Elliot and produced chart-topping singles like "Steelo," "All I Want" and "Get It Together." Their popularity led to television appearances on Nickelodeon and shows like Moesha and Sister, Sister. The group's second album produced their biggest hit, "Where My Girls At?" and their third and final album, produced in large part by the Neptunes, was a fan favorite and, though it did not chart as wel...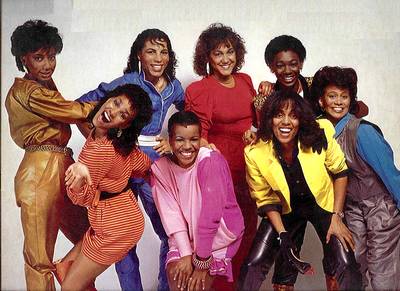 4 / 20
18. Klymaxx - The all-girl band, formed in Los Angeles, California by Bernadette Cooper, was the first of its kind — women playing every instrument, writing lyrics, singing hooks and talking a whole lot of trash. Their debut album, Never Underestimate the Power of a Woman, featured production by Jimmy Jam and Terry Lewis, but didn't quite make the impact the ladies had hoped for. But their sophomore release, Meeting In The Ladies Room, showed that they were onto something, producing hits like the title track, "The Men All Pause," "I Miss You" and "Still Say Yes." Group tensions caused members to leave and pursue other ventures, but real music fans know that Klymaxx was the start of the girl-power movement in music. (Photo: Randee St. Nicholas)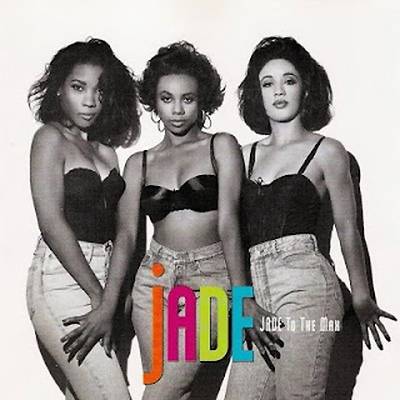 5 / 20
16. Jade - Chicagoans Tonya Kelly, Joi Marshall, and Di Reed made up the mid-90s R&B sensation, Jade. The trio found success with "I Wanna Love You," a song they performed for the soundtrack to rappers Kid 'N Play's 1992 film Class Act. The single broke into the R&B Top 10 and hit number 16 on the Billboard Hot 100 and paved the way for their definitive single, "Don't Walk Away."  This lead single, off their platinum-selling debut, Jade To The Max, was performed on The Tonight Show andThe Arsenio Hall Show. They released their second studio album around the same time, which failed to achieve the success of their debut, though the ladies co-wrote and produced much of it. Jade disbanded shortly thereafter, but Pandora listeners know that the "Jade" channel will still keep them grooving all day long.(Photo: Courtesy Giant Records)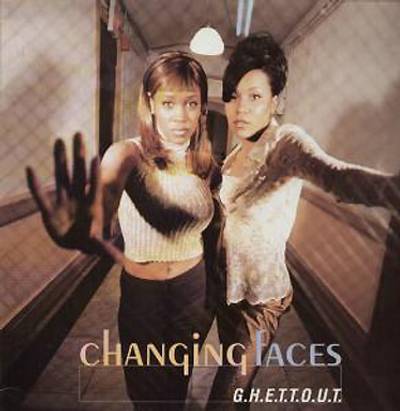 6 / 20
15. Changing Faces - Though this duo from New York never achieved pop star status, they definitely left their mark on the R&B world. With R. Kelly penning their first two singles, "Stroke You Up" and "Foolin Around," and their melodic voices carrying the tunes, Changing Faces was undeniable. Their second album, All Day All Night, featured another R. Kelly-produced track, "G.H.E.T.T.O.U.T." Their third record, Visit Me, was released in 2000 to little fanfare, but Cassandra Lucas and Charisse Rose have still not given up. Lucas announced in 2011 that the group was in the studio working on new music, due out this year.(Photo: Courtesy Big Beat Records)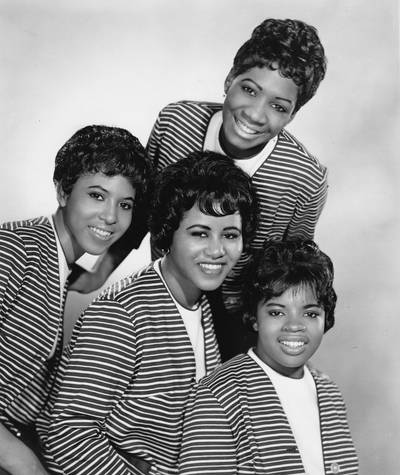 7 / 20
14. Patti LaBelle and the Blue Belles - Can you say "voulez-vous coucher avec moi, ce soir"? Of course, you can. You can now speak a little French thanks to the Philadelphia quartet, Patti LaBelle and the Blue Belles. The 60's girl group was a mix of doo-wop, gospel and pop and had a powerful wsound ith Ms. Patti on the lead vocals, but the group could not break through to the Top 10. That is, until 1974, after the departure of Cindy Birdsong and the ladies moved to Epic Records, where they recorded "Lady Marmalade" for their album Night Birds. The song went on to sell over one million copies and became an instant classic which was later remixed by Missy Elliott in 2001 for the film Moulin Rouge and performed by a superstar line-up, featuring Christina Aguilera, Mya, Lil Kim and Pink. LaBelle flew the coop on her Blue Belles in the late '70s and rose to the top of the ch...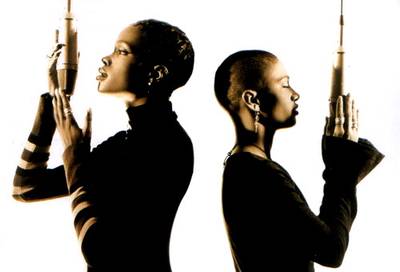 8 / 20
13. Zhané - This dynamic duo preceded the neo-soul movement but certainly made way for the definitive sound of the early 2000. Produced by Naughty By Nature's Kay Gee and released under Queen Latifah's Flavor Unit records, Zhané made their mark with their debut single, "Hey Mr. DJ." With two albums and platinum-status success, these ladies moved crowds, making sultry music like "Groove Thang," "Sending My Love" and the title track, "Shame," off Keenen Ivory Wayans' hit film, Low Down Dirty Shame. Jean Norris-Baylor and Renee Neufville made sure that anyone who heard a Zhané record would never forget it.(Photo: Courtesy Epic Records)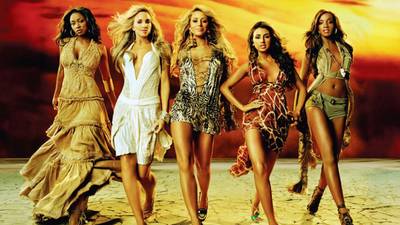 9 / 20
12. Danity Kane - The first girl group formed on reality TV, Danity Kane became a platinum-selling success after fans watched Diddy's third installment of Making the Band in anticipation. Viewers watched each young woman compete, from tryouts to their first onstage performance and each critical, hard-working moment in between. The experience of riding the roller coaster of fame made fans draw closer to the group, not to mention their awesome producers and songwriters (Timbaland, Brian Michael Cox, Scott Storch and Rodney Jerkins, to name a few), who helped them win with hits like "Show Stopper," "Ride for You," "Damaged" and "Bad Girl." By the third season of their stint on Making the Band, it was clear that the group would soon disband; however, being able to experience their journey up-close made the ladies more real and thus relatable — fans were right along with them for the w...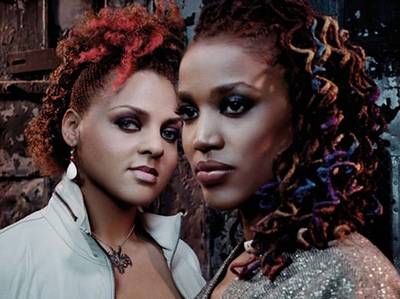 10 / 20
11. Floetry - The British duo, made up of the Floacist a.k.a. Natalie Stewart and Floetress a.k.a. Marsha Ambrosius, was a blend of R&B and spoken word that nested perfectly in the burgeoning genre of neo-soul. The ladies garnered acclaim in hip hop circles and recorded with rappers like Common and Mos Def. Their jazzy hits, like "Say Yes" and "Getting Late," kept fans wanting more, but members eventually parted ways, with Stewart brign replaced by TV personality Amanda Diva and Ambrosius finding success in songwriting (she penned Michael Jackson's 2002 hit single, "Butterflies") and, now, as a solo artist with her critically acclaimed solo debut, Late Nights and Early Mornings.  (Photo: Courtesy Geffen Records)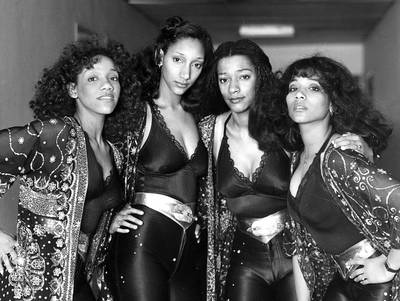 11 / 20
10. Sister Sledge - Sisters Joni, Debbie, Kim and Kathy Sledge were the granddaughters of opera singers, so they always knew they could sing. Born, raised and influenced by the Philadelphia sound, Sister Sledge was formed in 1972 and were helped to achieve superstar status by their homegrown brethren, production duo Nile Rodgers and Bernard Edwards of the disco group, Chic. This relationship with Rodgers and Edwards produced their most notable song, the disco anthem, "We Are Family," which reached number one on the R&B charts and number two on the pop charts. Additionally, they achieved a second major hit with "He's the Greatest Dancer" — another R&B number one and Top 10 pop single. Many artists have sampled their work, including Will Smith on his biggest-selling single, "Gettin' Jiggy Wit It" and Tony Touch featuring Total on "He's the Great...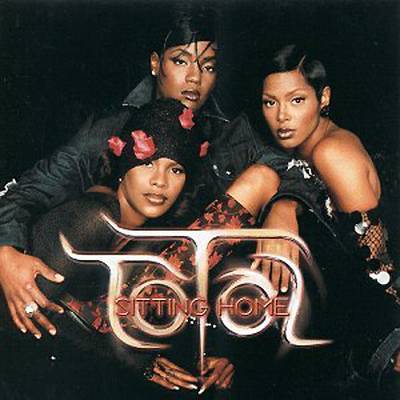 12 / 20
9. Total - Diddy's first female group under Bad Boy Entertainment was a trio from New Jersey he dubbed, Total. Kima, Keisha and Pam sang hooks on the Notorious B.I.G's breakthrough single, "Juicy," and appeared on hit singles for LL Cool J ("Loungin'/Who Do U Love?"), Foxxy Brown ("I Can't) and another Biggie sensation, "Hypnotize." They produced two albums, their self-titled debut featuring the single, "Can't You See?" and their sophomore effort, Kima, Keisha and Pam, which included the Missy collabo, "Trippin," and another Top 10 track, "Sittin' Home." The group parted ways not long after and Keisha went on to marry actor Omar Epps, while both Pam and Kima continue to work on solo projects.(Photo: Courtesy Bad Boy Records)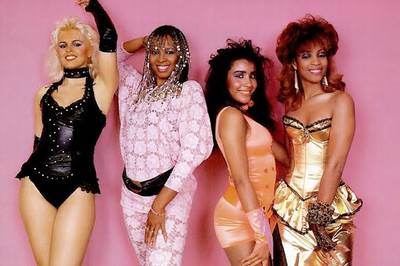 13 / 20
8. Mary Jane Girls - The brainchild of Rick James to showcase his background singer Joanne "JoJo" McDuffie's vocals, the Mary Jane Girls were formed in the early 1980s. Under James' musical direction and with JoJo on lead vocals, the group made hits like "All Night Long" and "Candyman. " They didn't sell millions or even top the charts — though their lead single, off their second album, In My House, reached number 3 on the Billboard R&B charts and spent 12 weeks in the Top 40 — they made a definite impact on a generation of listeners. Mary J. Blige remade "All Night Long" on her classic sophomore LP, My Life, and their music was sampled by everyone from Kylie Minogue and the Black Eyed Peas to Redman and Jay-Z.(Photo: Courtesy Gordy Records)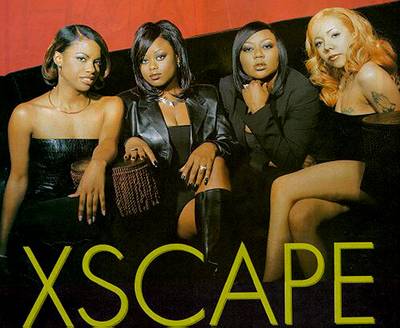 14 / 20
7. Xscape - Atlanta-based quartet Xscape was discovered by Jermaine Dupri at a festival and included singers Tameka "Tiny" Cottle, Kandi Burruss and Tamika and LaTocha Scott. Dupri immediately signed them to SoSo Def Records and produced their first single, "Just Kick It," a cool, sexy track which gave the ladies a solid introduction to the music scene. Their debut album, Hummin Coming At 'Cha, achieved platinum success with the help of their second single, "Understanding." Their second album, Off the Hook, kept Xscape on the cutting edge with tracks like "Feels So Good," which reached the top 40, and "Who Can I Run To," which peaked at number 8 on the Billboard Hot 100. The group's final album before disbanding, Traces of My Lipstick, debuted at number 6 on the Hot R&B/Hip Hop album chart and sold over a million copies with the help of sassy sing...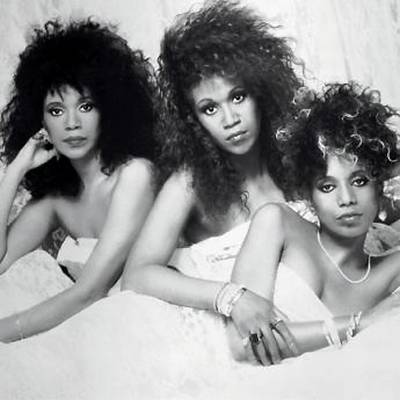 15 / 20
6. Pointer Sisters - Born and raised in Oakland, California, sisters June, Bonnie and Anita released their self-titled debut in 1973 and recorded a string of mildly successful songs until the 1980s, when they piqued the music world's interest with tracks like "He's So Shy," and "Slow Hand." But it wasn't until 1983 when the Pointer Sisters released their biggest-selling album, Break Out. The following year they had four consecutive Billboard Hot 100 top 10 hits with  "Automatic," "Jump (for My Love)," "I'm So Excited," "Neutron Dance." Today, the Pointer Sisters' songs are regularly sampled by other artists and used in commercial advertising, showing their timeless mass appeal.(Photo: Courtesy RCA Records)
16 / 20
5. SWV - Sisters With Voices or SWV were the epitome of hip hop soul. With hard-hitting beats and melodic vocals, music fans were truly "weak in the knees" for the trio from New York. With hits like "Weak," "I'm So Into You," "You're the One" and the remake of Michael Jackson's "Human Nature" titled "Right Here/Human Nature," Taj, Coko and Lele became one of the top-selling female groups of all time, with 15 million records sold worldwide. The group briefly disbanded after their fourth album, but not before leaving fans with more good music, like "Downtown," "Always On My Mind" and "Rain." The group have since returned to music with their 2012 single, "Co-Sign."(Photo: Courtesy E1 Music)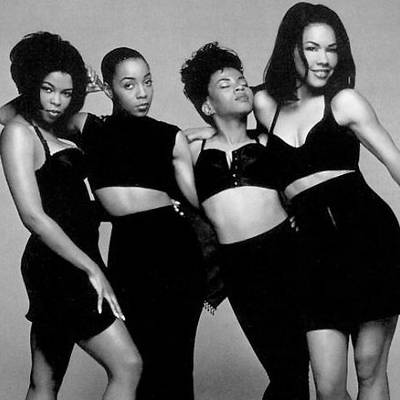 17 / 20
4. En Vogue - Cindy, Maxine, Dawn and Terry, four girls from Oakland, California were one of the most successful acts of the 1990s as En Vogue. Their music video for their first single, "Hold On," off their debut album, Born to Sing, featured the ladies in all black body-con dresses singing their hearts out and became a template for every talent show and for many female acts that followed, including Destiny's Child. En Vogue are in the top 10 of the best-selling girl groups of all-time, selling 20 million albums worldwide. Their sophomore LP, Funky Divas, showed that all four ladies could sing lead and still strike platinum with hits like "My Lovin' (You're Never Gonna Get It)," "Giving Him Something He Can Feel," "Free Your Mind" and "Give It Up Turn It Loose." But it was their track on the Set It Off film soundtrack that scored them their ...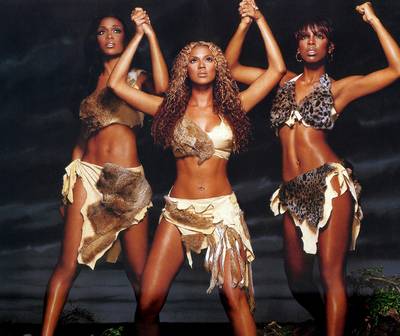 18 / 20
3. Destiny's Child - The teenage girls next door were undeniable — when they hit the scene singing "No, No, No, …," everyone was saying "yes" to their music. Beyoncé, Kelly, LeToya and LaTavia had a country twang and a lot of attitude and, though they lost and gained a few members from their roster, their sophomore album, The Writing's On The Wall, skyrocketed to the top of the charts with "Say My Name" and "Jumpin' Jumpin.'" Then, their hugely successful hit on the Charlie's Angels soundtrack, "Independent Woman Part 1" and the first single off their third album, Survivor, along with "Bootylicious" — which was added as a new word to Merriam Webster's dictionary — solidified the group as an international sensation. They recorded one final album, Destiny Fulfilled, with new bandmate Michelle Williams in 2004, after venturing out individually and achieving solo succes...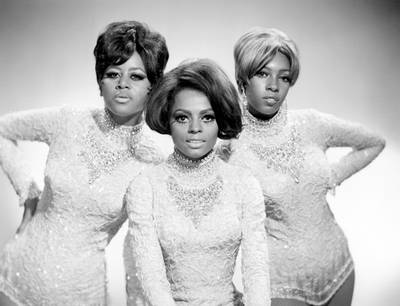 19 / 20
2. The Supremes - Where would any of these ladies be without the quintessential girl group from Detroit, The Supremes. Their early days with Diana Ross, Florence Ballard and Mary Wilson helped create the Motown sound, and the group produced hit after hit, even after a controversial member change, when Cindy Birdsong of Patti La Belle and the Blue Belles replaced Ballard. The Supremes were international superstars — with number-one hits like "Stop In The Name of Love," "Baby Love," "You Can't Hurry Love" and "You Keep Me Hangin' On." And the trio became the first all-female group to reach number one on the Billboard 200 by 1965, a time when Jim Crow segregation was law. For nearly a decade, they carved out their place in music history and have been honored with a star on the Hollywood Walk of Fame and inducted into the Rock 'N Roll Hall of Fame. (Photo...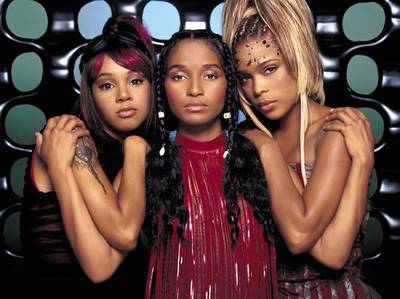 20 / 20
1. TLC - TLC is the best-selling American female group and the second best-selling female group in the world, behind the Spice Girls, with over 50 million records sold. With their blend of R&B and hip hop, trendsetting fashion and beautiful faces, TLC held everyone's attention, producing mega-hits like "Creep," "Waterfalls," "No Scrubs" and  "Unpretty." Sadly, the ladies lost their friend and group member, Lisa "Left Eye" Lopes, in April 2002 and disbanded shortly thereafter. But fans can look forward to a film based on the group's rise to superstardom and the peaks and valleys of fame, set to air on VH1.(Photo: Courtesy RCA/Jive Records)