I Do: Celebrity Wedding Singers
Luke James serenades Beyonce's mom's wedding, plus more.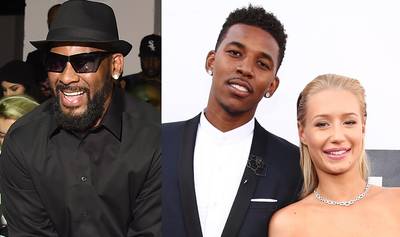 1 / 12
Marry The P***y - R. Kelly has a load of love ballads that would be perfect for any wedding but Swaggy P put in a request to have the R&B king sing one of his more raunchier songs for his upcoming special day with Iggy Azalea. The Lakers star put the word out that he wanted R to perform "Marry The P***y" from his Black Panties album and it looks like the request will be granted.Speaking with TMZ, Kelly revealed, "I didn't think it was real until I met my man today. Now that I know it's real, we have to sit down and discuss the logistics of the whole thing. I never thought anybody on the planet would come and ask me to sing it for a wedding but you know what, it should be fun."If R. Kelly does bless Nick and Iggy with his stellar vocals, we're sure they'll be a little 12 Play  mixed in to but until then, check out a few more R&B stars who helpe...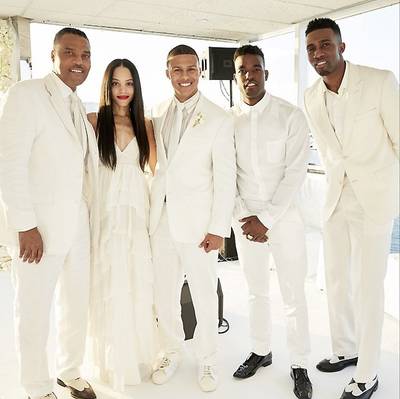 2 / 12
Luke James - Luke James's stock just went up after the R&B crooner was tapped by Ms. Tina Knowles and actor Richard Lawson to sing their official wedding song on April 12. The Louisiana soul man belted out Donny Hathaway's classic "A Song for You" aboard the all-white/cream yacht ceremony.(Photo: Luke James/@WolfJames via The Chamber group)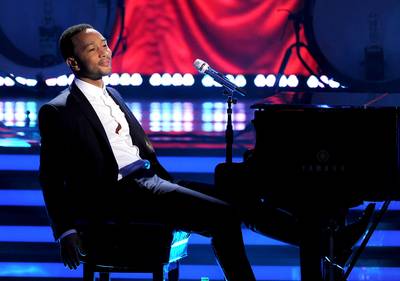 3 / 12
John Legend - Love is in the air; and if you're rich and famous, you may commemorate your unions with the ultimate wedding gift: having a favorite musician serenade your new spouse. Kim Kardashian and Kanye West tied the knot on Saturday (May 24), for example, and Yeezy enlisted his G.O.O.D. Music mate and long-time friend John Legend to sing to his bride and their more than 500 wedding guests at their wedding reception in Florence, Italy. Legend sang a few of his hits for the Wests, including "All of Me," the song he wrote and sang for his own wife, Chrissy Teigen, at their 2013 wedding. (Photo: Kevin Winter/Getty Images)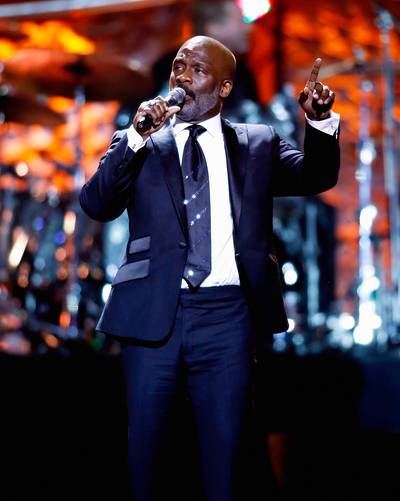 4 / 12
BeBe Winans - When Whitney Houston wed Bobby Brown in 1992, their union was surrounded by the Winans family. While Rev. Marvin Winans officiated the wedding, BeBe Winans sang "Enough Said," a song he wrote exclusively for the newlyweds.(Photo: Isaac Brekken/Getty Images for Keep Memory Alive)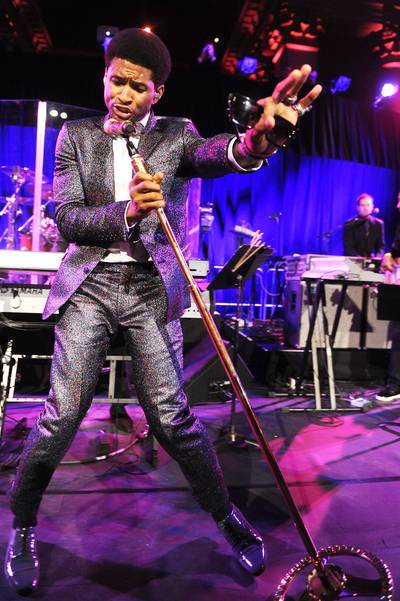 5 / 12
Usher - Michael Jordan's 2013 nuptials to Yvette Prieto was a star-studded event, from the attendees to the wedding singers. MJ surprised his blushing bride with a serenade from Robin Thicke and the bride returned the favor to her five-time NBA champion of a hubby with vocals from Usher.(Photo: Jamie McCarthy/Getty Images for Gabrielle's Angel Foundation)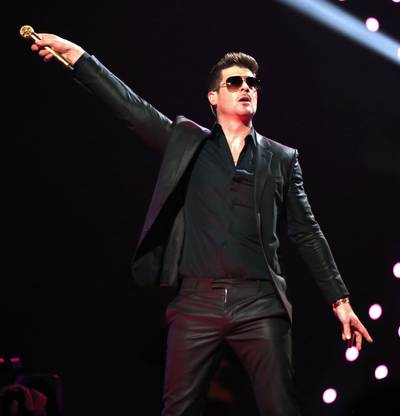 6 / 12
Robin Thicke - Robin Thicke is no stranger to the wedding singer gig. Before he sang for Michael Jordan's wedding, he sang "Angels" for the first dance at Kim Kardashian's second wedding to then-husband Kris Humphries in 2011.(Photo: Christopher Polk/Getty Images for Clear Channel)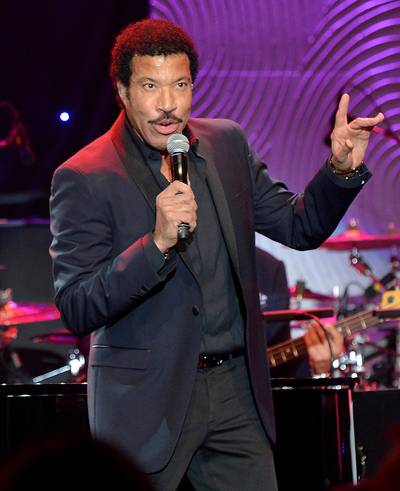 7 / 12
Lionel Richie - If you are Lionel Richie and your eldest daughter is getting married, then of course you are going to serenade her. Nicole Richie walked down the aisle in 2010 to her father's hit "Ballerina," which he wrote for her, and "You Are," which he sang to the newlyweds at the reception.(Photo: Larry Busacca/Getty Images for NARAS)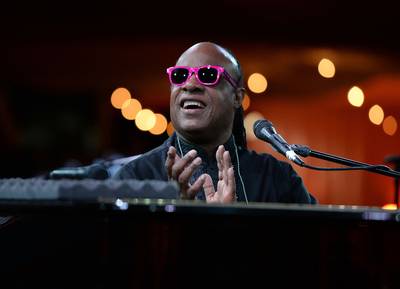 8 / 12
Stevie Wonder - With 22 Grammy Awards, a slew of hit records and more than five decades in the business, Stevie Wonder's voice is an unmistakable memory maker. Couples would be lucky to have him sing at their wedding. John Legend was lucky enough to receive the honor at his 2013 wedding, where Wonder performed his popular wedding song "Ribbon in the Sky." Wonder also performed at Spike Lee's 1993 wedding to Tanya Lewis Lee.(Photo: Michael Kovac/Getty Images for City of Hope)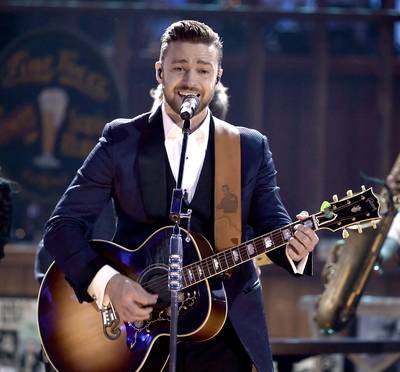 9 / 12
Justin Timberlake - When you are a Grammy Award-winning singer and songwriter, it's only right that you perform at your own wedding. Justin Timberlake didn't call on another famous musician to express his love to his wife, Jessica Biel, at their 2012 nuptials. He performed a new song that he exclusively wrote for the actress.(Photo: Kevin Winter/Getty Images)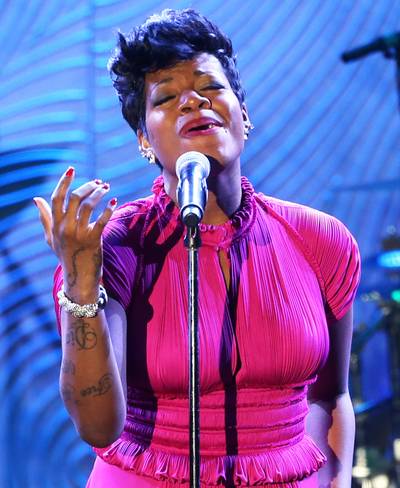 10 / 12
Fantasia - Although she was invited as a guest of The Real Housewives of Atlanta stars Greg and NeNe Leakes'wedding in 2013, American Idol winner Fantasia couldn't help getting on the mic and belting out "When I Fall in Love."(Photo: Frederick M. Brown/Getty Images)
11 / 12
Mary J. Blige - Amber Ridinger, daughter of Motives Cosmetics owner Lauren Ridinger, tied the knot in 2013 in Puerto Rico in a star-studded affair. Among the celebs in attendance were Mary J. Blige and Marc Anthony, who both performed for the newlyweds and their guests.(Photo: C.Smith/ WENN.com)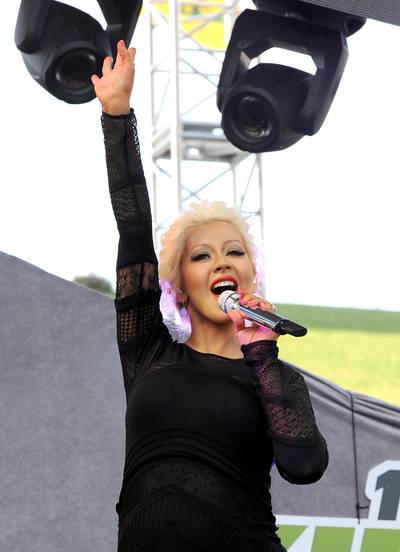 12 / 12
Christina Aguilera - If you want a famous singer to serenade your new spouse, then it may cost a couple of million. Christina Aguilera was paid a whopping 1.8 million in 2005 to sing at the wedding of Russian banker and industrialist Andrey Melnichenko to Miss Yugoslavia, Aleksandra Nikolic.(Photo: Kevin Winter/Getty Images For 102.7 KIIS FM's Wango Tango)