The Greying of Obama: The President Turns 53
Celebrate the last seven years of Obama in the public eye.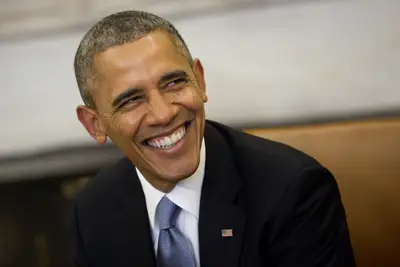 1 / 32
Happy Birthday, Mr. President - It's practically a scientific fact that no matter the age or dark hue of his hair, the occupant of the Oval Office leaves the White House at the end of his term(s) decidedly grey. President Barack Obama has achieved some significant firsts in his lifetime, but escaping this tradition isn't one of them. Here's a look at the highs and lows of the past seven years as Obama celebrates his 53rd birthday on Aug. 4. —  Joyce Jones (@BETpolitichick) (Photo: Andrew Harrer-Pool/Getty Images)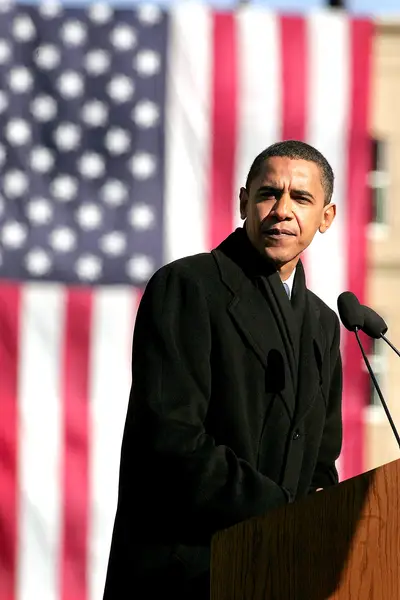 2 / 32
The Audacity of Hope and Change - On Feb. 10, 2007, Sen. Barack Obama formally announced to a crowd gathered on the lawn of the old State Capital Building in Springfield, Illinois, where Abraham Lincoln began his political career, that he would seek the Democratic nomination for president. "I recognize there is a certain presumptuousness in this — a certain audacity — to this announcement," he said. "I know that I haven't spent a lot of time learning the ways of Washington. But I've been there long enough to know that the ways of Washington must change."(Photo: Scott Olson/Getty Images)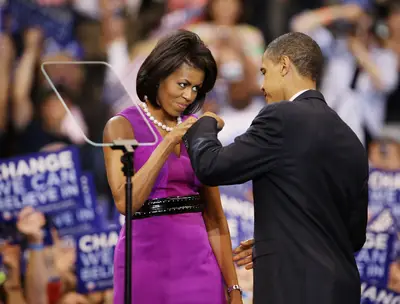 3 / 32
Boom! - Obama and wife Michelle Obama bump fists at an election night rally at the Xcel Energy Center in St. Paul, Minnesota, on June 3, 2008, after securing enough delegates to secure the Democratic nomination and dashing Sen. Hillary Clinton's hopes of becoming the first woman president. (Photo: Scott Olson/Getty Images)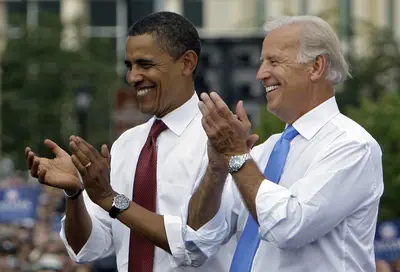 4 / 32
Running Mates - On Aug. 23, 2008, Obama introduced his vice presidential running mate, Delaware Sen. Joe Biden, at an event in Springfield, Illinois. "For months, I've searched for a leader to finish this journey alongside me and join me in making Washington work for the American people. I searched for a leader who understood the rising costs confronting working people and will always put their dreams first," Obama said. "Today, I've come back to Springfield to tell you I've found that leader." (Photo: AP Photo/M. Spencer Green)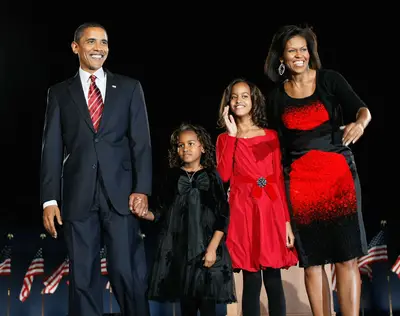 5 / 32
Yes, We Can! - On Nov. 4, 2008, Obama made history after being elected the first African-American president. He defeated the Republican nominee, Arizona Sen. John McCain, by a wide margin.   (Photo: Joe Raedle/Getty Images)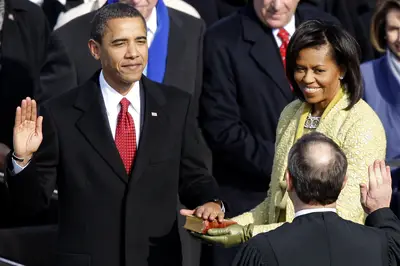 6 / 32
A New World Order - Obama was sworn in as the 44th president of the United States on Jan. 20, 2009, as First Lady Michelle Obama holds the same bible used by former President Abraham Lincoln. (Photo: Dennis Brack/Bloomberg via Getty Images)

7 / 32
Fly Boy - The president isn't too cool to show how excited he is to be taking his first flight aboard Air Force One from Andrews Air Force Base to Newport News, Virginia, on Feb. 5, 2009. (Photo: Pete Souza/Official White House Photo)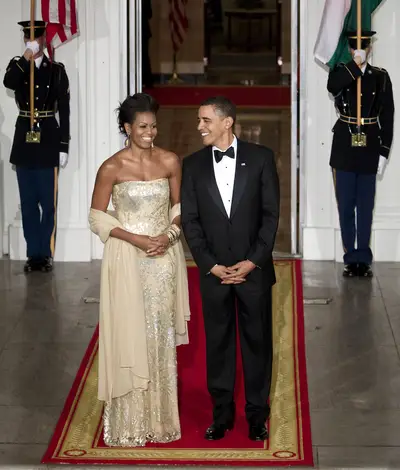 8 / 32
"This Is, Like, So Cool, Right?" Said the Husband to His Wife - The president and first lady await the arrival of the Indian Prime Minister Manmohan Singh and his wife Gursharan Kaurat at the North Portico of the White House Nov. 24, 2009, on the occasion of their first State Dinner.  (Photo: Brendan Smialowski/Getty Images)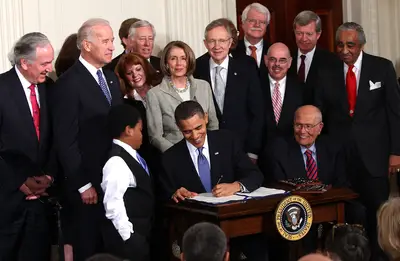 9 / 32
Obamacare - Flanked by congressional Democrats, Obama signs the Affordable Health Care for America Act during a ceremony in the East Room of the White House on March 23, 2010. The historic bill did not receive a single vote from House Republicans, who would spend the subsequent years trying to repeal the law after regaining the majority in the 2010 midterm election cycle. (Photo: Win McNamee/Getty Images)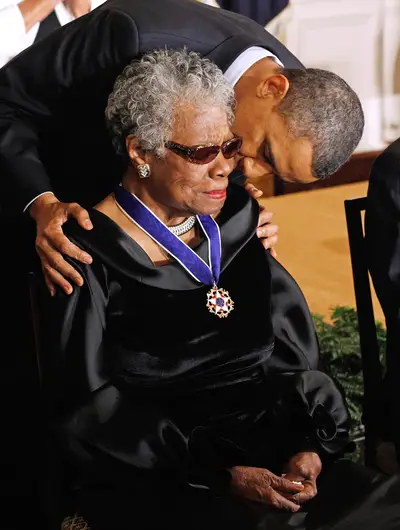 10 / 32
A Picture That Says a Thousand Words - Obama kisses poet and author Maya Angelou after awarding her the 2010 Medal of Freedom in the East Room of the White House on Feb. 15, 2011. (Photo: Chip Somodevilla/Getty Images)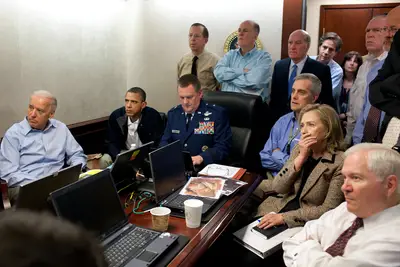 11 / 32
"Justice Has Been Done" - Obama, Biden and members of their national security team receive an update on the mission against Osama bin Laden in the Situation Room of the White House on May 1, 2011. "[As] a country, we will never tolerate our security being threatened, nor stand idly by when our people have been killed. We will be relentless in defense of our citizens and our friends and allies.  We will be true to the values that make us who we are. And on nights like this one, we can say to those families who have lost loved ones to al Qaeda's terror: Justice has been done," Obama said when he announced that bin Laden was dead. (Photo: Pete Souza/Official White House Photo)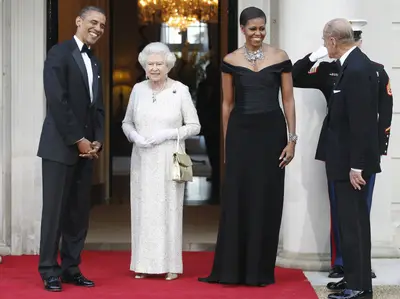 12 / 32
American Royalty Brushes With the British Royals - The president and first lady joined Britain's Queen Elizabeth II and Prince Philip for a reciprocal dinner at Winfield House in London, Wednesday, May 25, 2011. (Photo: AP Photo/Charles Dharapak)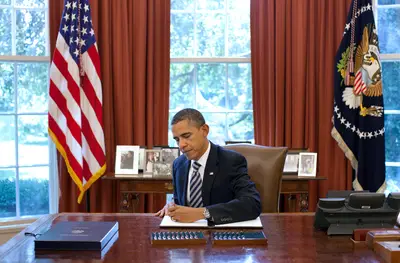 13 / 32
A Close Call - After several weeks of bitter and tense negotiations over raising the debt ceiling, the president signs the Budget Control Act in the Oval Office Aug. 2, 2011, which prevented the U.S. from defaulting on its debts. The near-crisis deepened the rift between Obama and congressional Republicans. (Photo: Pete Souza/The White House via Getty Images)
Photo By
Pete Souza/The White House via Getty Images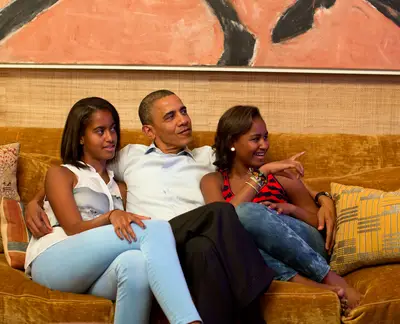 14 / 32
Isn't She Amazing? - At the White House, the president and daughters Malia and Sasha watch a television broadcast of the first lady as she delivers her speech at the Democratic National Convention on Sept. 4, 2012. (Photo: Pete Souza/White House Photo via Getty Images)
15 / 32
Let's Do This Again! - A smiling president departs the White House on Sept. 5, 2012, for Charlotte, North Carolina, where he will officially accept his presidential nomination at the 46th Democratic National Convention. (Photo: Mark Wilson/Getty Images)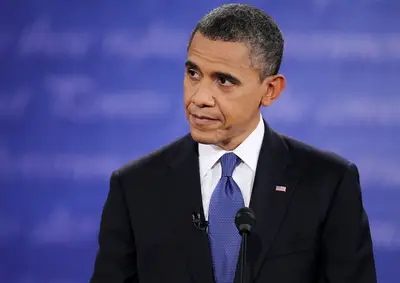 16 / 32
A Hard Day's Night - With no primary opponent in 2012, the president's debate skills had grown rusty by the time he faced off for the first time against GOP presidential nominee Mitt Romney in Denver on Oct. 3 – and it showed. (Photo: Chip Somodevilla/Getty Images)
17 / 32
Four More Years - "Tonight, in this election, you, the American people, reminded us that while our road has been hard, while our journey has been long, we have picked ourselves up, we have fought our way back, and we know in our hearts that for the United States of America, the best is yet to come," the president said during his victory speech delivered at McCormick Place in Chicago on Nov. 6, 2012. (Photo: Chip Somodevilla/Getty Images)

18 / 32
Built to Last - "Each time I look at that flag, I'm reminded that our destiny is stitched together like those 50 stars and those 13 stripes. No one built this country on their own. This nation is great because we built it together. This nation is great because we worked as a team. This nation is great because we get each other's backs," the president said in his 2013 State of the Union address. "And if we hold fast to that truth, in this moment of trial, there is no challenge too great; no mission too hard. As long as we are joined in common purpose, as long as we maintain our common resolve, our journey moves forward, and our future is hopeful, and the state of our Union will always be strong." (Photo: Saul Loeb-Pool/Getty Images)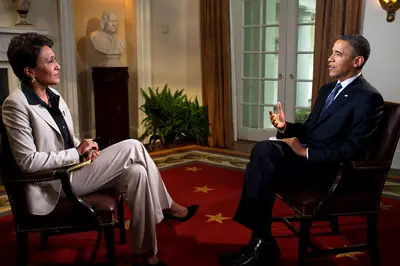 19 / 32
Obama Says "I Do" to Gay Marriage - In an interview with Robin Roberts of ABC's Good Morning America in the Cabinet Room of the White House on May 9, 2012, Obama expressed his support for gay marriage, a first for a U.S. president. (Photo: Pete Souza/White House Photo via Getty Images)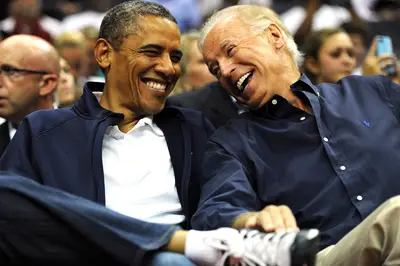 20 / 32
Living the Dream - Obama and Biden yuck it up as the U.S. Senior Men's National Team and Brazil play during a pre-Olympic exhibition basketball game at the Washington, D.C., Verizon Center on July 16, 2012.(Photo: Patrick Smith/Getty Images)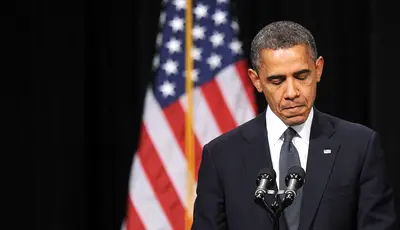 21 / 32
Not Alone - "I come to offer the love and prayers of a nation. I am very mindful that mere words cannot match the depths of your sorrow, nor can they heal your wounded hearts. I can only hope it helps for you to know that you're not alone in your grief; that our world, too, has been torn apart; that all across this land of ours, we have wept with you, we've pulled our children tight," a mournful president said at an interfaith vigil for the victims of the Sandy Hook Elementary School shootings. "And you must know that whatever measure of comfort we can provide, we will provide; whatever portion of sadness that we can share with you to ease this heavy load, we will gladly bear it. Newtown — you are not alone."(Photo: Olivier Douliery/Pool via Bloomberg/Getty Images)

22 / 32
Taking in the Moment - Jan. 21, 2013 was a bittersweet day for the president as he was sworn in as commander-in-chief for the second and final time. Before he left the stage, he paused to appreciate the tens of thousands of joyful supporters who'd traveled across the nation to witness the historic event. "I want to look out one more time because I'm not going to see this again," a wistful Obama said.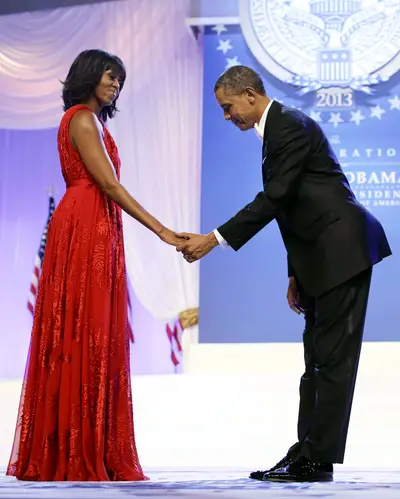 23 / 32
Darling, May I Have This Dance? - The president asks his first lady for a dance at the inaugural ball.(Photo: Charles Dharapak/AP Photo)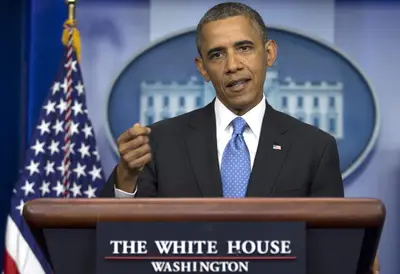 24 / 32
Keeping It Real - "When Trayvon Martin was first shot, I said that this could have been my son. Another way of saying that is Trayvon Martin could have been me 35 years ago," Obama said after George Zimmerman was found not guilty of the fatal shooting of the Florida teenager. "And when you think about why, in the African-American community at least, there's a lot of pain around what happened here, I think it's important to recognize that the African-American community is looking at this issue through a set of experiences and a history that — that doesn't go away." (Photo: AP Photo/Carolyn Kaster)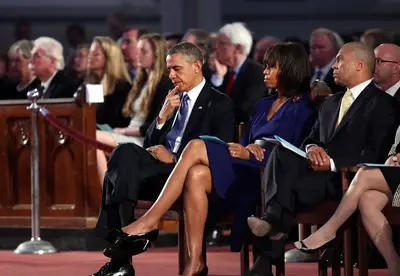 25 / 32
"You Will Run Again" - "We will all be with you as you learn to stand and walk and, yes, run again. Of that I have no doubt, you will run again," the president said at a memorial service in Boston to honor victims of the Boston Marathon bombing. "You will run again, because that's what the people of Boston are made of. Your resolve is the greatest rebuke to whoever committed this heinous act…. It should be pretty clear by now that they picked the wrong city."(Photo: Spencer Platt/Getty Images)
Photo By
Spencer Platt/Getty Images

26 / 32
The Selfie Tweeted Around the World - Eyebrows were raised when the president and British Prime Minister David Cameron pose for a selfie with Denmark's Prime Minister Helle Thorning Schmidt during a memorial service of South African former president Nelson Mandela at the FNB Stadium in Johannesburg on December 10, 2013. (Photo: Roberto Schmidt/AFP/Getty Images)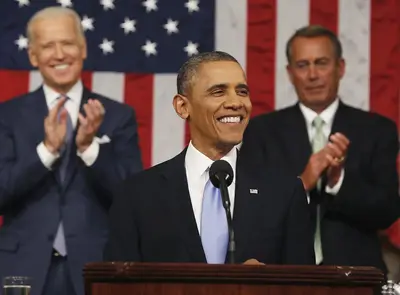 27 / 32
Just Hand Me a Pen, I'll Do It Myself - "America does not stand still — and neither will I," the president  said during his 2014 State of the Union address in which he pledged to embark on a year of action. "So wherever and whenever I can take steps without legislation to expand opportunity for more American families, that's what I'm going to do."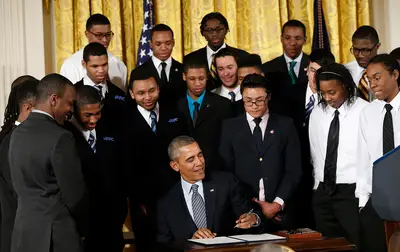 28 / 32
My Brother's Keeper - On Feb. 27, 2014, the president unveiled his "My Brother's Keeper" initiative to support boys and young men of color. Citing the likelihood of them failing than succeeding, he said, "The worst part is we become numb to these statistics. We're not surprised by them. We take them as the norm. We just assume this is an inevitable part of American life instead of the outrage that it is. But these statistics should break our hearts. And they should compel us to act."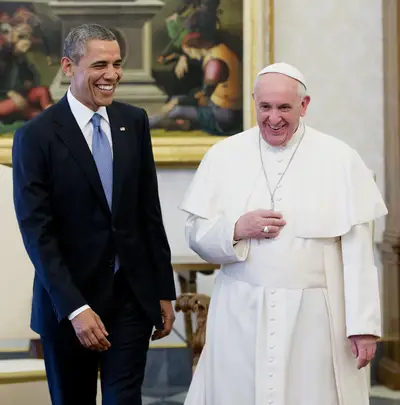 29 / 32
A President and a Pope Walk Into a Room... - It was like Christmas in March. During their first meeting, which took place at the Vatican in Rome, Obama and Pope Francis had a gift exchange on March 27, 2014. The president gave the pope a box made from timber from the first cathedral to open in the United States, in Baltimore, filled with seeds from his wife's White House garden. In return, he received two medallions and a copy of Evangelii Gaudium, or The Joy of the Gospel, penned by the pope, which calls for a a renewed focus on the poor. (Photo: AP Photo/Pablo Martinez Monsivais)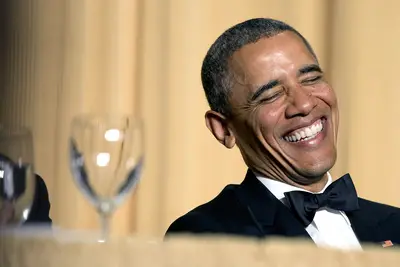 30 / 32
Yukking It Up - Nothing and no one was safe from President Obama's jabs during remarks delivered at the 100th White House Correspondents Association Dinner — including himself. As he has proven each year, he knows how to deliver a punch line and sometimes even outshines the professional comedians who perform at the annual event.  (Photo: Jacquelyn Martin/AP Photo)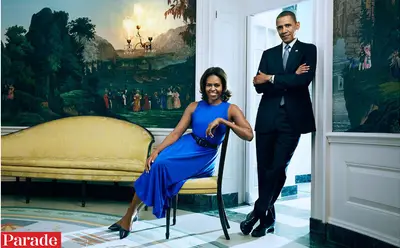 31 / 32
Powerful and Glamorous - The first lady and the president epitomize the ultimate power couple in this image shot for an article in Parade Magazine. But in the article, they open up about the challenges they faced as a young couple and family that most Americans can relate to.(Photo: Miller Mobley for Parade Magazine, June 2014)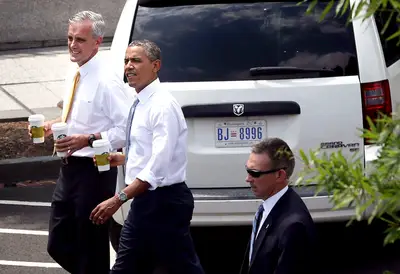 32 / 32
The Bear Is Loose - The president thrilled tourists when he took an impromptu walk across the National Mall on June 23, 2014. Part of him wanted to take people by surprise, but he mostly wanted to walk outside like a normal person. "It's good to be out," Obama told reporters. "The bear is loose."