Bring That Week Back: Week of July 12
Obama's site hacked, unemployment rises, plus more.
1 / 15
Black Middle Class Dissipating - The struggling economy has hit the Black middle class harder than whites. Seven years ago, the median net worth of white households was $134,280, while the median net worth for Blacks was $13,450, according to research from the Economic Policy Institute. In 2009, in the midst of the recession, whites saw their median net worth drop 24 percent, while Blacks experienced a staggering 83 percent drop.http://www.bet.com/news/national/2011/07/12/black-middle-class-eroding-quickly.html
2 / 15
Gonorrhea's Growing Resistance - The sexually transmitted infection gonorrhea isn't as easy to treat as it once was, according to the Centers for Disease Control and Prevention. By analyzing samples from over 30 states between the years 2000 and 2010, researchers found that the STI is steadily becoming resistant to cephalosporins, the only remaining class of antibiotics available to treat the disease. 
3 / 15
Black Film Festival Opens in Miami - On Wednesday, the 15th Annual American Black Film Festival (ABFF) started in Miami Beach. The event brings together Blacks in the film industry from across the globe for workshops, film competitions and more. The ABFF mission "is to inspire and support women and multicultural artists pursuing careers in film by providing scholarships and other educational resources," says Jeff Friday, co-founder of the festival. The other co-founders are advertising genius Byron E. Lewis and filmmaker Warrington Hudlin. (Photo: Terrence Jennings/Picture Group)
4 / 15
Obama Talks Debt Limit - On Monday, President Obama challenged Democrats and Republicans to reach an agreement on raising the debt limit. "It is possible for us to construct a package that would be balanced, would share sacrifice, would involve both parties taking on their sacred cows, would involve some meaningful changes to Medicare and Social Security and Medicaid that would preserve the integrity of the programs and keep our sacred trust with our seniors," the president said.(Photo: Alex Wong/Getty Images)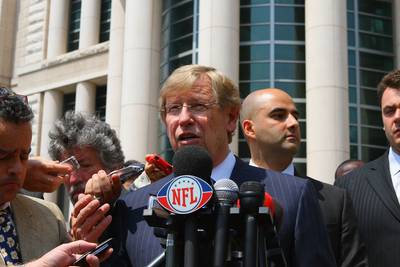 5 / 15
Could the NFL Strike be Over Soon? - According to several reports, NFL owners and players could strike a deal within the coming days, and a new collective bargaining agreement could be ratified on July 21 during league meetings in Atlanta. As a result, a new season would be pushed back slightly. Players have been locked out since March.(Photo: Dilip Vishwanat/Getty Images)
6 / 15
Former First Lady Betty Ford Dies - Former First Lady Betty Ford died due to natural causes on Friday at the Eisenhower Medical Center in Rancho Mirage, California. She was 93. (Photo: AP Photo)
7 / 15
NAACP: Networks Need African-American Anchors - NAACP President Ben Jealous pushed for more Black anchors at television news networks, singling out CNN in particular. "As CNN announced their new schedule, a glaring omission was present—no African-Americans were hosts or anchors in their prime-time lineup," he said in a statement. "The NAACP is deeply concerned with the lack of African- American journalists in prime time, both on cable and national network news shows." He added that his organization will meet with television news heads. http://www.bet.com/content/bet/news/national/2011/07/08/naacp-networks-need-african-american-anchors.html (Photo: Charley Gallay/Getty Images for NAACP)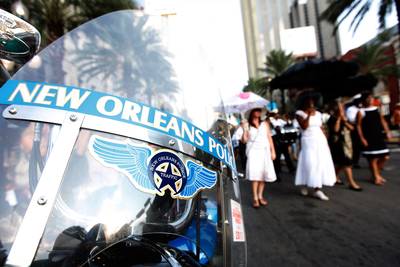 8 / 15
New Orleans Police Commander Resigns - New Orleans Police Commander Eddie Selby, a 36-year veteran, resigned on Thursday in the midst of accusations that he issued "possible inappropriate instructions" to his Special Operations Division officers. He allegedly made offensive comments about those attending the predominately Black Essence Music Festival, which occurred over the Fourth of July weekend. Though he has resigned, his actions are still under investigation.(Photo: Chris Graythen/Getty Images)
9 / 15
Unemployment Rate Rose to 9.2 Percent in June - The unemployment rate ticked up to 9.2 percent in June, which is a .1 increase from what it was in May. The jobless rate for African-Americans stayed the same at 16.2 percent. "We need to see businesses do more to employ American workers," Labor Secretary Hilda L. Solis said. "Many companies have had a great year and are sitting on large piles of capital. It is critical that they begin to turn their profits into jobs for the American people." (Photo: REUTERS/Jason Reed/Landov)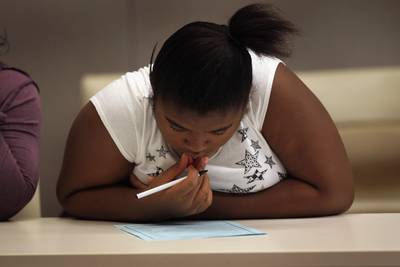 10 / 15
Study: Obesity Rates Still High Among Blacks - Forty percent of Black adults in 15 states are obese, according to research from the Robert Wood Foundation. This accounts for about half of the Black population in those states. Nationwide, 70 percent of African-Americans are either obese or overweight. (Photo: John Moore/Getty Images)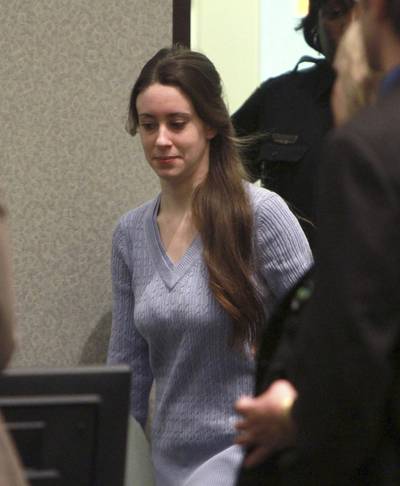 11 / 15
Casey Anthony to be Free Wednesday - Casey Anthony, recently cleared of charges she murdered her two-year-old daughter Caylee, is set to be released from prison Wednesday, after spending nearly three years behind bars. While cleared of murder, she was convicted of lying to investigators and sentenced Thursday to four years, but given credit for time served.(Photo: AP Photo/Joe Burbank, Pool)
12 / 15
American Apparel to Pay $343,000 to Black Ex-Employee - An African-American former American Apparel employee was awarded $342,919.95 by the company last Wednesday in a lawsuit settlement. Christopher Renfro sued the clothing line, alleging a co-worker, Sean Alonzo, repeatedly called him the N-word in 2008 while on a business trip. Alonzo claimed he was singing along to music. (Photo: Spencer Platt/Getty Images)
13 / 15
Atlanta Public School's Cheating Scandal - Authorities at almost 80 percent of Atlanta public schools cheated on the state's Criterion-Referenced Competency Tests, says an investigation by the state of Georgia. As many as 178 teachers and principals took part in the cheating, and 82 have confessed to misconduct. "Fear of termination and public ridicule in faculty and principals' meetings drove numerous educators to cross ethical lines," the report said. "Further, because targets rose annually, teachers found it increasingly difficult to achieve them."(Photo: AP Photo/Atlanta Journal & Constitution, Bob Andres)
14 / 15
HUD Reaches $62 Million Settlement With Louisiana Homeowners - On Wednesday, Housing and Urban Development Secretary Shaun Donovan said that the agency would pay a $62 million settlement to 1,460 Hurricane Katrina victims who sued the federal government and the state of Louisiana for alleged discrimination in the Road Home program, which provided grants to people to rebuild their destroyed homes. Five homeowners and two civil rights groups filed their suit in 2008, alleging that white homeowners and wealthier parishes were more likely to get adequate grants due to unfair housing calculations.(Photo: EPA/BEVIL KNAPP /Landov)

15 / 15
Obama's Web Site Is Compromised - On Tuesday, someone used President Obama's campaign website to invite supporters to two fake anti-government events hosted by "Commy Obama." The information was posted in a calendar section where users can generate their own content. Campaign spokesman Ben LaBolt told the publication that the site wasn't hacked, and that while the campaign monitors it for "inappropriate content," it cannot catch everything immediately.