Vogue Magazine's Black Cover Models
Rihanna, Jourdan Dunn, Beyoncé, and more grace the top spot.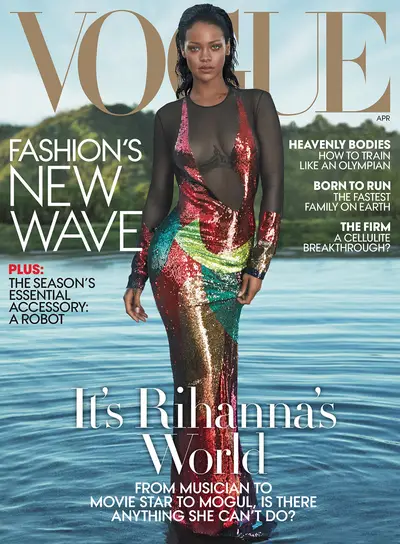 1 / 38
Rihanna - Rising from the sea like a mermaid Ariel could never be, Rihanna slays Vogue for the fourth time, breaking a three-cover streak held by Beyoncé, Naomi Campbell, and Halle Berry.  Her plunging, sequin Tom Ford dress hugs her frame like liquid, and her smoldering stare can't be denied.  We know she's a musical force, but top model sure is fitting.Here's a look at other models (past and present) who have graced the coveted cover.(Photo: Vogue, April 2016)
Photo By
Photo: Vogue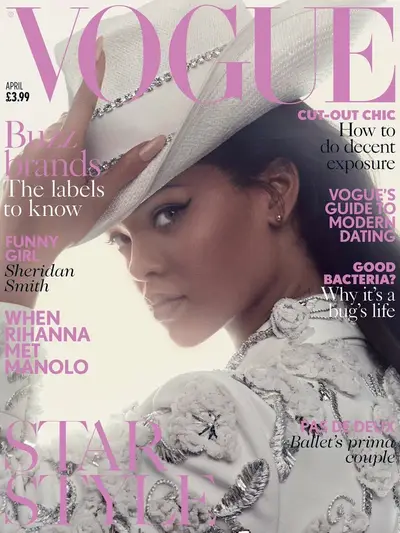 2 / 38
Rihanna - This is the second cover the Bajan beauty has for British Vogue. She used the March 2016 cover to exclusively announce and showcase her collab with footwear maestro Manolo Blahnik. Be honest, one look at this makes you want to go out and buy a white cowboy hat, right? Yes she slays, but that's why she's Rihanna.(Photo: Vogue UK Magazine, April 2016)
Photo By
Photo: Vogue UK Magazine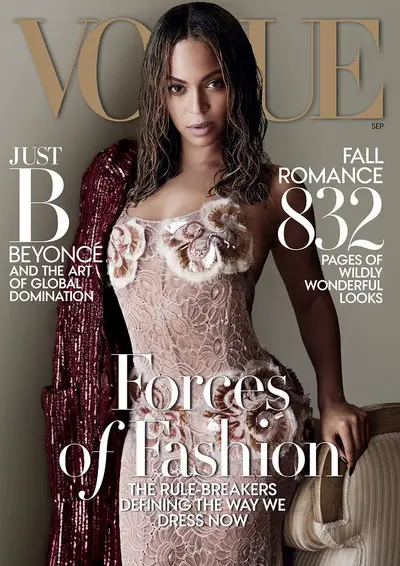 3 / 38
Beyoncé - With her appearance on the fashion tome's biggest September 2015 issue—the biggest one of the year—Bey has now graced the cover three times. That ties her with Halle Berry and Naomi Campbell for the most covers by a Black woman. She's flawless as usual, in a form-fitting Marc Jacobs dress, minimal makeup, and wet and wavy hair. (Photo: Vogue Magazine, September 2015)
Photo By
Vogue, September 2015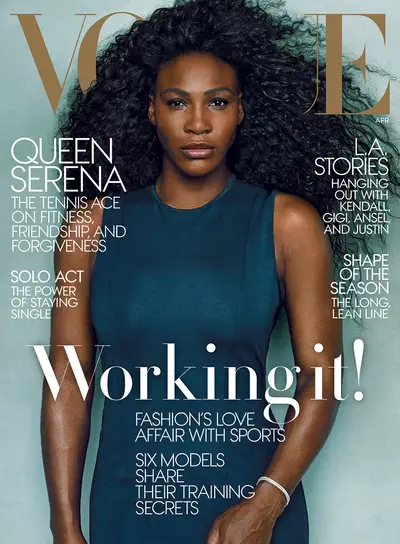 4 / 38
Serena Williams - The April 2015 cover hails the tennis star "Queen Serena" for good reason: She rocks it in a Rag & Bone sheath and hair down to there. (Photo: Vogue Magazine, April 2015)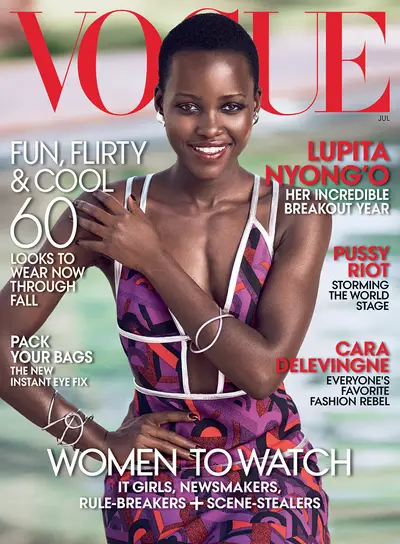 5 / 38
Lupita Nyong'o - Actress Lupita Nyong'o is radiant on the July 2014 issue. From her close cropped hair to her gorgeous brown skin, she shows the world that any definition of beauty that excludes her, is an incomplete one.  (Photo: Vogue Magazine, July 2014)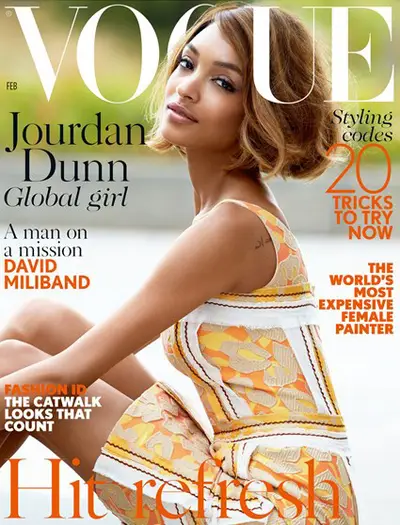 6 / 38
Jourdan Dunn - Following in the path of Naomi Campbell, who graced the cover in 2002, British model Jourdan Dunn is now the second Black model to land a solo cover for British Vogue. The 24-year-old looks as gorgeous as ever in her printed Prada frock and ladylike bob on the February 2015 issue. (Photo: British Vogue Magazine, February 2015)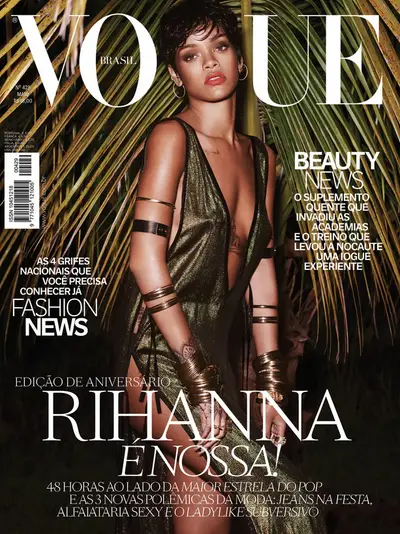 7 / 38
Rihanna - Looking flawless and rocking a plunging metallic slip dress for Vogue Brazil, the Bajan beauty nabs her fourth cover for the fashion book. #Legend(Photo: Vogue Magazine Brasil, May 2014)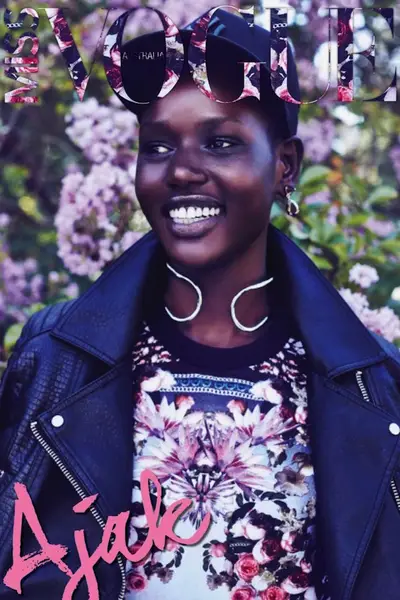 8 / 38
Ajak Deng - Flashing her signature grin, the Sudanese model gets us ready for spring, modeling a pretty floral top and tough leather jacket on Miss Vogue Australia. (Photo: Miss Vogue Australia, April 2014)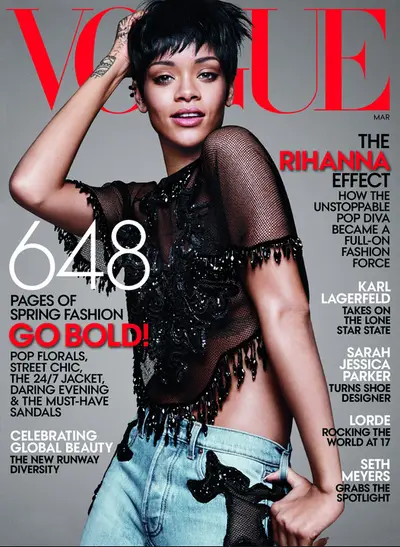 9 / 38
Rihanna - The superstar graces the fashion bible's March 2014 cover, her third appearance, and is the picture of high fashion in her sheer, beaded top and ripped denim. Inside, the singer dishes about everything from hair to her secret obsession with "fake jewelry." (Photo: Vogue Magazine, March 2014)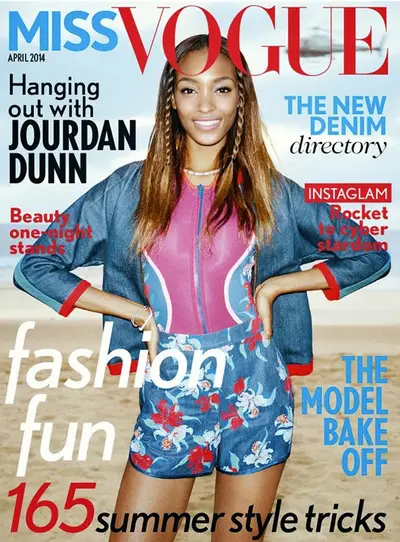 10 / 38
Jourdan Dunn - Donning a zip-front swimsuit, floral board shorts and a sweet braided 'do, the British beauty certainly makes a splash with her beach-themed April 2014 Miss Vogue cover.(Photo: Miss Vogue Magazine, April 2014)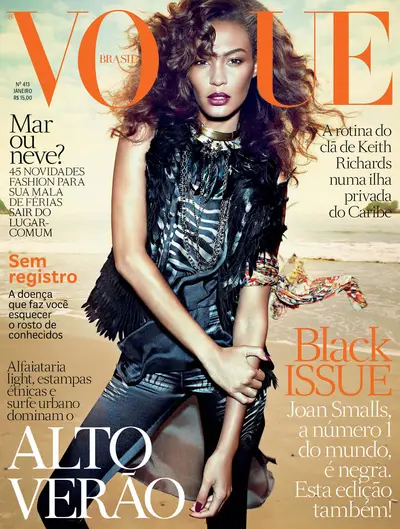 11 / 38
Joan Smalls - Joan Smalls is the face of Vogue Brazil's January 2013 "Black Issue," which was photographed by Henrique Gendre. The catwalk queen is positively alluring in her edgy feathered vest, second-skin leggings and lustrous, honey waves. (Photo: Vogue Brazil, January 2013)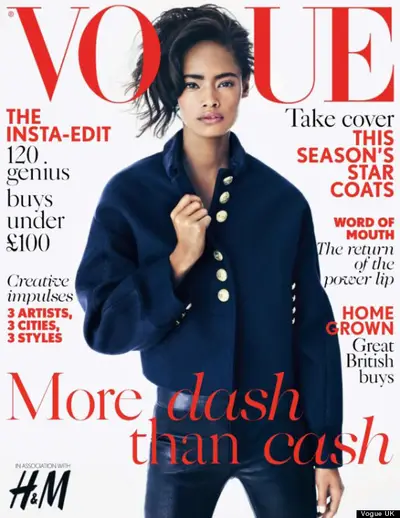 12 / 38
Malaika Firth - The Kenyan-born beauty, who is also the first Black spokes model for Prada in nearly 20 years, appears on the cover of a special shopping edition inside Vogue U.K.'s November 2013 issue. Doesn't she look fly in her teased up-do and sharp brass-buttoned jacket?(Photo: Vogue UK, November 2013)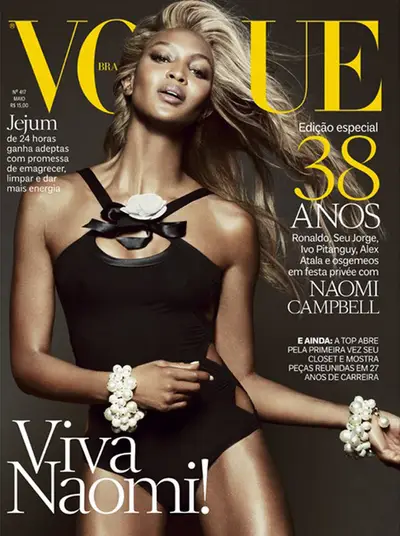 13 / 38
Naomi Campbell - For the May 2013 issue of Vogue Brazil, 42-year-old supermodel Naomi Campbell goes blonde for the seductive cover. Wearing a black one-piece with cutouts, The Face star shows no signs of slowing down anytime soon. (Photo: Courtesy of Vogue)
14 / 38
Beyoncé - Beyoncé is Vogue U.K.'s May 2013 cover girl. The 31-year-old singer strikes a pose in a blue-and-white striped Jonathan Saunders cropped top and blue sequined skirt for the issue. Inside, Beyoncé calls herself a "modern day feminist" and discusses her "passion for a job which has seen her singing professionally for nearly 20 years." (Photo: Vogue Magazine)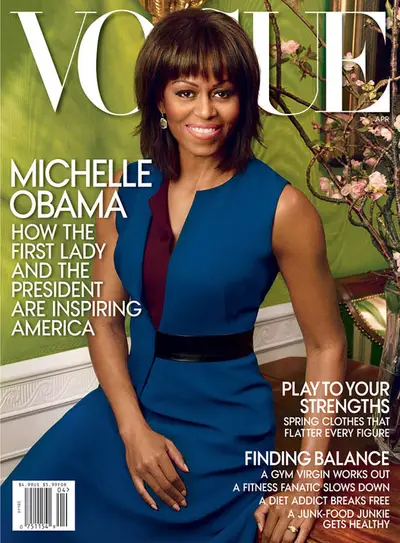 15 / 38
Michelle Obama - First Lady Michelle Obama graces the cover of Vogue magazine wearing a blue and purple Reed Krakoff sheath. She first debuted on the cover of the fashion bible in March 2009 in a dress by Jason Wu, and was also featured in the magazine in 2005 and 2006.
16 / 38
Tina Turner - At 73 years old, Tina Turner celebrates her first-ever Vogue cover. On the April 2013 issue, the legendary singer is seen rocking her signature honey blonde hair and a navy blouse for Vogue's German edition, which was styled by Nicola Knels. The cover says it all: "Simply the Best!" (photo: Vogue Magazine)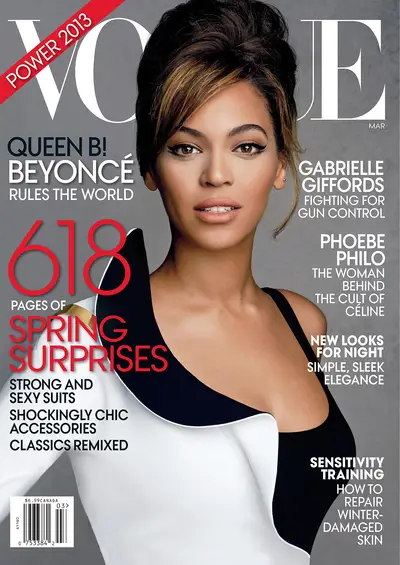 17 / 38
Beyoncé - On the March 2013 Vogue cover, Beyoncé is donning a black-and-white asymmetric Givenchy gown. Inside, she wears designs from Oscar de la Renta, Alexander McQueen and Haider Ackermann, and tells Vogue she's feeling more feminine and sensual than ever.
Photo By
Photo: Vogue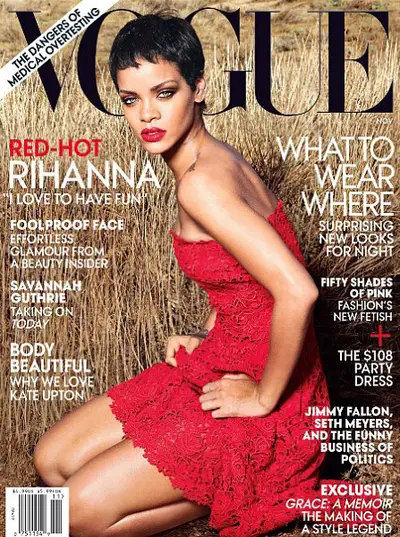 18 / 38
Rihanna - Rihanna is on the cover of Vogue for its November 2012 issue and the sultry singer is looking gorgeous in red. The Annie Leibovitz shot has the pixie-haired singer kneeling in a wheat field wearing a red strapless dress. (Photo: Courtesy of Vogue)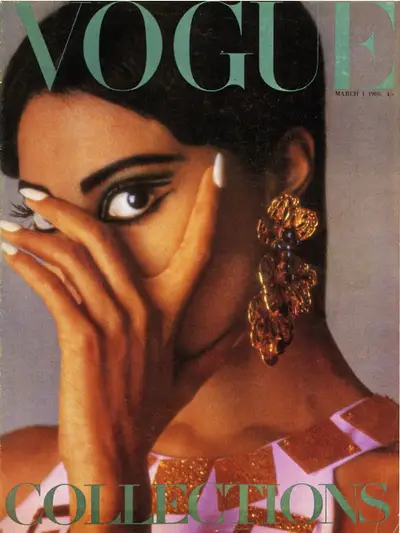 19 / 38
Donyale Luna - Donyale Luna became the first African-American model to appear on the cover of a Vogue magazine, the March 1966 British issue. (Photo: Courtesy of Vogue)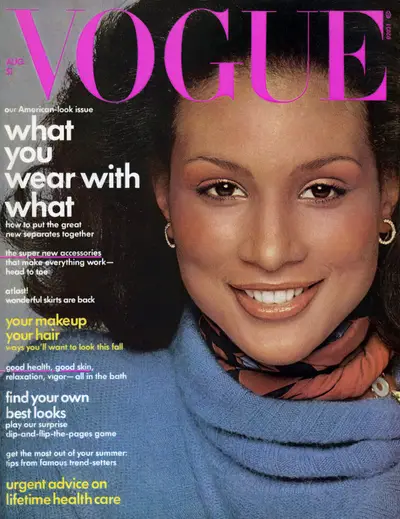 20 / 38
Beverly Johnson - Beverly Johnson also made history when she became the first Black model to cover American Vogue on the August 1974 issue. She landed on the cover a second time in August 1975 and again in January 1981. (Photo: Courtesy of Vogue)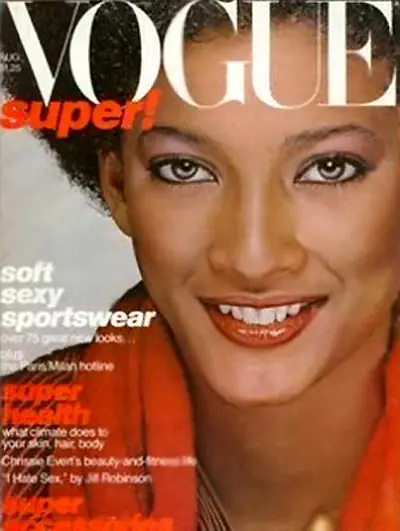 21 / 38
Peggy Dillard - Peggy Dillard was the Vogue cover girl in August 1977 as well as January 1978.  (Photo: Courtesy of Vogue)
Photo By
Photo: Courtesy of Vogue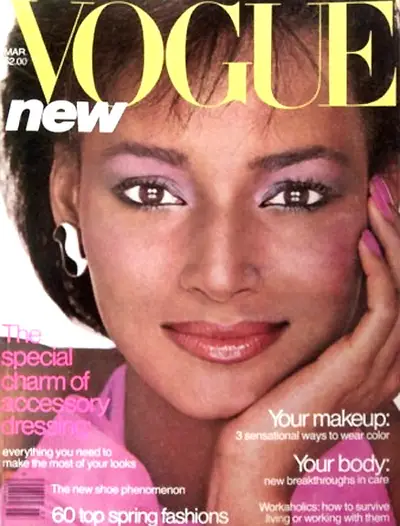 22 / 38
Sheila Johnson - Sheila Johnson took the cover in March 1980. (Photo: Courtesy of Vogue)
Photo By
Photo: Courtesy of Vogue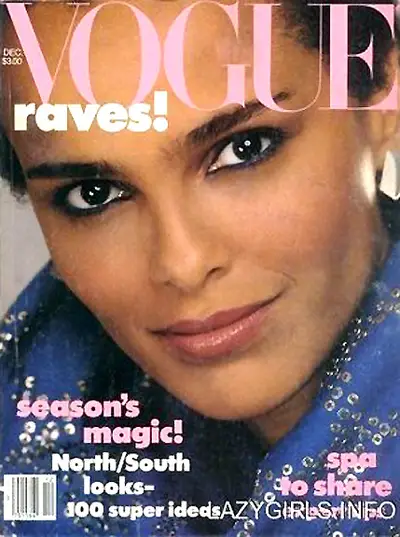 23 / 38
Shari Belafonte Harper - Shari Belafonte Harper appeared on the cover of Vogue five times: in February 1984, December 1982, January 1985, May 1985 and June 1986. (Photo: Courtesy of Vogue)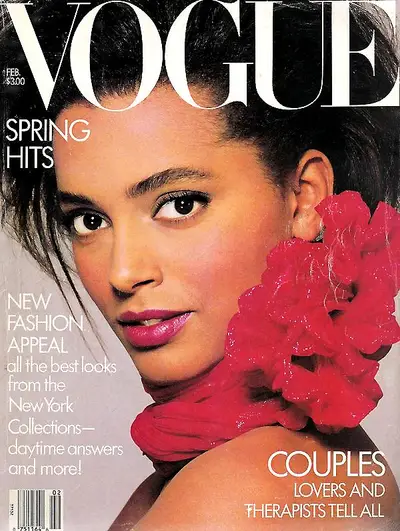 24 / 38
Louise Vyent - Louise Vyent graced the Vogue cover in February 1987. (Photo: Courtesy of Vogue)
Photo By
Photo: Courtesy of Vogue
25 / 38
Kara Young - In both April 1988 and October 1989, Kara Young was the face of Vogue magazine. (Photo: Courtesy of Vogue)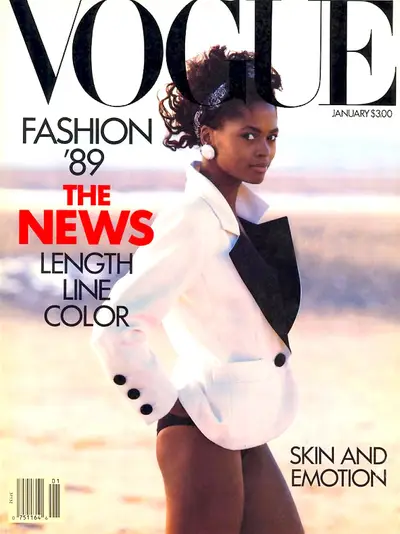 26 / 38
Karen Alexander - Karen Alexander nabbed the cover in January 1989. (Photo: Courtesy of Vogue)
Photo By
Photo: Courtesy of Vogue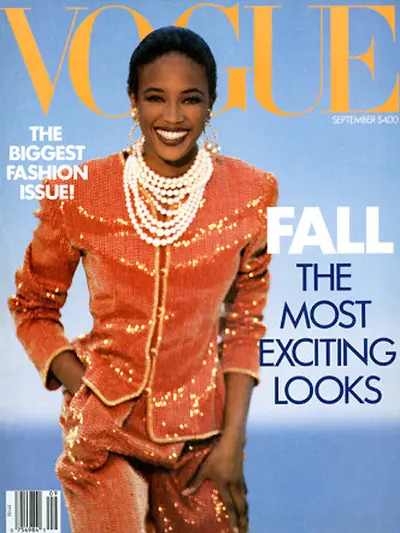 27 / 38
Naomi Campbell - Supermodel Naomi Campbell showed her beautiful face on the cover in September 1989, June 1993 and on Vogue Italia's July 2008 All Black Issue. (Photo: Courtesy of Vogue)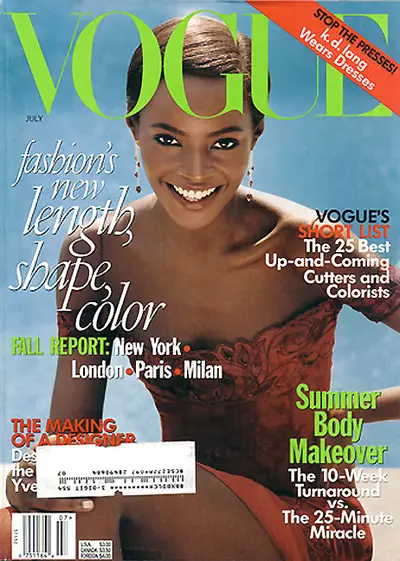 28 / 38
Karia Kabukuru - Karia Kabukuru landed on the cover of the top fashion magazine in July 1997. (Photo: Courtesy of Vogue)
Photo By
Photo: Courtesy of Vogue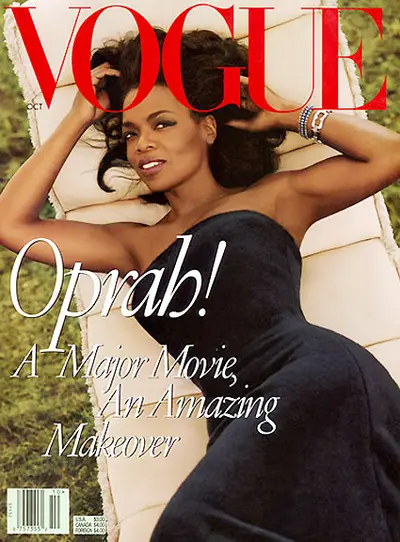 29 / 38
Oprah Winfrey - The television host turned media mogul was on the cover of Vogue's October 1998 issue. (Photo: Courtesy of Vogue)
Photo By
Photo: Courtesy of Vogue
30 / 38
Halle Berry - Halle Berry was Hollywood's It Girl and so fittingly graced the covers of Vogue's December 2002 and September 2010 issues. (Photo: Courtesy of Vogue)
Photo By
Photo: Courtesy of Vogue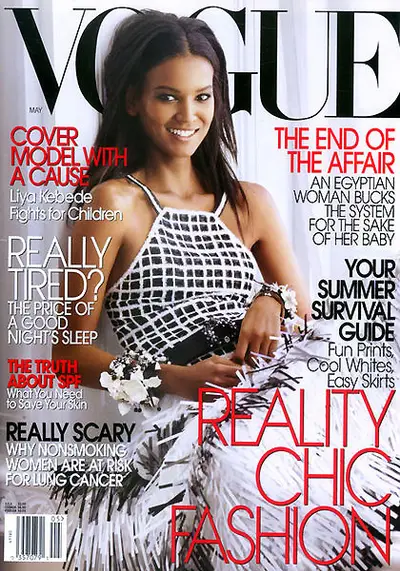 31 / 38
Liya Kebede - Not only did Liya Kebede model for U.S. Vogue's May 2005 issue, but she also appeared on one of the four covers of Vogue Italia's July 2008 All Black Issue. (Photo: Courtesy of Vogue)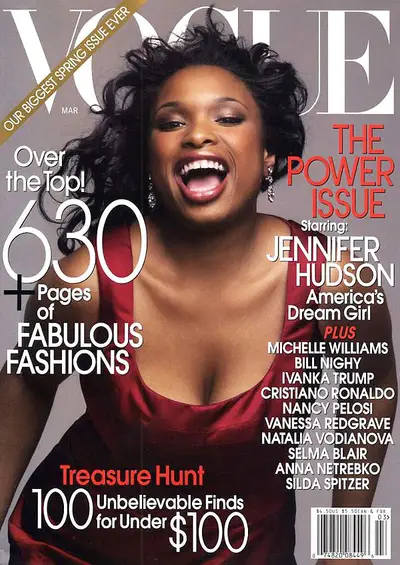 32 / 38
Jennifer Hudson - The March 2007 cover of Vogue belonged to the singer-actress. (Photo: Courtesy of Vogue)
Photo By
Photo: Courtesy of Vogue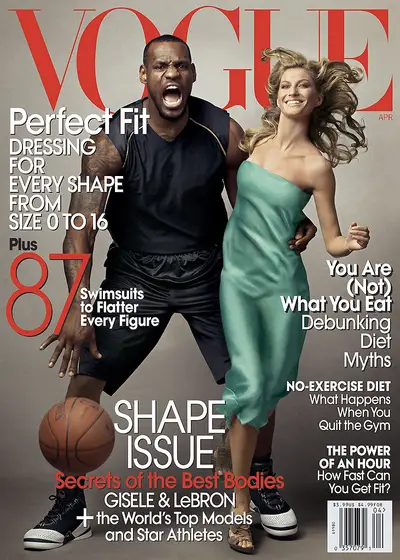 33 / 38
LeBron James - Basketball star LeBron James appeared alongside Gisele Bundchen on the April 2008 issue. (Photo: Courtesy of Vogue)
Photo By
Photo: Courtesy of Vogue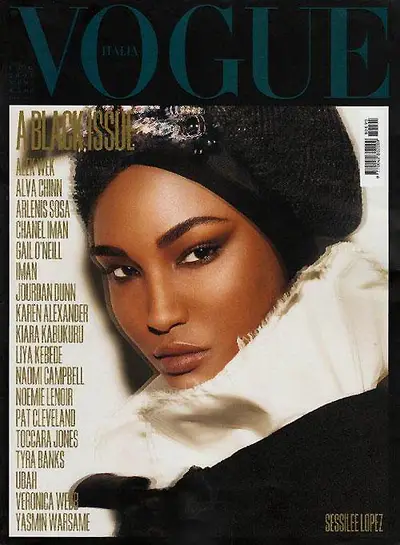 34 / 38
Sessilee Lopez - Sessilee Lopez landed one of the four covers of Vogue Italia's July 2008 All Black Issue. (Photo: Courtesy of Vogue)
Photo By
Photo: Courtesy of Vogue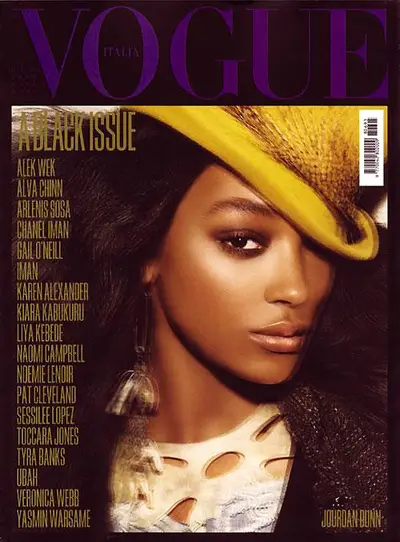 35 / 38
Jourdan Dunn - Jourdan Dunn also lent her talents for the Vogue Italia July 2008 All Black Issue. (Photo: Courtesy of Vogue)
Photo By
Photo: Courtesy of Vogue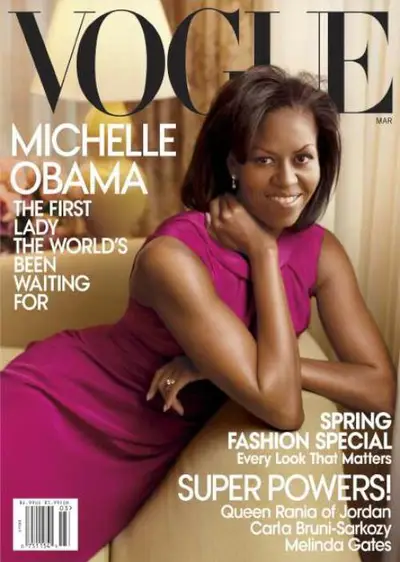 36 / 38
Michelle Obama - The first lady showed off her style on the March 2009 cover. (Photo: Courtesy of Vogue)
Photo By
Photo: Courtesy of Vogue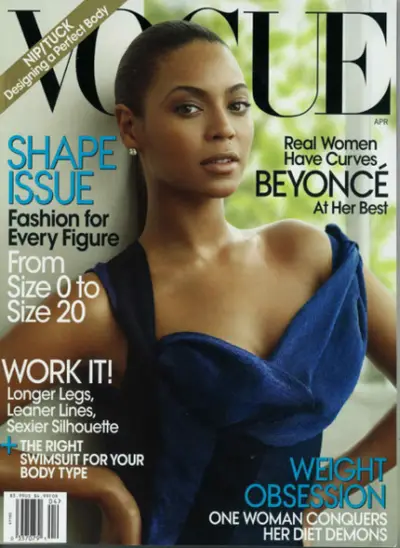 37 / 38
Beyoncé Knowles - Beyoncé landed her first Vogue cover in April 2009. (Photo: Courtesy of Vogue)
Photo By
Photo: Courtesy of Vogue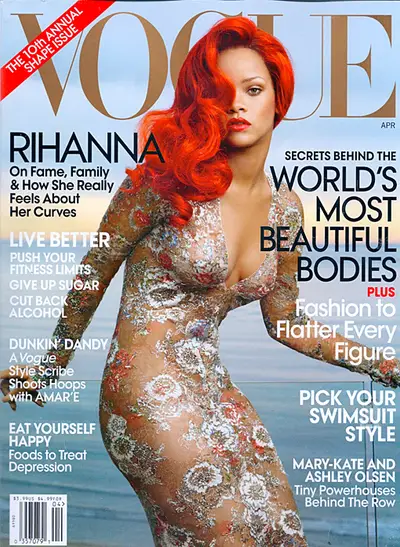 38 / 38
Rihanna - Rihanna appeared on her first Vogue cover in April 2011. (Photo: Courtesy of Vogue)