Photos: Timeline of the Martin Luther King Jr. Memorial
Steps it took to take the memorial from dream to reality.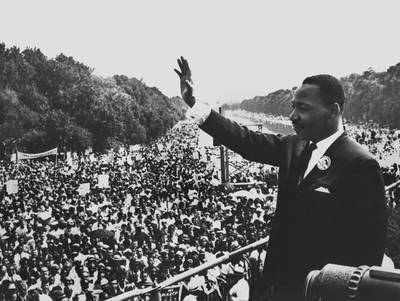 1 / 19
Aug. 28, 1963 - It was almost 48 years ago that Martin Luther King Jr. delivered his seminal "I Have a Dream" speech on the steps of the Lincoln Memorial on Aug. 28, 1963. Now, the man most closely linked with the civil rights movement has his own memorial on the National Mall. Standing about 30-feet tall, the granite sculpture dominates the location. Quotes from Dr. King's sermons and speeches are inscribed on the smooth surfaces of the inscription wall. The memorial has cost $120 million to build and will be a lasting testament to how far America and Blacks have come in the civil rights struggle and the journey ahead.
Photo By
Landov
2 / 19
Jan. 29, 1929 - Martin Luther King, Jr. (originally named Michael King) is born in Atlanta, Georgia.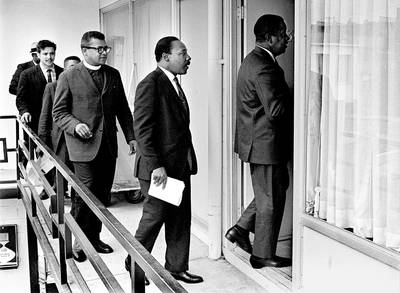 3 / 19
April 4, 1968 - Dr. Martin Luther King, Jr. is assassinated at the Lorraine Motel in Memphis, Tennessee.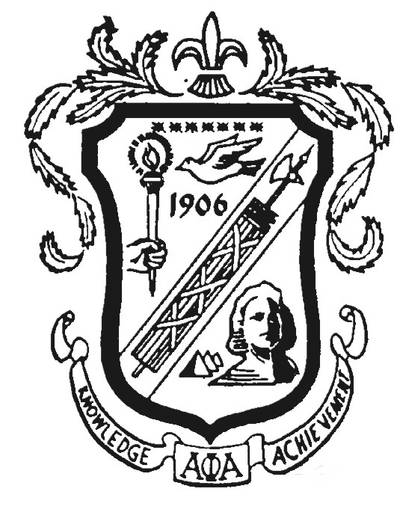 4 / 19
January  1984 - George Sealey is the catalyst for convening Alpha Phi Alpha Fraternity brothers Alfred Bailey, Oscar Little, Eddie Madison, and John Harvey  to propose building a national memorial to Dr. King  Their proposal is presented at the fraternity's Board of Director's meeting, under the administration of General President Ozell Sutton. (Photo: Alpha Phi Alpha)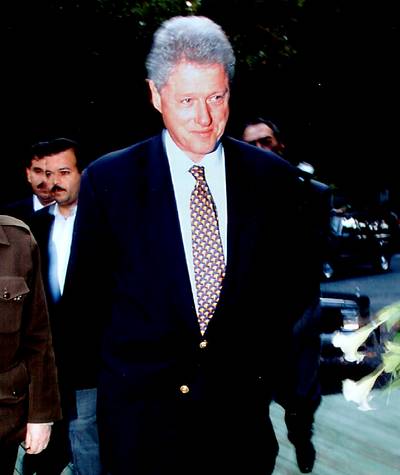 5 / 19
November 1996 - President Bill Clinton signs legislation proposing the establishment of a memorial in Washington DC to honor Dr. King.(Photo: White House/Getty Images)
Photo By
Photo: White House/Getty Images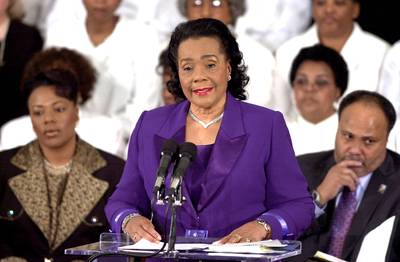 6 / 19
January 1998 - The National Capital Memorial Commission votes to recommend the proposed King memorial. In March, Coretta Scott King agrees to serve as chairperson of the project's Honorary Committee and Executive Leadership Council.(Photo: Erik S. Lesser/Getty Images)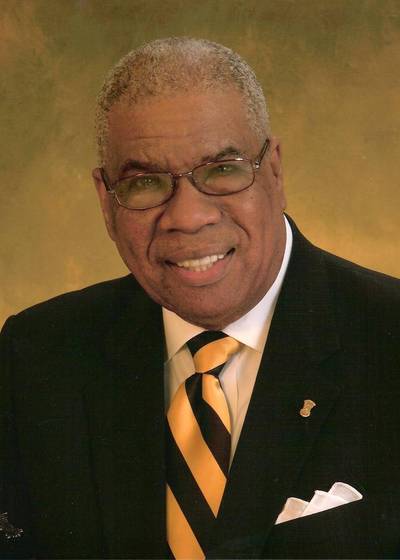 7 / 19
March 1998 - John Carter testifies before a Senate subcommittee, which oversees memorials in Washington DC, saying "We now have an opportunity to break the trend of memorials to war and erect a monument which delivers a message of lifelong peace in our land."(Photo: Courtesy John Carter)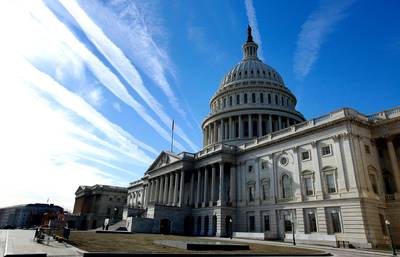 8 / 19
May 1998 - Congress approves the charter for the Martin Luther King Jr. National Memorial Project Foundation, Inc. (Photo: Mark Wilson/Getty Images)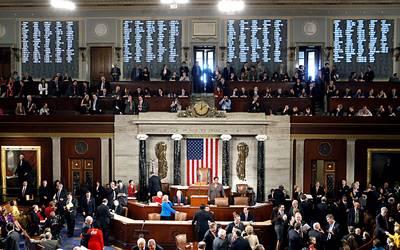 9 / 19
June 1998 - House Joint Resolution 113 is passed by the House of Representatives, giving the project Area 1 status. Three days later, the U.S. Senate passes its version of the resolution.(Photo by Chip Somodevilla/Getty Images)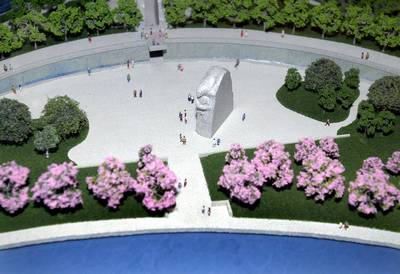 10 / 19
February 1999 - A poster announcing the design competition is prepared and distributed internationally to all schools of architecture, professional architecture firms, designers and artists.(Photo: Stefan Zaklin/Getty Images)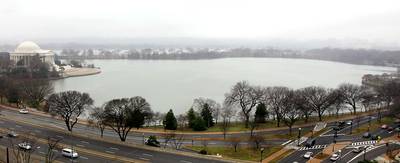 11 / 19
December 1999 - After some controversy about the location of the memorial, the National Capital Planning Commission (NCPC) rescinds an earlier vote placing the memorial at the east end of Constitution Gardens and approves a four-acre site adjacent to the Tidal Basin.(Photo: Alex Wong/Getty Images)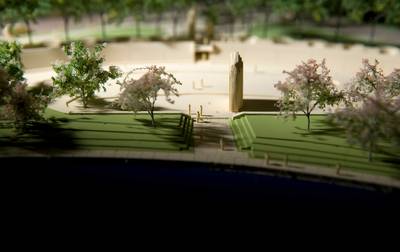 12 / 19
September 2000 - The entry submitted by ROMA Design Group of San Francisco, California, was selected as the winning design. On April 18, 2002, the Commission of Fine Arts (CFA) approves the design for the memorial.(Photo: Brendan Smialowski/Getty Images)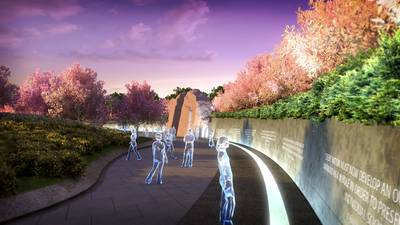 13 / 19
December 2005 - The NCPC unanimously approves the preliminary design for the Martin Luther King, Jr. National Memorial. Four months later, the NCPC agrees to grant the foundation approval to proceed with the final design phase of the project.(Photo: Courtesy Interface Multimedia)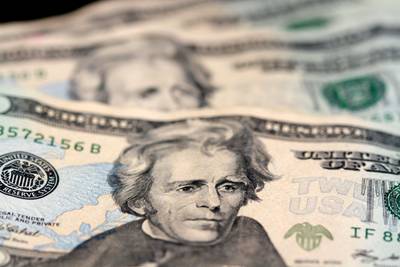 14 / 19
May 2006 - BET Networks commits a $250,000 multi-year gift to Dr. King's memorial. In addition, millions of dollars from other corporate sponsors, faith-based organizations and philanthropic agencies are donated throughout the construction process.(Photo: Glen Argov /Landov)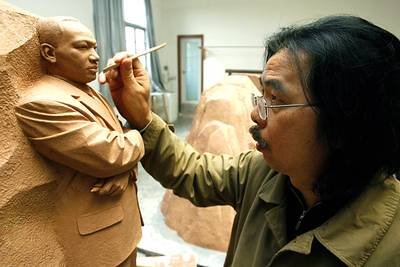 15 / 19
February 2007 - The Martin Luther King Jr. National Memorial Project Foundation announces the selected quotations from Dr. King's writing, sermons and speeches to be engraved onto the memorial wall. The foundation also announces Master Lei Yixin (pictured) as the sculptor who will carve the image of Dr. King into the Stone of Hope. There is some controversy over the foundation's decision to select the Chinese artist.(Photo: LIU JIN/AFP/Getty Images)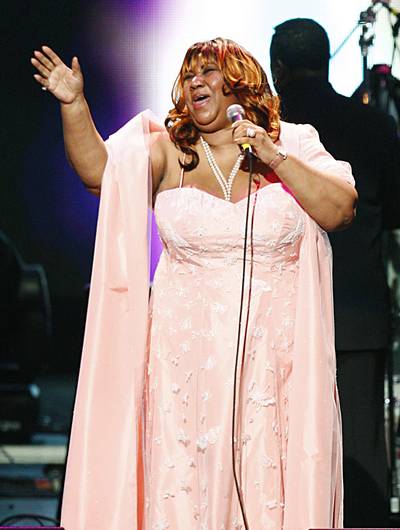 16 / 19
July 2008 - Celebrities such as Aretha Franklin, Samuel L. Jackson, and Steve Harvey bring their star power for Clear Channel Radio's "Build The Dream" Radiothon that is broadcast to 38 radio stations around the nation. (Photo: REUTERS/Mike Segar/Landov)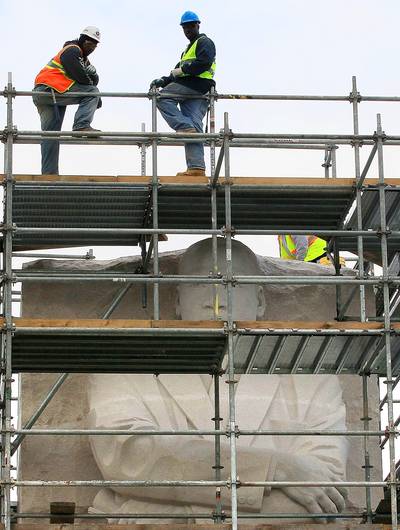 17 / 19
August 2008 - Verizon begins the first phase of construction preparation for the memorial, just days before the 45th anniversary of the March on Washington.  In October, the foundation submits a request for a construction permit to the National Park Service. (Photo: Mark Wilson/Getty Images)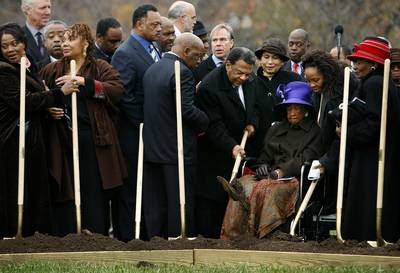 18 / 19
October 2010 - Bernice King and Martin Luther King, III, children of the late Rev. Martin Luther King, Jr., visit the memorial site in Washington, D.C.(Photo: Chip Somodevilla/Getty Images)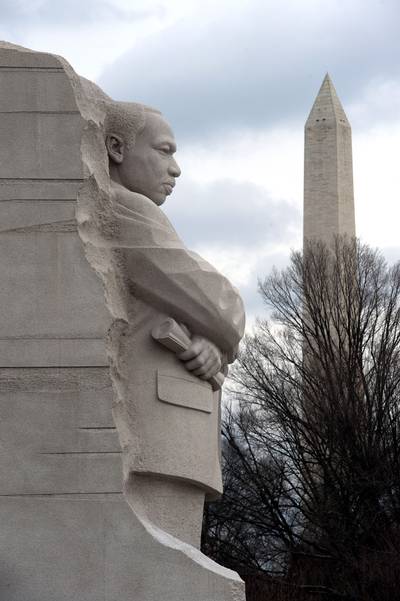 19 / 19
May 2011 - The Martin Luther King, Jr. National Memorial Foundation announces that, after nearly 30 years after its inception, the completed memorial will be unveiled to the public on Aug. 28.  (Photo: Marvin Joseph/The Washington Post via Getty Images)